Way Back When — Issue 143
Traffic on the Penobscot
Editor's note: Welcome to the first installment of Way Back When, an occasional column that features historic views of Maine and its waterfronts. We begin with images from the collection of the Penobscot Marine Museum in Searsport. A new book, Maine on Glass by W.H. Bunting, Kevin Johnson, and Earle G. Shettleworth, Jr., features 200 of these stunning postcard views from the Eastern Illustrating and Publishing Company, which was based in Belfast and was one of the country's largest producers of photographic postcards at one point in the early 1900s.
---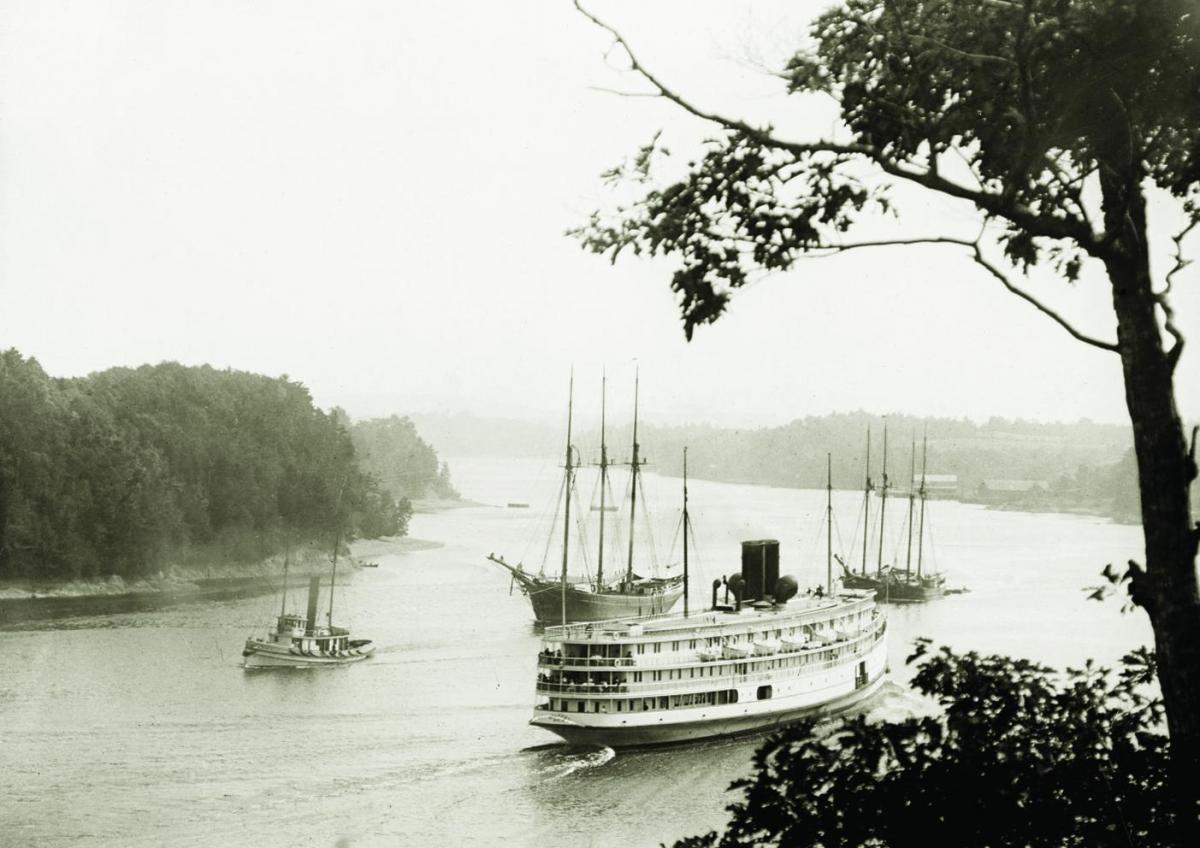 Image courtesy Penobscot Marine Museum
The Eastern Steamship Company's Boston-to-Bangor steamer Belfast, headed down-river, is passing the Ross Towboat Company's tug Walter Ross, which has a handsome three-masted schooner and two small two-masted schooners in tow. The twisting twenty-four miles from Bangor to Fort Point, at the head of Penobscot Bay, was always challenging, particularly for the great fleets of lumber vessels that once made the passage under sail. (Fort Point is where tows of smaller schooners were made up; big four- and five-masted coal schooners were often met by a tug in the lower bay, even off Monhegan.) The more-than-twelve-foot tidal range at Bangor is the greatest of any place on the coast west of the Bay of Fundy. During the booming pine lumber days before the Civil War, over 3,000 vessels arrived (and then, of course, departed) from Bangor during the seven-month shipping season. Even in the 1880s, when spruce lumber and ice were major exports, 1,500 arrivals might be expected. Sailors, loggers, longshoremen, saloons, and bordellos made for lively times, and the tough Irish cops patrolled in pairs. In the early 1900s there were days when the waterfront still resembled its palmy days, but by 1920 the waterfront was all but dead, save for the daily Boston steamer and the odd schooner and barge.       
---
Reprinted with permission from Maine on Glass: The Early Twentieth Century in Glass Plate Photography, by W. H. Bunting, Kevin Johnson, and Earle G. Shettleworth, Jr., Tilbury House Publishers, 2016.