Fundy Endeavor
A classic wooden dragger heads back out fishing
By Shelley Wigglesworth
From fishing vessel, to pleasure boat, and back to working boat, the wooden scallop dragger Fundy Endeavor has come full circle thanks to Wilbur McCaul of Sedgwick, Maine.
One of only a handful of wooden dragging boats of its kind still in use, the 61' Fundy Endeavor was built in 1981 in Parker's Cove, Nova Scotia, by Rodney Magarvey. The boat was a commercial scallop dragger in Canada for years prior to its purchase by a Boothbay Harbor couple, who then used it as a pleasure boat for eight years.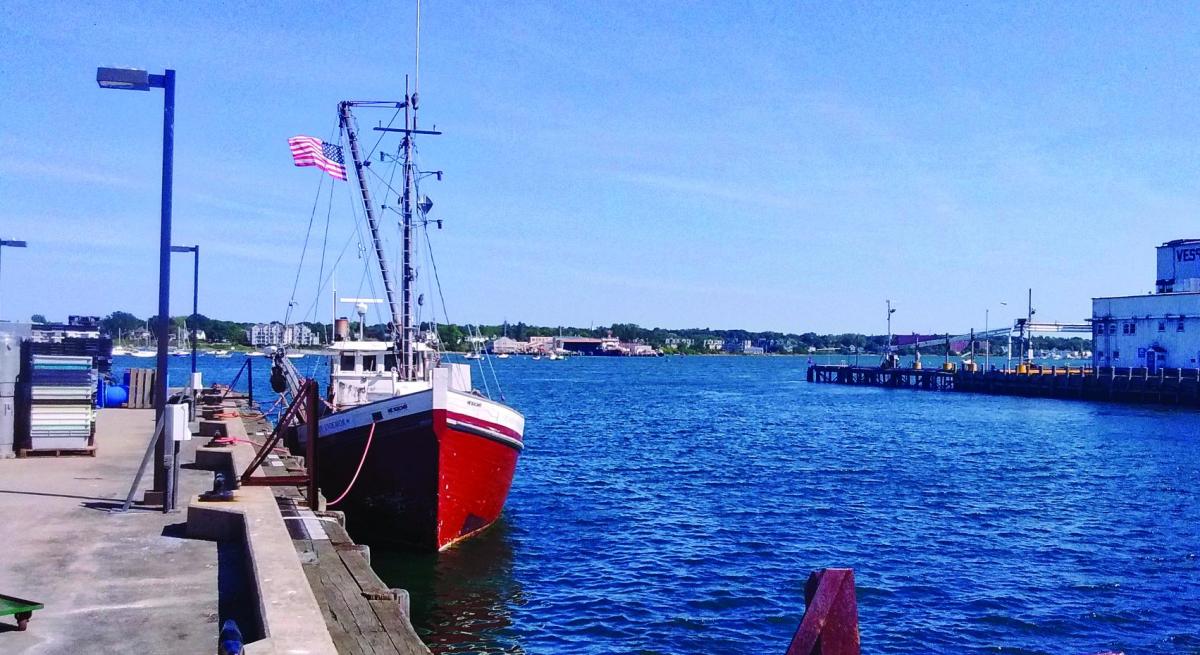 Built as a fishing vessel, Fundy Endeavor was most recently used for pleasure outings. The boat was refitted and returned to fishing out of Castine last year. Photo courtesy Wilbur McCaul
McCaul found the vessel while searching for a boat that he and his daughters could run together as a family endeavor after he sold his auto business in Newport, Maine. "When I asked my daughters what they wanted to do next," he explained, "they said, 'let's go fishing.'" 
The Fundy Endeavor was in good shape when he bought it. The engine transmission and hydraulics had been redone and the vessel was structurally sound.
"Most draggers out there these days are made of steel. You hardly ever see these wooden ones being used anymore. People kind of let them die out in favor of steel. That is what made me want to purchase and restore her—the history of it," said McCaul, who spent two years getting the necessary fishing permits and his captain's license. "They don't make them like this anymore."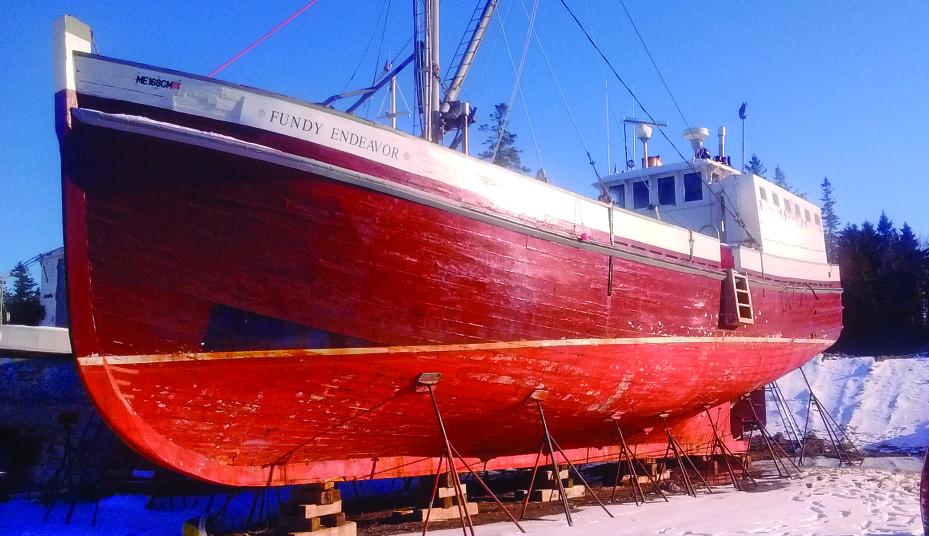 McCaul recaulked and painted much of the huge wooden vessel's hull himself. Photo courtesy Wilbur McCaul
Before relaunching the Fundy Endeavor and bringing it to its new home in Castine, McCaul upgraded the electronics, and recaulked and painted much of the wooden hull last winter.
In the spring, he and his daughters—Jolene,16, and Naomi,14—started by trawling for halibut with 188 sets of long lines. After a successful, albeit brief, halibut season, the trio began to fish for other groundfish using long lines and jigs. They put more than 3,000 miles on the boat journeying out to areas around Georges Bank, Jeffreys Ledge, Cashes Ledge, and Platts Bank. 
"This really allowed us to get a feel for the boat and for where the fish were biting best," McCaul said.
By late summer, the McCauls were making several trips a month for haddock, cod, hake, cusk, and pollack. "We have a system: the girls steer and run the hydraulics while I work the net," said McCaul. "It's been a great experience for them so far, and one they love as much as I do." 
The McCauls currently sell their catch at the Portland Fish Exchange, though they eventually hope to open their own fish market in Castine.
This fall a new 52' x 72' custom trawl was installed on the boat, which the family planned to haul for more upgrades during the winter. 
"We're going to redo the galley and wheelhouse, and there are a few boards that need to be replaced above the waterline and on the deck," said McCaul.
The restoration will not be cheap, but the McCauls have no regrets. "This is something my daughters and I decided to do as a family and being out on the ocean with them making a living is something that you just cannot describe. Getting to work on a boat that holds a lot of historical significance is a bonus." 
---
Shelley Wigglesworth is an award-winning freelance journalist from Maine who specializes in at-sea stories, the commercial fishing industry, and maritime topics.
Fundy Endeavor
LOA  61'
Beam  18.3'
Draft  8'
Gross tonnage  59.29
Cruising speed  10 knots 
Power  1271 Detroit Diesel motor with twin disc transmission
Hold capacity  88,000 lbs. of fish
Sleeps  8
Share this article:
2023 Maine Boat & Home Show

Join Us for the Maine Boat & Home Show!
Art, Artisans, Food, Fun & Boats, Boats, Boats
August 11 - 13, 2023 | On the waterfront, Rockland, Maine
Click here to pre-order your tickets.
Show is produced by Maine Boats, Homes & Harbors magazine.