Way Back When—Issue 153
Photographs From Maine's Past
By The Editors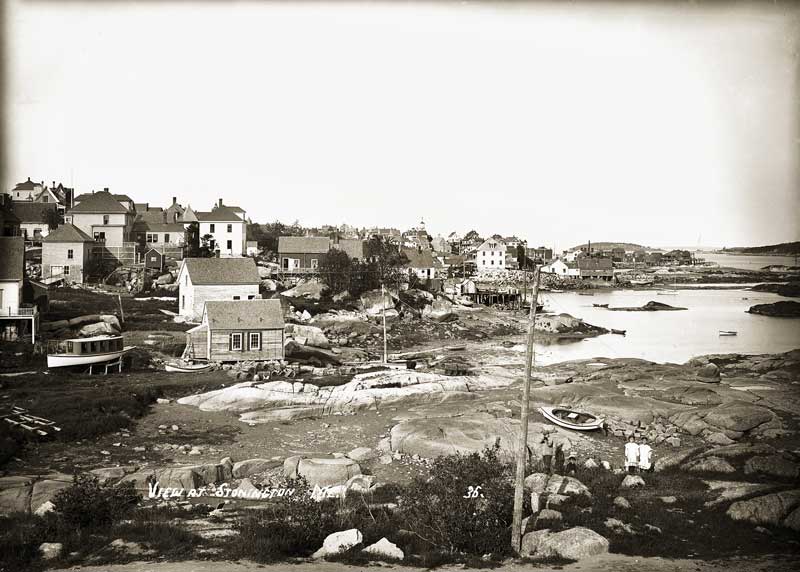 The tide is low, the year probably circa 1915. The five children at lower right make this a successful image rather than a lifeless "neutron bomb" village-scape with everything intact but nary a soul in sight (if you look really closely you will see that the young boy to the right of the pole in the foreground is pretending to aim a gun at the photographer).
Deer Isle's commercial ties were then with Rockland, linked by steamers; after the bridge to the Blue Hill peninsula was built in 1939, Ellsworth became the place where islanders "traded." Formerly a small fishing village known as Green's Landing, Stonington was incorporated in 1897, reflecting its booming granite industry. From about 1910 its population declined, matching the fading fortunes of the granite business. However, the big quarry on Crotch Island, just across the Deer Isle Thorofare from the village, remained quite active until World War II. The granite industry attracted immigrant workers, including many Italians who were mostly single men, making Stonington a lively place on Saturday nights.
Thin-soiled Deer Isle had a long tradition of fishing and seafaring. Beginning in the late 1800s many island men "went yachting," manning the "gold-plated" floating status symbols of the wealthy. Two America's Cup defenders were crewed by Deer Islanders who displaced the regular Scandinavian "squarehead" racing sailors. Although both defenses succeeded, the practice was not continued, supposedly because the independent islanders were said to consider orders to be suggestions. "Going yachting" continued into modern times.  
---
Excerpted and reprinted with permission from Maine on Glass: The Early Twentieth Century in Glass Plate Photography, by W.H. Bunting, Kevin Johnson, and Earle Shettleworth, Jr.,Tilbury House Publishers, with the Penobscot Marine Museum, 2016. Photo courtesy Penobscot Marine Museum.
Share this article:
2023 Maine Boat & Home Show

Join Us for the Maine Boat & Home Show!
Art, Artisans, Food, Fun & Boats, Boats, Boats
August 11 - 13, 2023 | On the waterfront, Rockland, Maine
Click here to pre-order your tickets.
Show is produced by Maine Boats, Homes & Harbors magazine.