the case for "The Basket Case"
Or, why we should care about saving old boats
By Ellery R. Brown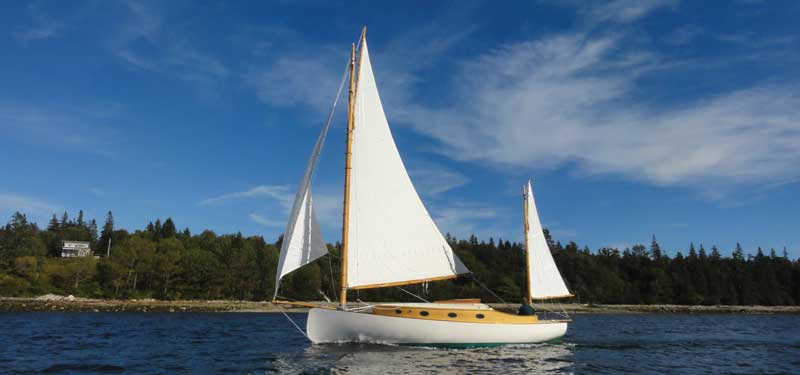 The 89-year-old C.C. Hanley catboat Molly B. looked brand new on sea trials following her thorough restoration. Photo courtesy D.N. Hylan & Associates
Recently I was invited to have a look at a boat that had been discovered in the back corner of an old barn in Sargentville, Maine. The barn was about to be torn down, and the boat nearly went with it. She was a hard case: hogged, modified, poorly repaired, and neglected, but clearly of some pedigree. I have since identified the boat as a Dark Harbor 12½, designed by B.B Crowninshield. A photo of the poor old thing—with an ominous Caterpillar excavator looming in the background—garnered an enormous response when I posted it on social media.
What is it about an old boat on the verge of oblivion that tugs so hard at the heartstrings? Perhaps it's the feats of engineering and craftsmanship that these old boats represent. While they might be rotten heaps, they are also icons of some of our most important national ideals: the wealth and success of their owners, the artistry and ingenuity of their designers, and the skill and hard work of their builders. It's no wonder that the prospect of their destruction is upsetting.
The sight of a neglected old boat with identifiable pedigree is exciting because of the potential it holds. We can't help but picture that sad boat in all its original glory. Unfortunately, the notions that an old boat is beyond help and that it is cheaper and easier just to build a new one usually seem to win out over that first thrilling notion of resurrection. Well, I think a case can be made that restoration often is worth the effort. Indulging that first instinct to bring a boat back to life—and then chasing that goal all the way to its conclusion—might be the best decision you ever make. There are several reasons why this makes sense.
First, the experience of restoring a classic boat can be deeply rewarding for everyone involved. It provides an opportunity to immerse oneself in the rich history that surrounds these boats, the genius of their designers, the techniques of their builders, and the stories of their owners. Many owners of classic boats consider themselves to be stewards of significant pieces of history—a chapter in a story that began long before them, and, due to their efforts, will long survive them. Those with the means and wisdom to commission restorations of classic yachts provide a service to the greater community by preserving these icons of American artistry, ingenuity, and craftsmanship.
Okay, it's not exactly philanthropy, but a culture that cherishes its history is (usually) better for it. Some European countries are way ahead of us on this front. The popularity of restoring and actively racing classic yachts in Europe has resulted in the emigration of some of our most significant classic yachts to the Mediterranean and elsewhere. This leads me to my next point. 
Second, it's true that the number of unrestored classic yachts available is relatively small; for example, most of the surviving N.G. Herreshoff boats have been re-discovered and restored. But some great designs from the teens, twenties, and thirties still remain available. Smaller knockabout one-designs that came from the same drawing boards as the J's, P's, Q's, R's, meter boats, and custom masterpieces represent some of the most beautiful, best-sailing, and practical craft for the purposes of today's sailors. Some of these classes were built by the dozen, and while many are no more, others are "missing" according to the class associations. That could mean they are truly gone, or just under cover in the back of an old barn... waiting.
Finally, I am not such a romantic to believe that every old boat is worthy of a restoration. Still, even a sad-looking old boat can represent value when compared with a new replica. It might be rotten, but if it has kept its shape it can be used as a mold to steam-bend new frames and fit new bulkheads. Maybe it's been left out to weather, but it turns out the spars were squirreled away in a barn 25 years ago and are still okay; you've just saved thousands of dollars. Maybe the spars are gone, the boat's been heavily modified, rotten, hogged; well, that lead-
ballast keel might be worth thousands compared with a new custom casting, and the deck hardware can be priceless.
Many remarkably beautiful old boats wait in old barns or half covered in fields throughout the country—on the East Coast, throughout the Great Lakes, and in the Northwest, and beyond—for someone who can see their potential. Embrace the excitement, scold the skeptics, and go forth and find them.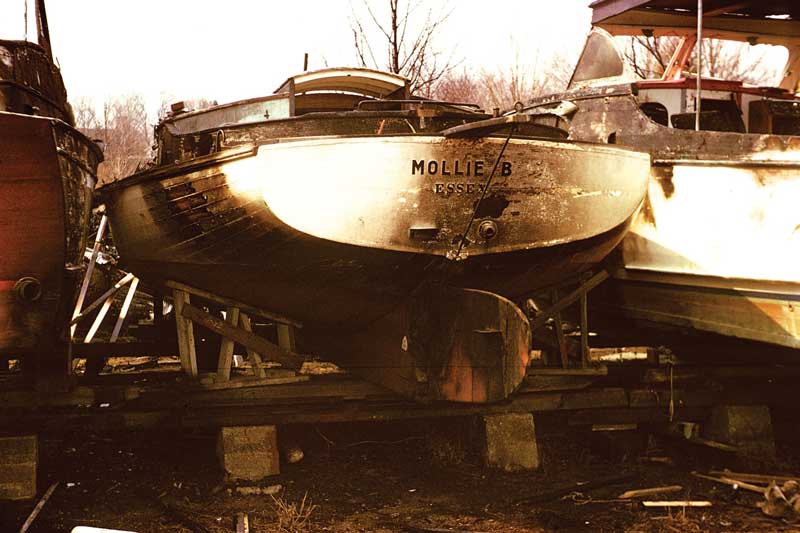 Molly B.'s colorful history includes surviving the 1968 fire at the Essex Boat Works in which nearly every boat was lost. Photo by Paul Birdsall
Just such a boat was recently at our shop. Built in 1927, a bespoke 28' cat-rigged yawl named the Molly B. was the last design of C.C Hanley. A Mainer by birth, Hanley found himself on Cape Cod in the 1890s as the catboat was just beginning a remarkable evolution from vernacular fishing craft to racing yacht. You could say that he single-high-handedly introduced the larger yachting world to the advantages of the catboat when his large racing cats Mucilage and Harbinger won handicapped races against the latest designs from N.G Herreshoff, B.B Crowninshield, E. Burgess, and W. Gardner. He even attempted a catboat contender for the 1901 America's Cup at 90' LOA and 36' beam.
Herreshoff described Hanley as "the hardest nut I had to crack." Slightly condescending, perhaps, but still a remarkable complement. Molly B. was Hanley's last design. In much the same way that Herreshoff broke free of rating rules and class development to produce his timeless Alerion family late in his career, the Molly B. shows remarkable conservatism and subtlety for a man who made his living designing extreme racing machines with scary spreads of canvas. Her reverse raking stem, hollow entry, and inboard rudder are emblematic of his work; the cat-yawl rig, more-manageable sail area, and comfortable accommodations are features in keeping with the wisdom gained over a lifetime of building, designing, and sailing catboats. The testament to the success of his final effort is her presence in our shop nearly 90 years after being designed and built. The boat has been loved by many, and her latest owner is now writing the next chapter.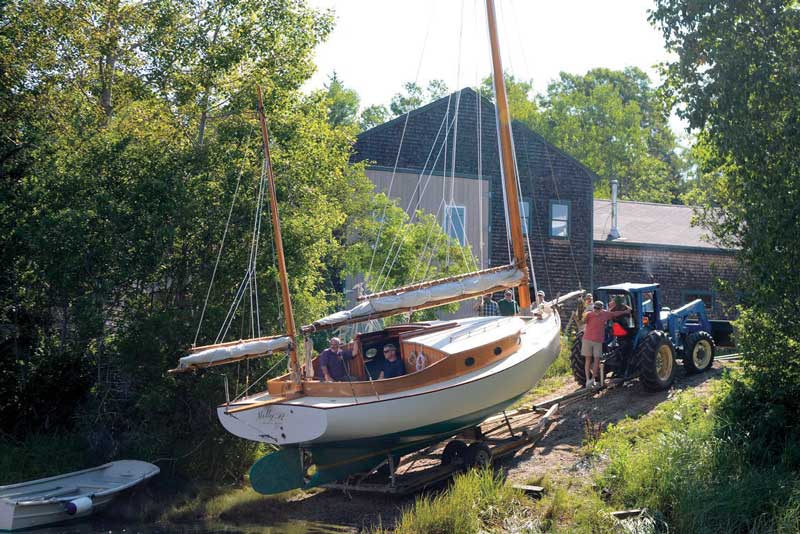 Re-launch day is a moment of great pride for boatbuilders and boat owners alike. Photo by Jenny Mayher
When all was said and done, we replaced approximately 80 percent of the Molly B.'s original material. The work took place in stages over more than six years. For the owner, I think the project represented a vision of his future, in which there will be time to enjoy this wonderful boat with his large and growing family. 
Every customer contributes to the project in some way (beyond paying the bills). For some it's simply a passion for the history of the boat, which contributes to the accuracy and authenticity of the builder's work. Others contribute their boating experience, incorporating features that improve performance or make life better under way. The owner of the Molly B. has a tangible talent. His Utah-based business, Historical Arts & Casting, produces first-class hardware and castings for custom homes and architectural restorations large and small around the world. Accordingly, the Molly B. features a remarkable suit of hardware that includes a beautifully restored original steering gear, a cast bronze centerboard trunk, and a custom bronze skylight. 
Molly B. was a basket case with a fantastic history. Lucky for her, one person couldn't shake the excitement he felt for her potential. At the age of 89, she set sail last summer from Benjamin River—across the bar with her board up just because she could—and then down the reach toward Swans Island, headed off for adventures that haven't been written... yet.      
---
Ellery Brown is a boatbuilder and partner at D.N. Hylan & Associates in Brooklin, Maine.
Share this article:
2023 Maine Boat & Home Show

Join Us for the Maine Boat & Home Show!
Art, Artisans, Food, Fun & Boats, Boats, Boats
August 11 - 13, 2023 | On the waterfront, Rockland, Maine
Click here to pre-order your tickets.
Show is produced by Maine Boats, Homes & Harbors magazine.