South Freeport
Worth the Detour
By Mimi Bigelow Steadman
I came to a fork in the trail, and chose the wrong tine. The path meandered among the trees, sometimes edging the waters of Casco Bay, sometimes plunging deep into the forest. It took me twice as long to reach my destination, which annoyed me at first. Then it occurred to me that my wrong turn was right after all. I was being treated to hushed glades and sparkling bay views I'd otherwise never have seen. 
Standing in Wolfe's Neck Woods State Park, on the eastern side of the harbor in South Freeport, I realized that taking the less-direct route characterized more than my woodland wanderings. It was also a perfect metaphor for a visit to South Freeport itself.   
A serene, 300-year-old hamlet hugging a working harbor, South Freeport is tucked inside the mouth of the Harraseeket River in the eastern corner of Casco Bay. It lies northwest of the shortest course between Portland and popular points to the east, leading many cruisers to pass it by. Yet with top-notch marine services, exceptional protection, and charm to spare, it's well worth a detour.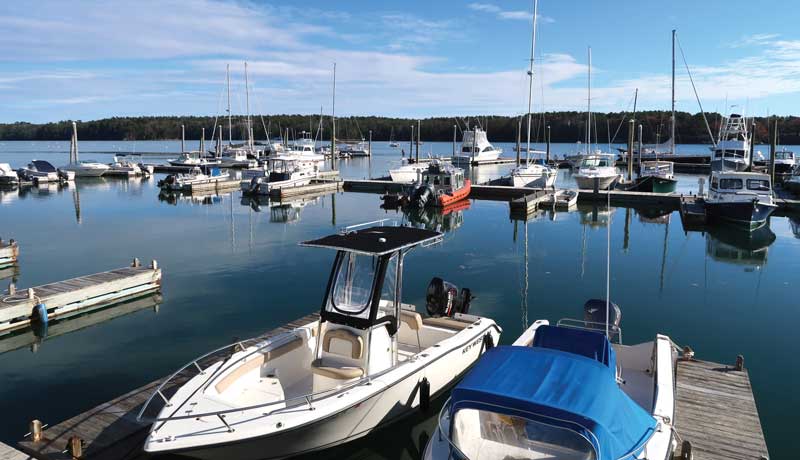 Peaceful and protected, South Freeport lies just inside the Harraseeket River on the edge of Casco Bay. Photo by Rick & Mimi Steadman
A crenelated stone tower atop a hill—all that remains of an old summer hotel that burned in 1914—provides an easy-to-spot landmark on the approach to the river. Leave Pound of Tea Island to starboard, giving it a wide berth, and, once in the river, follow the diagonal thoroughfare through the middle of the mooring field. To port, Brewer South Freeport Marine and Strouts Point Wharf Company sit side by side. Brewer bought Strouts Point last summer, so you can call either about moorings ($30) and slips ($3 per foot). As local boat owners head off on their own cruises in July and early August, more space becomes available for visitors.
Shoreside services include fuel, showers, laundry, pump-out, a chandlery, and complete facilities for hauling, repairs, and storage. Depending on your needs and preferences, you may gravitate to Brewer, a member of the network of 20-plus Brewer yacht yards in the Northeast, or to Strouts Point, which specializes in classic wooden vessels, both sail and power.
You won't find many shopping-bag-toting tourists here. Those who do venture off the well-trodden sidewalks of Freeport's realm of retail come to Harraseeket Lunch and Lobster Company's dockside shack to chow down on local clams (South Freeport clam diggers' annual haul is the second-largest in the state), lobster, and other fresh seafood. 
If you can't resist joining the throngs downtown, you're only a three-mile taxi ride from L.L. Bean and hundreds of other stores. On the way to or from, stop at Bow Street Market for general groceries, fine meats and fish, gourmet treats, an excellent wine and beer selection, and memorable service.
After satisfying your inner bargain hunter, take time for South Freeport's less hectic activities. Ring's Marine rents bikes, kayaks, and SUPs by the day or half day, and delivers to the dock. Go for a two-wheeled spin through the countryside, or paddle across the harbor to Wolfe's Neck Woods (land on a pebbly pocket beach; walk to the entrance to pay the small admission fee). Bring lobster rolls from Harraseeket Lunch to enjoy at one of the park's picnic tables before exploring its 200 acres of trails, marshes, and fields. If you'd rather wiggle your toes in the sand, continue around the tip of the peninsula to the beach at Winslow Memorial Town Park ($3 admission). 
Before casting off for your next port, take a stroll around the little village, admiring the handsome old homes. Savor the peace and quiet—it's a sweet reward for choosing the path less traveled.  
---
Contributing Editor Mimi Bigelow Steadman lives on the Damariscotta River in Edgecomb.
Share this article:
2023 Maine Boat & Home Show

Join Us for the Maine Boat & Home Show!
Art, Artisans, Food, Fun & Boats, Boats, Boats
August 11 - 13, 2023 | On the waterfront, Rockland, Maine
Click here to pre-order your tickets.
Show is produced by Maine Boats, Homes & Harbors magazine.