Atlantic Class Sloops
These enduring one-design racers show their class
By Stephen Rappaport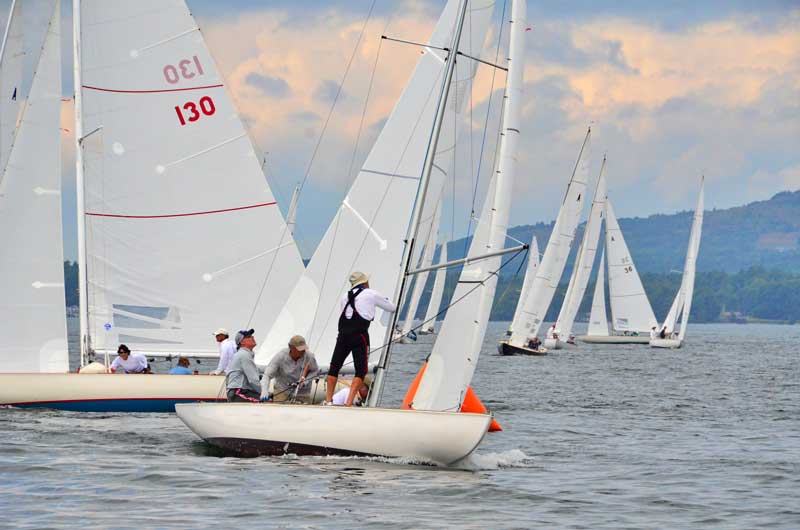 Shifty winds on Blue Hill Bay made for some testing sailing conditions during the six-race Atlantic Class National Championships last August. In one of the early races, 2011 winner Ian Evans's Try Again leads 2015 winner David Peck's Miss April and most of the fleet at the first windward mark. Photo by Stephen Rappaport
As Maine's summer colonies gained popularity in the early 1900s, there was a concurrent rise of one-design racing sailboat fleets along the coast. Some took off and still have active fleets, while others no longer exist.
The Atlantic Class, which races out of Blue Hill's Kollegewidgwok Yacht Club (KYC), is one that has survived and thrived. Last summer, the club hosted a fleet of 33 boats in the annual Atlantic Class National Championship Series.
From the time they were first conceived, about 150 Atlantics have been built. The first 100, with wood hulls built in Germany by Abeking & Rasmussen, were all in the water by the summer of 1930. The post-World War II boats were built of fiberglass in the United States using a mold taken from one of the original contingent, and they now race evenly against the older boats. Currently, there are about 100  active  Atlantics distributed primarily among five fleets, four on Long Island Sound and the fifth in Maine at Kollegewidgwok.
One of the "new" boats is Cassidy, owned and raced by Steve Benjamin, this year's national champion representing the Seawanhaka Corinthian Yacht Club of Oyster Bay, New York. The Nationals win was the fourth for the boat since 2005, and the third since Benjamin bought it in 2009.
The 2015 U.S. Sailing Rolex Yachtsman of the Year, silver medal winner at the 1984 Los Angeles Olympic Games in the 470 class, and 1978 College Sailor of the Year, Benjamin had a busy and successful season on the water. In July, he won the 53-mile Round-the-Island Race, circumnavigating Martha's Vineyard, aboard his 52-foot TP50 Spookie. Early in September, Benjamin stepped back into the big sloop and won the Vineyard Race, a 238-mile round trip up Long Island Sound and back. At the end of the month, Benjamin topped the competition to win the Etchells Worlds on San Francisco Bay.
What brought a world-class sailor to downeast Maine to race an old-fashioned keelboat in the middle of summer? "I love the boats. They're really fun to sail," Benjamin said. "I love the class. I try to go to the Nationals every year. It has a number of top sailors."
Sean Guinness, Atlantic Class fleet captain at KYC and a sailor experienced in several competitive racing classes, echoed Benjamin's thoughts. "It's just a beautiful boat," he said. "In the 1920s it was a very hot boat from a great designer. It sails really nicely."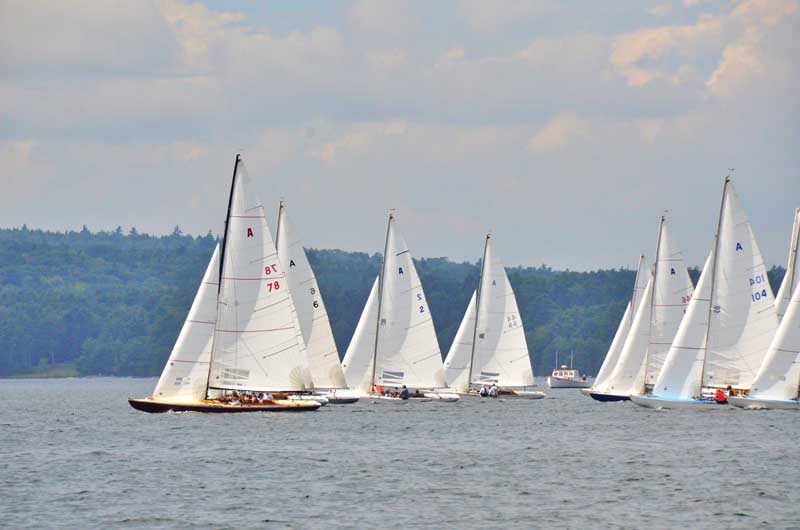 Part of the 33-boat fleet that raced at the 88th Atlantic Class National Championship regatta close hauled on Blue Hill Bay. Photo by Stephen Rappaport
Credit for the design that still stirs sailors' blood after nearly 90 years goes to W. Starling Burgess. An inventor, poet, and early 20th century aircraft and yacht designer, Burgess was responsible for three America's Cup defenders: the J-class yachts Enterprise, Rainbow, and Ranger, which were the epitome of that pre-World War II racing class.
The boat now known as the Atlantic sloop was born in 1928 when Burgess sailed a prototype he called the Atlantic Class One Design from yacht club to yacht club on Long Island Sound. It was part of an effort to stir up interest in a new one-design boat that could offer exciting racing and enjoyable daysailing, and it paid off.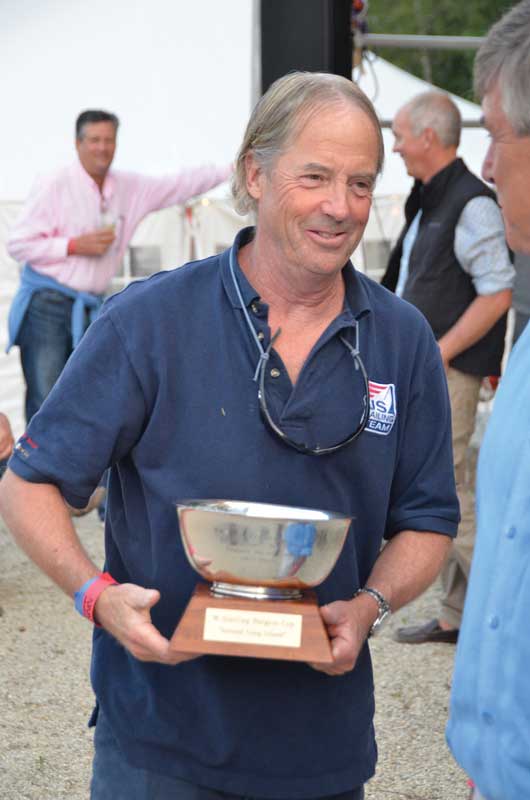 Representing the Seawanhaka Corinthian Yacht Club on Long Island Sound, Steve Benjamin took the Atlantic Class National Championship silver home from Blue Hill in late August. He turned that into a winning streak, heading across the country to win the 2017 Etchells World Championships a month later on San Francisco Bay. Photo by Stephen Rappaport That summer, Burgess took orders for 80 boats to be built in Germany and delivered in time for the 1929 sailing season. In the fall of 1929, before the stock market crashed at the end of October, another 20 boats were ordered and by the summer of 1930 there were 100 Atlantics on the water, most around Long Island Sound. A handful also came to Blue Hill.
Pequot Yacht Club, in Southport, Connecticut, hosted the first Atlantic Nationals in the summer of 1929, when only one boat from each yacht club fleet was allowed to race. From 1940 on, the nationals have been a five-race series open to all entries. Over the years, these races have drawn some of the biggest names in yachting—among them Bob Bavier, Bus and Bob Mosbacher, Corny Shields, and Briggs Cunningham.
KYC has produced three nationals champions this decade: Ian Evans in 2011 and Bill Barton in 2013 and again last year. But the indisputable king of the Atlantic class is Norman B. Peck, Jr., sailing from the Niantic Bay Yacht Club. Peck won the first of his 15 Atlantic national titles in 1973. His most recent win came in 2010. His son, Norman Peck III, won in 1981 and again in 2012.
"My hero is Norman Peck, Jr.," Benjamin said. "Look at him. If I could be sailing Atlantics in my 80s it would be wonderful."
It comes as no surprise that most of the sailors who race boats that were designed, and mostly built, before the Great Depression have more than a touch of gray in their hair. For the class to remain active, Benjamin said, it needs to attract the interest of young sailors, many of whom have gotten most of their racing experience in 420 dinghies and other small boats.
At KYC, the active Atlantic class does "a lot of racing with juniors on board," Guinness said. The club's mid-summer Britton Cup race requires at least one junior crew member in the boat. "The class rules call for four on board, but in Blue Hill we sail with five to encourage junior sailing," Guinness said. 
The effort to get young sailors engaged with racing Atlantics apparently isn't limited just to KYC.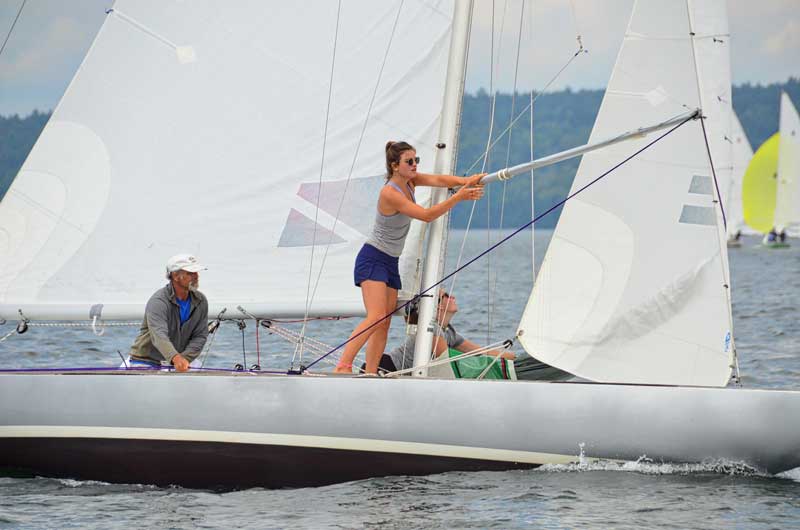 The foredeck crew on Silverfish wrestles with the pole and prepares for a spinnaker set. Photo by Stephen Rappaport
A 21-year old, Lindsay Doyle from Cedar Point Yacht Club in Westport, Connecticut, skippered Rival to a win in one of the five championship races. She finished eighth overall in the fleet of 33. Unfortunately, Doyle missed the post-racing award dinner. She had to be back at school, the University of Vermont, in time to start practice for the fall sailing season.     
Atlantic Class Specs
LOA  30'7"
LWL  21'9"
Beam  6'6"
Draft  4'9"
Displ.  4,449 lbs.
Sail Area  377 sq. ft.
Spinnaker Area  416 sq. ft.
Designer: W. Starling Burgess
---
Stephen Rappaport is the Waterfront Editor at The Ellsworth American, has lived in Maine for 30 years, and is a lifelong sailor.
Share this article:
2023 Maine Boat & Home Show

Join Us for the Maine Boat & Home Show!
Art, Artisans, Food, Fun & Boats, Boats, Boats
August 11 - 13, 2023 | On the waterfront, Rockland, Maine
Click here to pre-order your tickets.
Show is produced by Maine Boats, Homes & Harbors magazine.