History and Humbleness in the 8-Foot Dinghy Sea Weed
By Ben Emory
Photos by Ben Emory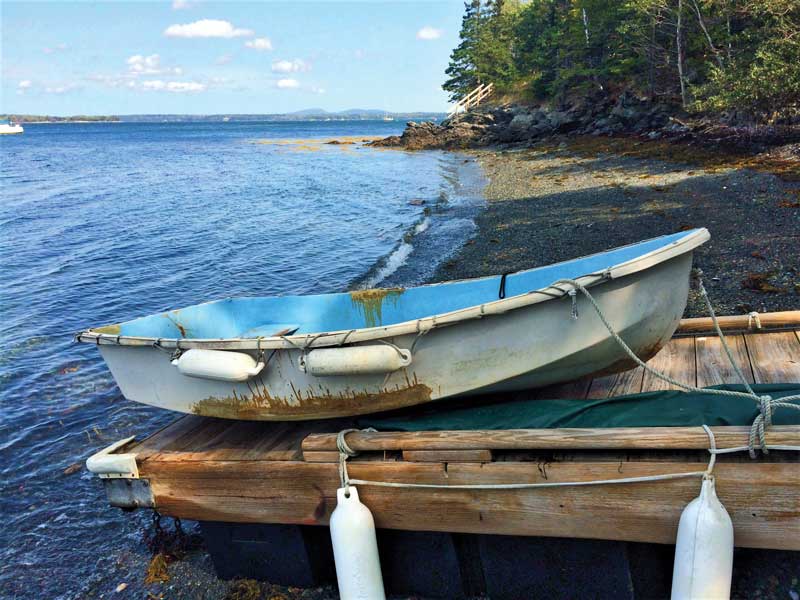 Despite her beat up looks, this simple dinghy has given her owner years of service.
One of my dinghies may be the most disreputable looking rowing boat in Frenchman Bay. Eight feet long, of fiberglass construction by Eli Laminates, cheaply finished, and patched many times, it is about as basic as a watercraft can be. Its half-century of human saga and service, though, has made me increasingly revere this humble little boat.
A decade into my ownership of the dinghy, it was creatively named Sea Weed by my then 11-year-old son Thor when I gave it to him, a gift I later rescinded after he moved on. The stick-on letters of the name remain intact on the transom. More widely appreciated now than back then is the fundamental role seaweeds play in ocean ecology and their potential, if managed sustainably, to provide lasting benefits to people as well as ecosystems. In choosing the name, though, Thor, tongue in cheek, clearly was thinking of seaweed as debris.
Other still meaningful reminders of Thor's childhood ownership are eye-catching browned epoxy drips and spills on the sides and bottom from his first efforts at learning to make fiberglass repairs, unsightly marrings to which I acknowledge adding at times. The thin fiberglass hull, subjected to being dragged up and down Maine's rocky beaches, requires patching relatively frequently. Once I loaned Sea Weed to a couple of women visiting Brooklin to row across Center Harbor to Chatto Island. Afterward they told me they wondered whether they would make it back without sinking. On their return from the island, water had flooded in through a hole under the aft seat—I had not realized that the molded hollow skeg was about to wear through. When I asked why they hadn't just put a thumb over the hole, they said it never occurred to them.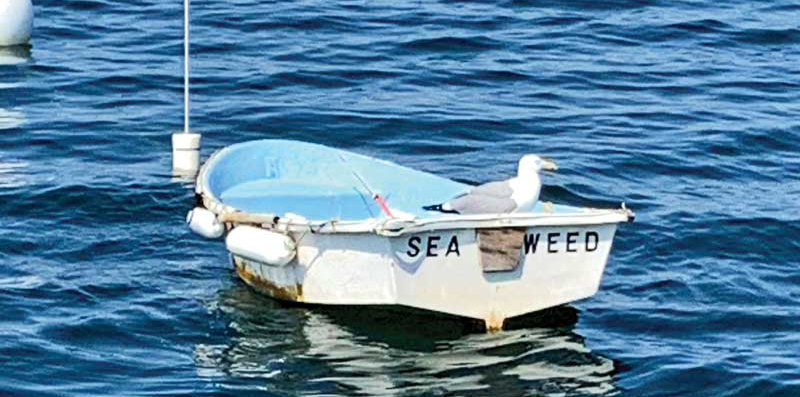 Sea Weed has served as a tender, a picnic table on the beach, and a roost for local sea gulls.
I first encountered the dinghy in the Damariscotta River in 1974, when the late Dana Jefferson took me in it to view his Hinckley Bermuda 40, which I bought along with the dinghy. Memorable about that dinghy ride to the Bermuda 40's mooring was Dana's skillful starting of the outboard motor and handling of motor and vessel despite having lost one arm in a plane crash.
The dinghy fit upside down on the Bermuda 40's cabintop, and for the years I owned that sailboat, the little tender traveled the Maine coast. It also was aboard for a cruise to the Bras d'Or Lakes and the outer coast of Nova Scotia that included surviving the eye of a hurricane at sea on the return. During its time as the B40's tender, Sea Weed was tied astern one afternoon on a mooring off the Bass Harbor Marine float. As I prepared to get in and row ashore, a female killer whale, an orca that hung out in Mount Desert Island waters for a time in the mid-1970s, surfaced alongside. A Bass Harbor Marine dockhand yelled out: "Ben, she's waiting for you to get in your dinghy!"
One year the upside down Sea Weed served as the hors d'oeuvres table at a laughable Cruising Club of America beach cocktail party at Blue Hill Bay's Bartlett Island. We event organizers did not take into account the unusually high tide at the scheduled hour. The trays of eatables sat atop Sea Weed, which was hauled up as far as possible on the beach while the tide peaked half-way up the sides. We socialized, hugging the tree line and standing in water over our ankles, wading deeper to get past people to reach the food. Similar upside-down use years later was as a seat for a New Year's Eve bonfire on my Salisbury Cove beach. Sea Weed has had many uses!
Although of much less elegant finish than the better known and more expensively built Dyer Midget, Sea Weed's hull design is almost the same—hard chine aft, a skeg, and rounded bow. I have larger and better boats to use for my frequent distance rowing for exercise and pleasure, but I find rowing Sea Weed surprisingly satisfying and fun despite her short length. She rows and tracks well. For some weeks after injuring my right shoulder's rotator cuff in a fall while Nordic skiing, I switched from rowing a peapod to rowing Sea Weed. Pulling on the oars in the lighter craft put less strain on the painful shoulder. When my physical therapist learned I rowed, he told me to just keep rowing. It would be the best possible therapy, and so Sea Weed furthered recovery.
During my late wife Dianna's final weeks, Sea Weed proved invaluable to my mental well-being. I am reminded of the words of Sedgwick's Peter Neill in his book Aqua/Terra: "I speak often of the sustenance the ocean provides—not just the food we eat but also what we feed our souls… we are drawn to the ocean… to give us strength, meaning, and hope for the future." I was providing round-the-clock care to Dianna and could not slip outdoors for more than a few minutes at a time. Just before Christmas, though, her daughter could sit with her while I scurried to the beach below my house. I dragged Sea Weed to the water and hopped in for a row that literally was only 12 minutes long, all I dared take. But those minutes pulling hard across calm bay water under gray skies vitally restored my soul and strengthened hopes for my future.
Today, those hopes are clouded by concern about the future, for my children, grandchildren, and the world. Simple ways to enjoy time on the water as in Sea Weed, other human-powered craft, and sailboats that minimally, if at all, burn fossil fuels are to be encouraged. Sea Weed, admittedly built from oil derivatives—but half a century ago, can be enjoyed as a way to get afloat without guilt about emissions. And, indeed, I think about that when using her, taking fond pride in her history and in finding fulfillment in such a humble, minimalist vessel. 
✮
---
Ben Emory splits his time between Salisbury Cove and Brooklin, Maine. He is the author of  Sailor for the Wild—On Maine, Conservation and Boats, published by Seapoint Books.
Share this article:
2023 Maine Boat & Home Show

Join Us for the Maine Boat & Home Show!
Art, Artisans, Food, Fun & Boats, Boats, Boats
August 11 - 13, 2023 | On the waterfront, Rockland, Maine
Click here to pre-order your tickets.
Show is produced by Maine Boats, Homes & Harbors magazine.