Avocette
Part Great Gatsby and part PT Boat, all new under the skin
By David R. Getchell, Jr.
Photos by Billy Black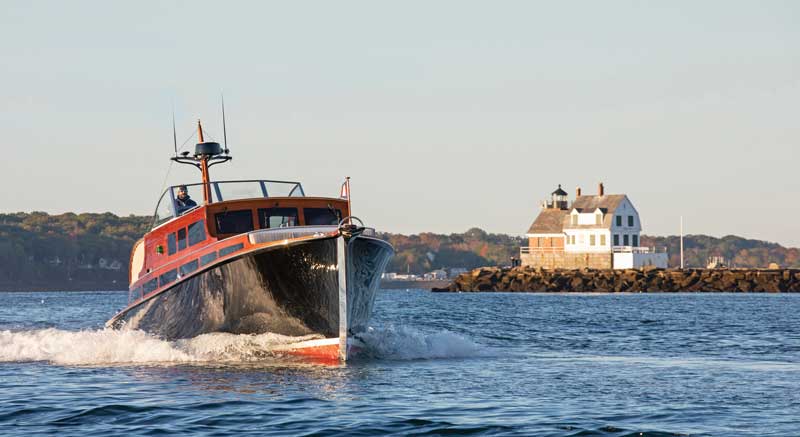 Is there much danger of mistaking this boat for any other? Here, the restored 1930 Huckins Avocette cruises past the Rockland (Maine) Breakwater. Note the open bench seat at the bow, accessible through a hatch from the forward cabin.
The term "Resto-Mod" embodies a hybrid of restoration and modification. The concept starts with a classic shape, restored to more or less original outward form, but with every possible modern technology baked in. The idea is well developed in the automotive space—think iconic 1970 Mustang fastback, reimagined, rebuilt, and stuffed with a howling NASCAR V8, racetrack-worthy suspension, hand-stitched leather interior, and every techno-tidbit from air conditioning to cruise control, dash- and backup cameras, sat nav, and Apple CarPlay.
Avocette brings resto-mod to the harbor. The boat started life as a 1930 Huckins Fairform Flyer, built for a famous Broadway producer. It remains the oldest Huckins extant. Readers likely know Huckins as the Jacksonville, Florida-based builder of over-the-top motoryachts for 1930s/40s celebrities and captains of industry. The company was also responsible for the famed Motor Torpedo Boats of World War II, better known as PT Boats. A young U.S. Navy lieutenant named John Fitzgerald Kennedy ran the Huckins-built PT-101 before he took over the immortal PT-109, which was an Elco-built fighting boat that hewed to Huckins lines.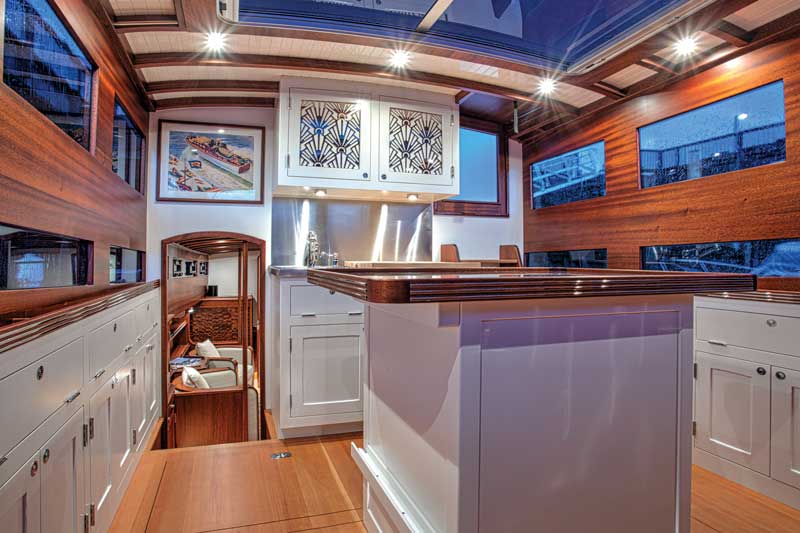 The retractable sunroof over the galley/bar area lets the outside in
Readers likely don't know that Huckins originally had a Maine connection: one of the family forebears started out in the 1850s as a Bangor-based supplier of ship timbers and planking to boatbuilders all up and down the east coast. The company moved to Boston before migrating south in the early 1900s to follow the supply of stout yellow pine sourced from vast forests in the Carolinas and Georgia. Huckins eventually set up shop in Jacksonville to build yachts in the late 1920s.
Avocette's resto-mod transformation proved to be a massive undertaking that took nearly five years to complete. The first time I laid eyes on the boat, it was sitting a bit forlornly in the Yachting Solutions shop, its once-shapely hull hogged and stripped to the bones. You could peek past gaps in the bow planking and see daylight clear through to the transom, nearly 50 feet away. Even in its semi-dilapidated condition, the distinctive Huckins hull form stood out, with its sharp forefoot, towering bow flare, and concave bottom sections with minimal deadrise aft.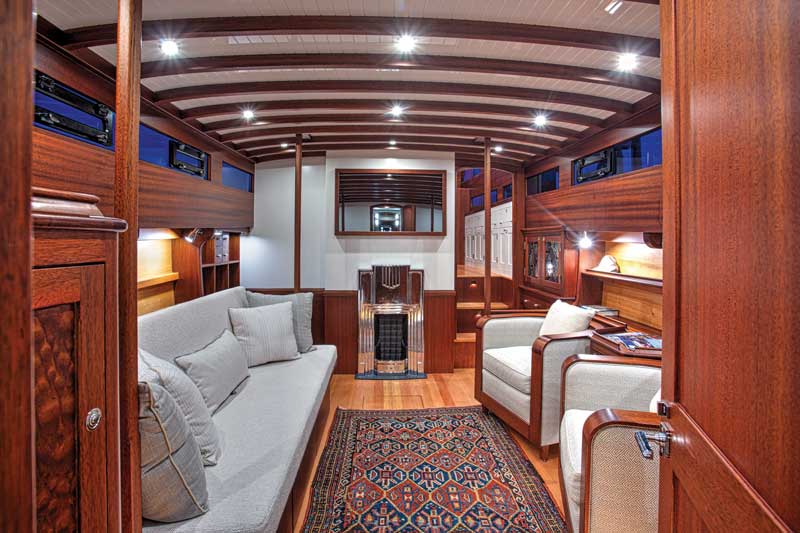 The main salon includes an Art Deco-framed alcohol-fueled hearth.
Bill Morong of Yachting Solutions takes up the tale: "This has been the most complex project we've ever undertaken. It's been all about careful deconstruction of the original boat and then totally redoing everything from stem to stern. It was way more difficult than just building a whole new boat."
The YS crew replaced, repaired, and faired the wooden structure as needed. Out came old punky parts and in went new white-oak frames, planked up with two layers of cold-molded Atlantic white cedar, and topped off with two layers of sipo, a hardwood in the mahogany family that displays a lustrous reddish tinge interspersed with honey-colored highlights. In time, Avocette's interior and topsides were both swathed in this striking African hardwood.
Following plans drawn by Bill Prince Yacht Design, the YS crew commenced on a raft of major structural changes to the interior. The boat's original three-cabin, three-head interior was reworked into a more commodious two-cabin, two-head layout. Twin Volvo-Penta compact turbo-diesel engines and IPS pod drives were relocated far aft, freeing up space for new machinery under the main cabin sole where the hulking original V-12 gas engines once rumbled. This space was devoted to housing a Seakeeper gyroscopic stabilizer, Kohler genset, lots of plumbing, and sundry heating/air conditioning units.
A new power sunroof went in over the bar, sliding back on command to bring the outside inside. Mirrors were strategically placed here and there to reflect and amplify the sense of interior space. This isn't exactly a new trick, but quite effective in this case. Art Deco appliques were set into the main cabin doors, and repeated elsewhere throughout.
A gleaming Art Deco chrome molding surrounds the main cabin's centerpiece, an alcohol-fired fireplace. Befitting the boat's blend of old and new, just above the hearth there's a large flat-screen TV set into a swathe of sipo on the bulkhead. Interior detailing is exquisite, such as lead builder Brad Ellsworth's favorite touch—a pair of bifold sliding pocket doors that lead from the main cabin up to the helm deck.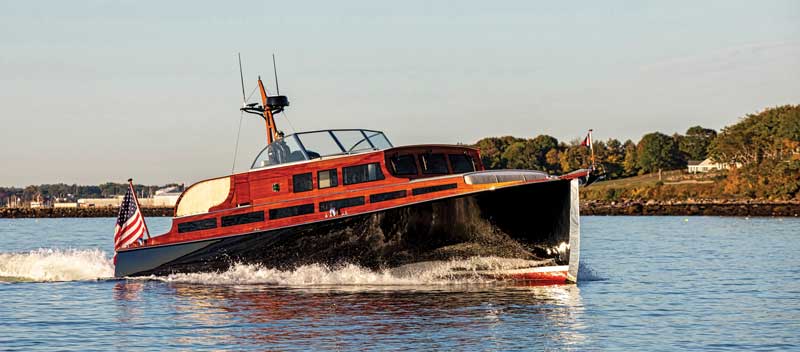 The boat retains its original 1930s outward appearance, even down to the pattern of side windows.
And about that helm area... well, there's the expected bank of electronics screens and multiple switch arrays, but hey, where's the steering wheel?! Nope, steering here is by the IPS joystick only. "Don't worry," said Ellsworth, "there's a wheel up top on the flybridge."
Installation of the new power plants and modern pod drives into the confines of what used to be cramped crew quarters at the stern of a vintage wooden boat drew lots of engineering scrutiny, including from Volvo-Penta itself. There was considerable attention paid to refine trim angles of the drive units to maintain level running.
And with almost 900 horsepower on tap, running at speed is something that Avocette very much likes to do. Early sea trials established that the boat tops out at 37 knots, a hefty bump up from the boat's original max in the mid-20s. Even so, Morong said, the boat runs happiest at about 30.
In the end, Avocette emerged as a lavish vintage-looking yacht that's part Great Gatsby and part PT Boat, but all new under the skin.
"We ended up with a true echo of the original boat," said Morong. "We kind of went from a pile of wood to an amazing piece of work."  
---
Dave Getchell is the former Associate Publisher of this magazine. He's now devoted to riding his fleet of bicycles and pursuing all manner of interesting boats.
---
1930 Huckins 48
LOA: 48' 2"
Max beam: 11' 1"
Draft: 2' 8"
Displ.: 27,000 lbs.
Power: twin Volvo-Penta D6-IPS600 
turbo-diesels, 435 hp each
Speed, cruise/max: 27/37 kts
Builder:
Huckins Yacht Co, 1930
Resto-Mod redesign:
Resto-Mod refit:
Share this article:
2023 Maine Boat & Home Show

Join Us for the Maine Boat & Home Show!
Art, Artisans, Food, Fun & Boats, Boats, Boats
August 11 - 13, 2023 | On the waterfront, Rockland, Maine
Click here to pre-order your tickets.
Show is produced by Maine Boats, Homes & Harbors magazine.