Review - The Boatbuilders Apprentice
Builders of Boats have Able Guide in Rossel
By Dana Wilde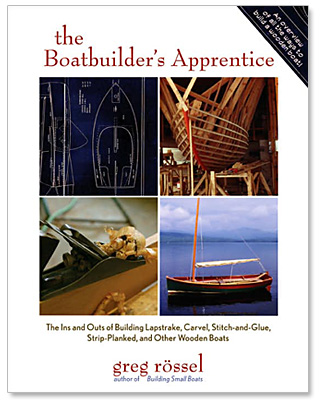 The Boatbuilder's Apprentice:
The Ins and Outs of Building Lapstrake, Carvel, Stitch-and-Glue, Strip-Planked, and Other Wooden Boats
by Greg Rössel; McGraw-Hill, Camden, Maine, 2007, 342 pages, large-format hard cover, $39.95 Boats and airplanes take up a lot of space in my boyhood memories. My father flew his seaplane on various missions around Casco Bay in the 1960s, including spotting schools of fish for sardine seiners and "hopping passengers," which meant giving 15-minute tourist rides for $3. From the age of about 8, I was the appointed volunteer assistant, a post which eventually entailed ferrying passengers between dock and airplane in a flat-bottomed punt with an antique 15-horse Johnson outboard motor. The punts -- there were several between my 9th and 16th years -- were built by my father in the basement of our house. I remember regarding boatbuilding as vaguely aberrant behavior. My father made it look like the most toilsome exertion imaginable to man. Completing one vessel took eons. Boat skeletons haunted our basement all the time. When one was finally finished, you still couldn't use it because you first had to sink it for a week so the planking would swell up and the boat would become watertight. Some punts worked out better than others. On one, the sides were too low and it shipped water in the least chop. Another's gunnels were too high for me to row it. On several the transoms were too weak for the motor; the Johnson kept leaping off one of them into the sea. One larger boat — a 16-foot "speedboat" with a V-hull — was never completed. Its half-built frame lingered in basements and backyards for years, and became a sort of family symbol, a tale I will not go into here. I believe it crossed my father's mind to try building an airplane. Thankfully, he didn't. No one knows what disasters would have befallen if he had. I asked few questions about boatbuilding for fear of seeming interested and being pressed into service sanding or planing, or worse, watching. I did everything in my power to instead be playing baseball and reading James Bond novels, and never learned the craft of boatbuilding. So 14 years ago when I moved to Troy across the street from Greg Rössel, and saw his "Boat Carpentry" sign tucked cozily outside his house along with a constantly changing assortment of sailboats in his driveway, I immediately felt sorry for him, thinking that there must be a life of constant discouragement and sunken ships. How wrong one's one-dimensional convictions can be. Don't misunderstand me: I never asked him to teach me boatbuilding. I can't cut a straight line with a guide. But I found out after many an entertaining conversation with him, boatbuilding is nothing like my memories of it. And the satisfactions come through in his latest book. Like his previous book
Building Small Boats
,"
The Boatbuilder's Apprentice
is written in an affable, precise style that unpretentiously assures us building a small boat is within almost anybody's range of possibilities. It opens with an easygoing discussion of why you might build a boat and a survey of projects that might suit your purposes, budget and time constraints. It then proceeds to a readable overview of different hulls, including concise definitions of terms whose meaning is not self-evident to the uninitiated. The unfinished speedboat of my boyhood, I learned, had a lapstrake hull, "one of the oldest [methods] where the top edge of each plank is beveled, overlapped by, and fastened to the bottom edge of the next one up." Other hulls described in careful detail include carvel (smooth), plywood, and cross-planked, which was used in our punts. A section of the book outlines different materials and offers suggestions for setting up the workshop. Different operations and techniques, from lofting to oarlocks, are described in lucid detail, and there are useful appendices and an excellent glossary of terms. Since I do not intend to build a boat, the reading of this book was for me more of a cruise down memory lane. But the vividness it triggered attests to the clarity of what in someone else's hands could be very dry text. As in his previous books, Rössel's good humor, his precision, and his love and knowledge of boatbuilding flood through the writing. This is not only a useful beginner's guide, but also a pleasure to read. It does not get much more encouraging than that. Anyone who has a notion to build a boat should get this book.
——Dana Wilde
This review first appeared in the
Bangor Daily News
(
www.bangordailynews.com
), and is used here by permission.
Share this article:
2023 Maine Boat & Home Show

Join Us for the Maine Boat & Home Show!
Art, Artisans, Food, Fun & Boats, Boats, Boats
August 11 - 13, 2023 | On the waterfront, Rockland, Maine
Click here to pre-order your tickets.
Show is produced by Maine Boats, Homes & Harbors magazine.