Far From the Tree - Messler Gallery
Friday, September 14, 2007 - November 22, 2007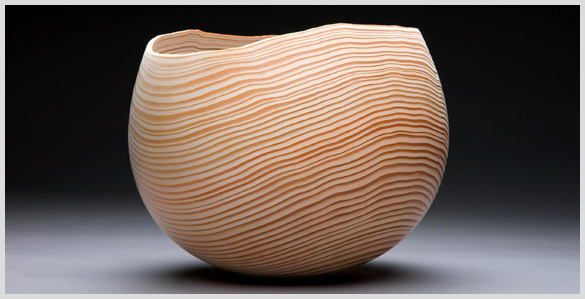 Strata Series (2007) Douglas fir with sandblasted interior, 9 ¼ in. height x 11 ½ width x 11 ¾ length
Artist: William Luce
Rockport's Center for Furniture Craftsmanship is hosting an exhibition at the Center's Messler Gallery in Rockport, Maine through Nobember, 2007. The exhibition, "Far From The Tree," presents a visual history of woodturning's emergence as a vibrant artistic form over the past 60 years.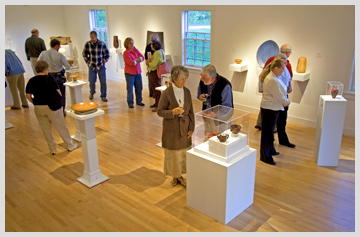 Far From the Tree opening reception at the Messler Gallery.
Photo by
Jim Dugan
At the center of the exhibit is work by pioneering artists Bob Stocksdale, Rude Osolnik, Mel Lindquist, James Prestini, and Ed Moulthrop. They focused on the natural beauty of wood by utilizing simple vessel forms, and all of them are now deceased. From that core radiates the work of influential contemporary artists who have expanded the language of the medium in new directions. The works on display feature a broad range of sensibilities, yet are related through their use of wood, lathe, and a shared history. Following its appearance at the Messler Gallery, the exhibition will be on display at the American Association of Woodturners Gallery in St. Paul, Minnesota from January 11 - April 18, 2008, and the Ohio Craft Museum in Columbus, Ohio from July 13 - August 30, 2008. Subsequently it is scheduled to appear at the Southern Ohio Museum in Portsmouth, Ohio and, tentatively, at the Houston Center for Contemporary Craft. Messler Gallery hours are 9:00 a.m. to 5:00 p.m. Monday through Friday and 10:00 a.m. to 4:00 p.m. Saturday. The gallery is located on the campus of the Center for Furniture Craftsmanship, at 25 Mill Street in Rockport, Maine. Work from the exhibition can also be viewed on the Center's website,
www.woodschool.org
.
Messler Gallery
The Center for Furniture Craftsmanship is a nonprofit school, offering courses in furniture making and related arts such as carving and woodturning. For more information about the Messler Gallery or the center, please call 207-594-5611 or e-mail
cfc@woodschool.org
.