Zucchini Boats
Held at the Maine Boats, Homes & Harbors Show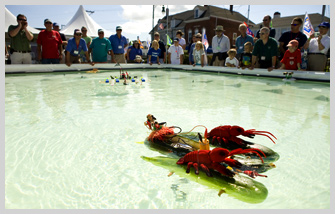 Winner of the Fastest Zuke Boat Award:
A jet-drive trimaran zuke concocted by Carlton Johnson
of Redfern Boat. Rumor has it that the vessel was bathtub-tested
the night before the show.
Scroll down for more images.
Under sunny skies during the 6th annual Maine Boats, Homes & Harbors Show, the First Annual Great Pen Bay Zucchini Boat Regatta, held on the Model Pond on Saturday afternoon, proved to be a crowd and participant favorite. A select cadre of Maine's crazier boatbuilders tried their hands at "green" boatbuilding using that most ubiquitous of garden vegetables: the zucchini.
In keeping with the somewhat zany spirit of the World Championship Boatyard Dog (r) Trials, all the contestants were winners. Here are the final results. Fastest: Carlton Johnson, Redfern Boat. Jet-drive Trimaran Zuke, powered by Rule bilge pump and 18-volt cordless drill battery. Piloted by a hula girl w ith a dual-lobster honor guard, this craft out-dragged all comers in the speed contest, and was still going strong at the end of the 1-hour competition (albeit moving a bit more slowly due to battery drain). Most Innovative: Six River Marine. Zucchini Catamaran piloted by Crazed Gnome. This was also a jet-powered zuke, and was very fast, but the craft suffered from some directional control issues. The same craft is set to return for 2009, but in Version 2.0. Farthest: Fred Carey. "Spruce Goose" flying boat zuke, powered by 4 propeller engines (a.k.a., e- cheapo battery-powered hand fans from Wal-Mart). The Goose was still taxiing along at undiminished speed, even after a one-hour endurance test. This zuke was a crowd favorite, with dozens of helpers reaching out to turn it around each time it fetched up on the poolside bumpers. Zucchini Bomb: this coveted award was won by Alvin Chase with his Incredible Jacques Cousteau Zucchini Submarine. This was originally a zuke catamaran powered by one of the Wal-Mart hand fans. This craft traveled approximately three feet before it sank. It then continued underwater under its onboard battery power for nearly an hour (don't try this at home). This model is at the cutting edge of nautical hydrodynamics; word on the street is that international intelligence agencies have shown interest in the craft, due to its promising potential for underwater surveillance and patrol duties. Work has already begun on the 2009 designs (late summer being prime research and development time on the coast of Maine). Here's a look at the Zucchini boats from the 2008 regatta.
Roll over numbers to view thumbnails