Boatyard Dog® Trials - Past Champions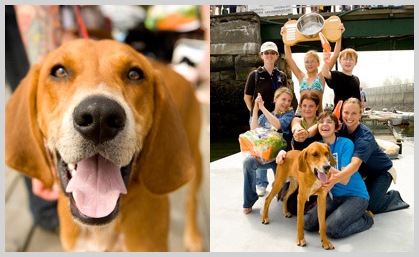 Boatyard Dog Winner, Truman (left) and his handlers, from Youthlinks,
a nonprofit youth organization located in Rockland (right).
Photos by Jeff Scher.
Eight canine contestants and their people showed off their skills (and their senses of humor) during the 2008 World Championship Boatyard Dog® Trials, before a lively crowd under bright, but foggy skies. The Trials are part of the annual Maine Boats, Homes & Harbors Show, held in Rockland, Maine. The new World Champion is a young and energetic bloodhound from the Humane Society of Knox County, who was trained and sponsored by Youthlinks, a nonprofit youth organization located in Rockland. He entered the competition as "Mystery Mutt, a.k.a. Agent K-9," handled by "Agents" from Youthlinks. The agents had a dual purpose in mind: they wanted Agent K-9 to win, but they also hoped that the exposure would help Truman (his real name) leave the shelter and find a new home with an adoptive family. To the sounds of theme music from James Bond and the Pink Panther, Truman and his handlers cleared the obstacle course, leaped from a tippy dinghy, disarmed secret agents, kissed a femme fatale, responded to commands in a multitude of languages, knocked a villain off the dock, and then resumed their cover as an everyday family and dog. After a tie-breaking performance, crowd acclaim (as measured by applause) clinched the championship for Truman and his Youthlinks team mates. "It was great to be involved in a collaboration with such a variety of businesses and non-profits, who together have enabled these kids to learn lessons and skills that will benefit them far beyond this two week project," said Youthlinks Program Director Amie Hutchison of her young team. She added "and if in the process Truman is able to find a new home--what could be better?" Truman and his agents went through rigorous preparation with professional dog trainer Marie Finnegan during the two weeks before the competition. After the competition, Truman told us, "This morning was just great--I was so glad to be out and about, to meet new dog friends and to smell the fresh sea air without even having to get wet! I had a blast training Youthlinks operatives in super secret spy tactics. I couldn't have done it without all of my agents and Marie who helped get me focused and ready for the trials. What I am really hoping for, though, is that my tricks will woo a family, and they will adopt me!" Second place went to repeat contenders Kelvin and Cody Penn, a dynamic pair of Chesapeake Bay retrievers sponsored by Adirondack Guide Boat. Their "Chessie Water Ballet" wowed the crowd, as did the pair's jumps from their very own diving board, and their fine swimming ability. Last year's World Champion, Kylie Davis, a border collie, did not compete, but she made a guest appearance and led the preliminary Boatyard Dog parade through the show grounds and down to the docks. As winner, Truman will be featured in Maine Boats, Homes & Harbors magazine's popular Boatyard Dog® column (Winter issue), and will keep the cherished revolving Pup Cup for one year. Each competing dog was awarded a canine goody bag courtesy of the Loyal Biscuit Company, located on Main Street in Rockland. The contest was based on three simple rules: either the dog or handler had to finish completely soaked; cheating was not only tolerated, but encouraged; and "there were no other rules." Judges were Dr. Bjorn Lee of PenBay Veterinary Associates in Rockport; Lucinda Lang, Spaniel Aficionada; and Holly Sherburne of Downeast Dog News. Bob McLaughlin served as emcee. Next year's trials will be held on Sunday, August 9, 2009, during the seventh annual Maine Boats, Homes & Harbors Show. Interested dogs should tell their people to visit
www.maineboats.com
for entry information. Only pre-qualified dogs are allowed on show grounds, no other pets are allowed. The Maine Boats, Homes & Harbors Show is held annually on Rockland's waterfront during the second weekend in August. The 2008 show was the sixth annual, and saw a strong turnout despite the wet start on Friday, with more than 10,000 people coming through the gates over three days. Some 70 boats were on display in the water plus another 30 on land. In addition, seven tents plus the Rockland Yacht Club building were filled with fine furniture, marine gear, architectural displays, artwork, crafts, gifts, clothing, and house wares.
Roll over numbers to view thumbnails