A Custom Hunt 41 Meant for Day Trips
By Art Paine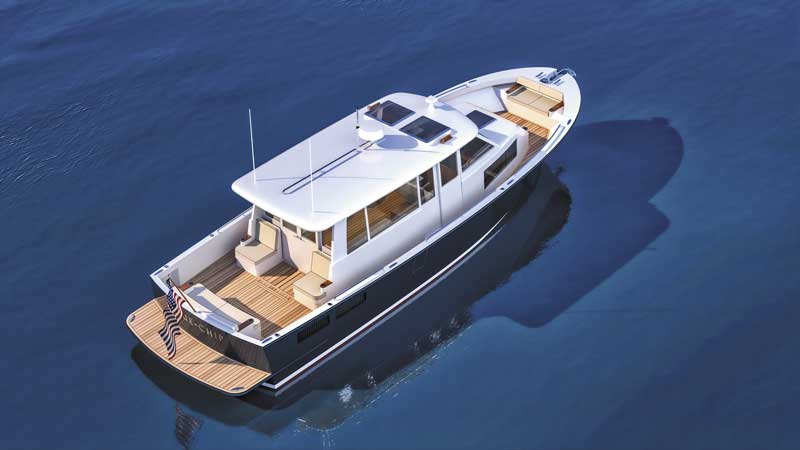 The Hunt 41 under construction at Front Street Shipyard is designed to be safe and comfortable. Image courtesy Ray Hunt Design
One might wonder why a customer would order a fully custom boat from Ray Hunt Design when the line is so well represented by dozens of excellent and luxurious stock boats. But take one look at the drawings for the new, custom Hunt 41 under construction at Front Street Shipyard in Belfast, Maine, and the answer is obvious. The hull, which was beginning to take shape at the shipyard last spring, is instantly recognizable as a Hunt design with its deep-V hull and multiple lifting strakes. But the rest of the design is unique.
If you can afford it and are experienced and knowledgeable about boats, nothing beats a personalized design. Many of the stock Hunt designs are big, with ample accommodations for cruising. But this particular client intends to use his boat for day trips, for sharing sunny afternoons with family and grandchildren and a few salty dogs. As a result, he has asked for some features that will make this fast powerboat unlike many others on the market.
Hunt principal designer Peter Boyce explained the several reasons his client was uninterested in the traditional big center console with outboards on the stern. The new owner prefers a traditional look. In addition, this boat will be used for fishing, not only under way but "drift fishing." A row of big outboard motors aft is a poor setup for that, especially with a whole family attempting to keep their lines clear. In addition to seating, the open aft cockpit also includes a hidden fish box and recessed fishing rod holders.
A person can walk from the transom to the bow in this boat on one low, flush level. The bulwarks are high and secure, with handrails that provide not only a firm grip but an additional few inches of stay-on-board security. This provides  security for moving about the boat—for adults, kids, and dogs. This is purely a pleasure boat, but it would also be ideal as a rescue or pilot boat. The other conspicuous feature is a shelter house with big windows. The shipmate whose responsibility most demands a clear panorama is the helmsman. I've never seen such a large unsegmented front windshield, which will be a delight for sightseeing but more importantly a tremendous asset for the person responsible for steering the boat.
I've done some captaining, and been a commuter on the ferries to the Cranberry Islands, and I'd never own a powerboat without a door at my shoulder, to open and snag the breast line on a piling, and pull a strain aft to pin the ship firmly against a dock. Clearly this owner has the same prejudice. Love that door! And there's one on the port side, too.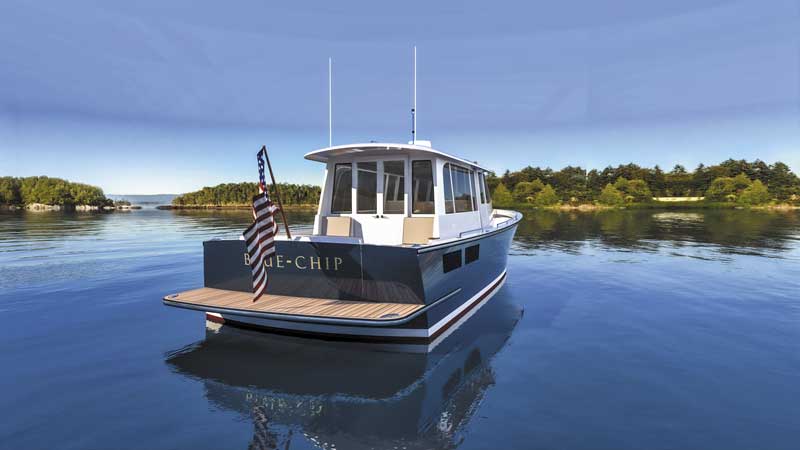 The main deck, the solid bottom, and the lack of a flybridge ought to make this a very stable powerboat. Image courtesy Ray Hunt Design
The boat is intended for entertaining and does not assume that everyone aboard will be young and spry. Hull doors make it easy to enter the boat from dock level, and a third transom door leads from the cockpit to the swim platform.  Maybe swim platform is a misnomer, because this is a solid deck surface at dock level, which will make getting on and off the boat much easier, especially for the less agile among us.
Quite a few boat designs I have liked in the past had a "forward cockpit" or rumble-seat. This boat has two plush seats, one facing forward and a smaller one looking aft. Youngsters always love to do a speed-ride up front. The upholstered surface will also be easy on the knees while oldsters adjust dock lines or count the depth-tabs at each fathom along the anchor rode.
I know just enough about boat design to do a mental evaluation regarding center of gravity. The low level of the contiguous main deck will bring that center downward, with a positive input on stability. According to Boyce, the owner requested that the boat be constructed with solid fiberglass bottom plating. This detail would be nearly impossible to find on any stock boat. Most boats nowadays are made with a composite "foam sandwich" structure, with relatively thin outer and inner skins of glass over high-strength closed-cell foam.
A sandwich bottom is generally stiff and dimensionally strong. But two thin skins with a light core are more penetrable if they encounter sharp flotsam or if grounded on rock. For a little greater overall weight at the ultimate low level, this one, like a steel pilot boat, will fear nothing in service. The main deck and the solid bottom and the lack of a flybridge ought to make this one of the most stable powerboats ever. It will be a fun ship for taking family and friends out to places like the eastern entrance of Long Island Sound with its extra-strong currents, and rough water.
Powerboat customers are often provided more cabins, berths, and overnight spaces than they ever end up using. Since this boat was designed for day outings, the deckhouse is a little narrower, and the forward cabin offers just a small vee berth, which will likely be used mostly to stash duffle. The result is a sense of spaciousness. Certainly the many large windows will also make for a roomy feel. The biggest "picture windows" port and starboard can be electrically lowered so as to be almost fully open. Add the two wing doors and a double sliding after doorway, and there will be ample cross-ventilation.
The galley is tucked under the fore cockpit settee, and includes a fridge, freezer, microwave, single-burner stove, and a sink. The head includes a shower in its own stall space. That's something I'd always want in any boat, especially one used for fishing. A warm freshwater rinse can even be seen as a safety advantage, to revive a shivering kid who swam too much, or a hypothermic fog lookout.
This boat will be powered by a pair of Volvo IPS pod drives. It won't be as fast as a center console with four massive outboards. But it'll be fast enough and a good deal quieter. The designer expects that top speed will be close to 40 miles per hour.
When I worked for a time in a design office, our powerboat guru said the ideal placement for propulsion when wave jumping in a boat is "Within the boat, but as far aft as you can go." The benefits of such placement are many, foremost that the boat will keep its props immersed, never stuff the bow, and always land on its control surfaces. Statistics indicate that the clean entry and counter-rotating screws give the highest thrust over drag. Exhaust noise goes submerged, and nothing aims a motorboat in tight spots better than turning the actual pushers. As much as it is "cool" nowadays to line up a gang of mega-outboard motors way aft, I've heard opinions from captains way more experienced than I that two is the best number for maneuvering. One obvious reason is that it's the best layout for "twisting" a hull in its own length, one going forward, the other reverse. In addition, Volvo has refined a pod-drive joystick control with algorithms that make it fairly easy to sidle up to a dock.
In discussing the dynamics of this hull and drive system, it was stressed that the boat uses Humphrey Interceptors. These are, essentially, trim tabs but so sophisticated that they provide a host of ancillary benefits, including a computerized control system that can be used in automated mode or by direct human input. Not only do these interceptors provide the optimum trim angle for any speed, or for climbing up onto a plane, but they are sometimes configured for roll-damping. According to Ray Hunt Design President Winn Willard, "Having a boat without these working for you, in the present day, would be like having an airplane without flaps."  But in this case, a more forceful expedient against rolling will be a Seakeeper stabilizer. This boat will go after blues and stripers in season, but more often might be found wallowing in the tide rips at idle or even with engines off—a side chop with current coursing over an undulating bottom can be ideal for ground fishing. The Seakeeper can be run off batteries, and will go a long way toward keeping anyone from having to use the chum bucket.   
Front Street Shipyard won the construction honors for several reasons. The designers and the owner demanded extremely strong fiberglass work. Front Street is all set up to pull vinylester resin into the glass matrix, using resin infusion, which maximizes the ratio of reinforcing fibers to the liquid binder. The yard's new waterjet cutting table also can fashion features that couldn't be done any other way.
There isn't as much cabinetry in this day boat's interior as in other styles, and that can mean what is seen is the more keenly scrutinized. The scheme calls for flush white paneling with rounded cornices, rails, and accents, in cherry wood. The floor surfaces in the cabin areas will be oiled teak. The hull topsides and deck are cored fiberglass with vinylester resin.
I have always loved Hunt powerboats. Mostly I love the look of them, but there also is all that history—the prototype deep-V out in huge seas during the 1960 America's Cup, off Brenton Reef. Dick Bertram's Moppie setting records in the Gulf Stream bound for Nassau. Little Surfhunters frolicking around in the slop chop south of the Cape Cod Canal. I once flew to Florida and tested Stingray, a boat I watched being built at Wharton's Shipyard, in my childhood home of Jamestown, Rhode Island. I also raced 110 and 210 sloops, but that's the flip side of the Hunt legend.
This unique 41.5 footer incorporates classic Hunt features, combined with custom inspirations from a brilliant customer, a man after my own heart. 
---
Contributing Author Art Paine is a boat designer, fine artist, freelance writer, 
aesthete, and photographer who lives in Bernard, Maine.
Hunt 41 Specifications
LOA: 41' 6"
Waterline length: 37' 1"
Beam: 13' 6"
Draft: 2' 5"
Displ.: 3,000 lbs.
Fuel: 420 gal
Water: 120 gal
DESIGNER
Ray Hunt Design
New Bedford, MA
508-717-0600
BUILDER
Front Street Shipyard
Belfast, ME
207-930-3740
Share this article:
Digital Edition Available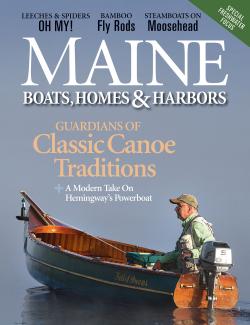 Can't get to the store to buy your magazine? We deliver the stories of Maine's coast right to your inbox. Sign up here for a digital edition.