Lee of the Boathouse - Issue 96
Issue 96
By Peter H. Spectre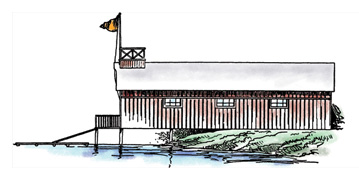 In the event you were wondering what to do with all that cash creating an annoying lump under your mattress,
Showboats International
, a magazine specializing in NGRW (non-governmental redistribution of wealth), points out that you can rent the 204-foot Force Blue for $298,798 a week and the 289-foot Maltese Falcon for $454,692 a week; both are "plus expenses." In further news from the NGRW front, there has been renewed interest lately in the old J Class yachts, brought on primarily by Internet money and the need to get rid of that pesky stuff. Since there are only three old-school Js left, (
Shamrock V, Endeavour
, and
Velsheda
), new ones will have to be built. So far a (somewhat) replica of Ranger, winner of the 1937 America's Cup, has been built, and the founder of Netscape has ordered a copy of
), Endeavour II
). Speaking of the Internet, the test these days for proof of enlightenment is a high-speed Internet connection. If you have one, you're enlightened; if you don't, you're not. A good part of mainland Maine passes the test, but the islands, as you would expect, have problems. Now comes word that Redzone, a company out of Rockland, has signed up the Cranberry Isles for not just high speed, but high-speed wireless. The technology involves the use of a mesh network provided by small radios that bounce a signal over the islands. And speaking of the Cranberry Isles, the Cranberry Cove Ferry Company, which runs a summer passenger service between Southwest Harbor and the Cranberry Isles has a new boat, the
M/V Sutton
), which had originally been carried by the USS America as a liberty launch. The boat was converted to carry 80 to 85 passengers at a time by SW Boatworks in Lamoine.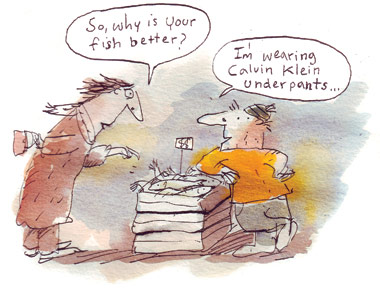 Illustration by Caroline Magerl
Taking a page from the Starbuck's playbook (it isn't just coffee; it's a Coffee Experience and therefore worth significantly more than the sludge in a Styrofoam cup they serve at the corner store), the groundfishermen of Port Clyde have formed the Port Clyde Fishing Cooperative and intend to take their product upscale. They are working with a Portland-based marketing firm, Maine & Co., whose CEO Matt Jacobson noted in a Portland Press Herald story that "Groundfishing follows the fish-sticks model now; it rewards high volume and low price." The goal is to replace that model with a new one involving low volume and high price by branding the Port Clyde catch as a cut above everyone else's and proving it by selling only the highest quality fish. When the per-pound price of lobster was in the $15 range last late winter/early spring, someone was buying them, but not us. It seems overseas demand was high—and still is—since the declining dollar, especially in relation to the Euro, made the price seem to be not as over the top as it was. (Current prices are much, much lower.) Meanwhile, one of the most famous lobster eateries on the downeast coast has closed. Eaton's Lobster Pool in Blastow's Cove, Little Deer Isle, in business for 43 years, is (sob) no more. Ownership of the Marine Technology Center—a.k.a. the Boat School—for years a part of the Washington County Community College, is being transferred to the city of Eastport. Renamed the Maine Marine Technology Center, the school's curriculum will be administered by Husson College of Bangor. The course of instruction will remain more or less the same: traditional and composite boatbuilding and repair, propulsion system installation and maintenance, painting, boathandling, etc. The U.S. Department of Commerce invited representatives from the states to join their delegation to the 2007 China International Boat Show in Shanghai. Only boatbuilders and marine suppliers from Maine signed up. The result is that the state of Maine in effect represented the U.S. and therefore expects to gain a lot of business from a huge country with an expanding recreational boating market. Fund-raising these days has almost become a competitive sport, with every organization trying to outdo the next with an even nuttier scheme to gain people's attention. ("You show me the Kennebec River in a rubberized refrigerator crate just after ice out, and I'll raise you a 250-mile barefoot road race through the western mountains with only one rest stop.") One of the latest to get in on the act is the West Eden Village Improvement Society on Mount Desert Island. On September 9 they will try to beat the Guinness world record for the shortest amount of time to lay a mile of pennies end to end (current record, 2.5 hours). They're collecting 84,500 pennies to do the job; they'll keep those and any extras, and use them to build a public playground. It will have been been held by the time you read this, but as of this writing the main event at the Fourth of July celebration in Grand Lake Stream was slated to be a bull-slinging contest, and they weren't planning to sling the whole animal, if you know what I mean. Contestants would be challenged to sling the bull into a bucket; the most by weight would win. "Politicians are welcome to participate," wrote the Machias Valley News Observer, "but an unfair advantage is recognized." Pirates are all the rage, too. Why? I don't know, but I suspect it has something to do with the popularity of the Pirates of the Caribbean movie trilogy. My friend, the late George Putz, thought he had the answer a few years ago. "There is a pirate in all of us," he wrote. "There must be, or else how could such a bunch of foul, rotten, murdering, thieving bastards have gained such a romantic attraction in the psyches of our artists and children?" Bear in mind, by the way, that September 19 is the official Talk Like a Pirate Day, and if you want to learn how to talk like a pirate you can't do any better than study a typical rant from Long John Silver in Robert Louis Stevenson's Treasure Island: "Flint was cap'n; I was quartermaster, along of my timber leg. The same broadside I lost my leg, old Pew lost his deadlights. It was a master surgeon, him that ampytated me—out of college and all—Latin by the bucket, and what not; but he was hanged like a dog, and sun-dried like the rest, at Corso Castle. That was Roberts' men, that was, and comed of changing names to their ships—Royal Fortune and so on. Now, what a ship was christened, so let her stay, I says. So it was with the Cassandra, as brought us all safe home from Malabar, after England took the viceroy of the Indies; so it was with the old Walrus, Flint's old ship, as I've seen amuck with the red blood and fit to sink with gold.... Where's all England's men now? I dunno. Where's Flint's? Why, most on 'em aboard here, and glad to get the duff—been begging before that, some on 'em. Old Pew, as had lost his sight, and might have thought shame, spends twelve hundred pound in a year, like a lord in Parliament. Where is he now? Well, he's dead now and under hatches." In our Chronicles of Crime Department, Bar Harbor Division, Resting In the Road Section, we have these items from the "Island Police" column in the
Ellsworth American
: "A man fired from a local taxicab company was reportedly found lying under one of the cabs." And, "A man was reported lying on the sidewalk in front of the municipal building on Cottage Street. Police issued a warning to the man for having an open container of alcohol in a public place, then moved him along." In our Brazen Theft Division, Caught in the Act Section, we have the Waldoboro man who drove up to a Southport Island property, loaded two huge bronze propellers worth approximately $30,000 each onto his flatbed tow truck, and drove off. Luckily for the owner and unfortunately for him, the props fell off the truck near Boothbay Harbor. Before the perp could reload them the police arrived. The word from some naturalists is that this year's especially strong late-winter/early-spring storms along the coast damaged or destroyed many bird nests in exposed locations, such as those of falcons, ospreys, and eagles. The fear is that this might have had an effect the laying and hatching of eggs. Meanwhile, in mid-May ospreys messing around with their nest also messed around with electricity transmission wires that serve Damariscotta, Damariscotta Mills, and Bristol. More than 8,000 CMP customers lost their power. The Hinckley Company has announced that they will not, after all, build a 300-slip marina and service yard at Point East, a waterfront development at the old Mason electricity-generating plant on the Sheepscot River in Wiscasset. No explanation has been given. If you drive downeast along Route 1 from Portland, you know Red's Eats, the take-out shack on the corner by the Wiscasset Bridge. It turns out that the shack has been squatting on town-owned land all this time, so to clean up the matter the owner of Red's bought the land from the town: $72,000 for .27 acre. Just when you thought all of the proposals for a Route 1 bypass around the Wiscasset bottleneck had been made and studied to death and fought over in meetings and in the press and that somewhere, somehow, someone would be making a decision to get on with the job, along comes a gent who says, hold it a second, let's talk about a tunnel under the Sheepscot River. So the discussion of that has become the near-bloodsport of the moment. They're soon to get on with the job at the Trenton bridge that carries Acadia-bound traffic from the mainland to Mount Desert Island. Funds have been allocated to build a new connector road and reconfigure traffic lanes to ease the bottleneck onto the island. And in further bridge news, the observatory atop the new Penobscot Narrows bridge across the Penobscot River at Bucksport is now open. At 420 feet, it's the tallest bridge observatory in the world. According to a study by the Island Institute, of Maine's 5,300-mile coastline, only 20 miles are currently working waterfront and that number could easily diminish from development pressures. One of the more interesting referenda questions coming up in this November's statewide election is whether or not to allow the Passamaquoddy Tribe to build a harness-racing track with an associated slot-machine casino in Washington County. The consensus is that if the proposal passes, eventually casino gambling will spread to the rest of the state. Bar Harbor's Abbe Museum has mounted a special exhibition this summer on the various uses of birch bark. "A Tree With Eyes" features historic and contemporary items, from boxes and baskets to canoes and works of fine art: 207-288-3519 or
www.abbemuseum.org
. The Carpenter's Boatshop in Pemaquid has a new workshop—a timber-frame barn built by Bevel Cove Builders assisted by a gang of Amish craftsmen. The building replaces a converted chicken coop. The Carpenter's Boatshop is a teaching and service community that supports itself by building new and restoring old boats, and, lately, by building furniture. They turn out lovely small craft at reasonable prices. The Carpenter's Boatshop, 440 Old County Road, Pemaquid, ME 04558; 207-677-3768. Eleven crafts organizations have joined forces to sponsor a juried exhibition of the output of Maine woodworkers. The application deadline for Maine Wood 2008 is August 10th; the exhibition will open on November 29 at the Messler Gallery, Center for Furniture Craftsmanship in West Rockport. More information and application forms from the center, 207-594-5611 or
mj@woodschool.org
. And of course, you can see a whole slew of fine craftspeople of all stripes at the Fifth Annual Maine Boats, Homes & Harbors Show, August 8-10, Rockland, 207-236-8622;
click here to find out more about the show
. Few towns have been as enthralled with a single Hollywood movie than Camden. This year is the 50th anniversary of the filming of "Peyton Place" in Camden, and the town has gone berserk with galas and celebrations, everything from published reminiscences by townspeople who served as extras to a full-bore extravaganza in June that included a cocktail party, a parade, and a 1950s bowling party. They've been digging up the main street through Damariscotta for sidewalk, road, and underground utilities work so thoroughly lately that, if it weren't for the modern construction equipment, the downtown would almost look as it did in the ninteenth century. According to the Lincoln County News, a Damariscotta visitor was heard to say, "Isn't it charming to find a town that still has a dirt road." Finally, who knows why a magazine about boats, homes, and harbors on the coast of Maine has a subscription to
Farm Show
("for everyone in agriculture interested in the latest new products and ideas"), but we do. Whenever a new issue arrives in the office, all work stops for a reading aloud of the headlines. Herewith a sample: "Indestructible Bale Feeder Made from Old Tires." "He Made His Own Beer-Tossing Fridge." "Horse Owners Scoop Up New Manure Vac." "Turn Your Toilet Tank Into An Aquarium" "He Rides Two Riding Mowers At Once." Farm Show, P.O. Box 1029, Lakeville, MN 55044;
www.farmshow.com
.

Information Welcome: We look forward to your notes, tips, tirades, clippings, press releases, rants, and raves for possible inclusion in this column. Send to P.O. Box 758, Camden, ME 04843; fax 207- 236-0811; editor@maineboats.com.
Click here to read In The Lee of the Boathouse in past issues and other articles by Peter H. Spectre >>
Share this article:
2023 Maine Boat & Home Show

Join Us for the Maine Boat & Home Show!
Art, Artisans, Food, Fun & Boats, Boats, Boats
August 11 - 13, 2023 | On the waterfront, Rockland, Maine
Click here to pre-order your tickets.
Show is produced by Maine Boats, Homes & Harbors magazine.