Early Spring on the Water
Cast aside those winter blues and go rowing
By Ben Emory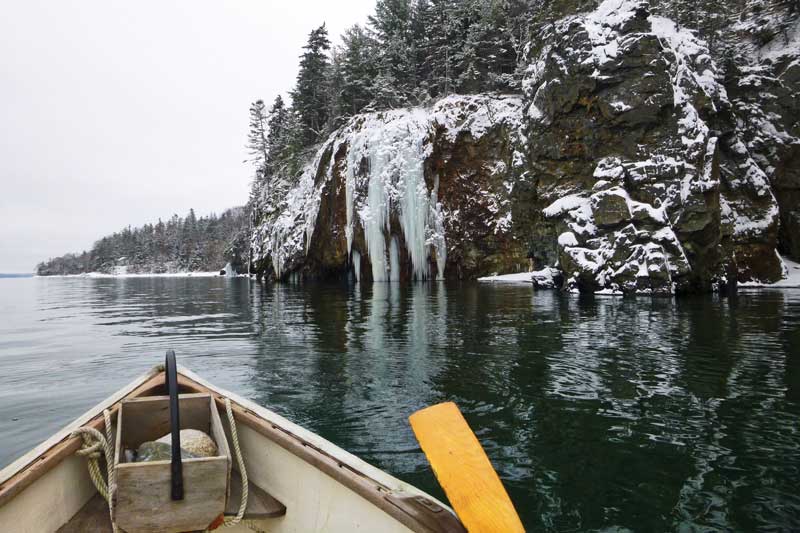 Enjoying the icy cliffs on Frenchman Bay is one benefit of "off season" rowing. Photo courtesy Ben Emory
There's a great cure for cabin fever and Maine winter blues. When ice, temperature, and wind conditions permit, go rowing!  
I was thinking just that and pulling hard on the oars when I passed close along a snowy shoreline under a leaden March sky. Out of the corner of my eye I caught sudden movement, then heard the "whoosh" of powerful wings. Twisting around, I watched a pair of eagles flying away, perhaps 10 feet over the bay and 20 feet ahead of my peapod. Just inshore was a steep-faced rock, snow deep on its flat top. Clearly, the eagles had just taken flight from there.
To my amazement, given my proximity, another eagle landed on the just vacated rock, a juvenile. Why was it so bold? Very slowly I began stroking backwards, my stern aimed straight at the eagle no more than 60 feet away. Paying no heed to me, it pulled at something, which I could see to be partially white with spots of red blood. When I had about halved the distance, the eagle lifted off, carrying its prey, from which dangled a wing. Probably a long-tail duck, I decided, for the long-tails are numerous, noisy winter residents in upper Frenchman Bay.
Wintertime adventures afloat do much to alleviate cabin fever. Usually it is only the rower and nature—the eagles, ducks, scoters, gulls, loons, and seals—out there. I have always done much rowing between April and November, but before the onset of major snowstorms or the risk of a frozen cove, my good wooden rowboats go under cover. Some years ago, however, I bought from Brooklin boatbuilder Eric Dow one of his 13-foot fiberglass peapods. This starkly white craft is named Gannet after the so-white, so-streamlined northern gannets, which are wonderfully inspiring to watch soaring along the outermost coast. Gannet lives inverted under a shore-side spruce and is sufficiently light and abrasion-resistant to drag up and down the gravel beach from half tide to high tide.
Is it cold out there? Most of the time not really, if I dress appropriately. I only row when any breeze is very light, minimizing wind chill. In winter, I carefully check the online hourly wind forecast before setting out. Even just four or five knots of wind add considerably to chill, and, of course, struggling against too much wind takes the pleasure out of rowing. Down to about 10 degrees Fahrenheit I can stay quite comfortable on a calm day. Below that I tend to ski, skate, or look out the window. On the coldest rows I wear insulated boots over two pairs of socks; mitten liners inside waterproof mittens (not gloves); long underwear, jeans, and wind pants; multiple, sheddable layers on my upper body; and a cozy wool ski hat. Some days hand and toe warmers inside mittens and boots are a godsend.
I take along a spare oar, a life jacket, a bucket, 10-power binoculars for watching the birds, and a clam hod on the stern thwart loaded with about 20 pounds of rocks to depress the stern. A peapod has no skeg and tracks straighter if the stern is depressed. That lack of a skeg is a plus, however, when dragging the boat up and down the beach.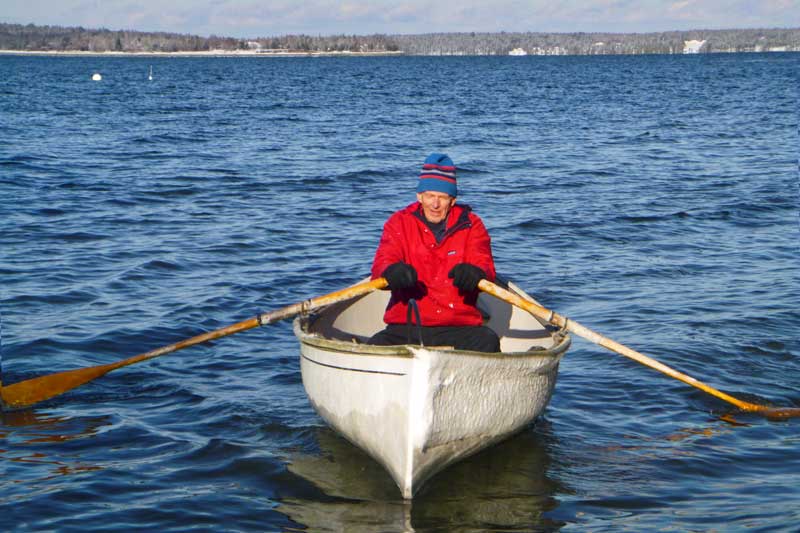 The author heads out, layered for the cooler temperatures, snow sticking to the stern. Photo courtesy Ben Emory
Sunny calm winter days are the best, especially after the sun begins to climb higher in the sky again. Sometimes I just row well away from shore, retract the oars, and settle onto the bow or stern thwart, where I can lean back against a cushion. Cadillac and Sargent Mountains rise off to the south, Schoodic Mountain and others of the Black Hills off to the northeast. Soaking up the sun, I revel in being alive in this extraordinary place.
One such a beautiful day in mid-January I took off from our beach for Thomas Island, a Maine Coast Heritage Trust preserve way up Eastern Bay, the westward-pointing finger of water at the head of Frenchman Bay. The relatively narrow, lightweight peapod slipped effortlessly along, stroke after glorious stroke. The air temperature was in the 20s, but I warmed quickly and stripped off some layers. In little more than an hour I grounded out on a gravel beach at Thomas Island. Above high tide there were perhaps eight inches of fresh snow. Hauling the peapod safely clear of the water, I secured the painter to a spruce branch and crunched off in the snow on an exploration of the island. This was the first time I had visited a Maine island in the depths of winter. After a granola bar and some water while perched on a warm rock enjoying the view, I was off again in the peapod for another hour of joyful rowing home.
Wind and especially cold temperatures preclude rowing on many days. Frozen harbors and bays also prevent it, although with our generally warmer winters in recent years, prolonged freezing of salt water is less common than years ago. Skim ice near shore is more frequent than solid freeze-up; with skim ice one often can work through it to open water. In our bay, floating chunks of ice drifting down from farther up can be an annoyance, but the fiberglass skin of the peapod endures the occasional, sometimes startlingly hard, collisions. In years past, high build-up of ice cakes and snow just above high tide line have at times made launching and retrieving the peapod difficult to impossible; that is less frequently a problem nowadays.
Sure, on lots of winter days no one is going to want to row for pleasure on Maine's coastal waters. When the water is calm and adequately ice-free, though, and the outside temperature is warm enough, rowing can cast aside winter blues.      
---
Ben Emory splits his time between Salisbury Cove and Brooklin. His book Sailor for the Wild—On Maine, Conservation and Boats is due out in May 2018 through Seapoint Books. 
Share this article:
Digital Edition Available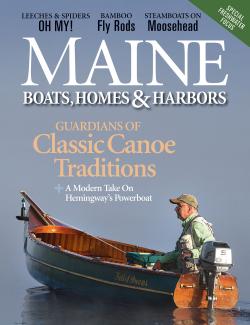 Can't get to the store to buy your magazine? We deliver the stories of Maine's coast right to your inbox. Sign up here for a digital edition.