Wayne: What a Find
By Mimi Bigelow Steadman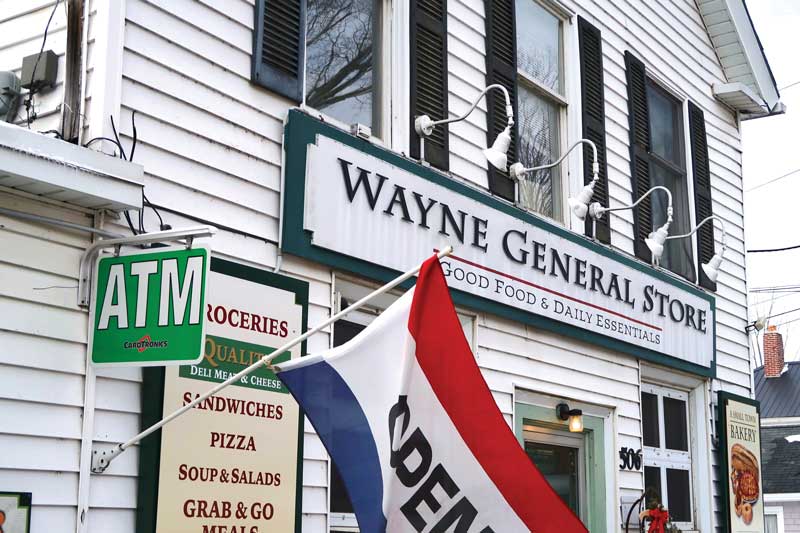 Photo by Mimi Steadman
At the Wayne General Store, they sell bumper stickers that ask, "Where the hell is Wayne, Maine?" I discovered the answer a few summers ago, when a country-roads wander led to this pretty village on the edge of the Winthrop Lakes Region, about 17 miles west of Augusta. 
Devoted residents and generations of summer people know exactly where Wayne is, and they're convinced there's no better place. "It's like Mayberry," said Alex DeForge, whom I met at the general store. "You walk the dog down to Tubby's Ice Cream in the evening, and everyone you see says hello."
"Everyone's got your back," added Brelyn Lafreniere, who was tending store for her mother, proprietor Julie Cundiff. 
Named for Revolutionary War General Anthony Wayne, this tight-knit town has another big plus: its scenic perch on an isthmus between Androscoggin Lake and Pocasset Lake. Ringed by woods and water, Wayne's unspoiled environs have always drawn lovers of boating, fishing, hiking, and relaxing. Summer homes, boathouses sheltering wooden runabouts, and long-established boys' and girls' camps edge the shores.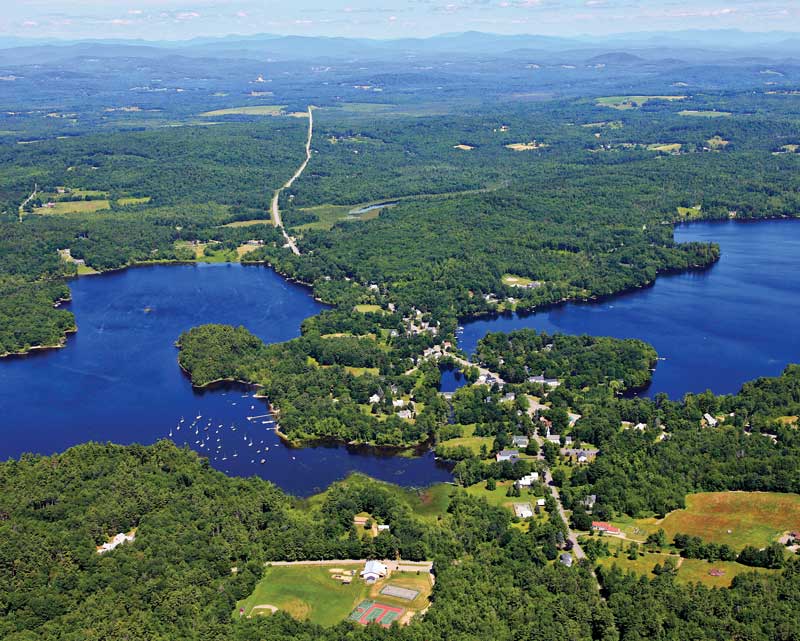 The small town of Wayne, just west of Augusta, is surrounded by water and woods. Photo by Dave Cleaveland/Maine Imaging
Wayne also boasts this country's oldest continuously operating yacht club, according to the club's commodore Jeff De Groot. Established in 1909, the unstuffy Androscoggin Yacht Club offers family memberships (just $95 per year) to anyone who'd like to join. Members' boats, mostly in the 15'-to-25' range, include canoes and paddleboats; some members don't even own boats. The club also provides adult and youth sailing and swimming lessons to members and non-members alike. The rustic clubhouse is the setting for a sailing regatta, a dance, and weekly grill nights, when members bring something to cook and spend the evening chatting at picnic tables and on the screened porch.
Steve Dodge is almost always there. "I was born less than a hundred yards away—I haven't gotten very far," he said with a chuckle. "I'm at the club around 300 days a year. In winter, I go paddling where a stream keeps the water open." Known for inviting both friends and strangers to go sailing, he especially loves being out on the water at night. "The lake is so beautiful then," he said. 
Another fixture in the boating scene is Chris Cushman. The owner of Androscoggin Wooden Boat Works, he found his vocation as a teen when a friend asked for help taking his dad's old boat to the dump. "I brought it home and restored it instead," he told me. It was a Lyman, and today Cushman specializes in these popular wooden motorboats (built between 1875 and 1973), which he describes as seaworthy, dry, and unpretentious: "You don't have to wear your captain's hat." Over the past couple of decades, Cushman and his crew have restored some 150 Lymans as well as many other wooden craft, power and sail.
A clutch of small enterprises makes the village of Wayne an appealing daytrip destination. Grey Goose Gourmet stirs up pepper jellies in such flavors as orange-pineapple-rosemary and roasted garlic-onion. Just down Main Street is the café and pottery at Old Firehouse Farm, which, together with Wayne Village Pottery, uses hyper-local clay excavated right in town. Nearby, Lakeside Pottery creates mugs sculpted with smiling "mugs." 
Everybody ends up at the Wayne General Store, where it's impossible to resist the pies, cookies, and muffins that Julie Cundiff bakes every day before dawn. There are comfort-food classics and bountiful sandwiches made with her fresh breads, too. On my last visit, I picked up a loaf of Cundiff's anadama bread. I'm definitely going back for more. And I want to try Grey Goose's brand-new carrot-cake pepper jelly, too. Ingredients for a picnic on the lake? Could be. It's a good thing I found out where the hell Wayne, Maine, is. 
---
Contributing Editor Mimi Bigelow Steadman lives on the Damariscotta River in Edgecomb.
---
If You Go
Androscoggin Wooden Boat Works
207-685-9805 • androscogginboatworks.com
Chris Cushman and his crew are the go-to guys when it comes to repairing, restoring, and brokering Lymans and other classic power and sail craft. An annual open house is held in late April.
---
Androscoggin Yacht Club
207-577-1330 • aycwayne.org
Established in 1909, this unfussy club has become the community gathering spot for on-the-water activities. All are welcome to apply for membership.
---
Grey Goose Gourmet
207-557-2384 • greygoosegourmet.com
In her home kitchen, Sandra Dwight-Barris has stirred her original pepper-jelly recipe into about a dozen sweet-and-spicy flavors spiked with varying levels of heat. Shop on line or in her seasonal home shop (knock on the door if the shop is closed), or look for Sandra at craft and food shows around Maine.
---
A Lakeside Studio Pottery
207-685-8123 • alakesidestudiopottery.com
Martha Hoddinott creates a variety of hand-built and wheel-thrown pottery pieces, including mugs with smiling faces and other tableware. 
---
Old Firehouse Farm
207-420-5421 • oldfirehousefarm.com
Jon and Gina Lamarche's in-town homestead combines a small, seasonal café serving pastries and light meals with a pottery that uses local Wayne clay. 
---
Wayne General Store
207-685-3818 • See Facebook page
In the heart of Wayne village, the general store is the place for fresh-baked breads and sweet treats, comfort foods, and the latest community news. Proprietor-baker extraordinaire Julie Cundiff calls the store her dream come true: "What's better than getting to see people I love every day?" she asks.
---
Wayne Village Pottery
207-685-3300 • See Facebook page
Using clay dug in her backyard, Molly Saunders crafts ornaments in the shape of Maine animals, including chickadees, loons, moose, and bear. She also throws such unusual vessels as Japanese teapots, French potato pots, and sauerkraut crocks.
Share this article:
2023 Maine Boat & Home Show

Join Us for the Maine Boat & Home Show!
Art, Artisans, Food, Fun & Boats, Boats, Boats
August 11 - 13, 2023 | On the waterfront, Rockland, Maine
Click here to pre-order your tickets.
Show is produced by Maine Boats, Homes & Harbors magazine.