Delightful Beast
A not-so-brutal boat that shaped lives
By Ben Emory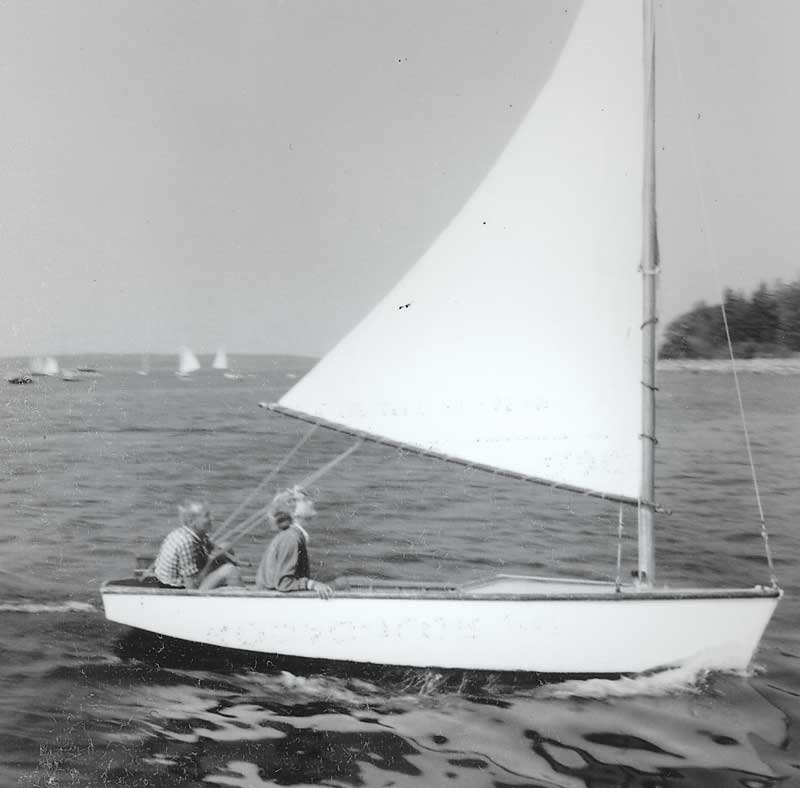 The Brutal Beast Tubby providing joyful times for the author and a friend in 1958. Photo courtesy Ben Emory
Was the Brutal Beast class of small sailboats really named for a gentle family dog? So reports Llewellyn Howland III, in his riveting 2015 biography of legendary yacht designer Starling Burgess, No Ordinary Being. Apparently, the dog only looked brutal. I wondered about that name during childhood summers when I spent every possible minute at the tiller of a Brutal Beast named Tubby.
According to the Burgess biography, he designed the Brutal Beast for his sons in 1912. Starling Burgess drew many successful yachts, probably the most famous being Ranger, the last and fastest J-Boat to defend the America's Cup, which he designed in collaboration with Olin Stephens.  Even when I crewed on the iconic Burgess-designed racing schooner Nina during college summers, I never suspected the distinguished pedigree of the fat, simple, hard-chine little Brutal Beast catboats that launched my sailing career.
The class proved popular, and many were built, with most of the original ones going to Marblehead, Massachusetts. Numerous top Massachusetts Bay racers began their sailing in Brutal Beasts. Nearly worn out in Marblehead, the boats were brought to Blue Hill and Brooklin well before World War II.
No doubt some newer ones were added to these Maine fleets, but by the 1950s, when my sailing memories begin, the Brutal Beasts I knew were tired, if not completely over the hill. Rotten transoms releasing rudder gudgeons, manila lines breaking, and cotton sails tearing were all part of the educational process—providing invaluable lessons to young sailors learning to cope with keeping boats seaworthy.
Fourteen feet long, Brutal Beasts are just over six feet wide. The mast is set far forward. In a stiff breeze downwind they are vulnerable to plowing the bow under and capsizing, necessitating that crews sit far aft. Early ones were gunter-rigged: the top spar, acting like a gaff, was as long as the boom, but was hoisted with a single halyard to a vertical position against the mast. Later boats were Marconi-rigged—perhaps more properly called "leg-of-mutton," given the low-aspect ratio of the sail. From a distance it was hard to tell one rig from the other.
The boats were originally built without any deck, making submerging the bow even more problematic. Many had foredecks added, and some had side decks too, decreasing the chance of swamping when the leeward rail reached water level. The differences in weight, differences in mostly ancient sails, and perhaps even some differences in hull shape made the boats far from equal to each other in speed. Some of the boats racing in Brooklin were remarkably faster than others, at least by the 1950s. Tubby was clearly faster than all others except one, enhancing my racing pleasure considerably.
Brutal Beasts guided me into a lifetime addiction to sailing, both coastwise and offshore; they also can be credited with helping develop my equally strong interest in conserving Maine land and waters. The shallow V shape of the boat's bottom meant that with centerboard raised and rudder removed, gliding onto a beach was easy. On sunny summer days a fleet of Brutal Beasts in Brooklin often carried a host of families to nearby islands for memorable picnics. Swimming in the bracingly cold water, exploring island shores, and searching in the shallows for sand dollars kept children entertained while adults prepared the sandwiches.
Those island picnics, and the sailing to and from them, played a major role in developing my love for Maine islands, an enthusiasm that later led directly to decades of engagement in island conservation.
The boats were perfect for childhood exploration of the endless nooks and crannies at the eastern end of Eggemoggin Reach. One long estuarine finger of water barely wider than the boat's length was said to have been a favored landing spot for smuggled booze during Prohibition. Just outside that cove, I was told to my great excitement, there had been a machine gun battle between a smuggler and a revenue cutter. Across the way on the Deer Isle shore is Greenlaw Cove. To enter this deep cove, one sails past Campbell Island, today preserved by conservation easement. Well inside the cove, a prominent point of land is now a preserve of Island Heritage Trust. Spectacular island scenery, shoals, rocks, gulls, terns, and seals offered everything that the young skipper of an exploring Brutal Beast could ask of a summer day.
Tubby even provided the adventure of meeting my first girlfriend. She was the enchanting blonde peering down from the committee boat as it fished me out dripping wet after capsizing in a race—a delightful silver lining to the cloud of no points for that race!
Brooklin's Brutal Beasts finally just wore out. Around 1961, the Center Harbor Yacht Club made the decision to encourage switching to Beetle Cats. Available new then and still available today, they continued the wooden boat tradition in Brooklin as other clubs switched to fiberglass.
Beetle Cats were close in size and capability to Brutal Beasts. So many years elapsed between my final sail in a Brutal Beast and my initial Beetle Cat sail that I cannot reliably compare them. I acquired and sailed a Beetle Cat for the first time when I had children of ages to enjoy the boat. Perhaps thanks only to nostalgia, I remember some preference for the Brutal Beasts. One specific was that the shallow rudder of a Beetle Cat causes rounding up into the wind at a relatively low angle of heel, a safety feature, I suppose, for children. I do not like the loss of control. The Brutal Beast rudders are deeper. I loved the excitement of sailing Tubby heeled way over, but a shallow rudder like the Beetle Cat's would, no doubt, have saved me a number of swampings.
The Brutal Beasts seem to have just vanished. Some years ago, perhaps 20, the late Sturgis Haskins of Sorrento, who loved old boats and their histories, wrote me that he had discovered Tubby in a Blue Hill barn. I never went to see her, but it was fun to hear the report. Then about six years ago I was astonished to spot a Brutal Beast sailing between Lamoine and Mount Desert Island on a beautiful Sunday afternoon. I was sailing my Catspaw dinghy. Much excited, I chased the Brutal Beast under sail, then with oars, but the breeze picked up and I could not get close enough to converse. My memory is that I did succeed in identifying her as one of the old boats from Brooklin, but I cannot remember which one. I never saw her or any other Brutal Beast again. 
---
Ben Emory splits his time between Salisbury Cove and Brooklin. His book Sailor for the Wild—On Maine, Conservation and Boats was recently published by Seapoint Books.
Share this article:
Digital Edition Available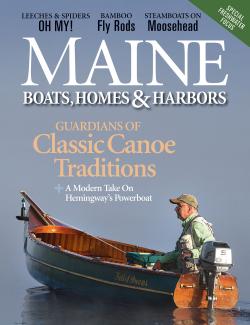 Can't get to the store to buy your magazine? We deliver the stories of Maine's coast right to your inbox. Sign up here for a digital edition.