A Tale of Two Boatyards
By Ted Hugger
Images courtesy Kittery Point Yacht Yard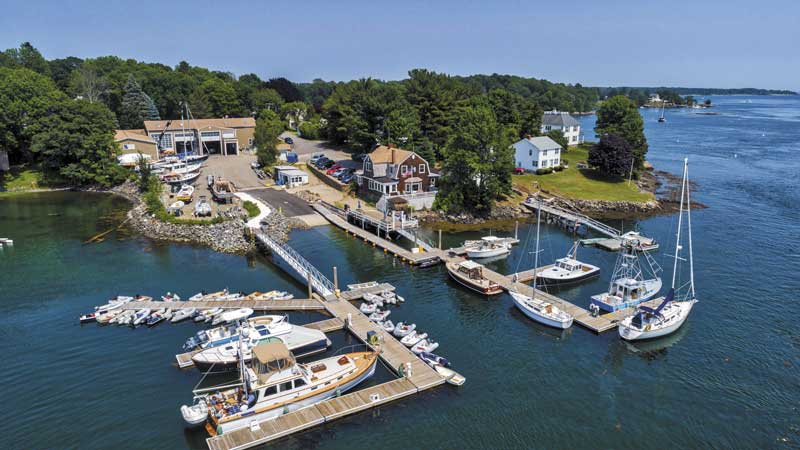 Kittery Point Yacht Yard owner Tom Allen is committed to ensuring that his company is a good steward of both its waterfront locations. Shown here is the Kittery Point facility.
Although it was the tenth anniversary of his purchase of Kittery Point Yacht Yard, that fact had completely escaped Tom Allen's mind. But John Glessner, the yard's general manager, remembered and had masterminded a surprise celebration.
"It had to be a surprise party, of course, but I needed something to lure Tom back to the yard for the celebration," Glessner said. He found his "something" in Maggie Grace, Allen's 36' Carroll Lowell-designed, Peter Kass-built lobsterboat. On the appointed day, 30 neighbors and other guests gathered on the yard's office-building deck overlooking the marina. Aboard Maggie Grace, the entire yard's crew stuffed themselves into the cabin and out of sight.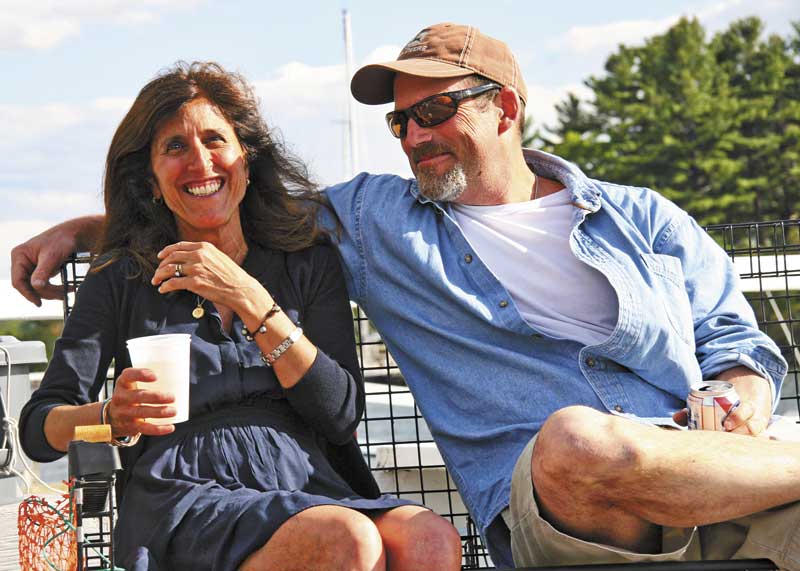 Tom Allen and his wife, Margaret, at Kittery Point Yacht Yard's 10-year anniversary party.
Allen was headed home at the end of the day when he got the call from Glessner. "Tom, I think your boat's taking on water; it's coming in pretty fast and furious," Glessner said. "How much water?" Allen asked. "Chris is down there with pumps now," Glessner replied. "How much water, John?" Frustration was rising in Allen's voice. "Well, Tom, it's past his shins," Glessner deadpanned.
An ear-to-ear grin crossed Glessner's face. "You could hear Tom a-coming, wheels spinning," he said. "Well, Tom jumped out of his vehicle and ran down the dock. He had blinders on, his focus was Maggie Grace as he blew right by the guests assembled on the deck."
Recalling that day—now part of company legend—Allen picked up the story. "I remember I was about at a dead run, and I didn't realize my neighbors were there laughing hysterically at me, watching my back as I ran down the gangway."
Just as Allen set foot on the boat, the crew popped out from below. Surprise!
"I had no idea why they were doing this," Allen marvels. "I had no idea it had been 10 years and that it was our anniversary. That's how quickly the time goes by."
The fact that the boatyard's neighbors were involved in the surprise celebration tells a lot about Allen's commitment to not only his employees and customers, but to the surrounding neighborhood community.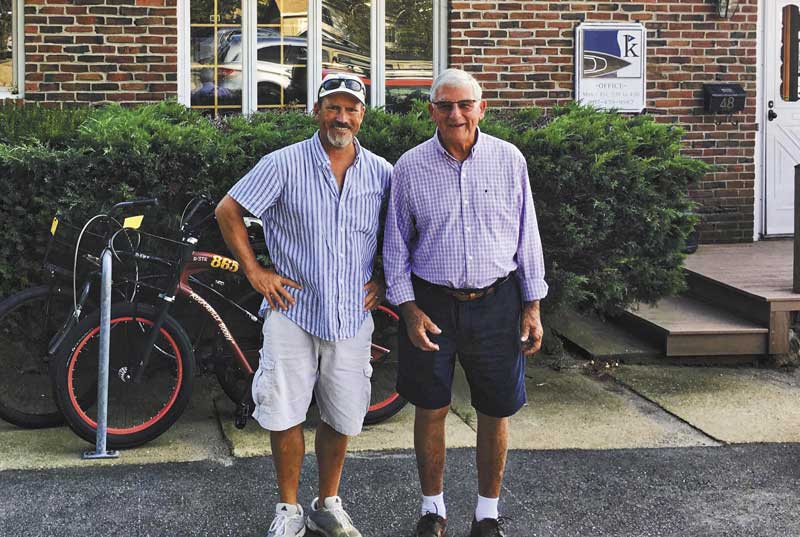 Elmer Dion (right) and Tom Allen during a 2018 visit. Dion owned and operated the yard from 1962 to 2000.
One thing in particular attracted him to the Dion yard. Having been involved with a small Maine waterfront town in his financial services job, Allen saw that seaside communities were losing their working waterfronts. "Facilities like Dion's were at risk of being lost forever, converted to condos or other non-marine development. And when that happens, the town quickly loses its identity," he said.
Taking on the yard has required significant infrastructure investments. "Our boatyard is the lowest level in the neighborhood, so water from everything above the marina tends to sheet-flow off the peninsula, through the boatyard and into the watershed," Allen said. "We invested in a lot of engineering, and worked with the DEP to re-establish the peninsula, including building a breakwater, paving the yard, and installing swales. Now, this peninsula is an effective detention berm for water flow."
The effect these improvements had on the neighborhood watershed was evident almost overnight. "We now have squid, mackerel, and stripers swimming up the boat ramp. The improvement in water clarity has been like night and day," Allen reported.
The impetus to tackle some of these capital investments came one day in the yard. An employee was setting blocks under a 28,000-pound sailboat on the yard trailer when boat and trailer dropped into a sinkhole. "The trailer and boat dropped 15 inches, and the employee dropped down just as much!" Allen exclaimed. "I ran out the door as he was shimmying out from under the boat and trailer, dusting off the rocks imbedded in the back of his shirt. Thankfully, he wasn't hurt."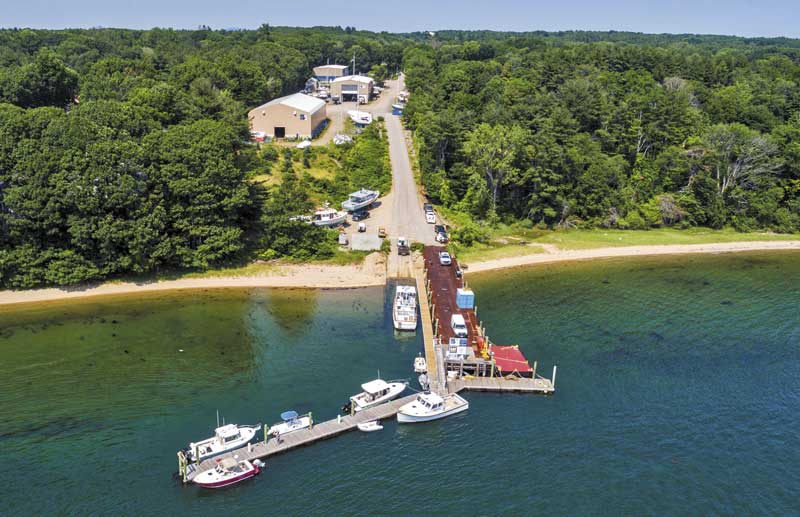 The Eliot yard, where most of KPYY's commercial service work is done, is just five miles upriver from the Kittery Point facility.
The yard—located in Kittery, Maine, on the Piscataqua River—traces its roots back to the late 1700s, when the watershed was dotted with shipbuilders. Its modern-day life dates to 1962 when Elmer Dion moved from Salem, Massachusetts to establish a boatyard. By 2000, when Dion sold the yard, he had built a reputable business. However, according to Allen, the yard "went through a period of interim ownership which didn't do it any favors."
Allen, who grew up on the Great Lakes, on the shores of Lake Erie, always had an interest in boats. "I had a boat before I had a driver's license—a 19-foot′ engineless Baha that I bought and repowered with an old 454 Chevy Corvette engine. It was 1982, and I was just 16 years old. I guess you could say my first girlfriend was that boat!"
A visit to his sister in Maine years later convinced Allen that "Maine was going to be home, and in 1988, I moved," he recalled.
At first, he was intent on becoming a stern mate on a lobsterboat. Before he was able to make that happen, a job in financial services came his way. He worked in that field for the next 18 years, all the while trying to find a way back to boats and boating. That opportunity presented itself when Dion's former yard came on the market a second time. In 2004, Allen became the sole proprietor of the historic property.
Allen later found out that area of the yard sank because years ago, old cars or trucks were included in the fill of the peninsula, and they eventually deteriorated and collapsed. "That was my entrée into the scary things that can happen in a boatyard, and why the decision was made to excavate everything and rebuild," Allen said.
Given his business background, Allen soon realized the key to a yard's success and sustainability lies in being able to scale the business. He found that scalability in October of 2007 when he purchased Patten's Yacht Yard in Eliot, the only other full-service boatyard on the Maine side of the Piscataqua River—just five miles as the crow flies from the old Dion property.
"The purchase of Patten's gave us another seven acres of waterfront. And George Patten was a boatbuilder by trade, so when he agreed to stay on, he also gave us respected boatbuilding expertise. Capitalizing on Patten's reputation, we formed Kittery Point Boat Builders and had some success in custom building smaller-scale boats for the consumer market," Allen said. But as the company's growing service business required more resources, the boatbuilding portion was put on the back burner.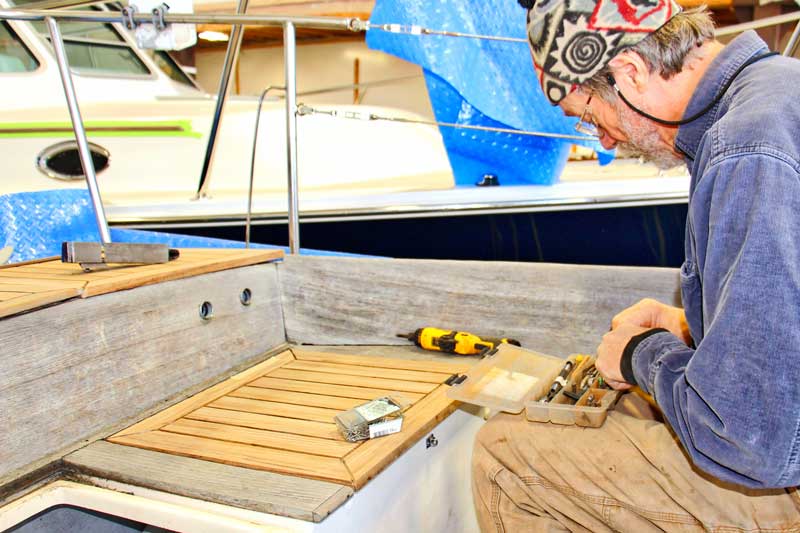 Both KPYY locations feature complete professional service shops, including carpentry, mechanical, rigging, and paint/varnish.
The Kittery yard is a quintessential Maine boatyard. Nestled on a tree-lined deep-water basin, the yard's traditional old buildings are surrounded by floating docks and moorings, vintage cottages, and sail and powerboats of all kinds. The bulk of the company's marina, mooring, and recreational boat work is done at the Kittery yard.
"But at the yard in Eliot, you're greeted by a different scene," Allen said. "You'll see modern steel storage buildings and a service dock in more of a sprawling industrial setting overlooking the Portsmouth Naval Shipyard across the river."
Eliot is where most of the company's commercial and governmental work is done. An approved maintenance facility for the Department of Defense, the company has a maintenance and repair contract with the Portsmouth Naval Shipyard for their emergency response vessels. The yard is also one of three Maine yards under contract with the Maine Department of Marine Resources, and is service provider for the New Hampshire Department of Environmental Safety.
Today, the two-site business offers customers 12 deep-water slips and 43 moorings, plus 30,000 square feet of heated and 10,000 square feet of unheated storage capable of wintering 200 boats up to 60 feet. In addition, the company provides launching, hauling and service for another 200 local commercial and trailer-boat customers.
All professional services are replicated at both properties, including carpentry, mechanical, rigging, and paint/varnish shops. The company employees 22 full-time employees at the two facilities.
Allen is quick to laud the strength of the company's management team. General manager John Glessner is a 30-year marine industry veteran. He was captain of a Swan 51 for three years and then operations manager for the Hinckley Company prior to joining the KPYY team. Dave Simonelli, mechanical group and commercial fleet manager, is a Landing School alumnus who oversees the Eliot yard. Jason Tittle, dockmaster and storage sales manager, is also a Landing School graduate; his is the smiling face of marina operations and he oversees boat storage at both facilities. Tara Silber, office manager and outboard sales rep, is involved in accounting, dealership management, internal processes for the company's software systems, web site development, advertising, and pandemic management.
"I don't run the place, I'm just a resource for the team," Allen said. "John and Dave manage the two operations and collectively, we share resources. We have good-humored crew; take Tara, for example. If the guys find a bird nest with babies in a mast, or a chipmunk in distress, everything stops. Tara comes out wearing her (animal savior) cape, and we lose her for a half day to the Animal Shelter trying to save these critters. In the spring it drives John and me crazy, but there's nothing we can do about it."
The annual workflow ebbs and flows like the tide. Spring and fall, of course, are primarily commissioning, launching, and hauling. Summer, the work is whatever comes over the transom, including service work.
Winter is when the yard does refits. The pedigrees of the vessels entrusted to KPYY for major renovation or restoration are impressive: Duffy & Duffy, Valiant, Wilbur, and Holland to drop a few names. In the case of the Holland 32s, the yard's forte is taking an existing boat or hull-and-deck kit, and then modifying it to meet the customer's vision. "We'll cut the top off a boat. We'll gut a boat. And we'll rebuild and customize it from the gunnels in. But we don't mess with the hull or the hull design," Allen said.
One of Allen's favorite projects involved refitting a long-time customer's Valiant 40 sailboat for an around-the-world voyage. The boat had been caught in a hurricane in Tortola; it was floating but dismasted with significant damage. The customer had it shipped up to KPYY for a refit that spanned 11 months and included a new mast and boom, standing and running rigging, sails, chainplates, bow pulpit, lifelines, stanchions, portlights, and topsides paint job. In addition, the KPYY crew installed a custom arch and hard dodger, replaced the refrigeration system, installed a new watermaker, and reconfigured the ship's battery bank.
From the look on Allen's face as he recounts the years-long relationship with this customer, you can tell it's deeply satisfying to him. "It's one of those feel-good stories. They put their trust in us to take them safely halfway around the world. And they were able to accomplish just that."
Allen is particularly proud of the company's mission statement which was crafted by key team members. "It boils down to three words: Give A Damn," he said, "and it's engrained in our culture: give a damn about each other, about the water resource, about our customers, and about our customers' trust in the work we do for their boats."   
---
Ted Hugger owns and operates the Cod Cove Inn in Edgecomb and the Cedar Crest Inn in Camden with his wife Jill.
Kittery Point Yacht Yard
48 Bowen Road, Kittery, ME
857 Main Street, Eliot, ME
207-439-9582; www.kpyy.net
---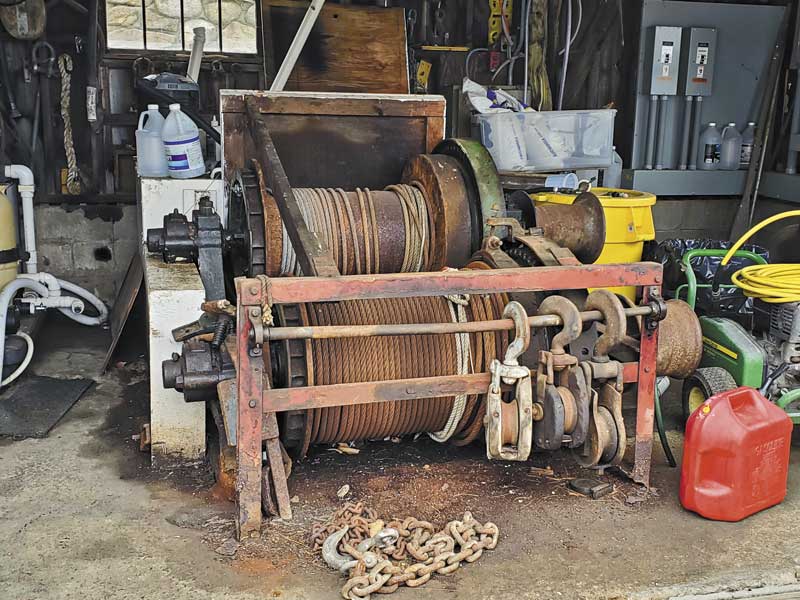 Old-school turning blocks
Years ago, moving large boats around the old Dion yard was not for the faint of heart. The crew used deadmen—large turning blocks strategically located around the yard and anchored with buried chains. The deadman connection points extended into the storage buildings and workshops. A boat would be floated onto a custom-built wooden crib on the marine railway, and then hauled. The crib would be connected to a series of deadmen turning blocks at various points around the yard. A worker called the Peanut Butter Guy went around with a pail of grease, lubricating the lines and the blocks. Finally, a stationary 70-ton winch (see photo above, credit Ted Hugger)—still on site in KPYY's winch-house—would take up the cable, slowly moving the crib and boat. The process could take as long as two days.
In 1999, the use of the wooden cribs, grease, lines, and deadmen died. Today, the KPYY crew relies on a modern commercial ramp with three hydraulic trailers and a 50-ton Travelift to facilitate boat moving.
Share this article:
2023 Maine Boat & Home Show

Join Us for the Maine Boat & Home Show!
Art, Artisans, Food, Fun & Boats, Boats, Boats
August 11 - 13, 2023 | On the waterfront, Rockland, Maine
Click here to pre-order your tickets.
Show is produced by Maine Boats, Homes & Harbors magazine.