Two Great Keel-Centerboard Options
Alerion Class Sloop and the Sakonnet 23
By Art Paine
Most sailors agree that some of the prettiest and most interesting places to sail are shallow waters, way up in the headwaters of bays or on pine-fringed lakes, which are inviting, although often fringed with rocks and not deep. The ideal boat for this sort of exploration should combine at least some of the safe stability of a keel with the shallow-water accessibility of a centerboard—if you do hit bottom, the centerboard can pop up and diminish the impact, if you're lucky.
Although a daysailer with a centerboard benefits from shallow draft, it also suffers from the resulting reduced stability—nothing enhances stability in a monohull more than depth of keel, which places ballast where gravity can maximize its effect. For that reason, successful keel-centerboarders are rare, and only the very best of them perform well. In this article, I will look at two of my favorites: Alfred Sanford's Alerion Class Sloop and Joel White's Sakonnet 23—chosen because extra effort has been applied to overcome the inherent limitations, and both have connections to Maine.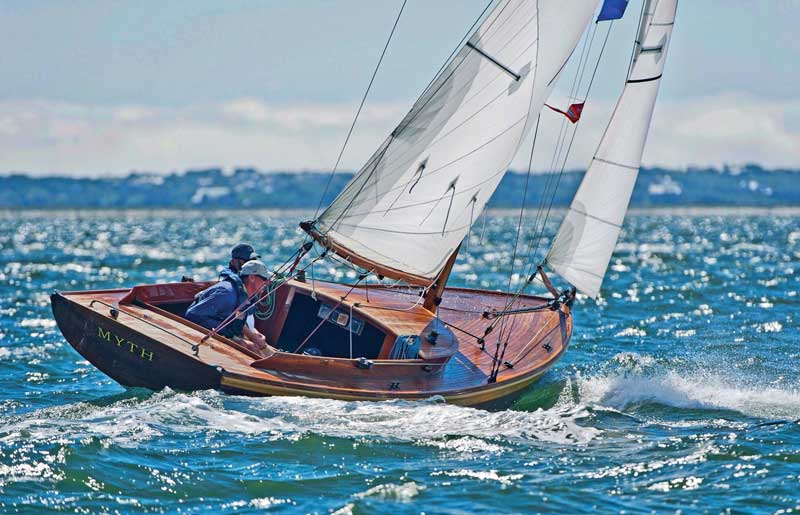 Brooklin Boat Yard will soon begin building the beautiful Sanford/Herreshoff "Alerion." Photo by Mark Krasnow, courtesy Sanford Boat Co.
Alerion Class Sloop
Nearly every sailor knows the name Alerion, even if hardly anybody knows its meaning (a stylized eagle used in heraldry). Nathanael Herreshoff designed his Alerion for sailing around Tuckers Town, Bermuda. The waters there were shallow, but midocean breezes could be strong, so he carved a model for a keel-centerboarder. His first version was too tender and hard to steer, so he tinkered with it and built another. And when that persisted in annoying his sense of perfection, he built one five inches wider and drew the bow out an extra foot in order to reduce weather helm. That boat was called Sadie, but over the years the many variations of this basic design have retained the appellation "Alerion."
Herreshoff's first Alerion was eventually restored and put on display at Mystic Seaport. The design, one of the first that exhibited his famous "hollow bow," has a compelling shape. It may pique some Herreshoff sycophants when I contend that the generic Alerion, although improved over time in stages, had some issues, including excessive weather helm, and a wide turning radius.
Then along came a genius MIT-trained architect named Alfred Sanford in the early 1970s who succeeded in minimizing the Herreshoff Alerion's bad habits, and, simultaneously rendered the boat a lot easier and faster to build. The end result was so successful that many boats were built in the unique Sanford manner. Nantucket has a one-design fleet nearing 35. Demand elsewhere looks promising—as long as the fast building process can render the boat affordable. Just this year, Brooklin Boat Yard has taken on production rights and is in the process of creating a "mini–factory" where the cold-molded hulls will be assembled.
What Sanford did was comprehensive. First he designed a separate, balanced rudder, which reduced the weather helm and cut the turning radius in half. Then he tackled ways to cut the construction time. He designed a unique centerline keel built of fiberglass. This fiberglass centerline unit is molded to fit the twisted inboard terminus of the cold-molded hull halves, eliminating one of the hardest fits that challenge a boatbuilder. It also formed the basis of a seamless centerboard case, which otherwise can leak and be difficult to build. This molded part provided an easy way to install the ballast lead, and it incorporated a shaft tube for the shallow balanced rudder. This unique "chassis" cut labor time by perhaps 20 percent, and was strong and light enough so that extra lead could be placed down low.
As he built new boats, Sanford continued to innovate, coming up with a super-efficient way to plank the boats, cold-molding mahogany and cedar so that both the insides and the outsides reveal beautifully spiled planking. All planks are pre-shaped to precise patterns, vastly simplifying installation. He reconsidered the deck with a view toward easier construction and a lessening of weight, using a few longitudinal stringers for deck reinforcement rather than multiple cambered beams.
The first boat Sanford built took over 3,500 person-hours to build. Thirty-five launches later, that figure was reduced to 1,400 hours. Brooklin Boat Yard's Steve White said he may even be able to shave a bit more time off the cold-molding process. White plans to build the boats in a dedicated space in the town's former Odd Fellows Hall.
Alerions are a contender for the most beautiful small sailboats in the world. If White and his crew can succeed in building them quickly and efficiently, the world may soon be beating a path to his door.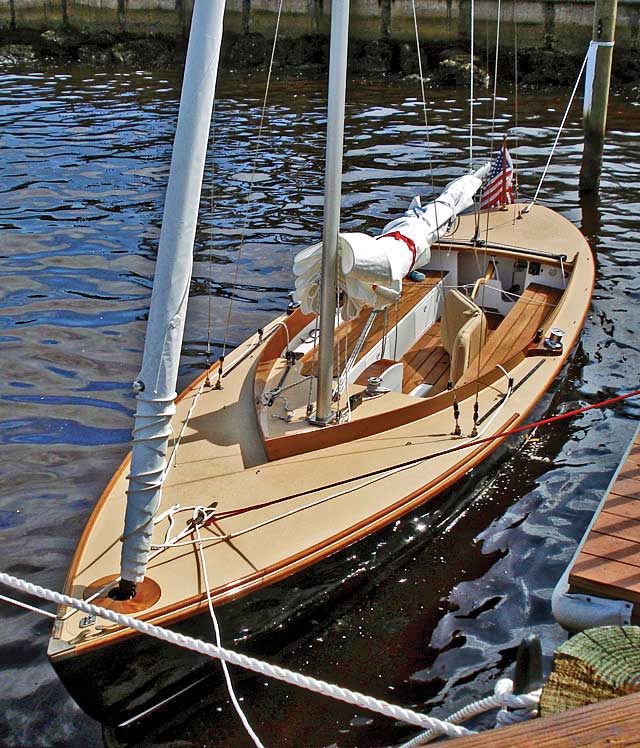 The Sakonnet 23 is great in a race, especially if the course includes a sand bar. Courtesy Marshall Marine Corp.
The Sakonnet 23
My other favorite keel-centerboarder is a design by Steve White's father, Joel White, for a double-ended boat that was originally named Lala and is now known as the Sakonnet 23.
Joel had plenty of experience putting centerboards into established Herreshoff keel boats, including the Herreshoff 12½ and the Fish. In the Lala's design, he pulled out all the stops. The shallow lead keel has a full-length bulb along the bottom, which lowers center of gravity to the maximum. The centerboard is a proper airfoil shape. And the rudder, though tiny, is separate from the keel, and balanced. Joel achieved stability by putting a chunk of lead in the bottom of his centerboard; a six-to-one tackle system pulls the board up. The hull in this 23-footer has very low freeboard and thus a very low deck. Because she's fairly narrow, the lee rail doesn't dip below the water very often. Probably the center of gravity of this design is as low as, or lower than, any keel-centerboarder in existence. The prototype boat was built plank on frame, to very light scantlings.
Lala was speedy and could sail in less than two feet of water. She steered nicely despite the small rudder. And like the Fish and Haven 12½, Lala benefited from Joel White's artistic eye, which I put right up there with Herreshoff's. The double-endedness is an unusual surprise. This is both a unique and extremely beautiful design.
The design's excellence didn't go unnoticed; the building rights were picked up by Edey and Duff down on windy Buzzards Bay, and renamed the Sakonnet 23. Eventually Marshall Marine took over the design. Upward of 100 fiberglass Sakonnet 23s have been launched. As was the case with the Alerion, the builders paid attention to high-quality molding techniques. Hulls and decks utilized a foam sandwich layup. The aluminum masts are lightweight and tapered at the top. The rig is tall and high aspect ratio. As a result, it's hard to beat a well-sailed Sakonnet 23.
This boat shares a feature of the Herreshoff 12½ in that it has a comfortable cockpit, although I suspect that the crew will want to sit on the rail in breezes over 17 knots. And although I've sailed one in moderate airs and enjoyed that cockpit, there is nothing in the high thin cockpit coaming and narrow side deck that speaks to my backsides about comfort. That minor consideration aside, the Sakonnet 23 is a great boat. I love to go fast. I love a beautiful boat. I admire Joel White's beautiful designs and professional quality drawings. A bonus is that a boat of under two feet draft that weighs only a ton can be trailered to those saltwater bays and those shallow Maine lakes by a used car that I can afford.
Both these boats are a home run for those who want stylish sailing in a cupful of water.  
---
Contributing Author Art Paine is a boat designer, fine artist, freelance writer, aesthete, and photographer who lives in Bernard, Maine.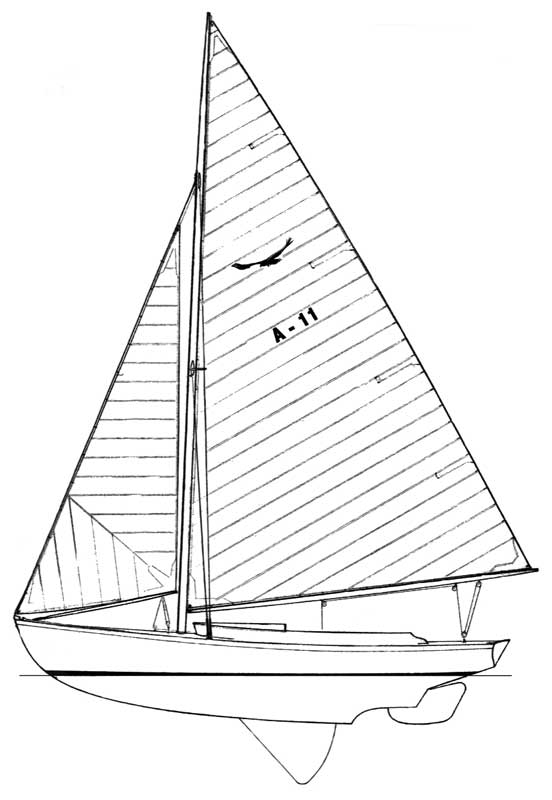 Illustration courtesy Brooklin Boat Yard
Alerion Class Sloop
Draft: 2' 5"
Sail Area: 363 sq. ft.
Beam: 7' 7"
Displ.  6,100 lbs.
Builder:
Brooklin Boat Yard
Brooklin, ME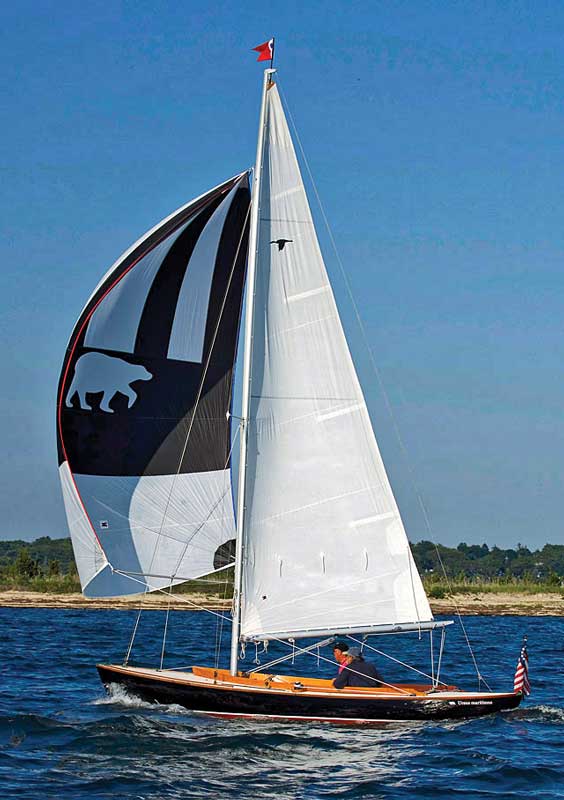 Sakonnet 23
LOA: 23' 2"
Draft: 1' 10" & 5' 2"
LWL: 18' 8"
Sail Area: 193 sq. ft.
Beam: 6' 1"
Displ. 2,000 lbs.
Builder:
Marshall Marine Corp.
South Dartmouth, MA
Share this article:
2023 Maine Boat & Home Show

Join Us for the Maine Boat & Home Show!
Art, Artisans, Food, Fun & Boats, Boats, Boats
August 11 - 13, 2023 | On the waterfront, Rockland, Maine
Click here to pre-order your tickets.
Show is produced by Maine Boats, Homes & Harbors magazine.