Mainely's Gourmet-Frontier Café-Issue96
Frontier Cafe, Cinema & Gallery, Brunswick
By Letitia Baldwin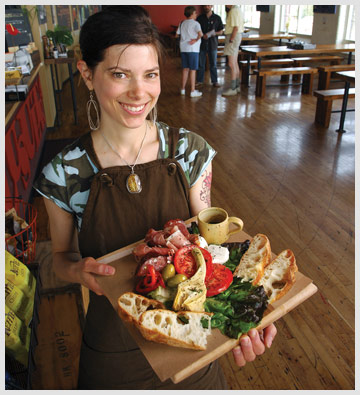 Sara Donnelly of Freeport, ME shows off a market plate called
the Italian at The Frontier Cafe in Brunswick, Maine.
The plate consists of Tuscan salami, tomato,
fresh mozarella, cerignola olives, artichoke heart, pesto,
roasted red pepper, and focaccia. Photo by Fred Field
The Cabot Mill, where steam-driven looms were powered by the great falls of the Androscoggin River, crawled with people a century ago. Employed by Boston merchant Francis Cabot Lowell, workers inside the vast red brick complex, illuminated by soaring windows and gas lights, produced 50,000 yards of plain and drill cotton per week at its peak. Straddling the banks of the Androscoggin River, the former mill stands on the site of a pre-revolutionary-war fort. Fort Andross, as the sprawling brick edifice is called nowadays, shines at night and once again hums with life. It houses Frontier Café, Cinema & Gallery, and other commercial enterprises, and is a far cry from a nineteenth-century cotton mill. The once-heavily polluted Androscoggin River has been cleaned up considerably, too, thanks to the passage of the 1977 Clean Water Act crafted and shepherded by a U.S. senator from Maine, the late Edmund S. Muskie. Overlooking the Androscoggin's lower dam, the Frontier Café, Cinema & Gallery offers a front-row view of a wide wall of falling water. Housed in what was once Mill 3, the interior has an industrial edge to it. The original wooden floors, heavily worn and scratched, remain. Century-old gooseneck lamps, salvaged from a factory in northern Maine, enhance the stripped-down effect. Paint-spattered hardboard floorboards, salvaged from another part of the building, artfully arranged on a wire-mesh canvas, adorn one brick wall. "Mill 3 offered us the perfect blank canvas," Michael Gilroy, who opened Frontier in October of 2006, said. The café, easily found by following signs through a warren of short hallways, is the kind of place where twenty-somethings can shrug off their backpacks, sink onto a worn leather sofa, and thumb through a magazine while they wait for their hot salami panini ($8) made with Brie cheese, sliced apple, red onion, and tomato aioli. With the sandwich they can have a glass of equally tasty Old Engine Oil ($4.50), a Scottish ale, or one of many other eclectic microbrews from around the world. Meeting an old friend? Catch up on the latest news while sipping chilled vinho verde ($5) and eating a Cheese Marketplate ($10)—Humboldt Fog cheese, Manzanilla olives, golden raisins, Belgian chocolate bits, and paper-thin apple slices—elegantly presented on a maple board. One of the café's lovely salads ($6), carefully composed of mizuna, spinach, arugula, and other organic greens lightly dressed in Dijon vinaigrette, can serve as a mini course. Frontier Café's buffet-style fare, consisting of wraps, paninis, salads, and various Marketplate boards, is light, but great care is taken in the choice of ingredients, from the whipped goat cheese that crowns the Maine Salad to the juicy tomatoes in the Fresh Mozzarella Panini. The produce comes from local organic farmers; the menu evolves with the seasons.
Maine Salad

2 heads red-leaf lettuce
Arugula, watercress, spinach, pea shoots
1 1/2 cups sliced, dried figs
1 1/2 cups roasted cashews
1 finely sliced green apple
1 cup crumbled goat cheese

Vinaigrette:
2 cloves garlic
2 tsp. honey
1 Tbsp. red wine vinegar
1/2 cup olive oil
1/2 cup canola oil
4 Tbsp. water
Juice of 2 lemons
1 tsp. basil
1 tsp. oregano

Process garlic, honey, and vinegar in food processor.
While motor is running, slowly drizzle in olive oil, canola oil, and water.
Pulse in lemon juice, basil, and oregano.
Toss greens with a little bit of the dressing.
Toppings should be added just before serving.
Serves 6

Owner Michael Gilroy, a Pennsylvania native and former international aviation consultant, has spent much time overseas. He has led travel expeditions along the Great Silk Road from China to the Mediterranean and elsewhere in the world. The September 11, 2001, terrorist attacks abruptly halted Gilroy's global line of work and prompted his return to the United States. He ran North American operations for Bike Riders, a Boston-based tour operator, and engaged in other pursuits before opening Frontier Café, Cinema & Gallery. He and his wife Chelsy decided to make Maine their home after a memorable autumn trip to the remote Maine island of Matinicus. Gilroy, who once transformed an aircraft hanger into a cultural center in Steamboat Springs, California, wanted to create a one-of-a-kind place that celebrated the world and its inhabitants through food, film, and art. He found Andross Fort and its vacant river-facing side with its airy, lofty space ideal. Year round at Frontier, Mainers can sample Meantime Pale Ale ($12) from a London-based brewery while viewing an independent film, such as "Air Guitar Nation," or eyeing the finely crafted, hand-knit mittens and other works that grace the walls. "It's building upon the essence of storytelling through other cultures," Gilroy said.
Letitia Baldwin, a freelance writer, lives in Gouldsboro, Maine.
For more information
Frontier Café, Cinema & Galley is located at 14 Maine St., Brunswick, Maine. Open year-round, the café serves light breakfast, lunch, and dinner, Monday through Thursday, 9 a.m.-9 p.m.; Friday, 9 a.m.-11 p.m.; and Saturday, 11 a.m.-11 p.m. 207-725-5222;
www.explorefrontier.com
.
Share this article:
2023 Maine Boat & Home Show

Join Us for the Maine Boat & Home Show!
Art, Artisans, Food, Fun & Boats, Boats, Boats
August 11 - 13, 2023 | On the waterfront, Rockland, Maine
Click here to pre-order your tickets.
Show is produced by Maine Boats, Homes & Harbors magazine.