Fairmaid: A Century-old Ketch Still Going Strong
By Jeffrey Aalberg
Photos by Walt Barrows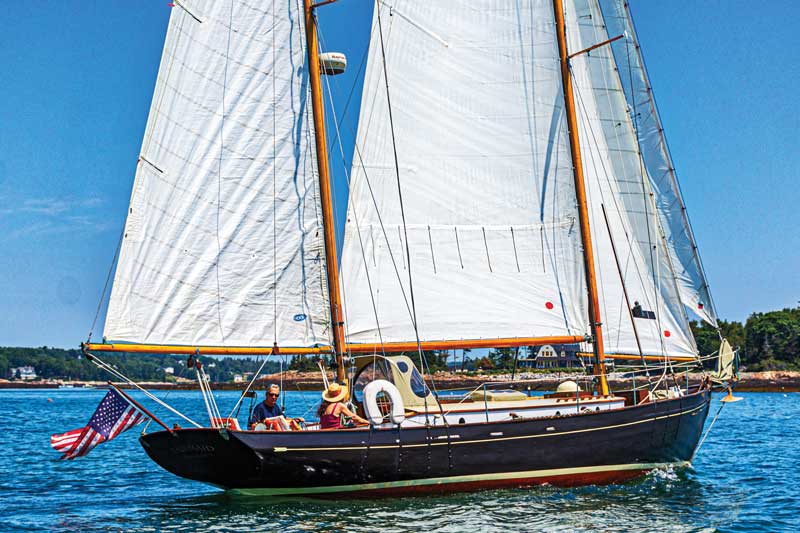 Jeffrey and Rise Aalberg have owned the Alden ketch Fairmaid for 42 years. These days they sail out of South Bristol, Maine.
Fairmaid was born in 1920 in Thomaston, Maine, thanks to the harvest of a giant white oak that was trimmed and laid as her keel at the Charles Morse & Sons yard. She was true to the John Alden schooner design, and is in fact, a sister to the well-known schooner Malabar III.
Launched in 1923, Fairmaid headed to the Great Lakes to serve a wealthy family. When her owners realized how tough handling a gaff schooner could be for a small crew, Alden was commissioned to re-draw her rig as a ketch—the rig she's carried ever since. Decades later, she appeared on the cover of Sail magazine with a story about her adventures in the Caribbean; not long afterward she was found drifting crewless in Caribbean waters. The captain, a treasure hunter, apparently was lost at sea.
I encountered this classic Alden ketch, then called Mistress II, on a cold April day at a Vineyard Haven shipyard dock. Her beauty was awesome, but needs were apparent. She was for sale! The young man who owned her had planned to sail her across the Atlantic. But a survey soon after he bought the boat revealed that she was not fit to leave the dock. After a brief negotiation, and with eyes wide open, I became her owner and captain in April of 1981. We made it to Scituate, my residence, then to Maine for the summer. The return trip to Scituate was a prologue to things to come. The old Graymarine diesel failed, and we had to tow Fairmaid home. My possibly naïve approach was that a wood boat must be launched every year so as to not dry out or become neglected. As a result, my wife, Rise, and I have launched and cruised on Fairmaid every year of our 42 years of ownership.
We married soon after buying the boat, and changed her name from Mistress II back to Fairmaid (thus circumventing the myth of bad luck due to renaming a vessel; the name Fairmaid also sat better with my new bride than Mistress II.). We've rebuilt her over time, but also sailed to our house in Maine every year. As we were not replete with cash, all improvements were done by us then and now. A short list: new engine, 52 frames, multiple planks, total refastening, keel bolts, floors, stem, deck beams and planking, cabinhouse, cockpit, the entire interior and all systems. Fairmaid is 32'3" on the waterline, 41'9" overall, has a beam of 11'3", and draws 6'2".
Most importantly, we started a family while continuing our summer cruising on the coast of Maine every year. Sailing a 15-ton vessel with no interior except hammocks and a port-a-potty was testament to our perseverance. A story for another time is cruising with babes in diapers who were not yet mobile. As they grew, what better education than anchoring off remote islands in Maine with no TV, computers, or electronic games? Along the way I went to medical school, and have practiced family medicine for 30 years, while not allowing this to interfere with the care of Fairmaid.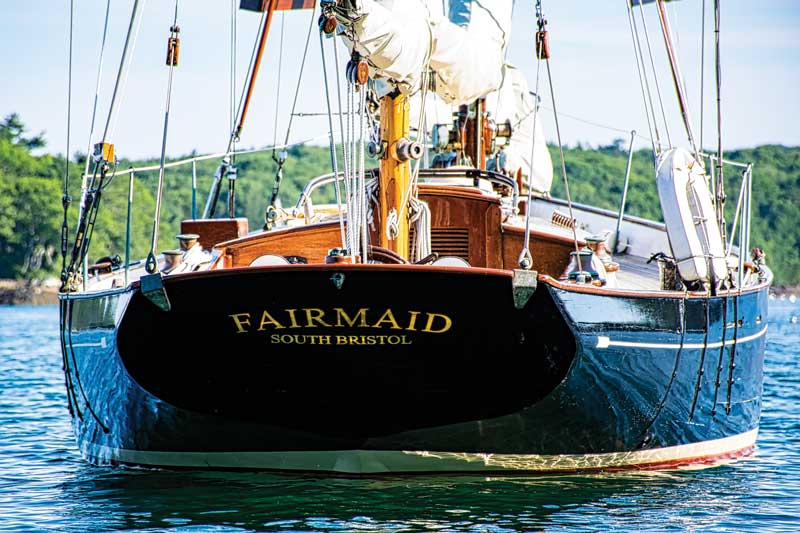 Fairmaid at her mooring in Kings Cove, South Bristol.
Now for the fun part. I noted above our mantra not to let a wood boat dry out, and about the incident of engine failure. In year number two, we replaced the engine with a new Westerbeke diesel. The usual pre-launch spring care was delayed and perhaps truncated. When we launched Fairmaid in July, she easily slid off the trailer and down the ramp, then kept going. But she had dried out in her time ashore, and with 300 feet of open seams she rapidly began to sink. The calamity hit home when, upon descending the companionway, we found the water was nearly above head level; and it had submerged our new engine. Fortunately, the Coast Guard station was 100 yards away and a boat hauler was quickly engaged to haul us out. A landlubber sometimes learns the hard way. Did I say we had a meager budget?
The annual transport for launching from our Scituate home to the harbor covered four miles. Hauling the mast that distance was expensive. You've seen phone companies haul the telephone poles by hooking the butt end to the hitch and placing trailer wheels 40 feet aft. We thought we could try something similar with our 55-foot mast and thus avoid having to pay a hauler. All went well until we ran out of gas en route and blocked a five-way intersection in the middle of town. So much for PPP (proper prior planning).
Many other lessons have been learned over the years. For example, if you go aground at anchorage as the tide goes out (Duck Harbor), make the best of it. Dinner was on the side of the cabin, and it was an opportunity to change zincs. Neighbors in the anchorage thought the grounding was intentional.
While I was in medical school, I still needed to sail and continue the restoration work, so Fairmaid was hauled to our house in Worcester, Massachusetts, by a boat hauler unfamiliar with "inland" service, and the vessel became stuck crosswise on a street blocking traffic.
We continue to upgrade Fairmaid, whose home port is now South Bristol, Maine. We can't abandon her at age 100, more than 42 of those years with us. Landlubbers tell us that this must be a labor of love. Our response is, "no, it's just a relationship."
✮
---
Jeffrey Aalberg, M.D. is Medical Director at Day One, caring for teens with substance use issues. He and his wife, Rise, live in Cumberland and summer in South Bristol. Their three boys are avid sailors.
Share this article:
2023 Maine Boat & Home Show

Join Us for the Maine Boat & Home Show!
Art, Artisans, Food, Fun & Boats, Boats, Boats
August 11 - 13, 2023 | On the waterfront, Rockland, Maine
Click here to pre-order your tickets.
Show is produced by Maine Boats, Homes & Harbors magazine.