Wiscasset
Many Reasons to Stop and Browse
By Mimi Bigelow Steadman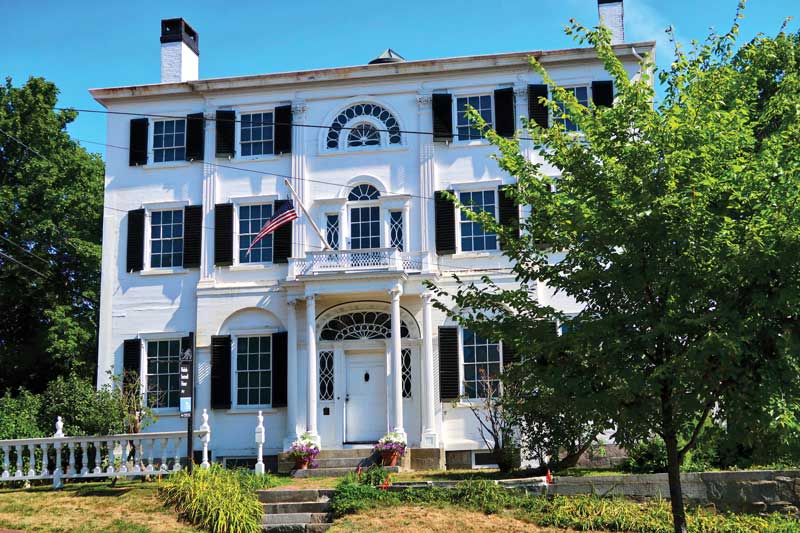 Gracing Main Street, the elegant Nickels-Sortwell House dates to the early 1800s, when Wiscasset was a wealthy shipbuilding town. Photo by Mimi Bigelow Steadman
Last August, I did something I never thought I'd do. I stood in the long, slow-moving line at Red's Eats. The much-lauded lobster rolls at this 80-year-old Wiscasset seafood shack draw hordes of pilgrims from across the country and beyond. But I'd always been in the camp that considers those people foolish, when delicious lobster rolls are available without a wait at so many other places—including Sprague's, across the street. Finally, I decided to find out for myself.
After two solid hours, I placed my order at the window. When I opened the foil wrapping, I couldn't even see the roll beneath the massive pile of lobster. There were several whole claws and at least one full tail's worth of meat, all of it tender and sweet. So now I understand: Red's lobster rolls are pretty amazing. Will I stand in that line again? Probably not. But I won't knock those who do.
If mentioning Wiscasset doesn't immediately prompt people to proclaim their love or disdain for Red's, it will no doubt ignite debates about the town's notorious Route 1 traffic jams. Over the past half-century, many solutions have been proposed and rejected: bypass, overpass, even a tunnel. 
Now, a Department of Transportation "improvement project" is underway. When it's completed next autumn, features will include Main Street parking replaced by a nearby parking lot; widened brick sidewalks with attractive lighting; uneven stairways repaired and renovated; and traffic lights increased from one to three. These changes will certainly gussy up "Maine's Prettiest Village." Will they solve the traffic problem? Stay tuned.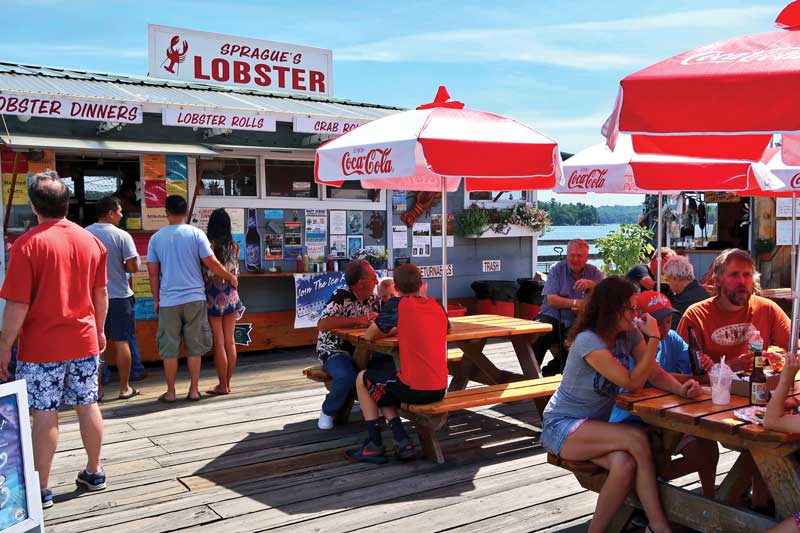 One of the best reasons to stop in downtown Wiscasset: lobster rolls on the wharf at Sprague's Lobster or at Red's Eats, just across the street. Photo by Mimi Bigelow Steadman
There's one surefire way to visit Wiscasset without dealing with traffic delays: Arrive by boat. It's a pleasant, 14-mile trip up the Sheepscot River from the sea and Sheepscot Bay, just west of Boothbay Harbor. 
There's no time limit on free daytime tie-ups at the town landing's Recreational Float (the Commercial Float is for fishermen only), where the water is 15 feet deep at low tide. To spend the night alongside or on one of two moorings, the fee is $1 per foot (contact the harbormaster: 207-751-0782). There's also good anchoring ground to the south and southwest of the town landing.
From the dock, it's a short walk up Water Street to Main Street's appealing shops. Among my favorites are Birch and Moulinette, offering enticing accents for the home; Rock Paper Scissors, with wonderful journals, cards, and writing instruments; and In the Clover, which stocks natural-fiber women's clothing. With its selection of bakery goods, breakfast items and sandwiches, gourmet pantry supplies, and wines, Treats is aptly named. There's also a lesser-known treat inside a little shed down on Sprague's Lobster wharf: Ron Leeman and his award-winning wild blueberry jam (and other preserves), made using his grandmother's recipe. 
Up the street, the Federal-style Nickels-Sortwell House, now owned by Historic New England, is a testament to the days between the late 1700s and the early 1800s when shipbuilding and international shipping brought newfound wealth to Wiscasset. "This was a show-off house, built to impress the neighbors," site manager Peggy Konitsky told my small group on a tour of the mansion. Unfortunately, its construction by Captain William Nickels in 1807 came on the eve of Jefferson's Embargo Act, which prohibited U.S. ships from foreign trading and slammed the door on Nickels' income. The house was sold a few years later and survived as a hotel until 1899, when the Sortwell family purchased and restored it. As I admired the intricate, shipwright-carved woodwork and flying staircase, I pictured the Sortwells presiding over summer soirées—and fantasized that they served lobster rolls. Of course, it would be decades before they were invented. Alas, the Sortwells never knew what they were missing.  
---
Contributing Editor Mimi Bigelow Steadman lives on the Damariscotta River in Edgecomb.
If You Go to Wiscasset
In addition to lobster rolls, both Red's Eats (207-882-6128; redseatsmaine.com) and Sprague's Lobster (207-882-1236; facebook.com/spragueslobster) sell a selection of other fresh seafood and non-seafood choices. Sprague's also offers full lobster dinners. 
Sarah's Café (207-882-7504; sarahscafe.com) has a broad menu that includes lobster prepared in a variety of ways plus homemade soups and pizzas. In the morning, join locals at Treats (207-882-6192; treatsofmaine.com) for a cup of coffee and a pastry or an excellent breakfast sandwich.
The Nickels-Sortwell House (207-882-7169; historicnewengland.org) is open Fri.-Sun., June 1 through October 15; tours are offered every half hour. Adults $8, seniors $7, and students $4. An apartment at the back of the house has recently been opened for weekly, year-round rental. The Nickels-Sortwell House is owned and operated by Historic New England, which also owns and operates Castle Tucker, a few blocks away. Built in the Federal style in 1807 like the Nickels-Sortwell House, it was transformed into an Italianate villa in the mid 1800s.
The annual Wiscasset Holiday Marketfest (207-882-9600; wiscassetholidaymarketfest.com), December 6-9, presents even more reason to stop and browse the exceptional shops and galleries on Main and Water streets. Many will have special offers and complimentary treats. There'll also be pop-up sidewalk shops, a craft show at the First Congregational Church, and a farm and garden shop in the barn at the Nickels-Sortwell House, which will be festooned in holiday decor and open for special tours.
Share this article:
2023 Maine Boat & Home Show

Join Us for the Maine Boat & Home Show!
Art, Artisans, Food, Fun & Boats, Boats, Boats
August 11 - 13, 2023 | On the waterfront, Rockland, Maine
Click here to pre-order your tickets.
Show is produced by Maine Boats, Homes & Harbors magazine.