Big boats, toy boats, very fast boats
On the Town Dock 157
By Polly Saltonstall
Bigger, better marine supply store
Hamilton Marine, New England's largest ship chandlery, is expanding its presence in Portland, Maine. The marine hardware and supplies company moved out of its former Fore Street location at the end of January, and into much bigger new digs at 193 Presumpscot Street.
"This is the newest, biggest superstore that has ever hit Maine," said proud owner and company founder Wayne Hamilton. "It will be Maine's superstore for marine supplies."
With more space, wide aisles, and plenty of parking, the new building is 5,000 square feet bigger than the previous Portland location, Hamilton said. For the first time, space will be available for customer workshops on topics like navigation and electronics. The additional space also will allow the company to expand its product offerings in areas such as dinghies, motors, and commercial fishing gear.
The company plans to hold a grand open house for March 22-24 during the Maine Boatbuilders Show.
---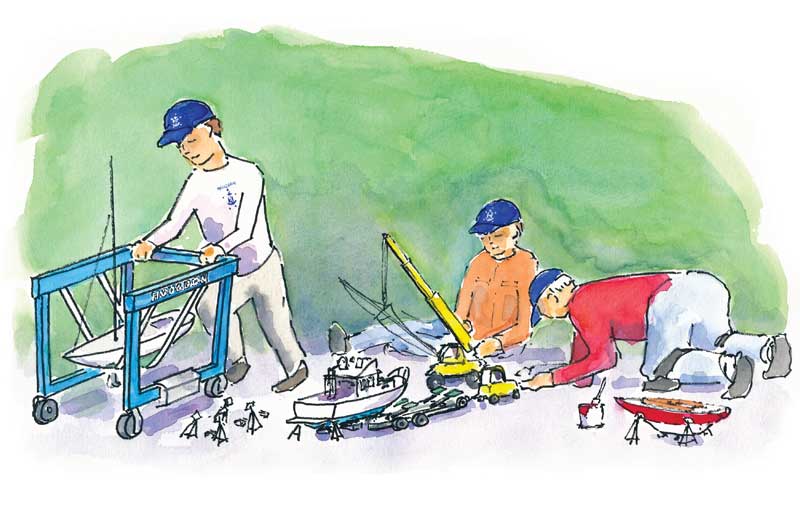 Illustration by Ted Walsh
Hodgdon launches over 100 toys
Hodgdon Yachts in East Boothbay is known for constructing one-off, sleek custom yachts that can take a year or more to build. But in just a few weeks last fall, the company's employees assembled and launched a whole flotilla, numbering closer to 150. These were small handmade toys, destined not for wealthy owners, but for families who might not otherwise be able to afford presents for Christmas.
Reviving a company tradition from 20 years ago, Hodgdon employees donated more than 100 hours of time to build the toys, which were distributed through Toys for Tots to children in Lincoln County, according to the company's human resource manager Diane Hammond.
"Oh my gosh it's been awesome," said Hammond, who organized the effort. "We have had an awesome time. Close to 90 percent of the workforce participated."
The toys included a red tugboat on wheels, a puffin push toy with feet that flap, and a set of blocks packaged in a bait bag. The company set aside Wednesday afternoons for the project during the fall in Hodgdon's Southport and Damariscotta locations. While the project was intended to do something good for the community, it was also a great team builder for the company, Hammond said.
"We all work in separate buildings and don't have a lot of time to interact," she said. "It's been really great for everybody to get together and chat and get to know each other."
The toys are lovely and Hammond said she's had quite a few requests from people who want to buy them. But they are not for sale.
"These are just for Toys for Tots," said Hammond. Then she chuckled. "I don't think Tim Hodgdon was planning on selling boats this small anyway."
While the toy effort was underway, Hodgdon Tenders, the company's superyacht tender division, launched two full-size boats, both destined for a large yacht under construction in Germany.
Both the 9.5 meter Venetian Limousine tender and an 8.0 meter Venetian Center Console tender were designed by Michael Peters Yacht Design of Sarasota, Florida. The center-console boat will be used for water sports and excursions, while the limo will be used to ferry passengers to and from shore.
Hodgdon has three more limo tenders under construction in its facility in Damariscotta. All are destined for buyers in Europe.
---
Mysterious ice disk
We're pretty sure it wasn't a sign from aliens, but no one could explain definitely what did cause a perfect ice disk to form in Westbrook's Presumpscot River in January. The disk, which was about 100 yards wide, spun methodically in a counterclockwise rotation and attracted lots of attention.
Spinning ice disks of varying size appear periodically during winter months in colder climates in North America and Europe, and have been the subject of speculation for years, according to one account in the Portland Press Herald.
Paul Nakroshis, associate professor of physics at the University of Southern Maine, told the Press Herald one theory is that temperature changes in the water below a small ice disk could be the source of the rotational force. While most substances are densest in their solid or frozen state, water is heaviest at around 39.2 degrees Fahrenheit. At freezing—32 degrees Fahrenheit—the density goes down, and that's why ice floats. According to this theory, as the ice melts, it cools the warmer water directly beneath, which then begins to sink, creating a small vortex that starts the spinning, which is then accelerated by slowly moving river water.
But Nakroshis thinks the real answer is far more simple:
The flow of the river pushes the ice disk like a paddle wheel. While a vortex effect might influence the rotation, Nakroshis said he suspects the ice forms in clumps, begins to stick together and collects more ice as it goes. "Once it starts, something sticks to it and freezes to it and it just keeps growing," he told the newspaper. "There's nothing supernatural about this, right?"
---
Climate change and Maine
Meanwhile, the effects of climate change in Maine have made the natural seem supernatural. A new report detailing the potential effects of climate change on Maine's coast was released last winter by the Climate Change Institute at the University of Maine. The researchers took a close look at how climate change could affect fishing and agriculture, focusing on five climate change scenarios.
The Gulf of Maine has warmed faster than 99 percent of the world's oceans, and the trend is expected to continue.
The report by Paul Mayewski, the institute's director, and Maine State Climatologist Sean Birkel predicts an overall trend of warmer, wetter weather with rising sea temperatures, shorter winters, longer summers, and more frequent storms.
The world's oceans are warming far more quickly than previously thought, a finding with dire implications for climate change because almost all the excess heat absorbed by the planet ends up stored in their waters, according to another analysis released in January in the journal Science. That report found that the oceans are heating up 40 percent faster on average than a United Nations panel estimated five years ago. The researchers also concluded that ocean temperatures have broken records for several straight years.
The five scenarios in Mayewski and Birkel's report describe different degrees of warming that could play out, ranging from little to no change in climate to an abrupt Arctic sea-ice collapse that would signal a rapid increase in global temperature.
Even without extreme changes to global climate, sea levels are still predicted to rise along Maine's coast, and average annual temperatures in the region will most likely increase by a degree, according to the story in the BDN. One result would be summers that are, on average, a week longer and winters a week shorter.
One scenario predicts no additional global climate change—as if the climate change underway suddenly stopped. Even in that case, unusual weather patterns would continue. Other scenarios predict overall temperature increases by 2040, and more extreme weather as a result.
In addition to developing region-specific reports, Mayewski and Birkel are working on a tool that will allow anyone to access climate data and find the most pertinent information.
---
Marine Patrol has Moxie
The Maine Marine Patrol has launched a new boat in Stonington. The new 26-foot vessel Moxie, which was built by Biddeford-based General Marine, replaces a 21-foot Boston Whaler. "The PV Moxie's name represents the courage and determination of Marine Patrol Officers," explained Marine Patrol Colonel Jon Cornish.
Moxie will provide officers Tyler Sirois and Daniel Vogel, who work in the Stonington patrol, the ability to haul lobster gear and, with an enclosed wheelhouse, go out in more challenging weather conditions.
"This is a much-improved platform for patrol activity in this very busy fishing port," said Cornish. "Prior to having this vessel in Stonington, officers had to bring a larger boat from either Rockland or Mount Desert Island to haul lobster gear as part of routine patrols. Now, they have a local vessel they can use to haul and inspect lobster gear without having to bring a vessel from another patrol area."
Stonington has consistently been the state's most lucrative port in terms of the value of landings, which is why the Marine Patrol invested in the upgraded vessel, he added.
Moxie, a General Marine Blue Water 26, has a full keel for running gear protection and lateral stability, molded-in spray rails and flare in the bow for a dry ride. "This hull design ensures excellent handling, stability, and maneuverability and allows officers access to areas near shore where larger boats are unable to go," said Cornish.
The hull is constructed of solid, high-tech fiberglass. All hardware is 316 stainless steel above the waterline and silicon bronze below the waterline. The deck and interior are fully molded with diamond nonskid and molded-in hatches. Moxie is powered by a Volvo D6 310 engine and outfitted with a full electronics package for navigation. Total cost was $193,270, of which $160,000 was paid for through a Joint Enforcement Agreement with the National Marine Fisheries Service.
---
Hi-tech center console at Front Street
Front Street Shipyard in Belfast, Maine, has begun construction of the first in a new line of high-performance center-console boats under the Sea Blade X brand. The line is being launched by Navatek, Ltd. of Honolulu, Hawaii, which has opened an office for the brand in Portland, Maine. The composite boats will be built on Navatek's signature stepped ultra-deep-V hull, which originally was designed for open-water military applications. The high-performance hull is married to a yacht-quality teak deck and dual 300-hp outboards.
The Sea Blade hull was developed by Navatek engineers after studying the danger that traditional deep-V hulls pose to naval operators. The new hull is designed to reduce physical trauma on the bodies of operators and passengers from pounding.
The first Sea Blade X to be released is the SBX36, a 36-foot composite RIB. The first model is under construction at Front Street and will be ready for sea trials in spring of 2019.
---
Hinckley's speedy expedition yachts
The Hinckley Company, which acquired Hunt Yachts in 2013, has unveiled two new expedition-ready yachts in the Hunt 76 and Hunt 63 Ocean Series. These new Ocean Series yachts have been drawn by the Ray Hunt Design studio with a focus on offshore performance for customers looking to explore new destinations. The first of these go-anywhere yachts has been delivered to Europe and two others are currently in build.  
"With speeds of 30 knots and the ability to handle conditions that would make other yachts shudder, this new generation of Hunt Ocean Series is for customers who want new experiences, to explore their world by making rapid passages and embracing the offshore route to get there," said Hinckley Company President Mike Arieta. 
The Hunt 76 Ocean Series has a hull length of 76' 3" extending to 82' 3" overall including the swim platform. The beam is 19' 6" Powered by twin Caterpillar C-32 V-12 4-stroke diesel engines with twin turbocharged aftercoolers, the Hunt 76 can reach speeds well over 30 knots and fast cruise at 29 knots. The Hunt 63 Ocean Series has a hull length of 63' with an LOA of 69' 6" with the swim platform and an 18' beam. Powered by twin Volvo Penta IPS 1350s the Hunt 63 can reach speeds of 31 knots and fast cruise at 26 knots.
---
Crabby compost
The Quahog Bay Conservancy of Harpswell in collaboration with Wolfe's Neck Center for Agriculture & Environment in Freeport, has come up with a novel idea for dealing with invasive green crabs. A story in the Working Waterfront describes efforts to use the crabs as fertilizer.
The goal is to provide incentives for harvesting green crabs, which have been an invasive menace along the coast. Apparently their tissue is rich in nitrogen and phosphorous, while the shell is high in calcium and chitin, a naturally occurring compound that stimulates biological activity, enhances plant growth, and suppresses soil-borne pests.
The crabs are harvested in Quahog Bay, where the conservancy has 100 traps, killed and crushed, and then mixed with chicken manure, and spread over 275 acres of hayfields, which feed the farm's dairy cows.
Wolfe's Neck plans to analyze the effects on fruit and vegetable production plots, and eventually to promote the fertilizer among local garden and farm markets.
---
Another link to Iceland
Six years after Eimskip moved its U.S. headquarters to Portland, another company doing business between Iceland and North America has set up business in the city, according to Mainebiz.
The newcomer is Isafold, a newly established subsidiary of North Atlantic Cargo Line, a family-owned international shipping and forwarding company run by founder Olafur Matthiasson out of Virginia Beach, Virginia.
Portland already accounts for 80 percent of Isafold's North American exports. The company shares a warehouse in Wells with Eimskip, which brought international container shipping to Portland in 2013.
"We're mainly supporting young startup Icelandic companies which are seeking to get into the Maine market," Matthiasson told Mainebiz. Asked what kind of Icelandic goods they're already importing, he pointed to chocolate, table salt, and beauty products. He added that several others who already ship to North America are eager to sign up with Isafold as a distribution partner.
---
Invasion of the seals
A small coastal town in Newfoundland, Canada, has been overrun by seals. Roddickton-Bide Arm has called itself the moose capital of the world. But town leaders might have to reconsider, or maybe add to the town "seal." The town of just 1,000 made national headlines in January when several dozen harp seals crawled ashore and were spotted all over town—on roads (where two were hit and killed by cars), gathered in parking lots, driveways and backyards, according to numerous press reports.
Residents were unable to help, as national regulations make it illegal to touch marine mammals. Scientists with the country's Department of Fisheries and Oceans explained that harp seals migrate south from the Arctic each winter. Early in the season, when there is less ice inshore, the animals hug the coastline. But when the water then freezes, they can have trouble getting back out to the open ocean. Disoriented, some find their way to land.
The problem could be compounded by thinning ocean ice, as a result of climate change. Harp seals depend on ice cover to mate and breed, and disruptions could also affect their migration schedule.
The Department of Fisheries and Oceans and the Royal Canadian Mounted Police eventually helped remove the seals and release them back in the ocean.
---
Bowdoin on the hard for TLC
Maine Maritime Academy's schooner Bowdoin, the official vessel of the State of Maine and a National Historic Landmark, is undergoing hull restoration at Bristol Marine, The Shipyard in Boothbay Harbor. The project requires refurbishment below the waterline of 18 planks identified for replacement in a marine survey conducted by GF Full and Associates.
"Our goal is to maintain the boat to the highest standard, to go above and beyond, in order to preserve this living piece of history," said MMA Marine Operations Manager Dana Willis. "At this early stage of restoration, we are pleased to see that the vessel is in good condition, which attests to the excellent workmanship and care Bowdoin has received over her lifetime."
Work is expected to be completed in time for the summer sailing season. When the project is complete, the ship will again be home to groups of students in sail training courses within the Vessel Operations and Technology major at Maine Maritime Academy. Students sail coastwise and offshore in summer, learning to navigate and maintain the vessel to fulfill degree requirements and competencies toward a U.S. Coast Guard limited license.
Bowdoin joined the Ernestina-Morrissey, also known for its role in Arctic exploration and research, at The Shipyard last winter. The historic schooner, sometimes referred to as Bowdoin's "Arctic sister" was undergoing a restoration of her hull and deck for the State of Massachusetts.
Commissioned by explorer Donald B. MacMillan to facilitate his work in the high northern latitudes, Bowdoin has made 28 trips to the Arctic.
---
Kudos for Maine businesses
A number of our coastal colleagues have been honored recently for their work.
Freedom Boat Club of Maine was recognized as "Rookie of the Year" at the Freedom Boat Club National Franchise Conference in Sarasota, Florida. This award is given to the most promising new franchise that opens each year. Maine beat out 25 other new FBC franchise locations to earn this designation based on its fast growth and solid accomplishments.
The Maine club was also recognized for their charity work. In 2018, Freedom Boat Club of Maine donated over $10,000 to local Maine charities.
Meanwhile, Marina Holdings LLC, holding company for Yarmouth Boat Yard and Moose Landing Marina, has been named one of the Top 100 dealers in North America by Boating Industry, a leading trade publication for the marine industry.
Also recognized, Sea Bags, the designer and manufacturer of handmade items from recycled sails located on Custom House Wharf in Portland, Maine, was one of the companies selected for the Governor's Award for Business Excellence. The award is presented to a for-profit business that demonstrates business excellence, a balanced combination of manufacturing and service excellence, and a steadfast commitment to employees, customers, and the community. This year the company will have surpassed several milestones including growing to more than 140 employees and opening five retail stores, bringing the total to 18 stores. 
---
Maine youth sailors make a mark
MDI High School sailors won the Northeast Keel Boat Championship last fall and competed in the ISSA National Keel Boat Invitational Regatta in St. Petersburg Florida where they came in eighth, racing against teams from the Texas Gulf Coast, the U.S. Virgin Islands, Minnesota and Washington State. The Portland, Maine, high school team was not far behind, coming in 10th.
---
Celebrating Herreshoff with races
The 20th annual Castine Classic Yacht Celebration, sponsored by the Castine Yacht Club, will honor the iconic designs of Nathanael G. Herreshoff. Mark your calendar now! On July 31, noted examples of Herreshoff craft will be on display at the Castine, Maine, town dock, followed by a symposium at the Maine Maritime Academy with a panel of distinguished Herreshoff experts and sailors, chaired by Bill Lynn, Executive Director of the Herreshoff Marine Museum/America's Cup Hall of Fame. The Castine Yacht Club will host a reception following the symposium.
Then on August 1, a fleet of more than 40 classic yachts will race from Castine to Camden, followed by the Camden to Brooklin Race and the Eggemoggin Reach Regatta.
For more information about the Castine events or to enter the Castine to Camden race: www.castineclassic.com
---
Allen loses its place at the top
The long reign of Allen's Coffee Flavored Brandy as Maine's top-selling liquor has come to an end, replaced by Fireball Cinnamon Whisky, which outsold Allen's by half a million dollars in 2018, according to data released by the state last January.
More than $10.1 million worth of Fireball was sold in Maine last year, including $4 million worth of the small, 50-milliliter bottles known as "nips," according to a report in the Bangor Daily News
Allen's had been the oft-cited leader in liquor sales—in both value and volume—in the state for at least the past 15 years.
Fireball's appeal seems to be its availability in nip bottles, which constituted almost two-thirds of the bottles of the liquor sold in the state last year. (Which explains the uptick of those little Fireball devil sightings on sidewalks and roadsides of late.) Allen's does not come in the smaller bottles, according to one state official.   
Share this article:
2023 Maine Boat & Home Show

Join Us for the Maine Boat & Home Show!
Art, Artisans, Food, Fun & Boats, Boats, Boats
August 11 - 13, 2023 | On the waterfront, Rockland, Maine
Click here to pre-order your tickets.
Show is produced by Maine Boats, Homes & Harbors magazine.