Lyman-Morse: Scout
By Art Paine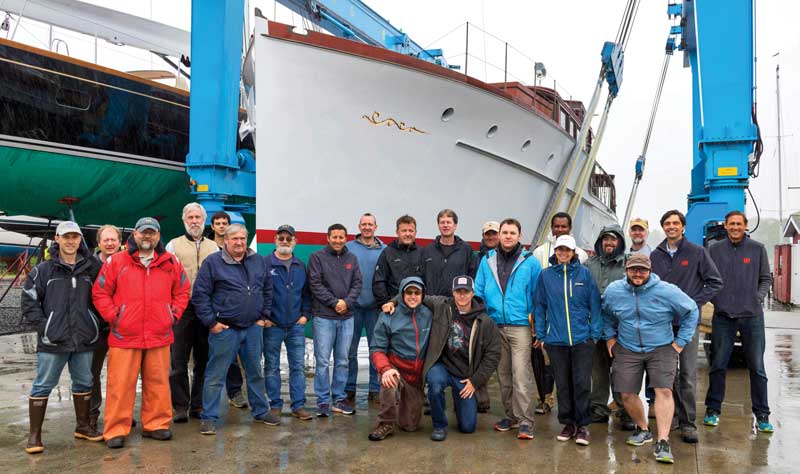 The crew at Lyman-Morse's Wayfarer Marine Yard in Camden poses in front of Scout on launching day after the speedy six-month refit of the almost 80-year old yacht. Photo courtesy Lyman-Morse
State of the art when she was launched in 1930 as Cormar by Defoe Shipbuilding Company of Bay City, Michigan, the 73-foot Eldredge-McInnis cruiser was powered by twin, high-octane airplane engines that drove her at speeds faster than many cars of her era.  
That was then. Ninety years later, the planked wooden hull of the cruiser, now named Scout, was beginning to show the strain of the loads of big engines, tanks, and generators. Then-skipper (and now Lyman-Morse project manager) Matt Jacobson became concerned. "We started inspecting her using borescopes to get behind the finish work and mechanics," Jacobson said. "It did not take long to realize we needed a full survey, where it eventually became clear that a full systems and structural upgrade was the only way to save the boat."
Scout was berthed in Rhode Island, and increasingly those in search of repowering, or a more comprehensive refit, turn their sights north and east to Maine. If you want a yacht restoration done
efficiently there's logic in using a yard that has ready access to all the specialists. One such Maine yard that rarely needs to resort to subcontractors is Lyman-Morse.
Jacobson led a crew of about 10 Lyman-Morse shipwrights, carpenters, mechanics, and finish workers in a speedy six-month effort to strengthen and upgrade Scout. She was fitted with new timbers, twin modern diesels, a rebuilt generator, and tankage. The structural integrity of the stabilizers was improved by installing CNC-cut bronze backing plates.
Deteriorating engine beds were replaced with beefier versions, married into longer longitudinal rails that run the entire length of the 73-foot hull. The existing fuel tanks were modified, and the result was better air circulation and a lower center of gravity. The operating base of the stabilizers was beefed up, including impressive new bronze strain plates (Lyman-Morse has its own metal fabricating shop, with plasma cutters and full hydraulic brakes). The boat was extensively re-wired.
Scout left Camden last summer looking shiny and new on the outside, and a lot sturdier and more modern on the inside. 
---
Contributing Author Art Paine is a boat designer, fine artist, freelance writer, aesthete, and photographer who lives in Bernard, Maine.
Eldredge-McInnis cruiser Scout
LOA: 73'
Beam: 14'
Draft:  6'
Engine: Caterpillar C7.1 ACERT (2)
HP: 507 horsepower
Cruising speed: 15 knots
Top speed: 22 knots
Designer:
Eldredge-McInnis
Builder:
Defoe Shipbuilding Company, 1930
Refit: 
Lyman-Morse at Wayfarer Marine
59 Sea St., Camden, ME
Share this article:
Digital Edition Available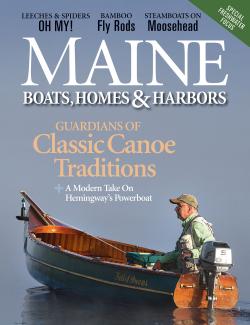 Can't get to the store to buy your magazine? We deliver the stories of Maine's coast right to your inbox. Sign up here for a digital edition.