Lobster women, a sardine carrier, and a very old canoe
By Polly Saltonstall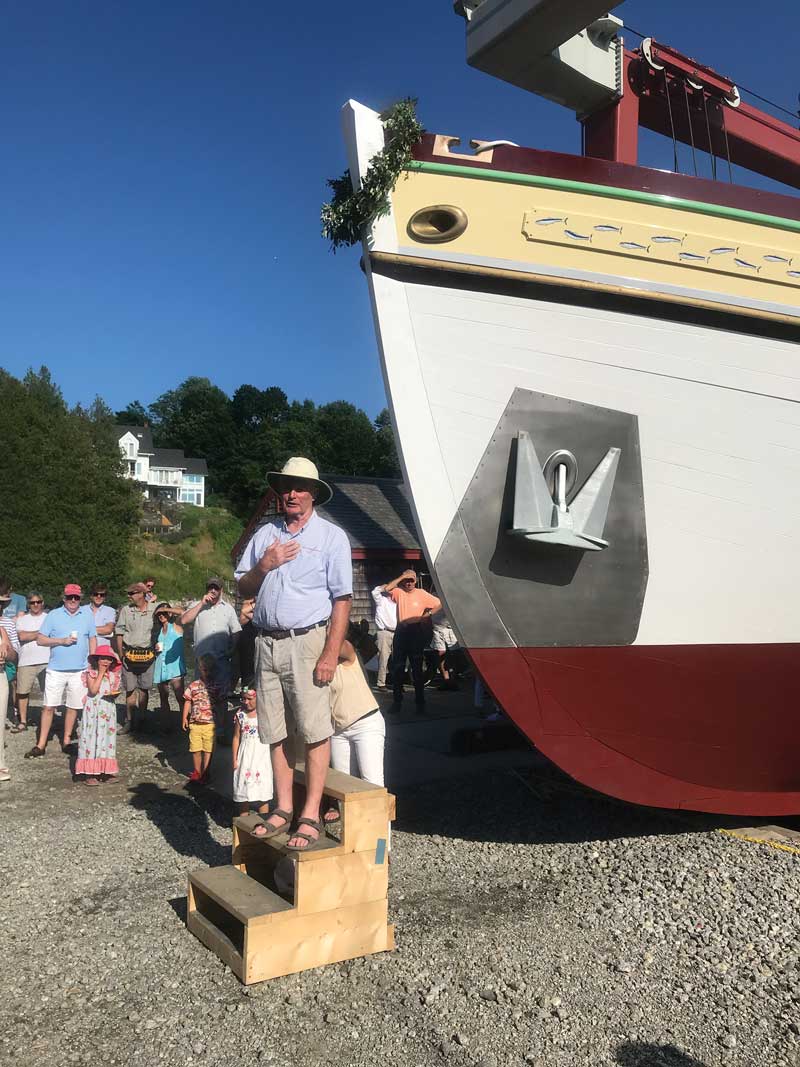 Fish carrier transformed into yacht
A launching at Rockport Marine usually includes the boat's proud owner(s) and a congratulatory speech from yard owner Taylor Allen. But last summer, after years of sending other people's boats into the water, Allen launched one for himself.
On a sunny July afternoon, Allen's wife, Martha White, assisted by granddaughter Maite McCoun Tempe-Dwyer, gave a short speech, then smashed a bottle of bubbly on the sturdy wooden bow of the William Underwood. Allen and his crew at Rockport Marine have spent almost 13 years rebuilding the former sardine carrier into a comfortable cruising boat.
Built in 1941 in Dorchester, Massachusetts, at the Simms Brothers yard, the 69-foot William Underwood spent years hauling herring to the Underwood Packing plant in Jonesport, Maine. By the time Allen found it, the boat was derelict. He painstakingly rebuilt it in between finishing jobs for customers. The result is an essentially new boat— according to Allen, the only remaining part of the former boat is the propeller.
During the launching, Allen choked back emotion as he thanked his step-son Sam Temple, who has taken over day-to-day operations at Rockport Marine, and the other members of the crew who worked on the massive project. Painted white with yellow and green trim, the relaunched vessel features a school of small leaping blue herring on either side of the bow — painted by a worker at the yard. The revamped interior has room to sleep as many as six people, a salon with a small woodstove, and an elegant galley.
The last sardine plant in Maine closed its doors in 2010. But former fish carriers such as the William Underwood are now considered excellent workboats to convert into yachts because of their attractive lines and sturdy maneuverability.
A number of Underwood descendants attended the launching,  including William "Woody" Underwood, whose ancestor started the original Underwood Packing Company. He presented Allen with a small yellow tin of Underwood sardines, which he afterward said, "were probably packed somewhere in China."
---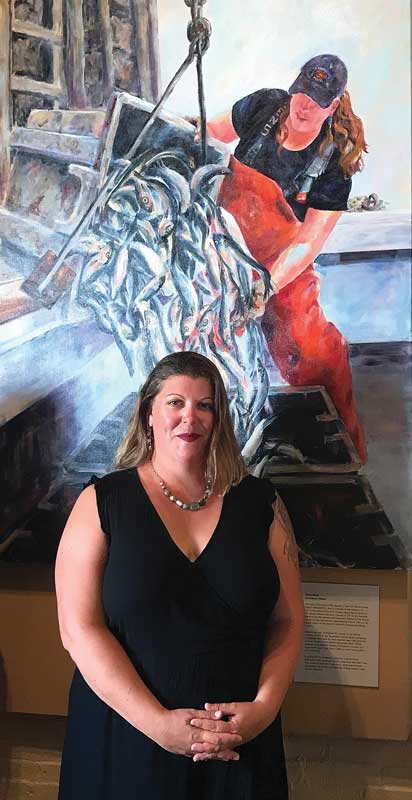 Genevieve McDonald
Women who fish for lobster
A new exhibit at the Penobscot Marine Museum in Searsport, Maine, titled "Lobstering Women of Maine," showcases portraits of a dozen or so lobster women painted by Belfast artist Susan Tobey White. The exhibit showcases the lobster industry, explores Maine's traditions and heritage, and reveals the strength of women. Many of these women were at the exhibit's opening in July. They posed proudly in front of their portraits, which are close to life-size and popping with color.
The depiction of Genevieve McDonald of Stonington shows her loading a cascading tote full of silvery blue herring on her boat, Hello Darlings II. The details of her face are blurred, so what you notice, instead, are her strong arms and confident stance.
The mother of 14-month-old twins, and a first-term state representative, McDonald has been a voice for the lobster industry and for the women working in it. A placard next to her portrait noted that she was the first woman appointed to the Maine Lobster Advisory Council and the first female commercial fisherman elected to the Maine House of Representatives. Several years ago she worked with Grundens to get the company to make fishing gear designed for women.
Yvonne Rosen of Vinalhaven stood in front of her portrait proudly talking about her boat, a 30-foot H&H named Gimmie A Hulla, and the almost 800 traps she fishes. Captain of her own boat for 11 years and, until fairly recently, the only female captain in Carvers Harbor, she happily showed off her tattoos, a lobster on one arm and a fish on the other.
White came up with the idea for this series a year or so ago while watching a woman unload traps from the back of a boat onto a snowy dock in November. "I was totally impressed with how hard she was working, and because I know her, I know her feminine side. There is just that contrast," she said.
That contrast was on display at the opening. Many of the women stood in front of their portraits wearing dresses and makeup. McDonald was regal and feminine in deep red lipstick, jewelry, and a flattering black dress.
White, whose husband is a part-time lobsterman, based her paintings on photos that she took, as well as photos submitted by the women themselves and by other photographers. She made the paintings extra large, "because I wanted these women to be big and strong."
Today, out of about 4,500 licenses for lobster fishing in Maine, just 215 are held by female captains. Another 305 women have licenses to be students or apprentices in the lobster fishery. If those women complete that program and put in the required 1,000 hours of fishing to earn a license, then the number of female captains could increase dramatically, according to Cathy Fetterman, the head of licensing at the Maine Department of Marine Resources. Many more women are working as sternmen and at the docks.
The growing numbers of women in the industry is having an impact, McDonald said. "Women are more keen on environmental issues; women are more articulate speakers; women as a voice for the industry are going to be heard," she said emphatically. "When women have a seat at the table things get done."
The exhibit will be on display until October 20, 2019.
---
Schooner Mary Day pulls out a win
Fourteen historic windjammers raced from Gilkey Harbor in Islesboro, Maine, to the finish line at the Rockland Breakwater Lighthouse during the 43rd Annual Great Schooner Race on July 5. With boats ranging from 48 to 141 feet long and the two oldest windjammers in America racing against newer, sleeker ones, it was a race filled with skill, luck, and who found the wind first. The eventual winner, the schooner Mary Day, won by just four seconds on corrected time.
Racing for the first time in the Great Schooner Race was Columbia, a recently built replica of the historic Gloucester fishing schooner of the same name, and in a class of its own. Columbia raced in the Windward Class against the bigger boats in the Maine Windjammer Association fleet and was given a 20-minute handicap. As the wind built into the afternoon, Columbia pulled in front and crossed the finish line first with the Mary Day in hot pursuit, finishing just 19:16 minutes behind Columbia to take first place on corrected time.
Mary Day captain Barry King was presented with both the Cutty Sark Award and the coveted "Eat My Wake" flag given to the first Maine Windjammer Association boat to cross the line. 
For more results, see the blog entry at maineboats.com
---
Fish farms all over
Not only is Maine famous for its commercial saltwater catches, apparently the state is now a destination for land-based fish farms.
Aquaculture Management & Holding Co. of the United Kingdom announced last summer that after two years of planning it was ready to start building a "modern aquaculture plant" in Millinocket, according to the Bangor Daily News. The company, which calls its U.S. subsidiary Aquabanq, has said it intended to open the land-based salmon farm in the U.S. by 2022.
This is the fifth company to have announced at least the intent to start a land-based aquaculture operation in Maine, according to the BDN. Four would produce Atlantic salmon while one would produce yellowtail. All would use the same technology—a recirculating aquaculture system that flushes water in through large fish tanks and back out.
In Bucksport, Whole Oceans recently closed a deal to buy part of the former Verso Paper Mill site, and plans to start building its new facility this winter.
In Belfast, Nordic Aquafarms is trying to get permits for a land-based salmon farm, although that effort has met with some local opposition. Palom Aquaculture of Gouldsboro has permits for a farm but lacks funding and is searching for a buyer, according to the BDN. A Dutch company, Kingfish Zeeland, said it has chosen the Maine coast for a land-based aquaculture facility to raise yellowtail.
---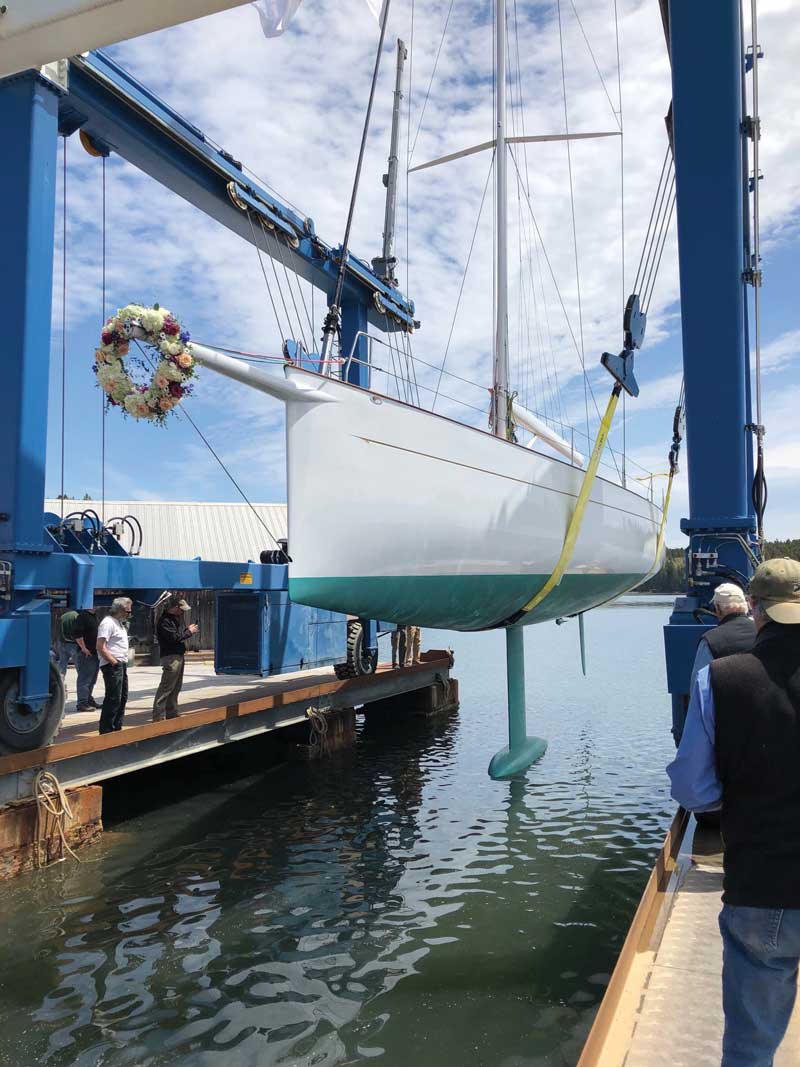 Outlier, a Botin 55
BBY Launches Custom Sloop
Outlier, a 55-foot sloop designed by Botin Partners of Spain, hit the water last June after a ten-month build at the Brooklin Boat Yard in Brooklin, Maine. The cold-molded custom yacht is a  Spirit of Tradition racer and daysailer. With a modern underbody and a deep, fixed-bulb keel, Outlier's aesthetic above the waterline is traditional with a roomy cockpit, closed transom, and classic housetop.
The Botin 55 has a lightweight cold-molded wood hull and deck built with a carbon-reinforced keel structure to support the deep fin and lead bulb. The triple-spreader carbon mast is from Hall Spars, with a North Sails sail plan. A spacious main salon amidships connects with a galley and navigation station. A quarter-berth aft offers sleeping accommodations, and a forward cabin has four bunks for crew plus a full head. 
This is Brooklin Boat Yard's second collaboration with Botin Partners, having launched the 22m Toroa in 2017. Outlier's owner selected Brooklin Boat Yard and Botin Partners to design and build a custom yacht after seeing Toroa.
---
700-year-old canoe found in mud
From the very new Botin 55, we go to the very old. Archaeologists have recovered the oldest, and only pre-European contact, dugout canoe ever found in Maine. They pulled the Native American vessel, which is estimated to be between 700 and 800 years old, from the mud off Cape Porpoise this past summer, according to an article in the Bangor Daily News. Only three other dugout canoes have ever been located in Maine, and they were all made after Europeans arrived, according to archaeologist Tim Spahr, of the Cape Porpoise Archaeological Alliance.
The canoe was made from a single yellow birch log, Spahr told the newspaper. It might have been used to tend weirs and bring the catch ashore for drying, as well as for basic transportation.
A joint effort between the Kennebunkport Conservation Trust and Brick Store Museum in Kennebunk, the Archaeological Alliance was formed in 2017 to study the intertidal zone along Cape Porpoise and the islands just off the coast.
The canoe was located last fall. This past winter, the ocean continued to wash the mud away. This spring, to keep it from being destroyed by the sea or carted away by vandals, the decision was made to bring the relic ashore. Spahr, and other scientists and volunteers from the University of New England and the University of New Brunswick, dug passages under the canoe, passing wide straps around it. Then they raised the 10-foot boat, placed it in a custom wooden box, and took it to a Kennebunkport Conservation Trust building where it is being stored in water, the BDN reported.
For now, Spahr is gently soaking and cleaning the canoe. He's changing the water once a week and expects the process to take about a year. Once it's clean, the canoe will be structurally stabilized with special chemicals and will eventually go on display in a museum.
---
MMA expands at mill site
It's great to see old paper mill sites find new uses. In addition to the salmon farm planned in Bucksport, Maine Maritime Academy has acquired a four-acre parcel of land at the former Verso paper mill. The site will be the new Maine Maritime Academy Center for Professional Mariner Development, an annex facility that will provide specialized courses for professional mariners and academy-enrolled students, and in workforce development, according to a press release from the academy.
The new training center will include an existing 20,000-square-foot administration and instruction building, which will house classrooms, offices, training labs, simulator spaces, and conference rooms equipped with A/V and videoconferencing technology. Maine Maritime Academy will take occupancy in the fall, following renovations.
A state-of-the-art, multi-purpose firefighting training facility also will be built on the property, and is expected to be operational in the spring of 2020.
---
Maine sailor leads Bermuda pack
And lest anyone forget, Mainers are fast sailors. Roger Shepley, of Blue Hill's Kollegewidgwok Yacht Club, grabbed the top prize in the single-handed phase of the biennial Bermuda One-Two ocean race last spring, piloting his Omega 42 Seriana to a first in class and first overall finish in the 635-mile race between Newport, Rhode Island, and St. Georges, Bermuda, according to a report in the Ellsworth American. Shepley and fellow KYC sailor John Manderson then turned around and won their class on both elapsed and handicap-corrected time in the two-handed race back to New England.
---
Working waterfront access
The Land for Maine's Future Board has allocated $1,136,250 for six projects that will help protect and sustain Maine's working waterfront.
Through the Working Waterfront Access Protection Program, funds have been set aside to purchase development rights and ensure property remains available to support commercial fishing or aquaculture activities. The projects involve the following: The Stonington Co-op, the Town of Jonesport, Wotton's Lobster Wharf in New Harbor, Boothbay Region Maritime Foundation, Lobster Co-op Interstate Lobster, Inc., Harpswell, and Spruce Head Fisherman's Co-op, South Thomaston.
For more details on the projects, go to HERE.
---
Improvements at Rockland Marine
Meanwhile, more grant money in Rockland will help a private company. Rockland Marine Corporation has been awarded $351,956 to purchase new equipment to boost production, create efficiencies, and become more competitive. The funding was awarded through the U.S. Department of Transportation's Small Shipyard Grant Program.
The company plans to use the funding to purchase a high-pressure water-blast system, two telescoping boom lifts, and two fork-lift trucks, which will replace the use of rental equipment and outdated equipment, according to a press release. With these upgrades, the company will reconstruct its third marine rail, which is expected to increase employment at the shipyard.
Established in 1991, Rockland Marine Corporation is a full-service operating shipyard with a staff of 40 employees that specializes in custom steel fabrication for marine uses and the full spectrum of ship repair. 
---
Over the bar
Sam Manning of Camden, Maine, passed away on the night of July 9, 2019. He was 89. His love of wooden boats, hand tools, and the old ways of working helped launch the wooden boat revival. He shared these loves through his beautiful, accurate, and dynamic drawings. His life and work inspired many of us. Most days, winter, spring, summer, or fall, you could find Sam, and his wife, Susan, rowing their dory on Camden harbor, fair weather or foul. We, in the community of boats, and the community of the coast were so very lucky to have had Sam with us for as long as we did. Farewell, friend.
We ran a lovely feature about Sam by Donnie Mullen in Maine Boats, Homes & Harbors in 2008. You can read it here, and you will understand what an amazing gift Sam Manning was to the coastal community. He will be greatly missed.  
Share this article:
2023 Maine Boat & Home Show

Join Us for the Maine Boat & Home Show!
Art, Artisans, Food, Fun & Boats, Boats, Boats
August 11 - 13, 2023 | On the waterfront, Rockland, Maine
Click here to pre-order your tickets.
Show is produced by Maine Boats, Homes & Harbors magazine.