Island Twist on Holiday Decorations
A Letter From Matinicus
By Eva Murray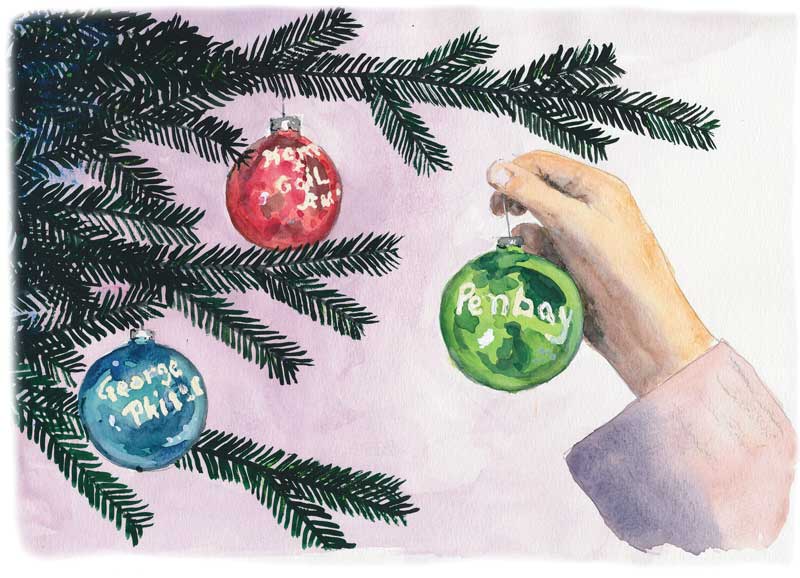 Illustration by Ted Walsh
One February, years ago when I was municipal clerk, an island couple came to me to fill out their marriage license paperwork. "Keep this to yourself, if you don't mind," the bride-to-be requested of me. "We're going to have a big island party when it warms up, but the actual wedding will be soon, in the church, with just a couple of people." That is a common request and I promised I wouldn't gossip. But after they left, I came to a sudden realization. "Uh oh! They'll at least want a photograph of the wedding ceremony, and the Christmas tree is still up in the church!" I scrambled over to disassemble the tree, still fresh and green in the midwinter cold-snap, before the bride got stuck with the job.
Christmas Eve on Matinicus Island means a community supper and a tree, with singing, a secret Santa or gift swap for adults, and the traditional presents from the Maine Seacoast Mission for the island children—the packages are still wrapped in white butcher paper and red string like they were a hundred years ago.
Last December, when our son Eric was home from Vermont, he took on the pleasant duty of decorating the church tree. Lately there are few of us here for the holidays, and doing the tree is not an organized event.
The decorations for our tree are unique, however: plain, opaque glass balls of the usual type, in a variety of colors, each with a name inscribed in white paint. Most are names of cherished friends and neighbors, beloved family (living or dead), or iconic figures from recent island history. A few names are a mystery. Some are misspelled, inexplicable, or incomplete. A couple of names make people growl just a little.
The church on Matinicus was completed in 1906, when the year-round population was 250 to 300 people—far larger than it is now. Technically a Congregational church, the building serves as a community hall more than the property of any one denomination. Sometime roughly 25 years ago, the trustees and the congregation decided that since no amount of Band-Aid-style weekend repairs would ever catch up with the old building's needs, a large-scale renovation project was necessary. For that, a good deal more money would be required than any eight-services-a-year collection plate could muster.
A fundraising effort was undertaken, with outreach to everybody for whom anyone had a mailing address—islanders, of course, including the many part-timers, also summer visitors, relatives, people with a work-related connection (such as Wayne Hamilton of Hamilton Marine, and the Pen Bay and River Pilots) and once-or-twice summer ministers who are often the type to get sentimental about tiny community churches. People from near and far sent donations, and eventually significant interior, exterior, and foundation repairs were completed.
By way of a thank-you and a fun memory project, the name of each donor (or an honoree of their choice) was lettered onto a glass ball for the community Christmas tree. Contributors were encouraged to make a donation in memory or in honor of others, leaving the path open for the occasional unfamiliar name.
When the ladies were painting the names on the balls, the list they had to work from must have included some sloppy handwriting. The name on one twinkling orb reads "William and Mrs... Somebody."
These days, decorating or un-decorating the tree is a trip down memory lane, which was exactly the point. Each ball that is hooked onto a fragrant balsam fir branch sparks a memory, and usually a smile, or a subtle straightening-up out of respect (Be careful! Better not drop Clayton Young's ball, or Page Burr's, or Julia Ames's). Glass balls bearing the names of friends who have died recently are lovingly hung with a warm heart. In a couple of cases, the islanders doing the decorating reserve the right to put the ball right back in its box. "Hmph! He's the idiot who slashed my tires," they might mutter in righteous indignation as they refuse the reprobate the honor of having his or her name on the Christmas tree. Nobody will admit to doing this, of course.
Sometimes, the decorators are left scratching their head, as not every name is widely recognized. "Who do you suppose is Yetman?" "Who the Dickens was Mr. Molson?" Such is the usual chatter of the decorating crew.
"Who the heck is Lucien Childs-Mitchell?"
"Oh, you remember him? He was that funny old geezer who used to rent down to the south end, the watercolor guy."
"No, no, I think he was Joey's brother-in-law who used to come out here in the 1970s. Didn't he drink gin?"
"Oh, I always assumed that was some old minister from back before I moved here!"
Actually, Lucien was my son's roommate from high school, a Midcoast kid who liked to visit us on the island before Christmas and who helped put up the church tree a few times. He is tall, and he'd place some of the glass balls up so high that I had a hard time taking them down (two or three months later). One December our daughter, the best of us at handwriting (and, I suppose, at forgery) secretly took a blank ball, lettered it with Lucien's name in the same paint and same handwriting as the originals, and quietly hung it on the tree for posterity. Let 'em wonder.
Merry Christmas from Matinicus! 
---
Eva Murray lives year-round on Matinicus Island. She has written three books detailing aspects of island life, including Island Schoolhouse: One Room for All (Tilbury House), and is working on about 10 more. 
Share this article:
2023 Maine Boat & Home Show

Join Us for the Maine Boat & Home Show!
Art, Artisans, Food, Fun & Boats, Boats, Boats
August 11 - 13, 2023 | On the waterfront, Rockland, Maine
Click here to pre-order your tickets.
Show is produced by Maine Boats, Homes & Harbors magazine.