A Broadway Producer and the Boothbay 33
A powerboat worthy of a musical production
By Roger Moody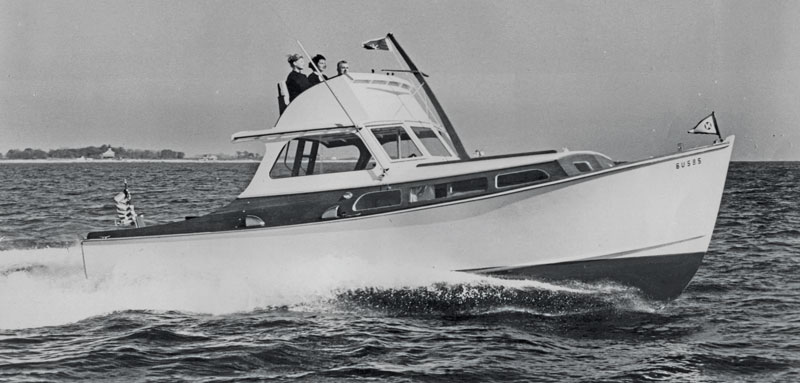 A Boothbay 33 shows her traditional Maine lobsterboat lineage. Photo by Herbert Douglas/Courtesy Boothbay Region Historical Society
Every boat has a story to tell, and in the case of the Boothbay 33, a powerboat model built during the late 1950s and early 1960s, the story could perhaps be told through song and dance.
That's because the boat and the company that built it had a major connection to Broadway musicals. Based on the lines of a traditional Maine lobsterboat, the Boothbay 33 was designed by naval architect Kenneth L. Smith and built by Jim Stevens of Boothbay at the instigation of famed Broadway producer Robert E. "Bobby" Griffith.
It all began when Smith and Griffith were visiting the Goudy & Stevens Yard in East Boothbay to look at a 35'5" boat named Diversion, which was designed by Smith in 1958 and built at the yard.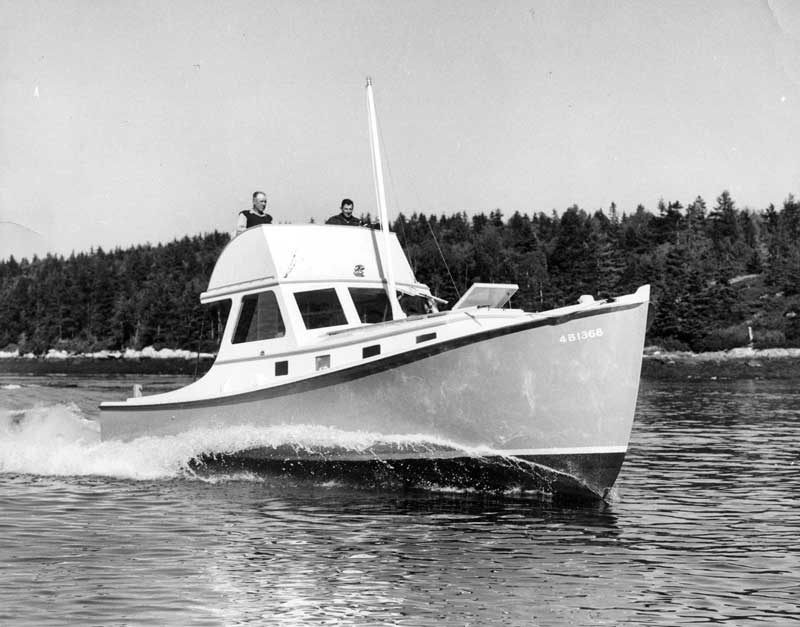 Kenneth L. Smith's design for the 35.5' vessel Diversion provided the inspiration for the Boothbay 33. Image courtesy Boothbay Region Historical Society
Smith (1910-1987) created a wide range of designs for New England customers. His design office was in Fairfield, Connecticut, though many of the boats were built in Maine. He was a long-time summer resident of East Boothbay and had developed a friendship with Jim Stevens at Goudy & Stevens.
In an interview with Boothbay historian Barbara Rumsey, Stevens explained that while looking at Diversion, the man with Smith started talking about boats. "I always wanted to go into the boatbuilding business," he told Smith. "Would you consider organizing a corporation to build boats for me?"
That man was the well-known Broadway producer Bobby Griffith. He and George Abbott had produced The Pajama Game, which became a runaway hit and won the Tony Award for Best Musical. The duo followed up that success with another musical based on the hit novel Damn Yankees. Their third musical together, New Girl in Town, was a modest success, but they were looking for more meaningful subject matter. When the opportunity came to work with Leonard Bernstein, Jerome Robbins, and Stephen Sondheim on a new musical based on the Shakespearean play Romeo and Juliet, they jumped at the opportunity. The show that was created, West Side Story, wasn't a hit at first, but of course now has become a classic of American musical theater.
A new corporation, Boothbay Boats, Inc., quickly was founded in 1958 with Griffith as president, and it's said that a number of Broadway actors were investors. Smith was retained to design the Boothbay 33, which was similar to Diversion, and Stevens set up a production line at Goudy & Stevens. Express cruiser, sedan, and sportfishing models were available, with the sportfishing model having a flying bridge and a shorter deckhouse.
The Boothbay 33s had a beam of 11' and drew 2' 101⁄2". Their hull construction was Philippine mahogany and cedar or fir over  oak  frames. Cockpits were teak, and mahogany trim was used throughout. Fiberglass covered the insulated pilothouse cabin roof.
The sportfishing model was powered by twin gas Ford Interceptor 250s and a fully-loaded Boothbay 33 could make 29 mph. Smaller 225-hp Gray V8s were also available. Power for sedan models was twin 135-hp Ford Interceptors, which enabled a maximum speed of 22 mph. The boats were provided with bilge blowers for safety.
Accommodations were for four in a forward stateroom and convertible dinette. The galley contained a two-burner stove, a vanity was installed in the head, a 12-volt refrigerator was standard, and the water system was pressurized. Two 50-gallon Monel tanks held fresh water.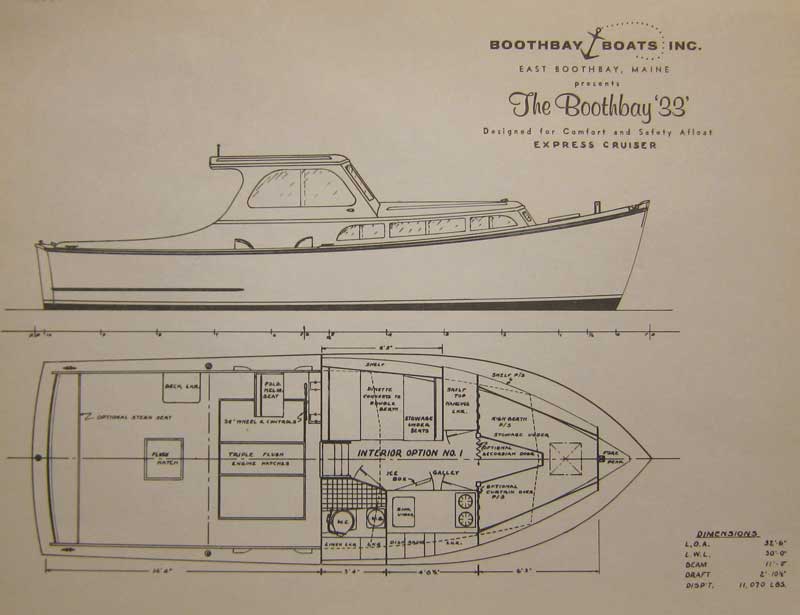 A sales ad for the Boothbay 33. Image courtesy Boothbay Region Historical Society
A 1959 Maine Coast Fisherman article reported that Goudy & Stevens developed a construction technique to reduce the costs of building the 33s by completely finishing the entire interior of each boat on a jig that was then inverted on the master jig. The keel, deadwood, floor timbers, and engine beds were then mounted in position before the frames or planks were put in position. Stevens said the process produced a quality boat and streamlined production to the point where one Boothbay 33 could be constructed in a week.
For his part, Stevens's interest in Broadway musicals grew and he traveled to New York City several times to watch them.
Early dealers franchised to sell the $13,500 craft were the Dale Yacht Basin, Bay Head, New Jersey; Westchester Creek, Bronx, New York; William Jenkins, Rowayton, Connecticut; and Victor Tracey, Neponset, Massachusetts. By 1961, the going price had risen slightly to $14,800.
Griffith died in 1961, and with his passing the corporation dissolved after just a three-year lifespan. In all, 42 of the Boothbay 33s were built.
By the early 1960s, wooden boat hulls were being quickly supplanted by fiberglass. Recreational boating industry leader Chris-Craft started making fiberglass cabin parts as early as 1959, and by 1965 much of its production was in fiberglass. Boats that didn't rot or need sanding and painting every year brought a quick end to wooden production boats like the Boothbay 33. A few of them still exist, restored by owners who rightfully admire them and the era they represent.
---
Roger Moody is a retired town manager, school business manager and county commissioner who writes about boating history.
Share this article:
2023 Maine Boat & Home Show

Join Us for the Maine Boat & Home Show!
Art, Artisans, Food, Fun & Boats, Boats, Boats
August 11 - 13, 2023 | On the waterfront, Rockland, Maine
Click here to pre-order your tickets.
Show is produced by Maine Boats, Homes & Harbors magazine.