King Hell Boats
Retro style meets motorcycle power
By Laurie Schreiber
Photographs by Will Ashley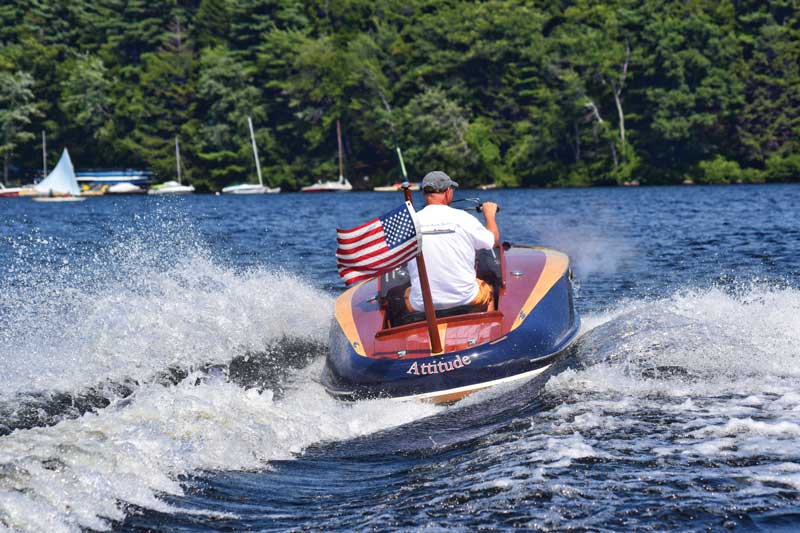 Builder Chris Ashley named his new boat model after a quote from writer Hunter S. Thompson: "In a scene where nobody with any ambition is really what he appears to be, there's not much risk in acting like a king-hell freak."
A boat that marries the sleek lines of a sport runabout with the engine and handling of a motorcycle? Now that's a boat with attitude.
Attitude is just what Chris Ashley had in mind when he conceived of the King Hell Attitude 17 Sport Runabout. The classic design evokes the Gatsby era and, in an intriguing twist, incorporates a Harley-Davidson engine and handlebar steering.
The wooden runabout, which he finished in 2018, has been generating buzz at boat and motorcycle shows alike.
Hailing from Harvard, Massachusetts, Ashley has a 20-plus-year career in engineering, operations, and production management for a company that designs and builds industrial filtration machinery.
But he's always loved boats and creative challenges. He started messing about on the water as a kid, spending summers in the 1960s and 1970s at his grandparents' house on Nantucket. After graduating from Cornell University, he bought a 1952 Chris-Craft and began a multi-year restoration. It was the beginning of his involvement in wooden boats as a side venture. Projects have included construction of a new Adirondack guide boat; restoration of two late-1800s St. Lawrence River skiffs; and the rebuilding, with his son Hunter, of a 1954 Old Town lapstrake skiff and a 1960 Evinrude Fastwin to power it.
His love of boats conflated with a love for mechanical engineering.
In high school, he bought a 1960s Honda Dream motorcycle and put its engine in a go-kart.
"A friend of mine built one similarly," he said. "We spent hours racing around the field behind his house. The idea of taking stuff and building something different from it wasn't a new concept for me."
The idea for the odd boat design began to simmer in the 1980s. "It occurred to me when the whole Harley-Davidson craze was ascendant," Ashley said. He liked the unique cadence of the Harley-Davidson's exhaust, and thought it would sound good in a sporty boat.
"It's got this 'potato potato' sound that's distinctive," he said.
By the 1990s, he was ready to see if he could turn the concept into reality. He enrolled in the Bath, Maine-based Westlawn Institute of Marine Technology's yacht design program and began sketching.
"Some of my earliest sketches were pretty clunky," he said. "Cylinders projecting out of a jet ski body like an aquatic Frankenstein's monster. Over time, my thinking evolved to a long, lower, more elegant hull with inboard power and an outboard mounted rudder—grander and like the old race boats."
The slow-simmering idea went to the next level in 2010, when Ashley used computer-assisted design software to draft plans. He began building in 2016. Working off his CAD model, it took over a year to build the hull from wood, with revisions made along the way.
The design features a low deadrise for planing performance. The topsides are crafted from three epoxy-bonded layers of 3-millimeter-thick okoume marine plywood laid over a subframe. A tricky part of the construction was the torpedo stern, which was built from inch-wide strips of plywood laid diagonally. Elegant touches include a reverse sheer and an exaggerated tumblehome. A hard chine provides a stable platform that inspires confidence and easy boarding.
Then there were the motorcycle-style fit-outs, including traditional motorcycle-police saddle seats and handlebar steering that makes the boat feel like a big cruising bike. A carbon fiber dash panel provides a modern touch to the retro design.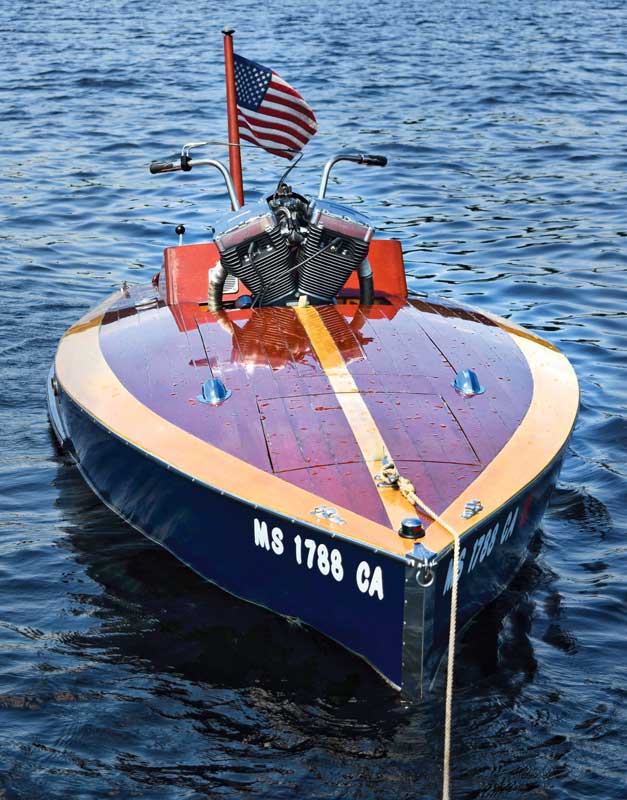 The King Hell 17 Sport Runabout Attitude features retro style and Harley-Davidson motorcycle power and handling.
Ashley wanted to use a stock 88-cubic-inch Harley-Davidson engine, but realized that engine-operating conditions in a boat are significantly different than on a motorcycle. He met with Bob Johnson of Johnson Engine Technology, a Harley-Davidson shop in Westerly, Rhode Island.
"He thought initially that I was completely nuts," Ashley said.
But Johnson signed on, and the two tested engine and drive train configurations for performance and reliability. Johnson reconfigured the boat's water-cooled dual-exhaust system to improve performance. After other improvements, such as re-pitching the propeller, the boat hit speeds in the upper 30-mile-per-hour range.
"By April 2019, we had something that was working well," Ashley said. "It was time to see what people thought. So we started going to shows."
In addition to boat shows, including the Maine Boat & Home Show in Rockland last August, he attended Laconia (New Hampshire) Motorcycle Week last June to gauge the extent of crossover appeal.
"One guy at Laconia said, 'This made coming to the show worthwhile,'" he recalled. "There was a group of maybe eight Hells Angels, and one said to his companions, 'Oh, dude, look at that boat!'"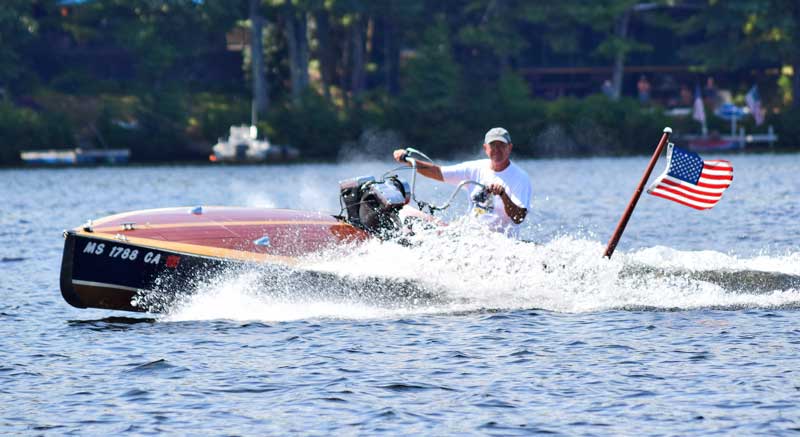 Chris Ashley, owner of King Hell Boats, takes a spin on his innovative hybrid boat model.
The boat is a definite eye-catcher, from its sleek retro shape to its high-gloss varnish. But viewers drawn in by the gloss do a double-take when they see the motorcycle parts.
"We get this look of disorientation," Ashley said. "Like, 'What am I looking at? This thing's got an engine and handlebars sticking out of it.'"
While Ashley waits for his first order to come in, he continues to tinker. To achieve cost savings and scalability, he's considering composite construction. To broaden the boat's appeal, he's looking at installing a conventional small marine engine, or perhaps an inboard jet-drive system.
"What we're looking at is a flush-deck cruiser and changing out the handlebars for wheel steering," he said.
As a flush-deck cruiser, the boat would have the same overall look but with a long foredeck.
"With the long foredeck and jet drive, it would be a superb beach boat with a long storage compartment,"
Ashley said. "It's a pretty straightforward solution."
Why the name King Hell? It's a tribute to a line in Hunter Thompson's Fear and Loathing in Las Vegas: "In a scene where nobody with any ambition is really what he appears to be, there's not much risk in acting like a king-hell freak." 
Said Ashley, "In naming this undertaking, I liked the sense 'king-hell' conveys of tremendous and terrible, ultimate and unsurpassed." 
---
MBH&H Contributing Editor Laurie Schreiber is also a Mainebiz staff writer and has covered topics in Maine for more than 25 years.
King Hell Boats will be exhibiting at the Maine Boat & Home Show on the Rockland waterfront Aug. 7-9, 2020.
Attitude 17 Sport Runabout 
Length: 16' 9"
Beam: 5' 7"
Deadrise at transom: 4º
Fuel Capacity: 12 gallons
Weight: 1,400 lbs.
Draft: 16"
Top Speed: 38 mph
Hull: Cold-molded Okoume plywood 
Engine: 2 Cylinder 45º vee,
4 cycle gasoline
BUILDER
King Hell Boats, Harvard, MA 
Share this article:
2023 Maine Boat & Home Show

Join Us for the Maine Boat & Home Show!
Art, Artisans, Food, Fun & Boats, Boats, Boats
August 11 - 13, 2023 | On the waterfront, Rockland, Maine
Click here to pre-order your tickets.
Show is produced by Maine Boats, Homes & Harbors magazine.