Prowling the Coast in a Catboat
By Stephen Rappaport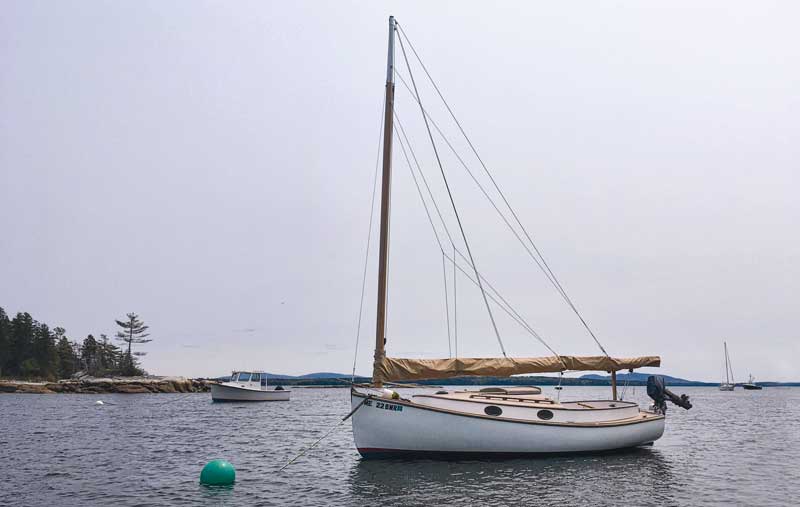 Years after owning and loving an 18-foot Marshall Sanderling catboat, the author bought this second Sanderling, named Second Edition, which he keeps in Blue Hill Harbor. Photo by Stephen Rappaport
Halloween was just around the corner when I sailed my Marshall Sanderling catboat Second Edition from her mooring in Blue Hill Harbor to the boatyard in McHeard Cove to be hauled for the winter.
I'd launched the boat a few days after a pre-Memorial Day tow up to Maine from the Marshall Marine yard in South Dartmouth, Massachusetts, and spent the summer learning to sail her on Blue Hill Bay. I learned the vagaries of singlehanding a huge, gaff mainsail on a shoal-centerboard boat, sailing on and off the mooring in a crowded harbor, keeping track of an 80-foot mainsheet, reefing under way when the wind came up unexpectedly, and, better, reefing before leaving the mooring.
As the lessons took hold, I grew happier sailing on the bay for a couple of hours or most of a day, or pottering around the harbor under easy sail before settling back on the mooring to enjoy the sunset and a sundowner.
It didn't take long for my comfort level to rise. After all, Second Edition was my second catboat.
I came to sailing more than 50 years ago, but I got a late start. I've  been around boats, and loved them, from my early childhood when my family had a summer place on a lake outside New York City, but none of them sailed.
From a stodgy, flat-bottomed skiff with oars longer than I was and a 2-horsepower Johnson outboard that often started, I graduated to the family's lapstrake runabout that had a 25-horsepower Evinrude as big as a modern 300-horsepower behemoth on the transom. Much later, my wife, two sons, and I lived aboard in New York Harbor on a classic, pre-Depression Lawley commuter yacht with a pair of diesels beneath the pilothouse that replaced the original Hall-Scott gas engines.
In the early 1970s we moved ashore to Cape Cod, within walking distance of a tiny harbor on Buzzards Bay, and everything changed. A narrow inlet squeezed between a rock breakwater and a long sandspit, the harbor sheltered a handful of daysailers—mostly Cape Cod Knockabouts—and one elegant Swan cruising sloop. Suddenly, I was desperate to go sailing and a traditional Cape Cod catboat seemed the obvious choice to go sailing on.
I wish I could say my decision to learn about sailing on a small, centerboard boat featuring an enormous, gaff mainsail was the product of extensive thought and serious research, but really I just fell in love. Up the estuary in an almost landlocked pool nestled between the sandspit and the steep shore I found an old catboat riding to a sheltered mooring. The setting was beautiful, almost mystical, and—with the mast set in the eyes of a plumb bow, handsome sheer, and traditional single gaff sail—so was the boat. I had to have one.
An autumn afternoon in 1973 found me at the South Dartmouth, Massachussets boatyard run by Breck Marshall, founder of the Marshall Marine Corp. With his design of the company's 18-foot fiberglass Sanderling in the early 1960s, Marshall was largely responsible for the resurgence of interest in catboats among sailors without the wherewithal, financial, emotional or otherwise, to restore one of the handful of available wooden classics.
A walkaround with Marshall and inspection of a few boats under construction hooked me. The following summer I took delivery of a new Marshall Sanderling—hull #287—Amiable Consort.
For the next four years, my wife, our two sons, and I sailed that boat all around Cape Cod. We thrashed along in Buzzards Bay's smokey sou'westers. We crossed and re-crossed the bay to socialize and race at Catboat Association get-togethers in Padanaram. We cruised to Cuttyhunk and Hadley Harbor in the Elizabeth Islands and sailed through boiling Woods Hole Passage to Menemsha and Edgartown on Martha's Vineyard. We even made it all the way to Nantucket.
On most of those trips the crew included my wife and our two sons—ages nine and three when we took delivery of Amiable Consort. When the weather was fine, the boys would enjoy the large cockpit—where my older son and I slept under a boom tent on cruises. When the weather got nasty, the boys would head below. My younger son invariably curled up on the lee berth to sleep peacefully through the worst of it. Miraculously, my wife kept all hands well fed with only a gimballed Sterno stove.
Over time, our crew grew—not in number but in size—and we found Amiable Consort too tight a fit for the four of us. After four summers, we sold the catboat and its horrible British Seagull outboard and began to move up the boat size ladder.
First, we cruised an elderly, wooden 24-foot Eastward Ho sloop built long ago in the Netherlands and leaky as a colander. Her most notable features, aside from having an actual galley and four full-length bunks, were a Navy-style bilge pump that required constant use under way and a Palmer auxiliary gas engine, "Little Devil," that invariably died in the Woods Hole Passage. In 1983, we bought Hurler, a Robert Perry-designed Baba 30 double-ended cutter that sailed well in light airs and heavy, had a real galley and plenty of space below, and an engine that, like everything else aboard, always worked.
Eventually I began to think that Hurler was more boat than I wanted for a regimen of singlehanded day sails and rare overnights to nearby harbors. I wanted a boat that was simple to maintain and sail by myself—no winches or furlers, no electronics or electrical system, no diesel to maintain. I wanted a boat that didn't need a boatyard or Travelift. I wanted another catboat.
After 35 years, I sold Hurler into good hands and went looking for a used Sanderling in good condition. No surprise, the boat that sold for just under $5,000 new in 1973 is considerably more expensive now.
I searched countless catboat listings on the internet and, eventually, a spring afternoon found me once again at the Marshall boatyard, now run by Breck Marshall's son Geoff, to look at a Sanderling. The yard was very much as I remembered it, though the newer boat features several improvements over the 1973 model. The result of my second visit was much the same as the first—I took home a boat, my Second Edition, and went sailing.  
---
Stephen Rappaport is the Waterfront Editor at The Ellsworth American, has lived in Maine for 30 years, and is a lifelong sailor.

Initially designed for fishing, catboats have become popular recreational sailers.
BY STEPHEN RAPPAPORT
Along most of the New England coast, when people think about catboats what often comes to mind is the traditional Cape Cod cat.
Broad of beam—the typical length-to-beam ratio is 2:1—with a heavy mast right in the eyes of the bow and big "barndoor" rudder on the transom, these shoal-draft centerboarders carried a big gaff mainsail. On the boats that came from the yards of builders such as the several members of the Crosby family—particularly Charles Crosby and H. Manley Crosby—of Osterville on Vineyard Sound from the late 1800s until right around World War II, the booms often extended several feet beyond the boat's stern. But despite their well-deserved reputation, the "Crosby cats" were scarcely the only catboats on the water.
Maritime historian Howard I. Chapelle tells us that, in the 19th century, catboats evolved in at least three distinct areas including, in addition to Cape Cod, lower New York Bay with the waters along the New Jersey shore, and Narragansett Bay. In all three areas, catboats were, at least initially, designed as fishing boats. Catboats continued to fish in the waters around Martha's Vineyard, though mostly under power, until well into the second half of the last century. Many of those boats came from the Old Sculpin shop of Edgartown boatbuilder Manuel Swartz Roberts. Later, especially around Cape Cod and the islands of Martha's Vineyard and Nantucket, large catboats—a few as long as 40 feet—were used to carry passengers and freight. Lillian, built in Hyannis, Massachusetts, in 1888 and lengthened to just over 38 feet, carried freight and passengers between villages on Nantucket Harbor until the late 1930s.
The catboats that developed at the eastern and western extremities of this range were primarily centerboarders, a reflection of the shallow waters around most of Cape Cod and on the inner bays along the Jersey shore where they worked. Keel catboats evolved on the deeper waters of Narragansett Bay, and W.W. Phinney of Monument Beach on Cape Cod built large keel cats to carry passengers and freight.
It didn't take local yachtsmen long to develop an appreciation for the fast-sailing catboats, and that interest drew the attention of some of the nation's most important designers. Nathaniel Herreshoff, C.C. Hanley, Francis Sweisguth, and A.C. Smith among them.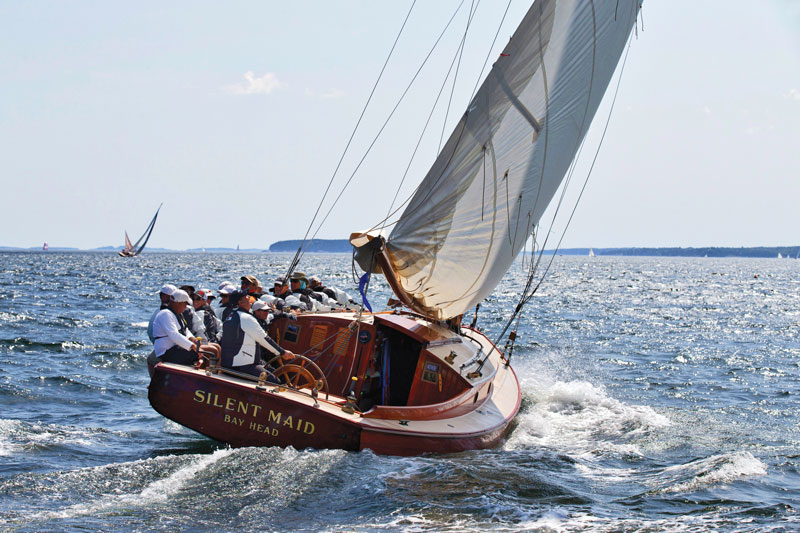 Silent Maid is a different breed of cat. Launched in 2009 at Philadelphia's Independence Seaport Museum, the 33-footer was built to the lines of the original Silent Maid which dominated B-class catboat racing on New Jersey's Barnegat Bay in the years before the Great Depression. Silent Maid won both the Camden Classics Cup last year and her class in the Eggemoggin Reach Regatta, finishing 28 minutes ahead of the second-place boat. Photo by Alison Langley
By the end of the 19th century, catboat racing was well established at yacht clubs along the Atlantic Seaboard. By the 1920s, though, catboat racing had virtually disappeared in New England. But it remained popular, as it still does today, on Barnegat Bay in New Jersey.
The New Jersey boats, especially the A Class and B Class boats of Barnegat Bay, were an entirely different breed of cat from their New England relatives. Perhaps the most impressive example of the type is the 33-foot B cat Silent Maid, which was launched in 2009 and has become a prominent, and successful, participant in classic wooden boat yacht racing along the East Coast. The original Silent Maid was designed by Francis Sweisguth for yachtsman and author Edwin Schoettle in 1924, and raced successfully on Barnegat Bay for many years.
Several builders are currently producing smaller, more manageable catboats in both fiberglass and wood, at least four of them in Massachusetts.
Besides Marshall Marine in South Dartmouth, builder of the 15-foot Sandpiper and Marshall 22, as well as the 18-foot Sanderling catboat, all in fiberglass, Arey's Pond Boat Yard in South Orleans builds a line of catboats ranging in length from the 12-foot Kitten to a spectacular custom 29-footer available in wood or fiberglass. In Wareham, Beetle Inc. builds traditional 12-foot Beetle Cats using the same plank-on-frame construction as designer Carl Beetle used in his New Bedford boatshop nearly 100 years ago. In Barnstable, Howard Boats builds a fiberglass reproduction of the Carl Beetle design. In Clearwater, Florida, Com-Pac Yachts builds six fiberglass catboats ranging in length from 14 to 20 feet.
Although no longer in business, both Freedom Yachts and Hinterholler built a variety of large fiberglass cruising catboats, the latter under the Nonsuch name, most carrying some variation of the wishbone rig developed by naval architect Frederick Fenger.
Also no longer in production are the 18-foot Herreshoff America, a traditional centerboard fiberglass catboat designed by Halsey Herreshoff first built in 1971 and last produced about 20 years ago, the rugged catboats built by William Menger on the south shore of New York's Long Island during the 1980s and 1990s, and any of the many handsome designs from the board of designer Charles Wittholz.
Share this article:
Digital Edition Available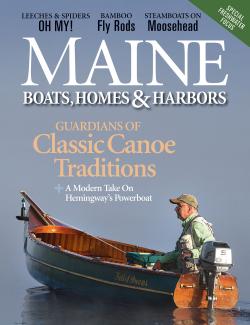 Can't get to the store to buy your magazine? We deliver the stories of Maine's coast right to your inbox. Sign up here for a digital edition.