Chicken afloat, new boats, and grant projects
By Polly Saltonstall
This little chicken went canoeing
Master Maine Guide Dan Pelletier has led all sorts of people on trips around Maine. But last summer, he took a truly unusual passenger on two camping expeditions: a live Ameraucana chicken named Georgia. It began when he wanted to have fresh eggs on a long camping trip. It ended up with the realization that not only do chickens provide food; but they also can be great pets.
"I was surprised how well it worked out," said Pelletier, who lives in Alton, Maine. "A well-socialized chicken is a better pet than I thought it would be."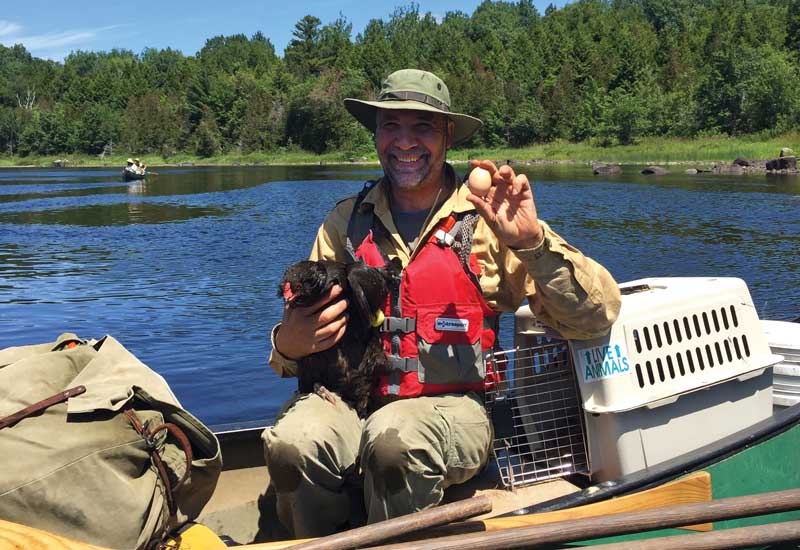 Dan Pelletier, his chicken, and an egg that she laid in the pet carrier. Photo courtesy Dan Pelletier
Georgia's first canoe trip, a five-day run on the St. Croix River with Pelletier and friends, was a trial run to see how the chicken would fare on the water. She did well. The second trip, intended to be a two-month outing with Pelletier's 6-year-old son Danny, ended up being shortened to just two weeks on Lobster Lake, but Georgia did her job and more.
"We recovered about a half dozen eggs," Pelletier said. "The joke on the river was that if she didn't put out we would eat her."
During her time on the water, Georgia traveled in a small plastic pet carrier, where she occasionally laid an egg. Ashore at the campsite she would roam free, foraging for bugs and other delectables until bedtime, when she went back into her crate unprompted. Pelletier had bought a harness for Georgia before the trip but didn't end up needing to tether her. Occasionally he would have to shoo her out of the cooking area, but otherwise she stayed close by.
By Thanksgiving, when MBH&H caught up with Pelletier, Georgia was molting and had stopped laying eggs. But he had no plans to put the chicken on the dinner menu. "They get pretty tough when they are this old," he said.
Would he do it again? Yes, Pelletier said, but next time he might consider bringing a duck so it could swim in the event that it fell overboard. Do they make life jackets for chickens?
---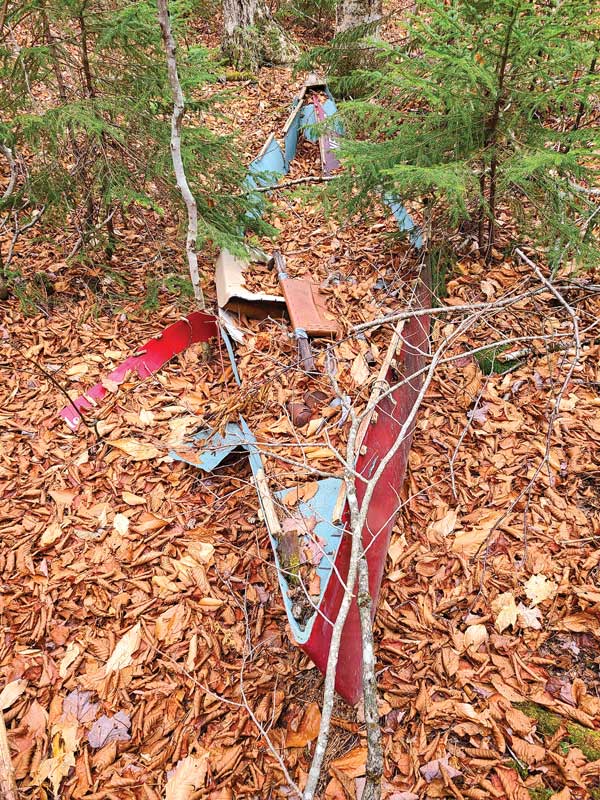 An abandoned canoe slated for removal. Photo courtesy Stacey Keefer
Recycling old canoes
Speaking of canoes and Maine rivers, the Maine Marine Trades Association is planning a winter expedition into the woods up north to haul out abandoned canoes and recycle them. They do not plan to bring along any chickens, though.
The organization is participating in a fiberglass boat recycling grant this year with Rhode Island Marine Trades. The plan is to put together a program to recycle derelict fiberglass yachts—of which Maine has many—along the coast.
But in the meantime, not everyone who goes canoeing in the north woods brings their canoe home with them when they leave. Enter MMTA and the Maine chapter of the Nature Conservancy. The conservation organization has identified a half dozen abandoned and derelict canoes near a pond in an area west of Mount Katahdin, and is in the process of finding more. The MMTA has agreed to help get the boats out of the woods.
"While there are probably plenty of fiberglass boats in boatyards to potentially be recycled, we are going to take the opportunity to show the world that we aren't just focused on saltwater boaters and businesses, and we care about stewardship for all Maine waters," said MMTA Executive Director Stacey Keefer.
"We are looking for MMTA members to volunteer to help skid them out of the woods with snowmobiles!" Keefer said. "We'll need transport help after the boats come out of the woods as well as a place to store them until ready for recycling."
Snowmobiles, skidders, exploring the north woods, all while doing a valuable public service. Does it get any better?
---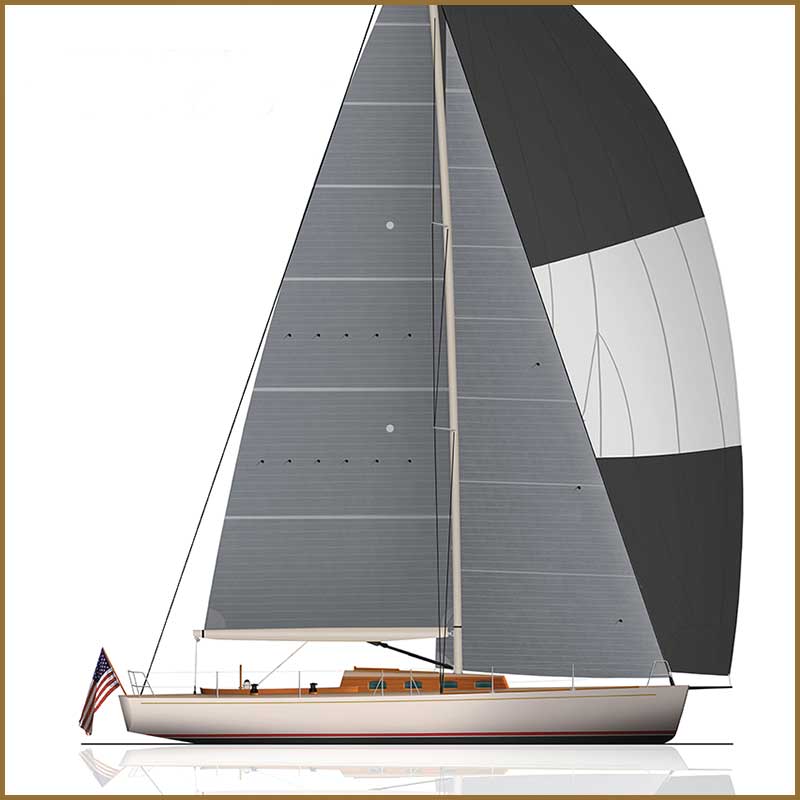 The Taylor 44. Image courtesy Brooklin Boat Yard
New Taylor design at BBY
Naval architect Jim Taylor and Brooklin Boat Yard are collaborating on yet another sailboat, this one a 44-foot coastal racing/dayboat for a sailor who already owns a Taylor-designed, BBY-built racer that lives in Maine; the client wants a second version to sail at his winter home in California.
The new boat draws its lineage directly from previous Taylor 49-footers Dreadnought, Blackfish, and Rascal. A white hull, varnished mahogany house sides, cockpit coamings, and toe rails will keep the exterior appearance in the spirit-of-tradition class. A lithium ion battery bank supports a state-of-the-art electric propulsion system. C-Zone touch screen controls will be integrated into a curly maple paneled interior that will blend 21st century luxuries with timeless craftsmanship. The boat is scheduled for a spring 2021 launch.
This is the seventh design by the Marblehead, Massachusetts-based Taylor that the Brooklin yard has built in the past few years, according to BBY President Steve White. They include three 49-footers, and three 47-footers.
Also this winter, the yard has three powerboats under construction, including a 28-foot mahogany speedboat designed for use on Lake Winnipesaukee. Drawn up by Michael Peters of Sarasota, Florida, the boat is a modern interpretation of a Riva Aquarama, White said. Two 430-hp gasoline engines will give it a speed of close to 70 miles per hour. That boat is scheduled for launch next year.
---

The Venetian tender. Image courtesy Hodgdon Tenders
Electric news from Hodgdon
Hodgdon Tenders has put together plans for an all-electric version of the company's 10.5m forward helm and 12m aft helm limousine Venetian line tenders.
The Venetian tender line has been designed in collaboration with Michael Peters Yacht Design and engineered by Hodgdon Tenders' in-house team. The boats are built in Damariscotta, Maine. The electric versions of these two tenders were developed without compromising the luxury features that mark the Venetian line. Both boats will be powered by Vita Power, a high-performance fully electric powertrain for the recreational marine sector. The V3 and V4 fully electric powertrains from Vita Power deliver 220kW / 295hp and 440kW / 590hp respectively, according to Audrey Hodgdon, director of sales & marketing for Hodgdon Tenders. While pinpointing the range of the boats on a single charge is difficult, estimates range from 20 to 50 nautical miles, she said.
The company has been working on the concept of an all-electric superyacht tender for some time, Hodgdon said. The relatively short trips made by tenders between their mother ship and the shore make them an ideal vehicle to electrify.
In addition to its high performance, Vita Power is the first fully electric propulsion system compatible with DC fast charging significantly reducing the charging time using Vita superPower, the first fully marinized charging system, Hodgdon said.
"At Hodgdon we have always endeavored to push the boundaries in terms of materials, technology, and design to optimize performance. Our move into providing all-electric tenders is further evidence of this and addresses increasing demand from the market for zero emissions tenders onboard superyachts," she said.
Both the 10.5m and 12m Venetian line electric tenders are fully engineered solutions with build slots available. The company currently does not have plans to build a spec model.
---
Putting the shine back in Gleam
Designed in 1937 by well-known naval architect Clinton Crane, the fast 12-meter Gleam has never been restored during its long and illustrious racing career in the years since.  But last fall the elegant yacht was brought to Maine and the Boothbay Harbor Shipyard for well-deserved preservation and maintenance, according to an article in the online PenBay Pilot.
Gleam is owned by a Newport, Rhode Island charter group and Bristol Marine, which also owns Boothbay Harbor Shipyard. The yacht was brought to Boothbay Harbor last October for structural work, stripping and repainting the hull, recaulking the bottom, along with attending to any found structural issues.
Project Manager Dennis Gunderson, who is guiding the effort, expects the work will be done by spring 2021. "The challenge with this type of a historically significant sailboat or powerboat is being careful with its providence, and making sure you don't damage any original materials. If you're not careful, then you can do more harm than good," he said.
Once the project is done, Gunderson expects Gleam to return to the charter business, racing charters and day-sailing charters.
---
Fishermen's Forum canceled
The board of directors of the Maine Fishermen's Forum has canceled the 2021 event because of the pandemic. "There is no possible way that we can protect our forum participants in such a tight environment, due to COVID-19 and required safety restrictions," Steve Train, a lobster fisherman on Casco Bay's Long Island and president of the forum's board of directors, wrote in an Oct. 21 letter to commercial fishermen and posted to the forum's website.
The free, three-day forum is typically held at the Samoset Resort in Rockport during the first weekend of March, before the traditional lobster fishing season gears up. It is the largest event of its kind in New England.
At this point, the board intends to stick with the 2022 conference, which is scheduled for March 3-5.
The forum offers fishermen an opportunity to meet on neutral ground with fisheries managers, state and federal legislators, scientists and conservationists. It attracts hundreds of attendees interested in learning the latest on fishery topics.
---
Grant to study climate change
The Gulf of Maine Research Institute has received a $1.3 million grant from the National Oceanic and Atmospheric Administration to conduct research and modeling on climate, economic, ocean and ecosystem changes in the Gulf of Maine and inform fisheries of shifting weather patterns.
"The Gulf of Maine is currently warming faster than almost any other body of water on Earth," senators Susan Collins and Angus King said in a joint statement. "Research has shown that waters of record high temperature are entering the Gulf, and these changes pose long-term threats to the balance of conditions that have fostered such a historically healthy, productive ocean ecosystem. To help the fishing industry better understand, prepare for, and adapt to these changes, we welcome NOAA's investment in prioritizing the Gulf of Maine as an area of study."
GMRI is a nonprofit organization that researches the complex marine ecology in the Gulf of Maine and studies the many challenges of ocean stewardship and economic growth in the region. The institute provides students and teachers with science education resources and engages fishermen in collaborative research.
---
Another grant, this one for Portland
Intermodal shipping capabilities at the International Marine Terminal in Portland will receive a boost from a $4.1 million grant from the federal Maritime Administration.
The grant, from the Port Infrastructure Development Program, will help fund a new haul road between the terminal and neighboring Merrill's Marine Terminal, as well as warehouse renovations, consolidation of cross-docking, and expansion of bulk-to-container and container-to-bulk operations.
Since attracting Icelandic shipping company Eimskip in 2013, the International Marine Terminal has seen container volume grow by 20 to 30 percent year over year, according to the release announcing the grant. Even during the current pandemic and economic crisis, the MPA expects this year's total shipping volume to match last year's.
---
Marine lab upgrades
The University of Maine's Darling Marine Center in Walpole is undergoing a $5.2 million waterfront infrastructure improvement project to enhance the center's research and business incubator projects, according to a story in Mainebiz.
"We're bringing the laboratory into the 21st century," the center's director, Heather Leslie, told the business journal.
The project involves replacing the 50-year-old main pier and updating its flowing seawater system, including the pump house and the center's oldest flowing seawater laboratory.
When completed, the upgrade is expected to benefit faculty, students and the center's partners—fishermen, aquaculture entrepreneurs, marine industry professionals and community members—through collaborative research, workforce development and business incubation programs.
Construction began earlier this year and is expected to be largely completed by the end of 2021.
The improvements are funded by an award from the U.S. Economic Development Administration with matching funds from UMaine and a state bond, approved by voters in 2014, designed to issue $7 million in bonds to facilitate growth of marine businesses.
Contractors on the project include Prock Marine in Rockland and the Penobscot Co. in Rockport.
---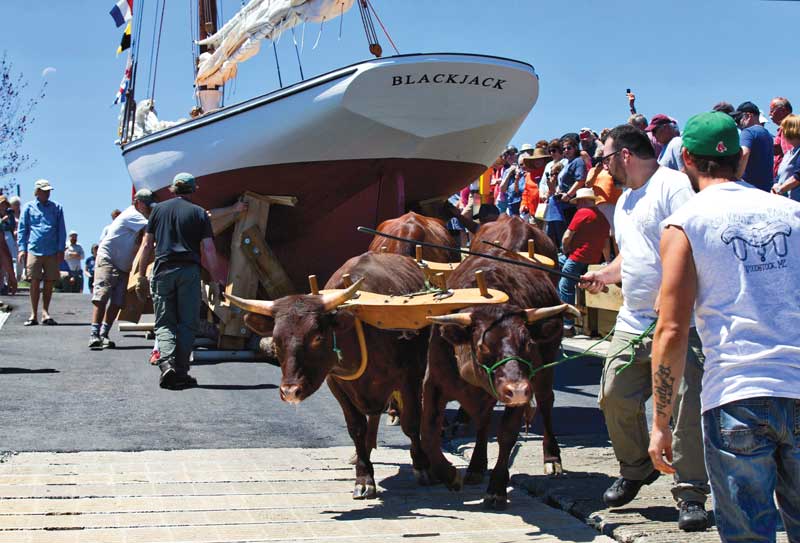 Blackjack launching. Photo by Alison Langley
Historic listing
The Friendship Sloop Blackjack, owned and restored by the Sail, Power, and Steam Museum of Rockland, was recently listed on the National Register of Historic Places, the nation's official list of cultural resources worthy of preservation.
Ann Morris, former SPSM board member, curator of the Rockland Historical Society, and the person who initiated and oversaw the application process, noted that Blackjack is significant as a fine example of the Friendship Sloop type of sailing vessel designed by Maine boatbuilders specifically for fishing and lobstering along the Maine coast. "And she is significant as one of the oldest surviving Friendship Sloops designed by Wilbur Morse, the most prolific builder of these vessels."
Originally built in 1900, the 33-foot Blackjack was donated to the museum by owners who realized that the restoration was bigger project than anticipated.
Consulting with wooden boat experts such as Maynard Bray and boatbuilder Ralph Stanley on design and techniques that Morse might have employed at the time, a team of master builders worked with museum volunteers to complete the project. Re-planked cedar below the waterline and native pine above, the wood for the new frames came from a stand of English oak from Friendship.
A grand celebration and launching was held on Saturday, July 7, 2018 at the site of the old Snow Shipyard, currently home to the museum as well as the city's Snow Marine Park. Blackjack was moved from the museum's boat shed by a team of oxen from Cox Kennel and Farm in Woodstock.
---
Maine Aquaculture on a roll
The Maine Aquaculture Association has released a financial benchmarking report for the industry, along with new planning and risk management tools for aquaculture businesses including a free online knowledge portal designed to help Maine's sea farmers access an array of existing business resources across the state.
The move is part of an effort to grow Maine's aquaculture sector, according to an article in Mainebiz. The aquaculture association's executive director, Sebastian Belle, said the organization wanted to support an influx of new growers coming into the field, and provide them with business tools and counseling. At the same time, he said, the industry needed to tell its story as part of its marketing plan.
The association is partnering with Educate Maine and the Gulf of Maine Research Institute, both in Portland, to develop a set of occupational standards linking educational opportunities for career advancement, Belle said.
Although Maine's aquaculture industry is small, compared with seafood farming elsewhere in the nation and the world, it's becoming increasingly diversified. Industry experts see opportunity for expansion in various sectors, as well as more jobs, according to an aquaculture workforce development summary released earlier this year by Portland's Gulf of Maine Research Institute in partnership with the Maine Aquaculture Association and Educate Maine, with support from FocusMaine.
Over the past decade, Maine has seen 2.2 percent annual growth in aquaculture, which has had an overall economic impact of $140 million annually, according to a University of Maine news release. 
Share this article:
2023 Maine Boat & Home Show

Join Us for the Maine Boat & Home Show!
Art, Artisans, Food, Fun & Boats, Boats, Boats
August 11 - 13, 2023 | On the waterfront, Rockland, Maine
Click here to pre-order your tickets.
Show is produced by Maine Boats, Homes & Harbors magazine.