International ONE Designs
The fleet is sailing strong in Northeast Harbor
By Laurie Schreiber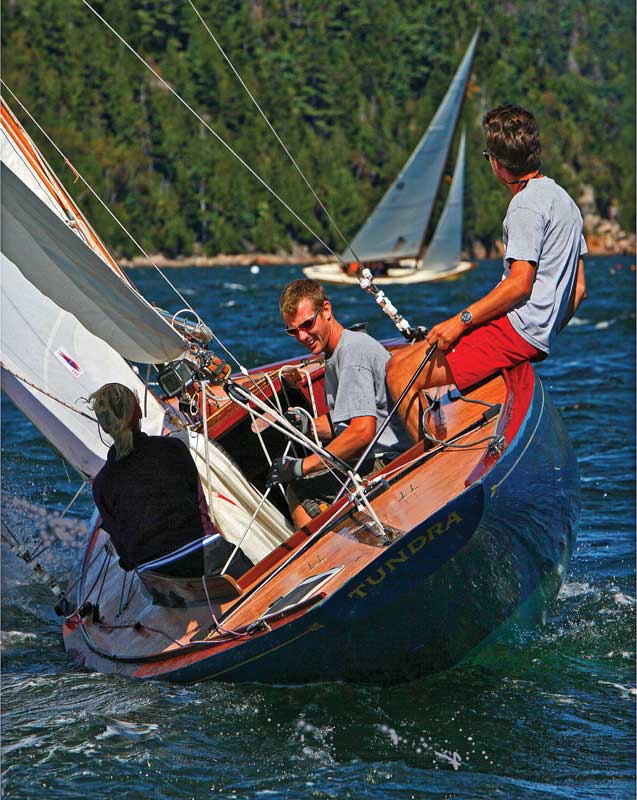 The owner of Tundra allowed a top young sailor to skipper it, with a friend and the youth's mother as crew. That's the owner up ahead in another IOD. Photo by Art Paine
Throughout the summer on Mt. Desert Island, International One Design sailboat enthusiasts join together for a series of companionable races.
Northeast Harbor's IOD fleet's active race schedule starts on the Fourth of July and runs through Labor Day, racing a minimum of two days per week plus specialty races, and often two races per day. The fleet, tall masts on slim hulls, many painted bright colors such as cherry red and sky blue, tacks back and forth in the blue waters off Somes Sound.
"I refer to these boats as floating eye candy," said Rick Echard, the IOD Class Captain in Northeast Harbor, where the largest IOD fleet in the world is located. The fleet might hold as many as 16 races in a month, said Northeast Harbor Fleet Commodore Steve Madeira. "We'll get 18 boats out there, as we often do, and if everyone has four crew, that's 72 people. At least 20 boats made it to the line in August. Most of the other fleets in the world would love to have that many boats."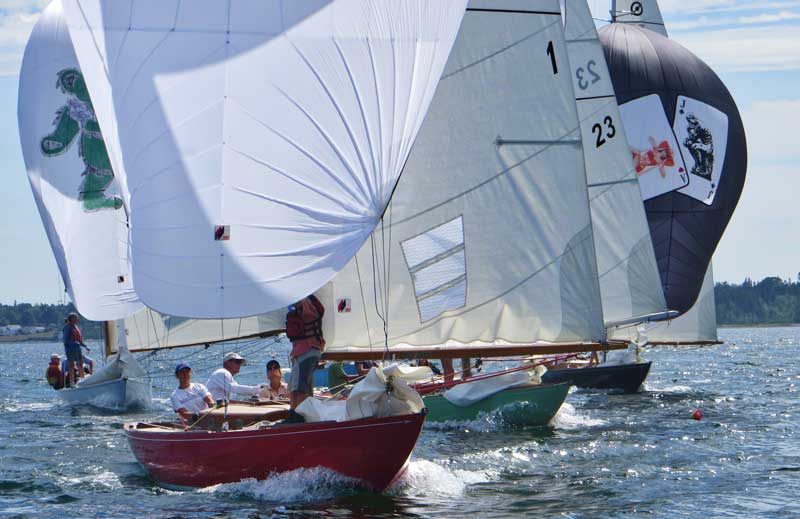 Northeast Harbor's IOD fleet includes wooden as well as fiberglass boats. Hull No. 1, Firefly, is shown here leading the fleet in a close finish. Photo by Sue Charles, courtesy Rick Echard
Many of those boats are from the original batch of 14 that arrived in Northeast Harbor by freighter in 1938. Today, the IOD flotilla from the Northeast Harbor Fleet numbers nearly 30 boats, including fiberglass models.
A 33-foot open-cockpit sloop, the International One Design was conceived by American yachtsman Cornelius Shields, who in the 1930s commissioned Bjarne Aas of Norway to develop the working plans for its construction, according to the Northeast Harbor Fleet web site. The result was a handsome sailboat with long overhangs, a graceful sheer, a deep and narrow hull, and a lofty rig.
Typically sailed with one to three crew in addition to the skipper, IODs are raced in fleets in Northeast Harbor, Marblehead, Nantucket, Fishers Island, Long Island Sound, Manhattan, San Francisco, Bermuda, Norway, Sweden, the UK, and Canada.
Local series racing and interclub regattas are highly competitive, attracting sailors with deep talent. At the same time, they're genial affairs that foster friendships that span locations and generations.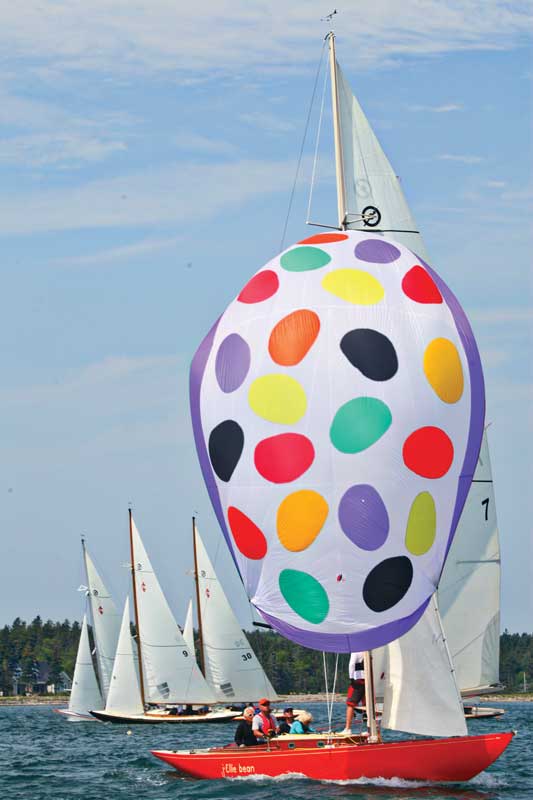 It's a rule that all IODs have to buy sails at the same time. But theres no rule about how outrageous to be with your spinnaker. This boat is called j'Ellie bean—a name reflected in the glorious dotted chute. Photo by Art Paine
"The boats are great racers," said Madeira, who co-owns Auriga, the second IOD in the original batch. Auriga has been in the family since his grandmother bought it in the 1950s. Madeira's been an enthusiastic competitor for more than 40 years, since he was a teenager, and now he's happy to see his family's next generation get involved.
"It's a very strict one design," he said. "That's what makes them fun. They have great sailing characteristics. The design is relatively stable and tracks well with the proper trim."
"If a puff of wind comes, they'll lean over gradually," he said. "Because they're long and deep in the water, they don't pound on the waves. Most of them have relatively deep cockpits, so you're sitting down in the boat. If you do get hit by a wave, you don't get wet."
"The boats feel wonderful, especially the wooden ones," said Sydney Roberts Rockefeller, who owns Satin Doll, which was the last boat to come off that freighter. "They move through the water really nicely."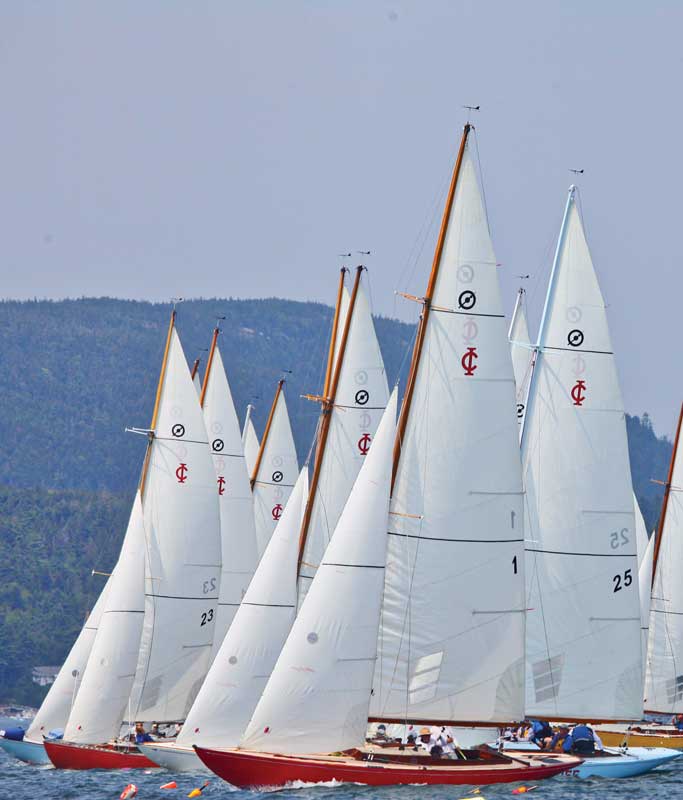 IODS come in just one shape but all colors. Firefly is Red. Satin Doll is purple like a grape. The fleet even includes one boat, aptly named Mischief, that's orange on one side and green on the other. Starts including 20 or so boats can be dramatic. Photo by Art Paine
Those older wooden boats pose a maintenance challenge, said Jay Robbins and David Partridge, who handle the IODs and other wooden boats at the John M. Williams Co. in Hall Quarry. The two previously spent years at nearby Mount Desert Yacht Yard, which cared for many of the local IODs until scaling back operations.
"It becomes more of a challenge as time goes by because they're just getting old," Partridge said of the 80-year-old boats. They weren't designed to last this long and we're asking them to keep on going."
The biggest challenge? Cracks and rot.
"The boats are built to race, so they're light," he explained. "The frames are just big enough to do the job. With age, they crack and fail under certain stresses. Things start to come apart."
But with proper attention and storage conditions, the pair noted, the boats can be maintained indefinitely.
The IOD is not just for racing, according to Madeira.
"They're fabulous daysailers," he said. "They're very comfortable and fast enough that you can actually go someplace. The only thing you have to be careful of is they don't have engines. So you don't want to get becalmed."
Then there's the sociable nature of the sport. The fleets all gather regularly to compete in events that include regional and world championships.
"Community is a big part of it," said Echard, who acquired hull No. 1, named Firefly, after falling in love with the class in Marblehead, Massachusetts. "What impressed me most when I started sailing these boats was the people. Because of their size and the locations of the fleets, you don't throw these on a trailer and campaign them around the world. When you travel to another fleet, you're hosted by local families and it's a warm and intimate reception. It's not a production-line event. Some people refer to it as a family reunion with a sailing regatta thrown in."  
---
MBH&H Contributing Editor Laurie Schreiber is also a Mainebiz staff writer and has covered topics in Maine for more than 30 years.
Share this article:
2023 Maine Boat & Home Show

Join Us for the Maine Boat & Home Show!
Art, Artisans, Food, Fun & Boats, Boats, Boats
August 11 - 13, 2023 | On the waterfront, Rockland, Maine
Click here to pre-order your tickets.
Show is produced by Maine Boats, Homes & Harbors magazine.