Painter Abe Goodale Comes Home to the Sea
By Carl Little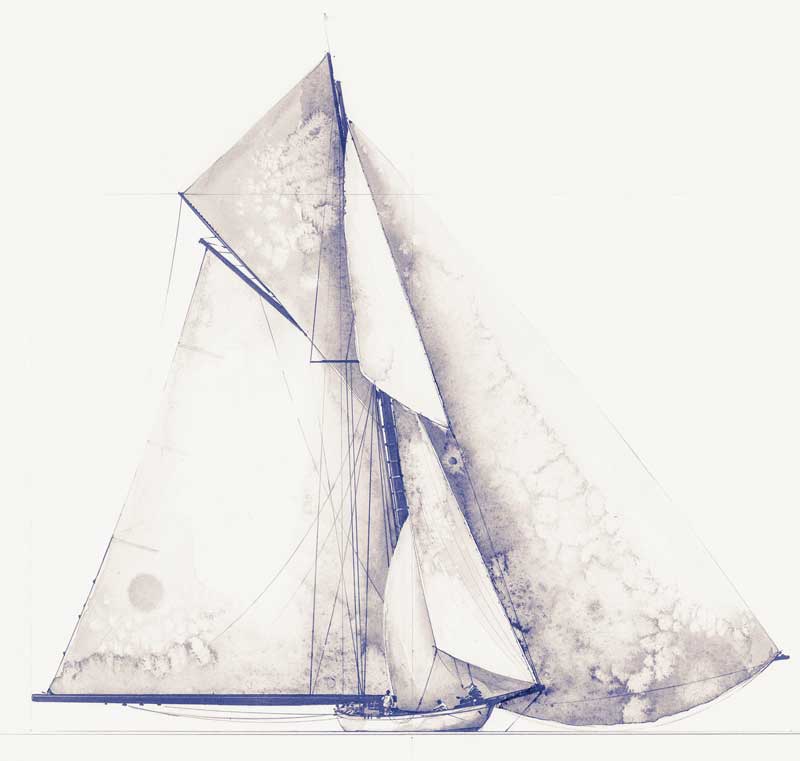 Abe Goodale drew on historical photos to make this image of the British cutter Valkyrie III, which competed in the 1895 America Cup. Boat #3 (Valkyrie III), watercolor and graphite on paper, 15 by 22 inches
Camden-based artist Abe Goodale had been drawing since childhood, but it wasn't until 2014 that he took up watercolor and began producing the stunning images that have gained him a place of honor in the pantheon of contemporary Maine coast painters.
One could argue that artistic genes played a role in Goodale's development. His uncle Peter Perkins Goodale and grandfather Robert Perkins Goodale were accomplished painters, and his great-great-grandfather was none other than Charles Dana Gibson, the celebrated creator of the Gibson Girl, that iconic female figure from the turn of the 19th century.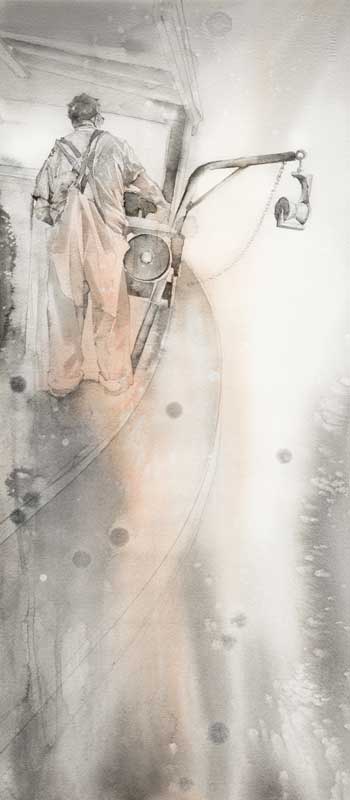 To create his portraits of Maine lobstermen, Goodale spent time on their boats. Outbound, watercolor on paper, 22 by 10 inches These three artist ancestors, all on his father's side of the family, occupied the same studio where Goodale now works on Seven Hundred Acre Island off the southern end of Islesboro. With support from a Maine Arts Commission grant, he is retracing his great-great-grandfather's footsteps, "to take note of changing times and to simply step away from the mainland and explore myself as an artist."
Changing times indeed: Where the Gibson Girl represented the ideal woman with perfectly coiffed hair piled atop her lovely head, Goodale's portraits of fishermen are true to life, rough and ready men portrayed with cigarettes dangling from their lips or reaching for a line. There is an authenticity in these portraits that recalls some of Andrew Wyeth's studies of Maine coast denizens.
Goodale began painting fishermen in 2016, wishing to capture, in his words, the "rawness and realness of what it is to fish." He spent six weeks traveling up and down the coast, from Stonington to Southport, gathering material. "I would photograph while rowing in the harbors, at the fuel docks, or on board the working boats," he said.
The watercolor paintings Goodale made reflect the intensity of his vision and his affection for his subjects. In Father's Son, a scruffy-bearded fisherman in bibs and baseball cap casts a soulful eye upward as if to question the weather. The chisel-jawed lobsterman in Horizons looks intense and wary.
Some pieces include more of the on-boat setting. The vertical Outbound provides a gunwale-eye view of a lobsterman standing at the wheel, his back to the viewer, the trap hauler sticking out to the side. Watercolor washes create atmospheric effects, as if the boat were moving through a scrim of sunlit fog.
In his watercolors Goodale seeks to capture representational elements of the scene that he then lets "fade" to abstraction. "Watercolors often lean toward being loose, but I enjoy working to control them in areas and then letting them go," he said. The drips and washes mimic the fog and, in a larger sense, "the coming and going of generations upon the ocean." He wants, he said, to capture "a representation of an era on the water."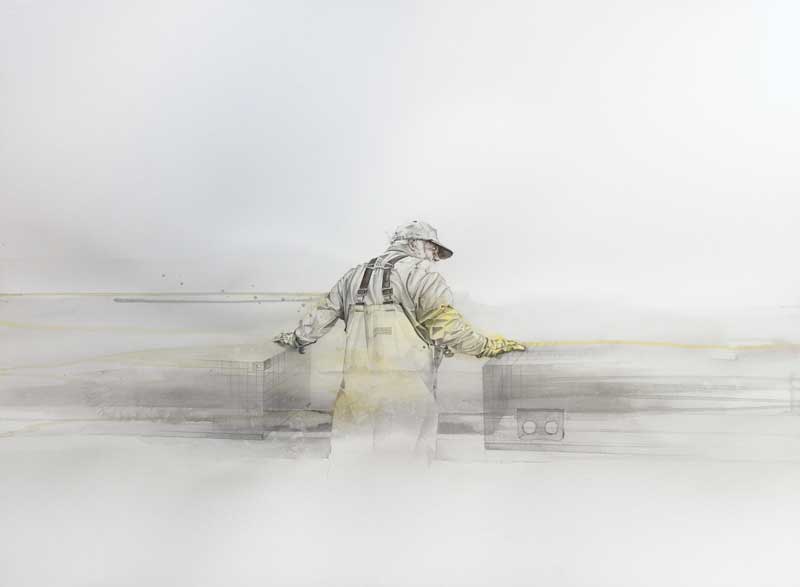 Goodale often adds a touch of color to his monochromatic palette to bring life and warmth to the figures in his paintings. Pause, watercolor on paper, 22 by 30 inches
Goodale employs a monochromatic palette, adding a touch of color to bring life and warmth to the individuals. In Pause he added yellow highlights to a suspendered semi-apparitional fisherman standing between lobster traps.
As if to accentuate the connection between technique and subject, in some paintings Goodale sprinkles granules of  salt, of various sizes, onto the wet surface. "The salt attracts and absorbs the water while leaving the pigment behind, creating the desired effect," he explained. He also works with isopropyl alcohol, plastic wrap, and screen-pressed overlays to achieve certain effects; sponging, spraying, masking, scratching, and folding the paper are also part of his practice. His favorite surface these days is a hot-pressed 140-weight Arches watercolor paper.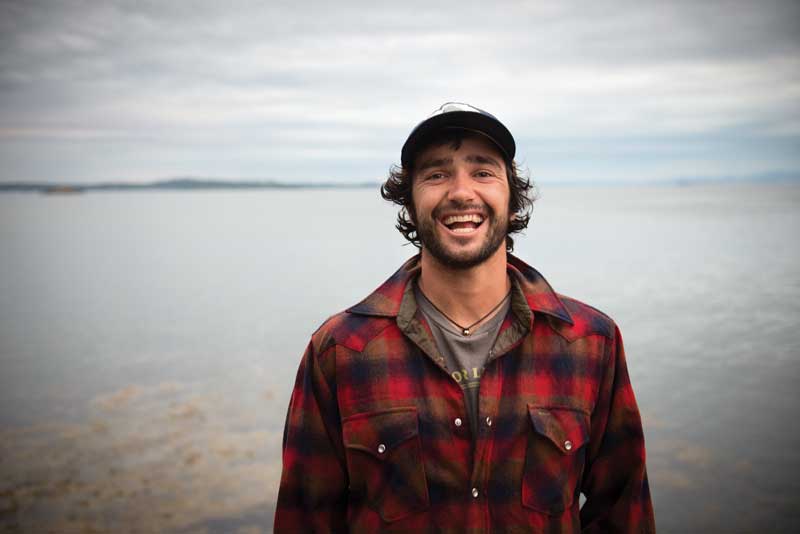 Abe Goodale, painter and world traveler. Photo courtesy Abe Goodale
Goodale's route to where he is today started in Maine but then went across the country and around the world.
Born in Montville in 1985, he grew up on a sheep farm where he was homeschooled. He attended the University of Colorado at Boulder to study architecture, but after a year transferred to the University of Utah to pursue a degree in ceramics and recreation management.
Goodale eventually surrendered to wanderlust. When his sister, Olympic rowing gold medalist Anna Goodale, had a race in New Zealand in 2010, he traveled there to watch her compete, bought a van, guided with NOLS (National Outdoor Leadership School), and stayed for a year before heading to Northwestern Australia where he worked at an Aboriginal art studio.
Following this sojourn down under, Goodale headed to South America. With his experience in the wilderness—he also guided NOLS trips in the Rocky Mountains, Baja, and Alaska—he wanted to explore some remote regions of the world and figured walking through Patagonia was a good place to start. He spent 10 months traversing the Andes working on a culturally-based photography project that ended with six months of studio time in the mountains of Ecuador.
After years of working and traveling internationally Goodale wanted to come home and focus on paintings that connected him to where he grew up. "So often Maine is represented as the red lobster, the setting sun, the perfect landscape or the pristine boat," he noted. "I wanted to pay tribute to the fishermen that work so hard, rain or shine, day in and day out," the stalwart individuals behind this "thriving yet fragile industry."
Down the road, Goodale would like to portray the women who are fishing in Maine, a subject covered recently by painter Susan Tobey White. (Read more in the 2019 maineboats.com/blog post "Museum exhibit showcases women who lobster.") He would also like to devote a group of paintings to Bob Quinn, who fishes off Eagle Island in Penobscot Bay. "What captures me most about him is his voice, his life on the island, and an example of island living," Goodale said. He envisions an exhibition of Quinn paintings with audio: "You walk in, look at paintings, but in your ear is one of the most amazing island accents with stories of the water, the islands, and the fog."
Goodale has expanded his repertoire recently, painting watercolors of various boats, some of them on commission. Among them are three America's Cup sailboats, Genesta, 1884, Valkyrie III, 1895, and Shamrock V, 1931. Working primarily from historical photos, the painter highlights the vast expanses of sail the boats carried.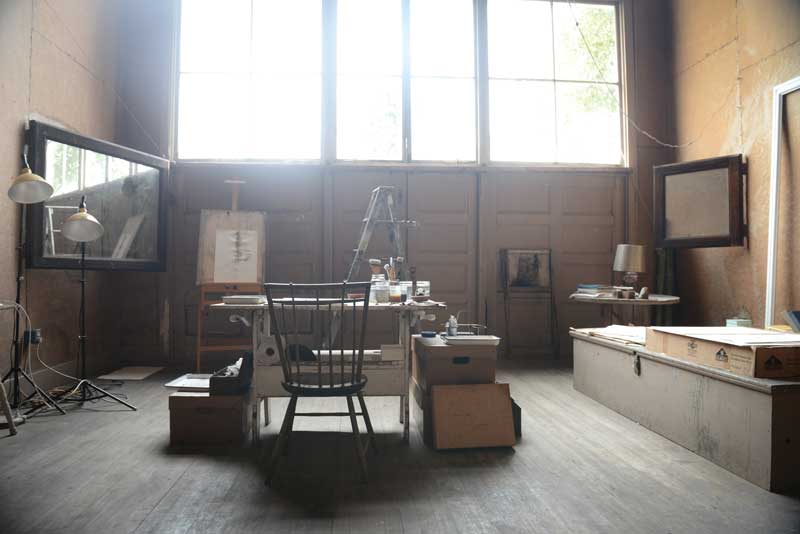 The studio on Seven Hundred Acre Island built by Goodale's great-great-grandfather Charles Dana Gibson. Goodale is currently painting there. Photo courtesy Abe Goodale
Back on Seven Hundred Acre Island, Goodale is experiencing what he calls "a fairytale of the past." Ensconced in the remarkable retreat that Charles Dana Gibson built in the early 1900s, he is embarking on what he describes as "a tribute to family history, the artists before me, an island, and the Maine bicentennial."
Goodale, who envisions the project extending for years to come, will use his website to feature the work that emerges from his explorations in time and place. To paraphrase a rock 'n' roll song, the waiting will be the hardest part.  
---
Carl Little lives and writes on Mount Desert Island.
---
You can find more of Abe Goodale's work at  www.abegoodale.com. He is also represented by Small Wonder Gallery in Camden, Archipelago in Rockland, and Gifts at 136 in Damariscotta.
Share this article:
2023 Maine Boat & Home Show

Join Us for the Maine Boat & Home Show!
Art, Artisans, Food, Fun & Boats, Boats, Boats
August 11 - 13, 2023 | On the waterfront, Rockland, Maine
Click here to pre-order your tickets.
Show is produced by Maine Boats, Homes & Harbors magazine.