Classic Boats in a Family-like Setting
Boatyard Profile: Edgecomb Boat Works
By Ted Hugger
Photos by Ted Hugger​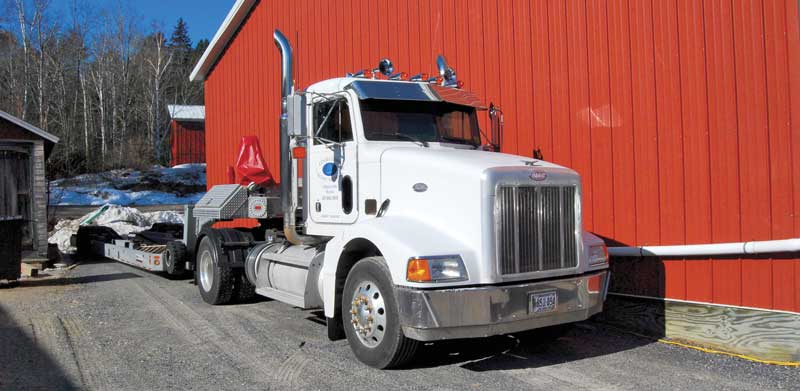 To augment the company's big hauler, Mitch Garey, who ran a hauling company before taking over Edgecomb Boat Works, plans to take delivery of a smaller trailer better suited for yard work and moving smaller boats. Happy Hollow was the name of the old Edgecomb farmstead, halfway between Boothbay Harbor and Wiscasset. It's a name so old that it appears on the original tax map for the State of Maine. Two-hundred-and-fifty-plus years later, the farmhouse, barn, and property off Route 27 are now home to Edgecomb Boat Works and its five storage buildings, heated four-bay service building, and outside storage yard.
Mike Mayne started the farm's transition to boatyard life back in 1987. The yard thrived and earned respect for its wooden boat expertise. But by 2011, Mayne was looking for an exit strategy, and he had Mitch Garey, a local boat transport operator, in his sights.
A Maine Maritime Academy graduate, Garey had spent his working life in and around boatyards. While in college, he went to work for Boothbay Region Boat Yard in Southport (now Hodgdon Yacht Services) eventually becoming service manager. It was there that Garey noticed how difficult it was to find good boat transport companies—and the idea for his boat transport business took seed. In 2007, he left the yard and went out on his own as a hauler.
"Over the years, I'd moved some boats for Mike," Garey recalled. "My business was growing, and Mike caught wind that I was looking for a piece of property for my hauling business. Mike suggested I move my boat-moving business into the yard, with the goal of eventually buying him out." The two merged their operations, and in 2015 Garey purchased the yard from Mayne.
Since then, the company has expanded into a full-service boatyard with a strong commitment to wooden boats and high-end fiberglass craft. The yard is home to more than 115 boats, including 20 vintage Lymans.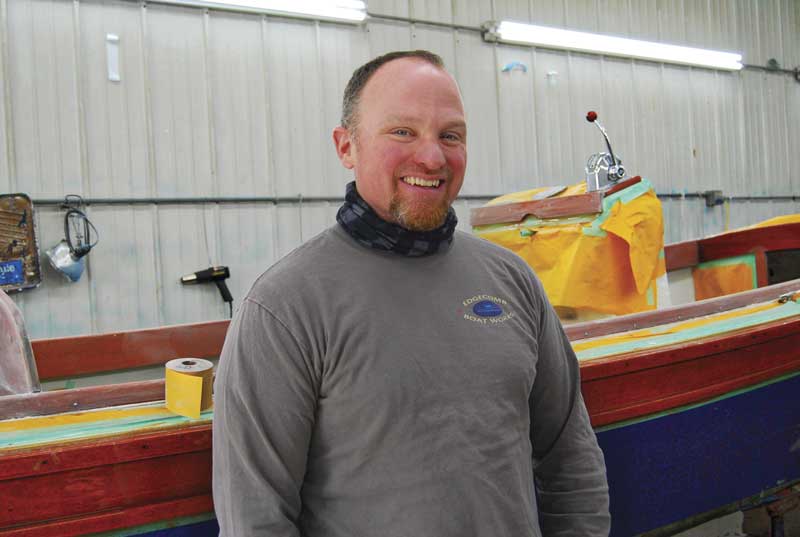 Edgecomb Boat Work's owner Mitch Garey insists on a happy workplace. "I like to keep the shop light-hearted and fun."
Garey is committed to keeping a small, family-owned business feel. "It's important to me that customers have a good time and come away knowing that they're not just another boat in another yard. When they visit us, everyone knows their name." To that end, he employs just four full-time craftsmen. The crew brings a diverse mix of experience and skill to their work; and most importantly to Garey, a sense of humor. "We have a lot of laughs around here. I sit in my office and I hear laughter and back-and-forth banter. It makes me smile. I try to keep the shop light-hearted and fun," he explained.
The cast of characters leads off with Andy Angelico, Garey's right-hand man. "Andy is a true shipwright. He's one of the few people that I've worked with who can do anything and do it to an incredibly high standard: woodworking, mechanical, fiberglass, and more. Andy possesses a wealth of knowledge, and he is adept at teaching and coaching the other guys," Garey said.
Next up is Jerry Lord, finish-work virtuoso and lead humorist. Lord worked for Goudy & Stevens for years and has been at Edgecomb Boat Works since the beginning. Lord is a paint and varnish master, Garey said. "He's such an amazing talent; one of those guys who stand there talking to you while he's throwing on the varnish without any conscious effort, yet it turns out perfectly every single time."
Josh Smith signed on recently. He came by way of Washburn & Doughty, where he worked as lead painter for six years. Nate Beilmer excels at detailing work, in addition to performing the yard's outboard service and winterization, bottom painting, polishing, and other yard work. In keeping with the family theme, Art Garey, Mitch's father, runs the parts department, and pitches in elsewhere from time to time.
Rounding out the team is Anchor, a robust, nine-month-old English Bulldog whose primary job is watching the door for unsuspecting newcomers. "Anchor," Garey said, "is just plain foolish. He hangs out with me most of the time. It's when he's not here that I realize how much I talk to Anchor during the day!"
"We produce a lot of work for just a handful of people," Garey reflected. "I'm really fortunate to have the crew I have—they are the success of the yard. They know the standards I expect, and they achieve those standards every day."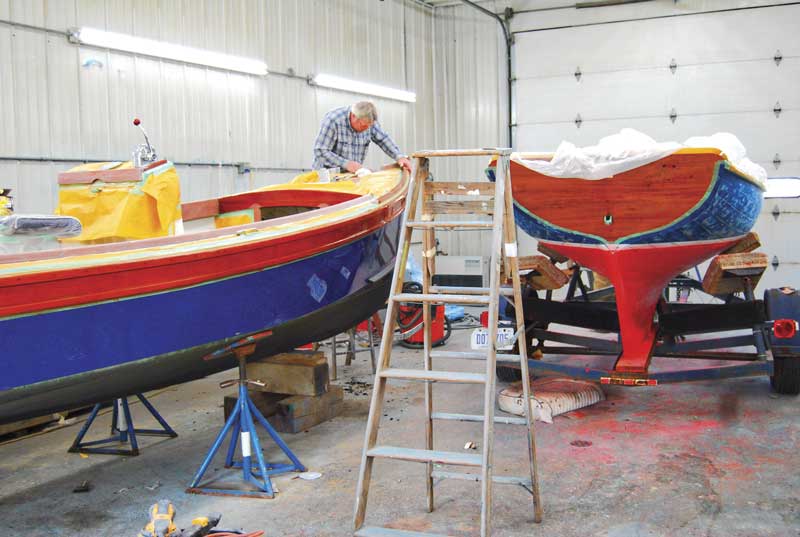 A 26-foot Handy Billy is shown in the shop, where it will receive new coats of varnish and paint.
Enjoying the work seems to be the gold standard for rating jobs at Edgecomb Boat Works. "About the most fun we've had was the Stanley 36 refit job. The owners had a dream of converting an old Maine lobsterboat into a pleasure boat," Garey explained. "The owners were so into the project; they would come up weekly. It was really fun working with them as their dream came together."
The Stanley project included building a custom console for a huge electronics package upgrade and crafting a galley with custom mahogany cabinetry in the wheelhouse. Because the owner wanted more speed out of the boat, the team pulled out the old Detroit 4-71, and replaced it with a 370-hp Volvo diesel. "With the Detroit, you could do nine knots with your hair on fire," Garey said. "And now, the Volvo sends her flying at 23 knots."
In the "Well, that was certainly a challenge" category, an Oldport 26 project takes line honors. "The owner had bought her sight-unseen and without a survey," Garey said, with an "I know, can you believe it?" look. "Boy this boat was a mess—a real basket case. It was just one thing after another as we started to get into it. The diesel tank was full of water. The engine beds were rotten. It just went on and on." Fortunately, the owner really liked the boat and was committed to the project, regardless of the many challenges.
Gary chuckled when he described the restoration of a 13-foot Penn Yan runabout. "I actually tried to talk the owner out of doing it a couple of times because I knew it would be such an undertaking," he said. "In the end, we tore the boat down to the bare frames." The team took every plank off, and rebuilt and refinished the boat from the keel up. It was extremely labor-intensive, and a case study of the ever-expanding job.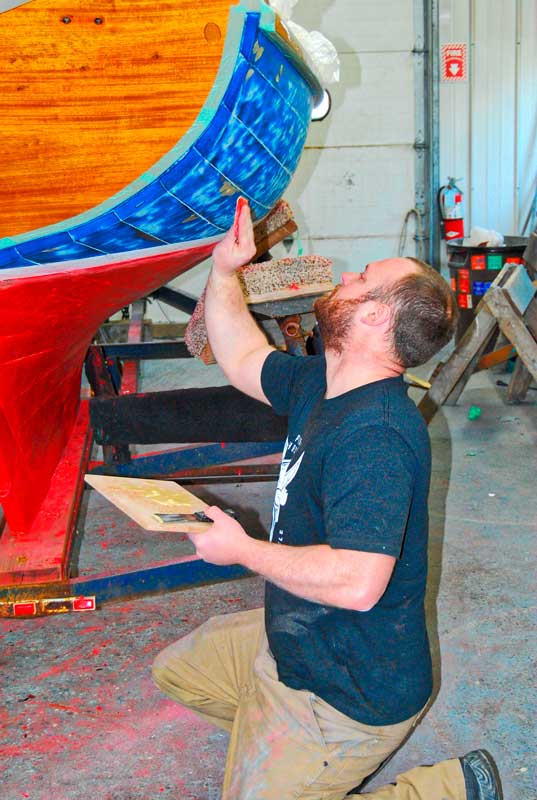 The yard's four heated shop bays allow a healthy mix of repair, refit, and maintenance work on classic power and sailboats.
Major refits can become expensive, Garey explained, especially when mechanical issues are involved. A new inboard engine can run $50,000 or more, and that doesn't include the work to install it and run cooling, exhaust, and electrical systems.
The yard sees its share of jobs that aren't necessarily full refits, but are significant projects just the same. "We have a Redfern out in the shop right now," he said. "The engine has some non-fatal issues, but still, we'll end up with a new turbo; the head has to come off; fuel injectors and coolers have to be serviced; and the engine room gutter system is rotten and leaking water into the engine bay."
Garey likes to see a couple of big paint/varnish projects every winter to balance out the workload. Take, for example, the 21' Handy Billy in the shop. The years of sun and salt have taken their toll. "That boat has the most brightwork of any Handy Billy I've seen. Even the sheer plank is finished bright," Garey said. The Edgecomb crew are stripping the mahogany down to bare wood and will refinish it all.
"I don't want the shop to be rigid and serious. It's great that everyone can be light-hearted and still be productive and turn out such a quality product," Garey marveled. "Sometimes, it's like we're a bunch of 12-year-olds.
"Years back, a guy worked here who loved to label stuff—stuff that didn't need labeling. For example, armed with a piece of tape, he added 'five-minute epoxy' under the container label that already said five-minute epoxy."
Cue Jerry, the company prankster. "Then Jerry started labeling stuff. 'DOOR' on the jamb of the door into a work bay, and 'OTHER DOOR' on the jamb of the lunchroom door. He wrote "ME" on a piece of tape and stuck it on a mirror. And on the end of a piece of ultra-thin annealed wire hanging from a drying rack, he put a piece of tape that said "AIR," Garey recalled.
"Every time I walk by these re-labeled things it just makes me laugh," he said. The original label guy is long gone, but to this day, to his boss's delight, Jerry's still labeling the unexpected at Edgecomb Boat Works.  
---
Ted Hugger owns and operates the Cod Cove Inn in Edgecomb and the Cedar Crest Inn in Camden with his wife Jill.
For More Information:
Edgecomb Boat Works
957 Boothbay Road
Edgecomb, ME
207-882-5038
Share this article:
2023 Maine Boat & Home Show

Join Us for the Maine Boat & Home Show!
Art, Artisans, Food, Fun & Boats, Boats, Boats
August 11 - 13, 2023 | On the waterfront, Rockland, Maine
Click here to pre-order your tickets.
Show is produced by Maine Boats, Homes & Harbors magazine.