My Boat, My Harbor (My House) — Issue 154
Is Now the Time to Plan for Floating Communities?
By Paul Waring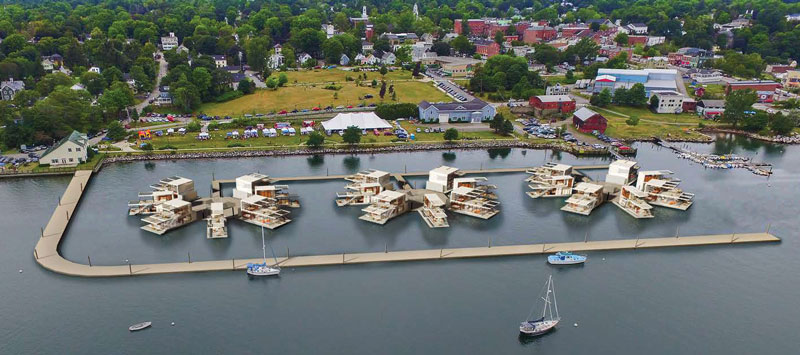 This concept drawing shows how a floating residence community could look in Belfast harbor. The outer perimeter dock configuration would provide easy moorage in deeper water for fishing and pleasure vessels, while also addressing wave attenuation and protection for the residence pods within. Drawing courtesy Stephens Waring Yacht Design
Here's a scoop about marine living: Living on the water could be a better deal than living near the water.
Our little yacht design office spent a couple of months exploring how to live on marine environments for our designs in floating residence products. We dug deep into costs and benefits of various marine residence concepts, from floating homes to liveaboard yachts, seeking to understand which is the better deal: a residence on real land near the coast, or a residence floating near the coast.
To get a sense of the tricky nuts and bolts of real estate values for properties near the water, we looked at the hot housing market near Portland, Maine. The usually reliable real estate sales site Trulia pegged the average asking price of a home in this revitalized port city at about $450,000.
Real estate data like this are never perfect. But despite the numeric blurriness, the city of Portland shows a healthy real estate story: areas near downtown are doing well. When we looked into two attractive and thoughtfully designed condo buildings, we concluded that the floor plans include about as much space and as many features as on large sailing yachts. But, even for these efficiency apartments, there is plenty of wasted space.
What interests us is how little the average dweller would give up in amenities and space by living on a cleverly designed floating home or liveaboard vessel. All the basics we expect in a highly refined yacht are the same details we expect to find in these apartments: sizable bedrooms, reasonable baths, modern appliances, HVAC, and pleasant arrangements for cooking, eating, and socializing.
Then, consider the space outside an apartment/condo building, especially compared to an installation of floating residences. Floating communities, such as one we examined in the Eastlake region north of downtown Seattle, can connect occupants directly to the water—this is a big deal for people who love boating, swimming, and water sports. These communities provide an open feel, with fresh breezes, excellent water views, and great access to downtown.
Larger condo units, for example on Munjoy Hill in Portland, sell for over $1 million. A floating residence could cost less than that to build, and offer similar features. The difference? The floating residence has no land/property tax, though cities will figure out a way to address that issue soon. And, while a floating home needs mooring accommodation, it comes with less overhead and landscaping.
I wouldn't suggest that installing homes on the water will be easy. It won't. For code regulations, any community is ruled by its local laws, and each harbor is completely different. In the United States, life on the water is all about local practices. Quite frankly, I believe it's an underdeveloped, under-the-radar market.
Yes,  there are complexities. A poorly designed marine residence can be miserable if not properly planned. The challenge is two-fold: to find smart architects and builders who understand life on the water, and to find smart solutions with appropriate local ordinances.
The concept of floating communities is still fairly new. You can find comps for land-based housing, but not for floating houses. That said, building a floating home is sort of like building a yacht, but without all the crazy costly complexities. It might cost more dollars per square foot than building a land-based house, but when you add the cost of land into the equation, you have a situation where a floating home might just be more cost effective.
Could this be the time to explore the creation of a vibrant new housing sector on the water? Yes, surely it is. 
---
Paul Waring is a yacht designer, and partner at Stephens Waring Yacht Design in Belfast.
Share this article:
2023 Maine Boat & Home Show

Join Us for the Maine Boat & Home Show!
Art, Artisans, Food, Fun & Boats, Boats, Boats
August 11 - 13, 2023 | On the waterfront, Rockland, Maine
Click here to pre-order your tickets.
Show is produced by Maine Boats, Homes & Harbors magazine.