Every Boat Has a Story
Moosehead Lake's historic Virginia and Sequoia
By Roger Moody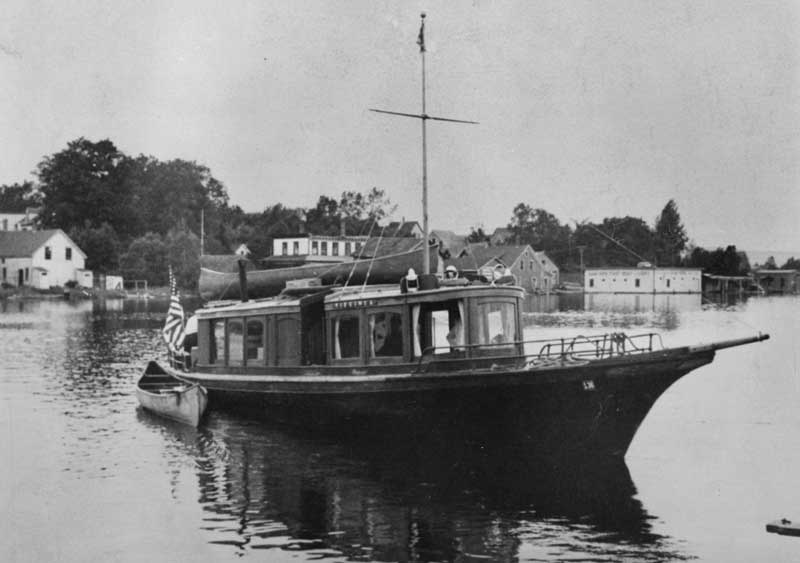 Fishing on Moosehead Lake in the early 1900s was done from 20' canoes such as these atop and alongside Virginia in this image from 1910. A common sight was a steamer towing a string of canoes down the lake for fishing parties who would then be paddled back to their lodging by a guide. Photo courtesy Moosehead Historical Society
As a frequent visitor to Moosehead Lake where my family has a camp, I have seen a number of lovely boats over the years. Two in particular have stood out: the steam launch Virginia, which featured a unique clipper bow, and the triple-cockpit runabout Sequoia. These two classic boats, which belonged to the same family, no longer grace Moosehead's expansive waters, but in recent years both have benefitted from extensive restorations. They now cruise lakes in Wisconsin and New York, respectively.
The 42' launch Virginia was brought to the lake in the 1920s. Garret Schenck, a grandson of the founder and long-time president of Great Northern Paper Co. purchased her in the late 1960s; he acquired the 30' mahogany runabout Sequoia in the mid-1980s. Both were for use at the family's properties in Moosehead Lake's North Bay.

Note the 12" mounted spotlight used for nighttime navigation. Photo courtesy Moosehead Historical Society
Virginia was built in 1899 at a yard in New York for Alexander Mackay-Smith, who became Rector of St. John's Church in Lafayette Square, Washington, D.C., in 1893, and became Episcopal Bishop-Coadjutor of Philadelphia in 1902. The Mackay-Smiths built a summer cottage in Seal Harbor, Maine, in 1901. And in 1906, a year after the Maine Seacoast Mission in Bar Harbor was founded, Mackay-Smith donated the Virginia, along with operating funds, to the new organization. Renamed Morning Star, she transported clergymen to provide religious services and other support to remote islands along the Maine coast. She was not built, however, to withstand the punishing winter coastal sea conditions. The mission replaced her in 1912 with the 57' Sunbeam I—designed by John Bird II, president of Camden Anchor-Rockland Machine, and built at Camden Shipbuilding. Today, the Maine Seacoast Mission's outreach vessel is the 75' steel-hulled Sunbeam V—built in 1995 by Washburn & Doughty in East Boothbay and recently refitted at Front Street Shipyard in Belfast.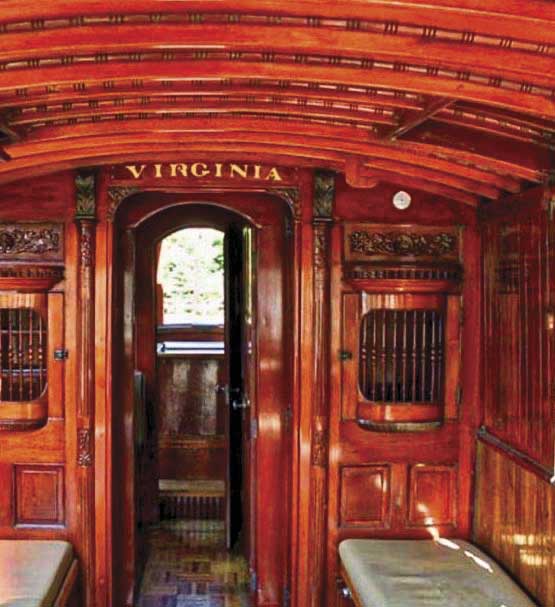 Virginia's wood-paneled interior prior to her complete restoration at St. Paul Shipwrights in St. Paul, MN. Photos courtesy St. Paul Shipwrights (2)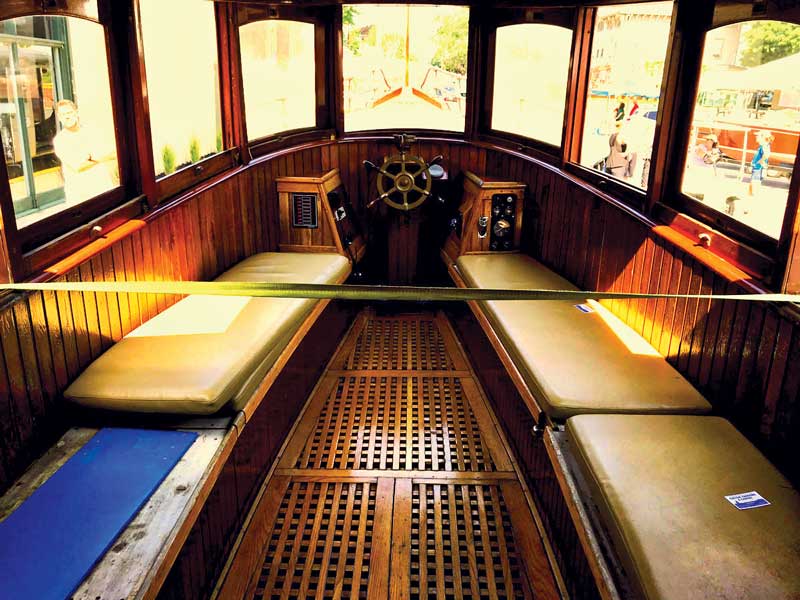 John McKechnie of Moosehead Marina traced Virginia's history in the Moosehead Messenger in 1986, saying that John Eastman purchased her in the 1920s and brought her to Moosehead Lake by rail. She was used as a guide boat at his Spencer Bay Camps to transport guides and their fishing clientele to favorite fishing spots on the lake. In the early 1930s, Thornton Eastman, John Eastman's son, started what is now the Moosehead Marina on the Moose River in Rockwood. He inherited Virginia, and moved her to the marina. Schenck purchased Virginia in the late 1960s, and Schenck family documents show the Virginia as being recommissioned in a 1969 ceremony.
In homage to his alma mater, the University of Virginia, Schenck left the boat's name unchanged. His family used her during regular summer visits to their property on Moosehead Lake, where she had the distinction of being the only powerboat on the lake with a clipper bow and bowsprit. Her cabin interior and exterior were brightwork, and she was fitted with a wood-burning stove. Schenck had her hull rebuilt in 1984 by the Lawson Boat and Engine Company at Bemus Point, Lake Chautauqua, New York, near the Finger Lakes Region, and her replacement Volvo engine was restored by East Coast Diesel. Her cabin salon was left in its original condition.
Mark Gilbert II, the current owner of Moosehead Marina, reports that he and his late father provided annual storage and maintenance for the Virginia for decades, and his father Mark Gilbert rebuilt her twice. In 2016, Virginia was sold to the Antique Boat Museum in Thousand Islands/Clayton, New York. ABM then sold her in 2018 to a private owner in Wisconsin. The new owner commissioned a comprehensive restoration of the launch at St. Paul Shipwrights in St. Paul, Minnesota, with the work completed in August 2020.
Schenck also owned the 1926 mahogany runabout Sequoia, designed and constructed by the Fay & Bowen Engine Co. in Geneva, New York, which built quality pleasure craft and marine/industrial engines from 1904 to 1929. The company sold launches and runabouts worldwide, earning the reputation, and the motto: "None Better Built."  Renamed FayBow Boats Inc., it continued to build watercraft from 1929-1937, offering a line of speedboats, outboard runabouts, and hydroplanes.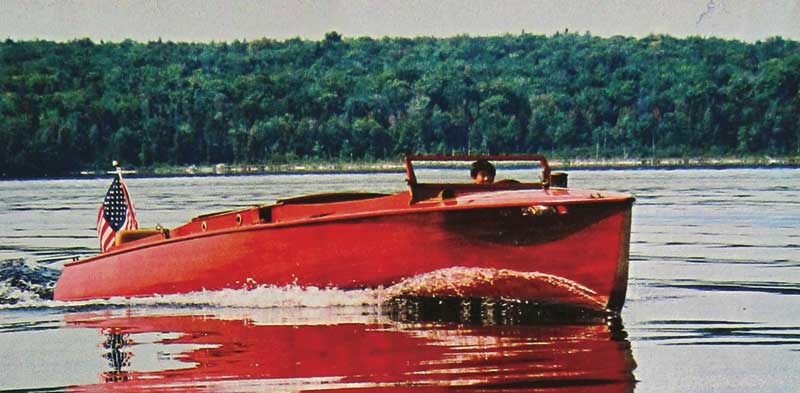 Sequoia underway in the mid-1980s. Photo by Boyd Mefferd
Sequoia is a triple-cockpit mahogany runabout, 30'′ LOA, with a beam of 6'′4" and draft of 2'. Her original owner, Edwin Nash Sanderson, was a partner in a large engineering firm called Sanderson and Porter, which electrified the rail system in New York City, built ships in Redmond, Washington, and constructed hydro-electric dams. Sanderson travelled to the Fay & Bowen plant in Geneva, New York, where he placed orders for Sequoia and a 24' longdecker runabout named Papoose. But the Great Depression wiped Sanderson out financially, and the family moved off their land at Kramer's Point on Lake George. The boathouse that Sanderson built for the two runabouts still stands.
Sequoia remained on Lake George under various owners from 1926 until she was sold in 1986 to Schenck, who moved her to Moosehead Lake. She had a Chris-Craft "K" six-cylinder engine when Schenck purchased her, but he replaced it with a Crusader V-6 which was later removed when she was sold around 2000.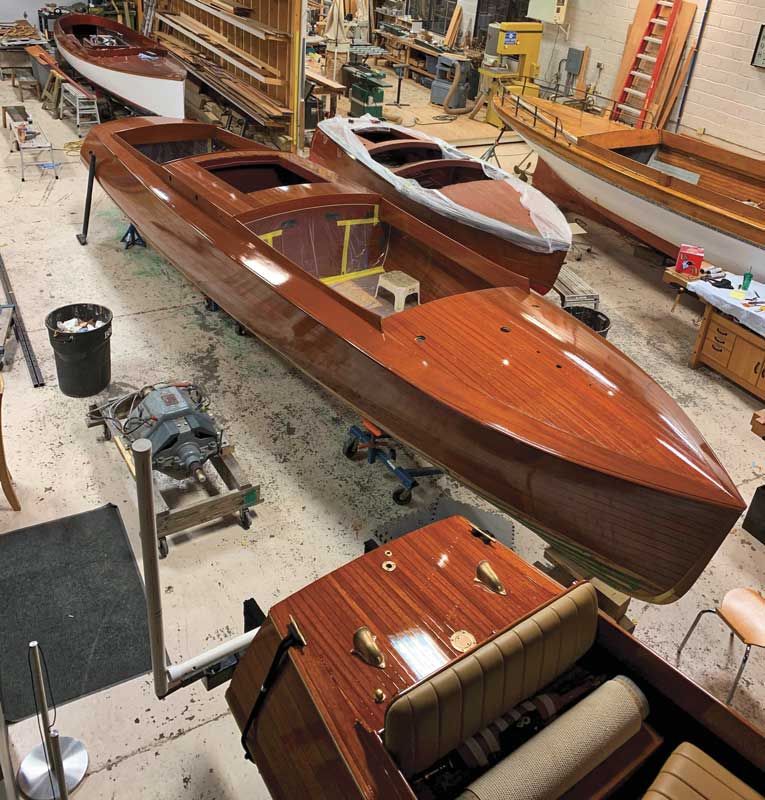 Sequoia has been undergoing a thorough restoration at Tumblehome Boatshop near Lake George in New York. Photo by Reuben Smith
Eventually Sequoia was purchased by a private owner who took her to Reuben Smith's Tumblehome Boatshop near Lake George in Warrensburg, New York, which specializes in restoring classic boats. A complete restoration is under way, including the installation of a historically correct 55 horsepower Fay & Bowen LNS43 engine.
Although these two handsome and unique boats no longer ply the waters of Moosehead Lake, owners who understand their heritage and have sought their restoration by accomplished artisans are giving them new life for future generations to appreciate and enjoy. 
---
Roger Moody is a retired municipal manager, school finance and operations manager, and county commissioner who writes about nautical and boating history. His book Of Watercraft Form and Function: A Biography of  Geerd N. Hendel was published in 2020 by Maine Authors Publishing (Thomaston, ME).
Share this article:
2023 Maine Boat & Home Show

Join Us for the Maine Boat & Home Show!
Art, Artisans, Food, Fun & Boats, Boats, Boats
August 11 - 13, 2023 | On the waterfront, Rockland, Maine
Click here to pre-order your tickets.
Show is produced by Maine Boats, Homes & Harbors magazine.