Thomaston
The Town that Went to Sea
By Mimi Bigelow Steadman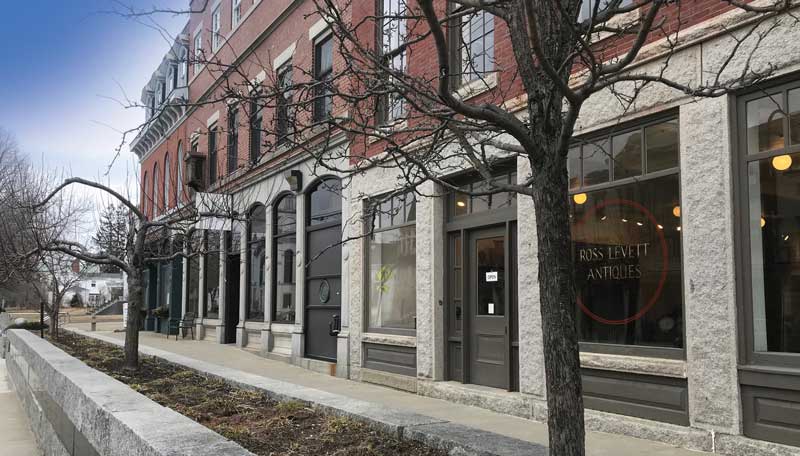 Thomaston was the first U.S. community to adopt The Museum in the Streets program. Positioned throughout its historic district, 25 placards reveal highlights of the town's earliest days, its booming 19th-century shipbuilding and lime quarrying enterprises, and other snippets from its eventful past. Photo by Polly Saltonstall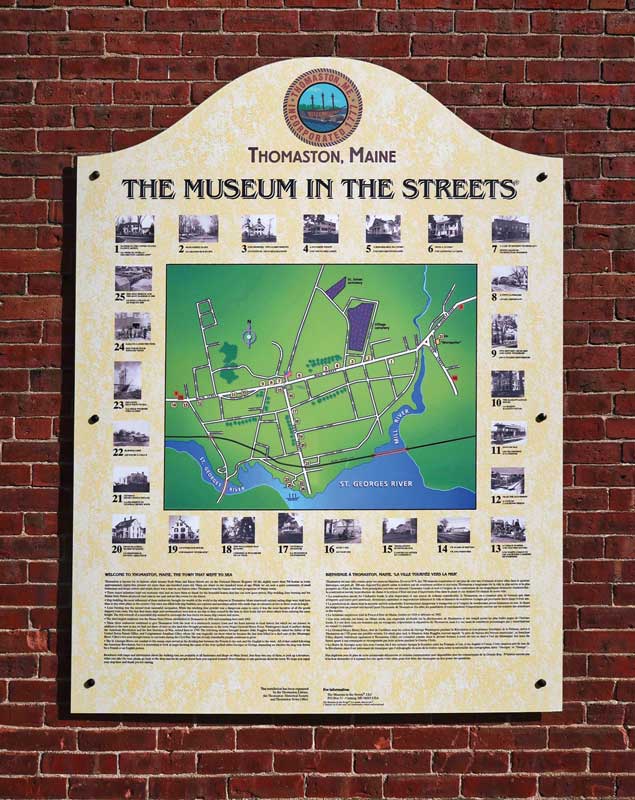 Photo by Mimi Bigelow Steadman When English explorer George Waymouth ventured up the St. George River in 1605, his chronicler, James Rosier, described it as a "great river… with the safety of harbor for shipping." Yet these days, most coastal cruisers bypass the 12-mile trip upriver to Thomaston. Similarly, land-based travelers often zip through on Route 1 (Main Street) without stopping to poke around. And more's the pity.
I've found good reason to tarry awhile, including eclectic shopping, dining, and strolls through history. River-rimming trails invite exploration, the Watts Hall Community Players mount shows year-round, and the Fourth of July parade is pure Americana.
"Our historic district encompasses more than 400 19th-century structures," Peggy McCrea, Thomaston Historical Society's historian, told me over a tasty lunch beside a sunny window at Thomaston Café. "There are 75 on Main Street alone, including examples of Italianate, Federal, French Second Empire, Greek Revival, and Queen Anne style." All of these elegant buildings bear witness to the days when profits from shipbuilding, shipping, and lime quarrying stuffed local entrepreneurs' pockets.
McCrea told me about James Overlock, who built many of the houses, and his signature inverted fleur-de-lis design element. On a post-prandial hunt, it was fun to spot several porch arches graced by them. "The then-new jigsaw made it easier to carve them," she explained.
While many of Thomaston's homes have been restored, others await a return to their former glory. A local program called Habitat on Main, affiliated with Habitat for Humanity, can provide fix-up assistance to homeowners who meet certain income criteria. In addition, new arrivals ranging from young families to retirees are investing in Thomaston residences.
Turning off Main Street onto Knox Street, McCrea explained, "This was General Henry Knox's driveway, leading to his mansion, Montpelier. It stood beside the river where Lyman-Morse Boatbuilding is now."
Knox moved to Thomaston in 1795 after serving in the American Revolution and as the country's first Secretary of War. He was an enthusiastic booster for the region, but his investments in real estate, lumber, shipbuilding, and other enterprises saw limited success. His descendants struggled to maintain Montpelier, and it was torn down in 1871. A single remaining brick outbuilding houses the historical society's archives and small museum. In 1930, a reproduction of Montpelier, now the Knox Museum (open Memorial Day to Columbus Day), was built from the original plans on a rise at the eastern edge of the village.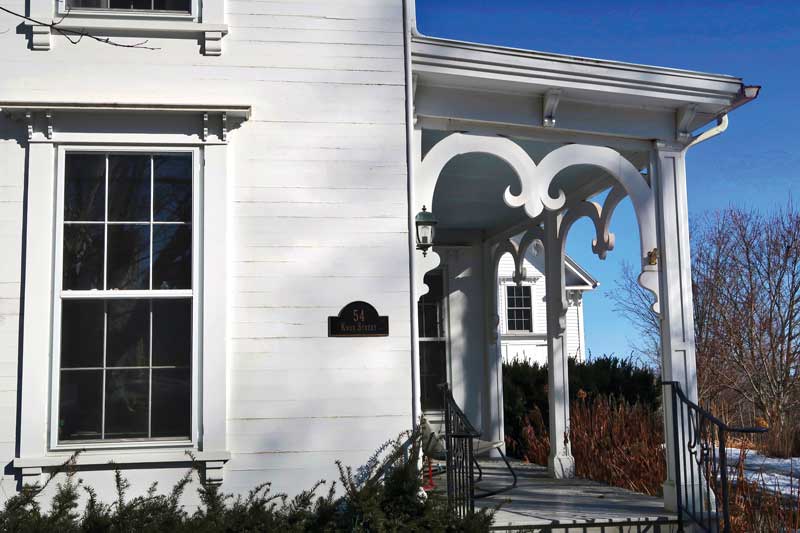 James Overlock, who built many of Thomaston's elegant homes, "signed" his work with inverted fleur-de-lis cutouts. Photo by Mimi Bigelow Steadman
Thomaston's slogan—The Town that Went to Sea—is well deserved. "Some 1,000 vessels were built here in the 1800s," McCrea said. "They ranged from pinkies to coasters to oceangoing schooners and clipper ships. They'd float them un-ballasted down the river. Sometimes they'd tip over in the shallows. They'd wait for the tide, right them, and continue on."
Lyman-Morse has inherited the shipbuilding tradition. Since 1978, the company has constructed more than 100 vessels including carbon fiber racing sailboats, cold-molded sloops like the sleek 65-foot Anna, and many luxury powerboats. Drew Lyman, president, said a 57-foot Hood express cruiser is launching this spring and a 35-foot Hood jet boat is under construction.
While most of the pleasure craft plying the river today are day-tripping outboards, Lyman offered, "If someone needs a place to tie up overnight, we'll find a spot for them. When you wake up in the morning here, it's so calm and quiet, unlike some other harbors. I love watching the sun come up over the peninsula."
Before leaving town, I stood beside a large wooden cross that replicates one Waymouth is said to have erected on this same riverside hillock. I like to think he enjoyed watching the sun rise over the peninsula, too.  
---
Contributing Editor Mimi Bigelow Steadman lives on the Damariscotta River in Edgecomb.
If You Go to Thomaston
On the Water
At its lower end, the St. George River is wide and deep, but it soon narrows to a channel flanked by mudflats at low tide. Be sure to mind the buoys; locals advise keeping to starboard when navigating the bend in the river at Thomaston. Daytime tie-ups at the deep-water town dock are welcome. In addition to possible overnight accommodation at Lyman-Morse, the town maintains one marked mooring just off the town dock ($20 per night; to reserve, call harbormaster Ian Anderson at 207-691-1315).
---
Shopping
Recently rebuilt, Main Street is poised to blossom with new as well as revitalized shops. At the western end of town, the Maine State Prison Showroom has for more than a century sold products made by inmates. Today's selection includes furniture, home goods, and toys. Moondance's unusual offerings range from handcrafted gifts to holistic remedies, potions, crystals, and tarot readings. Sandra L. Hoekstra Bookseller stocks antiquarian books and maps, many of them Maine-related. Ross Leavitt's gallery showcases fine antiques. Trove on Main combines home décor accents, chocolates, and wines with interior-design services. In addition to angled parking in front of the shops, there are lots behind both sides of Main Street.
---
Dining
Thomaston Café serves lunch and dinner, featuring excellent bistro-style cooking. Offering appealing light dishes as well as drinks in a cozy, wood-and-brick interior, the Block Saloon is the Cheers of Thomaston. Although only recently opened, FlipSide Coffee's baked goods, soups, and sandwiches have quickly made it a favorite breakfast and lunch spot. Athens Pizzeria has an enthusiastic local following for pizza, subs, pasta, and more. Thomaston Grocery, the town's longtime Main Street grocery shop, has a meat department and all the staples, plus made-to-order sandwiches and goodies for a picnic.
---
Hike & Paddle
Take a scenic walk around the village, pausing en route to read 25 Museum in the Streets placards. Posted in locations that feature in the town's history, many show vintage photos taken in the very same spots. A pleasant walking trail leads down to the riverside from the Thomaston Green, created when the State Prison was torn down in 2002. On the northern side of Route 1 is a trailhead leading to an 11.5-mile path through the 350-acre Thomaston Town Forest. It's part of the Georges Highland Path, a 50-mile network of trails. To dip a paddle in the river, go to the launch ramp beside the town dock on Water Street.
---
Save These 2020 Dates
Thomaston Historical Society's annual summer tour is scheduled to take place on June 27 at the former Dunn and Elliot Sail Loft. Built in 1820 during Thomaston's shipbuilding heyday, the landmark shares its 200th anniversary with the state of Maine. If a new musical about General Henry Knox brings him half the rock-star status the Broadway hit Hamilton has given his contemporary, Thomaston will be flooded with fans. Written by a local mother-daughter duo, Count Me In is scheduled to be presented by the Watts Hall Community Players June 26-28 and July 2-3. Thomaston's beloved Fourth of July celebration features an old-fashioned parade, pancake breakfast, pet show, crafts, fireworks, and more. On July 19, Georges River Land Trust's Gardens in the Watershed Tour is scheduled to take place in Thomaston village.
Share this article:
2023 Maine Boat & Home Show

Join Us for the Maine Boat & Home Show!
Art, Artisans, Food, Fun & Boats, Boats, Boats
August 11 - 13, 2023 | On the waterfront, Rockland, Maine
Click here to pre-order your tickets.
Show is produced by Maine Boats, Homes & Harbors magazine.