2014 Maine Lobster Boat Race Schedule
On your mark, get set, go!
On your mark, get set, go!
Lobsterboat racing in Maine involves fast boats, really loud engines, big waves, white spray and sizable spectator fleets. Dating back to the days of sail, when lobstermen raced each other in Friendship sloops, the races in their current form were organized in 1963 in Jonesport, according to Maine Lobsterboat Association Racing President Jon Johansen. "The idea was to see who was faster so they had bragging rights," he said. Many of the boats that campaign on the race circuit now are built to compete first and lobster second, featuring souped-up engines-sometimes lifted out of race cars-and huge exhaust systems to keep them from exploding. The current speed record is 72.8 miles per hour, set in 2011 in Stonington by Galen Alley in
Foolish Pleasure
, a gas-powered 30-foot fiberglass boat molded from the
Lorna R.
The diesel record of 58.9 miles per hour is held by Alfred Osgood of Vinalhaven in
Starlight Express
.
Lorna R.
's 2006 record of 53.6 miles per hour remains the fastest speed for a wooden boat, Johansen said. This year's races should be exciting, he added, because one racer has installed a 12-cylinder diesel on a 28-foot boat, while another has installed a Lugger diesel with "a lot of horsepower" on his small vessel. "It's going to be interesting to see if they can stay upright," Johansen said.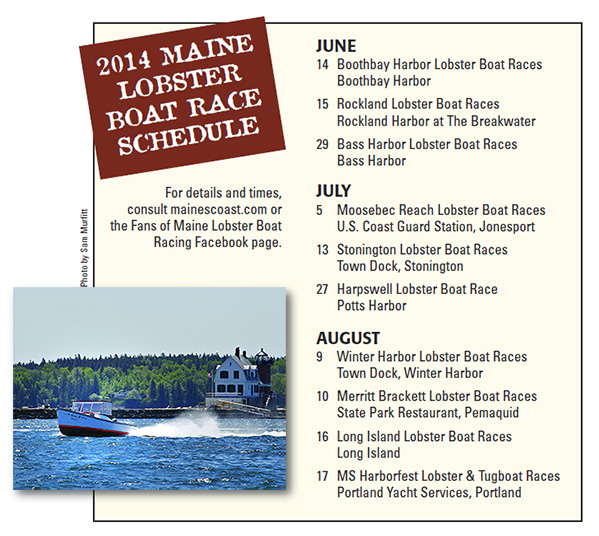 For details and times, consult mainescoast.com or the Fans of Maine Lobster Boat Racing Facebook page.
VIDEO:
Hear the roar of the engines and watch the action in the trailer for
"Relentless Quest, World's Fastest Lobsterboat,"
an independent production about Maine's lobsterboat racing series by Portland production company Persistence Media.