Travels with Raven
A boat that helps make great photographs
By Peter Ralston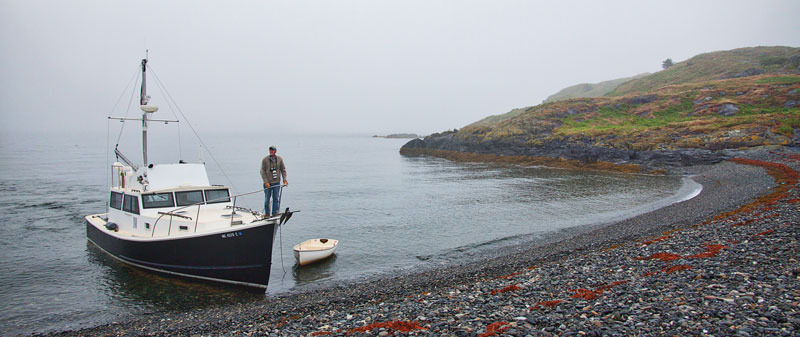 Raven's shallow draft and workboat sensibilities make for easy access at Brimstone Island's crescent-shaped beach of smooth stones. Photo by Rick Krementz
I'm a photographer and Raven is my 37-foot 300-hp tripod. She began life as a Repco hull, down in Gouldsboro, Maine, in 1984, and was privately finished off as a lobster-cruiser. When I first laid eyes on her I knew she was "The One."
Back in 1991, I was well into my three decades at the Island Institute. I arranged for the institute to purchase Raven with funds and encouragement from a friend and benefactor who knew we needed a "real" boat, to help the institute carry out its work for Maine's island and remote coastal communities.
Once we replaced the gas engine with a worthy diesel, she was ready for the rigors of a lot of work along the coast, in all types of weather.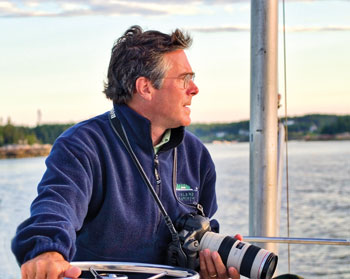 When photographer Peter Ralston is at the helm of Raven, it's all about getting the boat and the camera to precisely the spot where they all need to be for the perfect shot, sometimes within inches of a subject. Photo by Terri Ralston I recall the nods of approval we'd get from fishermen back then as they recognized the Repco's familiar commercial hull design. "There's a boat that'll bring you back when it gets bad out there," they would say. Even more fishermen now recognize the distinctive flybridge and mast configuration and are very kind in allowing me to photograph close to them while they're working.
The institute sometimes used Raven as a school bus. I recall the daunting responsibility of bringing the entire student bodies of a number of islands aboard as we delivered them to inter-island school events. It humbled me that these islands would literally place their kids—their futures—in my hands.
When I left the institute in 2010 I bought Raven for myself. After almost 20 years of ranging the coast together, I could not imagine doing my photographic work without her.
Like my fishing friends I have spent many long hours on the water, usually alone, often with nothing to show for the work but a sense of having tried, going over the same ground again and again, often disappointed, occasionally coming back with a worthy catch to show for the endless investment of what Herman Melville referred to in Moby-Dick as "Time, Strength, Cash and Patience."
Like the good fishermen, I've had to know my territory and respect the rules, be ready to take a few calculated risks when it felt right, look people in the eye, keep the gear as simple as possible, get out early and come in late, watch the sky and, above all, respect the people and place where I work.
Raven is not a yacht, she's a workboat, through and through. There's no exterior varnish, the hull usually needs paint, and she's loud when under way, but there's not a finer boat on this coast for what I do. The big rudder and ample horsepower make her handle like a dream in pretty much anything over five feet of water. I can hold Raven precisely where my camera needs to be.
She's never let me down and I only ever touched/grazed bottom once. A fisherman friend over on Vinalhaven who saw me later that day only opined, "Welcome to the club." While the actual damage was negligible, the lesson learned was priceless.
Trust is paramount with a boat, just like any other kind of relationship. The winters when we kept her in the water not only drilled a deeper respect and knowledge into me, they taught me about being out there utterly on my own. No margin for error, played off against the great privilege of having the whole coast to myself.
In addition to my own creative gunkholing, I now occasionally take paying passengers out on three-day photographic explorations. It's especially rewarding to see people's eyes widen when I do my Raven thing. Some are horrified when I run right up onto a beach, and others get twitchy when they can count the barnacles passing under us, but the whole point is being able to get the camera—and my spirit—where it needs to be.    
---
Peter Ralston lives in Rockport where, from his gallery studio at the head of the harbor, he and Raven can keep an eye on each other. His photographs can be seen at www.ralstongallery.com.
Share this article:
2023 Maine Boat & Home Show

Join Us for the Maine Boat & Home Show!
Art, Artisans, Food, Fun & Boats, Boats, Boats
August 11 - 13, 2023 | On the waterfront, Rockland, Maine
Click here to pre-order your tickets.
Show is produced by Maine Boats, Homes & Harbors magazine.