Tall tales and a trip down the Allagash
By Dan Tobyne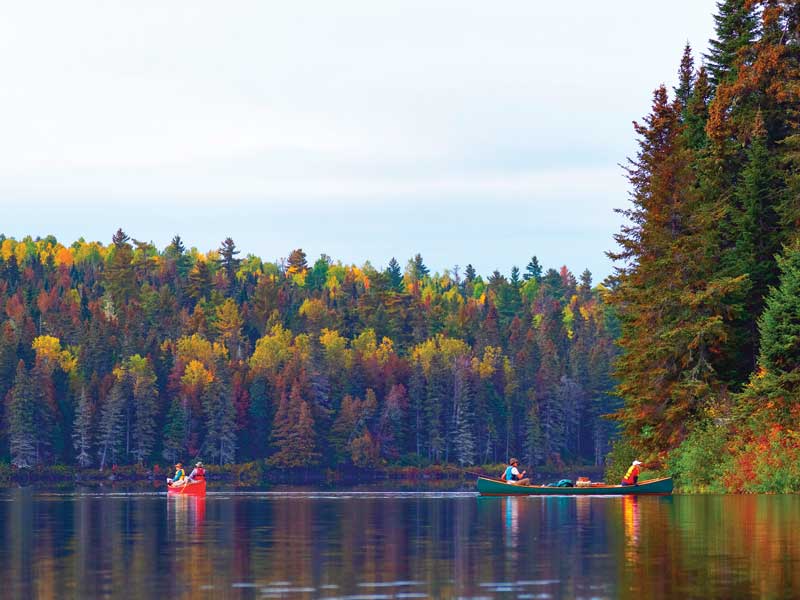 The 740-mile Northern Forest Canoe Trail is the largest inland water trail in the United States. The trail follows the traditional travel routes of Native Americans, including the Wabanaki and Iroquois, as well as their Paleo-Indian ancestors. Beginning in Old Forge, New York, and ending in Fort Kent, Maine, the route encompasses 58 lakes and ponds, 22 rivers and streams, 62 portages totaling more than 55 miles. With just over 347 miles, Maine is home to more of the trail than any other state and it is the wildest, least populated section. The Maine sections include Umbagog, Moosehead, Rangeley, Flagstaff, Chesuncook, and Chamberlain lakes, as well as the entire 92-mile Allagash Wilderness Waterway. A new guide to the trail provides practical information on paddling, gear, and safety, plus maps and photos. This excerpt describes a run down the Upper Allagash.

—The Editors
I'd known Norman L'Italien for all of 45 minutes, and I already owed him one—one dollar that is, because I was short paying our gate fee, and he had to pitch in for me. Needless to say, my embarrassment was making our ride a quiet one. Then Norm decided to tell us a story.
"I scared a woman half to death right in that seat," said Norm as he pointed to the front passenger seat. "I was driving her into the Allagash just like I'm doing with you guys, and she asked me if there were any problems with bears. I told her; 'Yes, some, but more with English speaking folks than French speaking.'
"With a look of grave concern, the woman asked why, so I told her; 'Bears respond to commands better in French than in English.' As she began to look even more upset, I told her not to worry, I could help her by teaching her a few things to say to the bear. I explained that when you see a bear, you should yell Git! It means the same thing in English as it does in French so the bear should understand what you're saying and go on his way. She was so concerned and serious with trying to get this first lesson down, I had to explain I was only kidding, but I told her if she did run into a bear, Git would be the right thing to yell."
Norman helped us unload our gear, bid us goodbye and good luck, and we pushed off into Allagash Stream, headed towards Round Pond.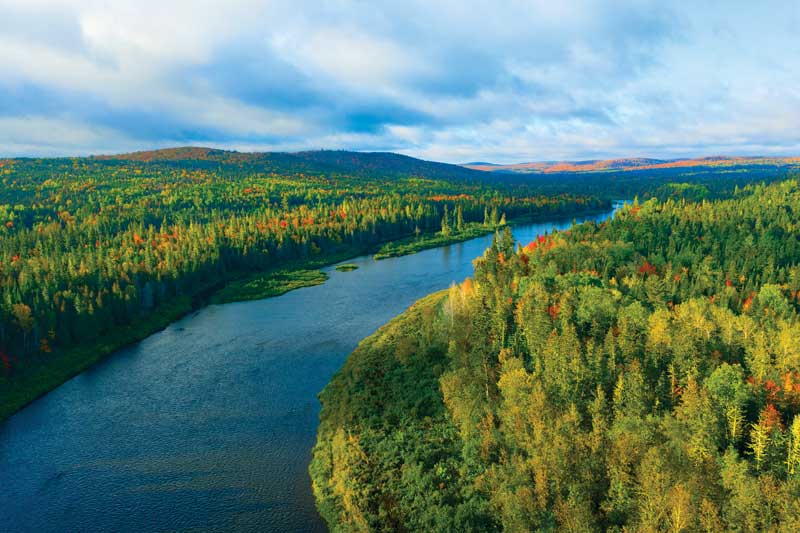 An aerial view of the Upper Allagash on an early fall morning.
We were fortunate for the rain the last few days. The upper Allagash is shallow in a lot of places especially in the fall, and the extra water was going to allow us to paddle more, and portage less. We were headed for Cunliffe Depot, the campsite we'd chosen for our first night. Leaving Round Pond there's a set of rapids known as the Round Pond Rips; class I and II but not a big problem, as the river was wider than I thought it would be at this point and we were able to angle our canoe into the deepest run. The problem we did run up against a few times was long flat shallow-water runs with just enough water to clear, except we couldn't see the numerous flat boulders that just cleared the surface. We hung up a couple times requiring me to jump out and leverage us off the rock. In deeper water, it was easy to spot the classic V following a boulder. But some stones don't exhibit any disturbance in the surface water, and you don't spot those until you are right on top of them. The danger was sliding and catching one sideways with the chance to get hung up and rolled. We really didn't want to go there.
We were doing okay running this section and hadn't noticed the change in the color of the sky; it had changed to slate, then gray copper, and now dark gray. And then the rain came.
We pushed on; we really wanted to get to Cunliffe Depot where the Lombard Log Hauler sat rusting in the woods. We barely made it. The last mile was through a field of rips, almost unpaddlable because of its shallowness—we were running in about 10 inches of water. It was also raining hard, torrentially hard, making it difficult to see. I thought at one point we were going to strand and roll in the middle of the river, but we made it, pulling up to our site with just enough energy to secure the boat. We dumped our gear, cooked, and ate dinner. After setting up; me in my single-person tent, and Eric in his hammock, we went to bed. It was the best moment of the trip when I crawled in and laid on my bag. I was exhausted and it was only 5:30 p.m.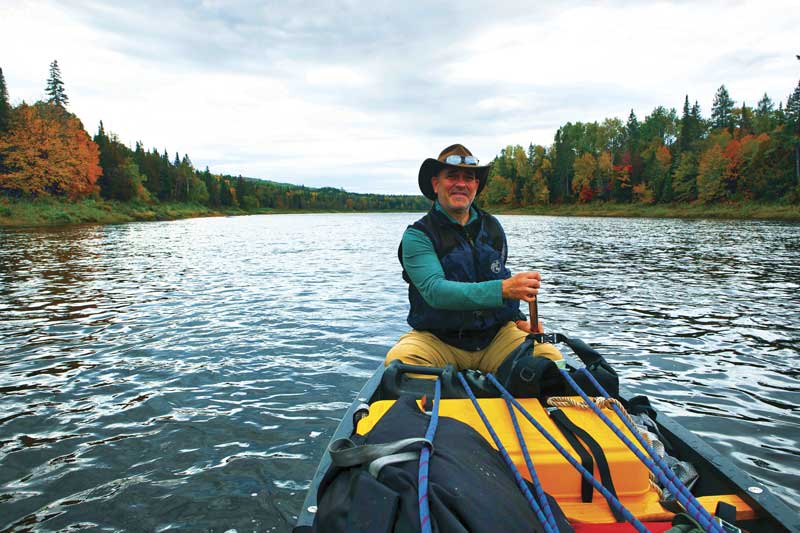 As the author paddled and took photos in the bow, his colleague Eric Alexander handled stern-man duties.
After breakfast the next day we followed the path that led downhill to a small stream, crossed at a log bridge, and continued up the other side. After a few yards we saw something curving up out of the ground in the middle of the narrow trail. It was a skid ski. We quickly realized that just to the left, half covered in foliage was an old Lombard log hauler. It looked like the skeletal remains of some giant beast. I was awestruck. You just don't see stuff like this hanging around, unless I guess you're in the Allagash. It was time to get moving, so we headed back, broke camp, loaded up, and headed downriver. We were on our way to the ranger station at Michaud Farm.
When the farm was in sight, we saw three canoes tucked up on the small shingle and I could hear someone talking. I recognized his French-Canadian accent when I heard him say; "Hey, those are my photographers." It was Norman. He yelled across to us to let us know we didn't need to sign in; the book was full. So we continued on downstream, but not before I yelled back to tell Norm I didn't have his dollar yet.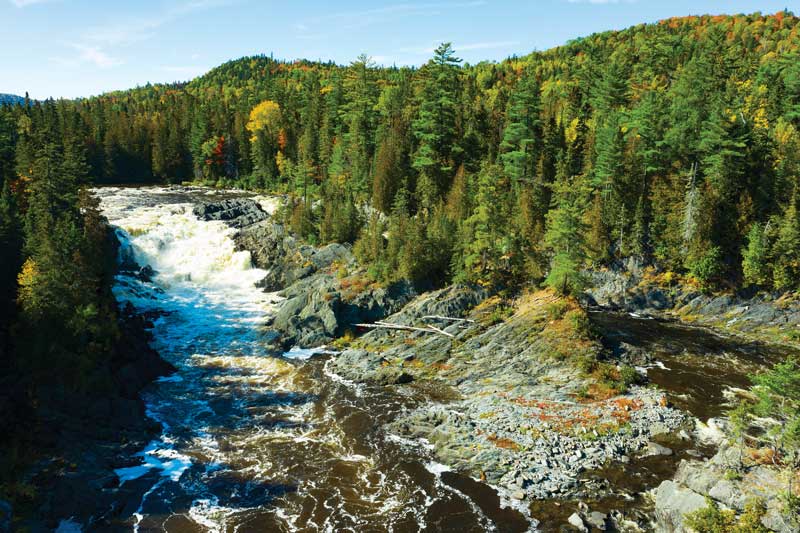 The 40-foot drop of the Allagash Falls requires a mandatory portage of a third of a mile. We were now headed for Allagash falls. The portage around the falls isn't something you want to miss. The drop is only 40 feet, but it looks like 400 when you view it from the bottom. Portaging took a couple hours and while we were moving our stuff, the group of three canoes arrived. Much to my surprise it was someone I knew. Polly Mahoney, who runs Mahoosuc Guide Service, was guiding a group down the river.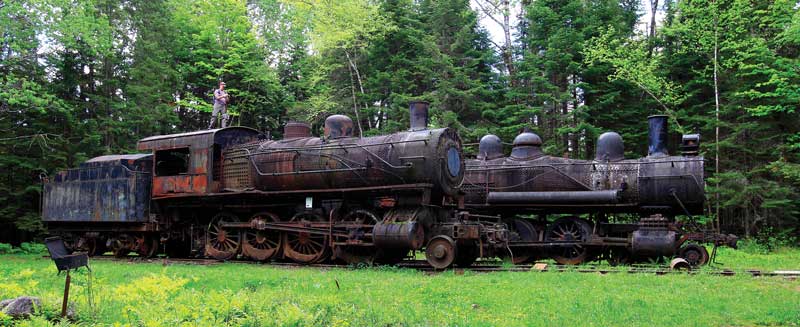 Abandoned trains near Eagle Lake that once were part of the Eagle Lake and West Branch Railroad.
We camped at Big Brook East and the following day ran the rest of the river on water that was easier than anticipated. The water level had risen again and many of the dangerous sections of rapids and rips were faster and less obstructed. We flew down the river, arriving at Allagash Village and the house where we'd left our truck, ahead of schedule. Eric went to find the keys and bring the truck down to the water's edge while I sat and reflected on what we'd accomplished. It was a great journey for the both of us. We were both still soaking wet and didn't have any dry clothes but that wasn't a big deal at that point. We could always find some dry clothes once we got back to Fort Kent; if not maybe we could find a Walmart. First though, I needed to go to Pelletier's Campground and give Norman the dollar I owed him.  
---
Dan Tobyne's work is on display in collections throughout New England and is featured in the books Thoreau's Maine Woods, Scenic Maine Road Trips, and Beachcomber's Guide to New England.
Excerpted from Paddling the Northern Forest Canoe Trail by Dan Tobyne, with Eric Alexander, published by Down East Books, March 2021.
Share this article:
2023 Maine Boat & Home Show

Join Us for the Maine Boat & Home Show!
Art, Artisans, Food, Fun & Boats, Boats, Boats
August 11 - 13, 2023 | On the waterfront, Rockland, Maine
Click here to pre-order your tickets.
Show is produced by Maine Boats, Homes & Harbors magazine.