Maine Events - July 2009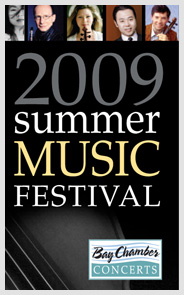 July 1 - August 27, 2007: Camden, Rockport and Rockland
Bay Chamber Concerts' Summer Music Festival
Bay Chamber Concerts has been presenting the finest classical, jazz and world music performances in the beautiful backdrop of Midcoast Maine for more than 45 years. The year-long season includes a Summer Music Festival every July-August, and the Performing Arts Series from September-June. The organization is committed to providing educational activities to children and adults. Venues include the Rockport Opera House, the renovated 350-seat Strand Theatre in Rockland (where a Wednesday night summer series and selected winter events are offered), the 500-seat Camden Opera House, and the 800-seat Strom Auditorium in Rockport. By popular demand, the Butch Thompson Trio (of "A Prairie Home Companion" fame), the respected jazz and ragtime ensemble, has been invited back to open Bay Chamber Concerts' 49th season. Wednesday, July 1, 8:00 p.m. Strand Theatre, Rockland. Adults $25-$35, $8 for youth ages 18 and under. 207-236-2823;
www.baychamberconcerts.org
through July 5, 2009: Mystic, CT
All-American Picnic Week at Mystic Seaport
Celebrate America's birthday with a week-long event featuring food, games and fun for the whole family. Enjoy music by the Mystic Seaport Chanteymen while picnicking on the Village Green. Lunch at Grill-on-the-Green, serving grilled hamburgers, hot dogs, chicken, chowder, lobster rolls, desserts and beverages, as well as beer and wine. Get the whole family involved in some of America's favorite pastimes, including a friendly game of tug of war or a sack race. Test your skill at a spoon and egg race, learn how to churn ice cream and see how fast you can race your way down the Green in a three-legged race. On Independence Day, visitors of all ages are invited to join the patriotic fun that begins with a noontime picnic on the Green. Play a game of croquet with "people from the past," take part in an old-fashioned spelling bee and hear a concert by the Silver Cornet Band.
www.mysticseaport.org
July 2 – 5, 2009: Midcoast
The Festival of Independence: Four Days of Fun in the Midcoast
From Camden through Rockport, to Owls Head and to Thomaston, event organizers have teamed up to help you celebrate the Fourth of July weekend in fine style. Enjoy concerts covering everything from classical to Johnny Cash; spend a weekend with cars from the golden age of Detroit; watch a traditional small town parade; ride the ski lifts to the top of the Snow Bowl and enjoy family fun and games; and watch two nights of fireworks: Friday in Camden and Saturday in Thomaston. For more details email us:
chamber@camdenme.org
.
www.camdenme,org
July 4, 2009: Portland
Radiance Arts and Culture Fest
The 3rd Annual Radiance Arts and Culture Fest at Lincoln Park, is a block party-style convergence celebrating summer, independence, and sustainability. The festival will offer an exciting blend of music and dance, hand-made artistry and crafted goods with a focus on the Portland arts and music community. Locally produced art and retail goods to be raffled throughout the day in support of Portland Parks and Recreation Dept's new Arts and Rec. Skate Park fund. The outdoor gathering will run from 2 pm until sunset; admission is free. 356 Congress Street. For info phone 207- 233-0742.
July 8, 2009: Rockland
The Island Institute Celebrates 25 years of Island Journal
The public is invited to the Island Institute for a reception to help celebrate 25 years of Island Journal, the Institute's annual magazine of island life. Philip Conkling, president and founder of the Institute, and Peter Ralston, executive vice-president and co-founder, will be on hand, along with contributors to this year's expanded edition of Island Journal. The 2009 edition features a stunning folio of Andrew Wyeth's Maine-island work, including "Goodbye", his last finished painting, as well as a folio of paintings by major Russian-born artist Daud Akhriev. Guests are welcome to enjoy hearty refreshments and door prizes, view Daud's Frenchboro paintings in the Archipelago Fine Arts gallery, and take a tour of the Institute's "Vertical Gallery", featuring many of Ralston's photographs of the Maine coast. His work has been an essential element of each year's Island Journal, including all 25 of the magazine's covers. In addition, Island Institute members will receive a special discount at Archipelago, the Institute's retail store, on selected merchandise. 5 pm - 7 pm. 386 Main St.
www.islandinstitute.org
July 10, 2009: South Portland
2009 Maine Beaches Conference: Valuing Maine's Beaches
The Maine Beaches Conference provides continuing opportunities for communication and exchange of the most current information among beach stakeholders with diverse interests and presents findings from the state's beach monitoring programs. For more information, please contact
kngrant@maine.edu
. Southern Maine Community College.
www.seagrant.umaine.edu/09mbcreg.htm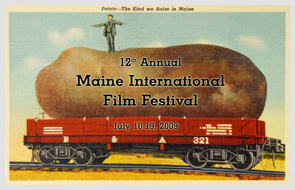 July 10-19, 2009: Waterville
Maine International Film Festival
The Maine International Film Festival is a 10-day celebration of film, featuring the very best of American independent, international and Maine made movies. Nearly 100 films, over 50 filmmakers, lively receptions, Q and A sessions, special events and more. Venues are Waterville Opera House and Railroad Square Cinema. For info phone 207-861-8138.
www.miff.org
July 11 - 12, 2009: Rockland
North Atlantic Blues Festival
The North Atlantic Blues Festival is set in Harbor Park, overlooking Rockland Harbor. A prestigious event with famed performers from throughout the U.S. and abroad. Saturday night in downtown Rockland offers a Blues "Club Crawl" with more than 15 clubs featuring Blues bands. Rain or shine. Tickets can be ordered online. 207-596-6055;
www.northatlanticbluesfestival.com
July 11, 2009: Portland
Portland Museum of Art presents Opening Celebration: An Afternoon with Joyce Tenneson
Joyce Tenneson is among the most respected photographers of our time and has been described critically as "one of America's most interesting portrayers of the human character." Join the Museum for this special opportunity to hear this Maine photographer discuss her work; a reception celebrating the exhibition Joyce Tenneson: Polaroid Portraits will follow the lecture. Free with Museum admission. 3 pm, Auditorium. portlandmuseum.org
July 11, 2009: Bar Harbor
Annual Native American Festival and Basketmakers Market
Sponsored by the Maine Indian Basketmakers Alliance (MIBA), the Native American Festival is the largest annual gathering of traditional Wabanaki Art in Maine. Meet the artists while learning about and purchasing Wabanaki baskets, carvings, beadwork, dolls and other of handmade items. The day-long event includes Native music, dance, storytelling, craft demonstrations and food. 10 am - 4 pm. Free admission.
www.maineindianbaskets.org/Events.asp
July 12, 2009: Port Clyde, Spruce Head and Tenants Harbor
18th Annual "Gardens in the Watershed" Garden Tour
Sponsored by and to benefit the Georges River Land Trust, seven gardens in Port Clyde, Spruce Head and Tenants Harbor are featured on this tour and a gourmet bag lunch is available by pre-order. Tickets are priced at $20 by advance purchase and $22 on the day of the tour. Tickets and brochures for the self-guided tour are available at selected local stores and from the Georges River Land Trust, 8 North Main Street, Suite 200, Rockland, ME 04841, 207-594-5166. 10 am -5 pm. Rain or shine.
www.grlt.org
.
July 12, 2009: Bath
Free Beekeeping Classes hosted by Gold Star Honeybees
Honeybees are a hugely important part of the earth's ecosystems, they pollinate one third of all food crops and are globally showing serious signs of distress from the beekeeping practices of the last century. They're suffering from Colony Collapse Disorder, varroa mite infestation, and other problems that they can no longer fend off successfully due to their abused immune systems. "How and Why to Keep Bees in Top Bar Hives" will be hosted by Gold Star Honeybees with demonstration and discussion of Top Bar beehives and this bee-friendly, sustainable method of raising healthy, happy honeybees and responsible bee stewardship. Sunday afternoon from 12:00-2:00. 150 Whiskeag Road. Please RSVP to confirm your spot. Email
Christy@goldstarhoneybees.com
or call 207-449-1121.
www.goldstarhoneybees.com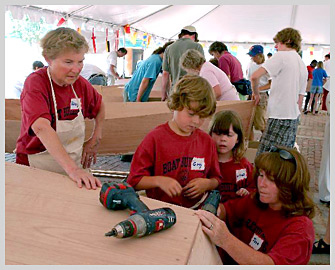 July 12 - 14, 2009: Portland
6th Annual Boat Building Festival
In this popular annual fundraiser, presented by The Compass Project, families, friends and co-workers experience hands-on boat building with the help of professional boatbuilders. Over two-and-a-half days, 20 teams of five people each build a 12-foot Bevins Skiff. Registration fees cover all tools, materials and professional instruction. After an exciting launch at East End Beach, teams return home with their very own skiff. The Compass Project is an innovative experiential program that teaches job training and life skills through boat building and rowing. Through hands-on programs participants find new directions in school, work and life. Monument Square.
www.compassproject.org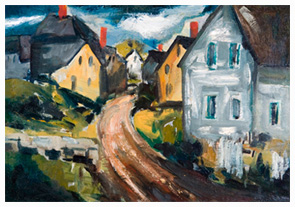 Eric Hudson, Main Street Monhegan,
oil on canvas, 14" x 20"
July 15, 2009: Rockland
The Art of Monhegan & Photographer Joyce Tenneson
The Art of Monhegan
exhibition will be on display in the first floor gallery at Dowling Walsh Gallery. Also on display is the work of photographer, Joyce Tenneson, including a selection of original polaroid photographs as well as limited edition floral images.
http://www.dowlingwalsh.com/news
July 17 - 19, 2009: Northeast Harbor
Morris Boat Show
Morris Yachts will host the fifth annual Morris Boat Show at their service yard, open to the public for three days, dozens of Morris Yachts will be on the docks and in the sheds. It is truly a unique opportunity to board the largest variety of Morris Yachts, as well as meet with vendors from Awlgrip, Raymarine, Mack Boring and others. Have service question about your boat, our Morris Service reps will also be on hand. Show hours 10 am - 6pm Friday and Saturday, 10 am - 4 on Sunday.
www.morrisyachts.com
July 17, 2009: Rockland
Maine Windjammer Parade
The entire windjammer fleet participates in an afternoon Parade of Sail past the mile-long Rockland Breakwater, providing spectators with stunning, close-up views of Maine's fleet of tall ships. Festivities also include tours of the Rockland Breakwater Lighthouse. 2 pm - 4 pm.
www.sailmainecoast.com
July 17 - 19, 2009: Belfast
Maine Celtic Celebration
The Maine Celtic Celebration is committed to renewing the rich Celtic history, culture, and hospitality found along the coast of Maine. Planned events will take place along the waterfront in scenic Belfast and in various other places around the town and general area. Live Celtic music, storytelling and dance, sporting events with Highland Games, a rugby scrum, gold tournament, and a 5k road race, contests such as a "Celtic Iron Chef," Men in Kilts," "Cheese Roll," and a kilted run and row. Also find children's activities, events of interest to seniors, history, arts, and literary experiences, a parade, and Piping in the Park.
www.mainecelticcelebration.com
July 18-19, 2009: Camden
HarborArts Juried Show
Over 100 artists and craftspeople display and sell their work in scenic Camden Amphitheater, Harbor Park, and along Atlantic Avenue.
www.camdenme.org
July 18-19, 2009: Bar Harbor
35th Annual Mount Desert Island Craftfest hosted by Penobscot Valley Craft Association
As one of the oldest and finest craft organizations in the state, the Penobscot Valley Craft Association is a non-profit educational organization dedicated to the promotion of excellence in Maine crafted products. The exhibitors at their shows are selected from the best craftsmen and artisans in Maine. This is the 35th year that the PVCA has held a craft fair on Mount Desert Island. Saturday, July 18 - 10 am - 5 pm. Sunday, July 19 - 9 am - 4 pm. For more information, email
rockycoast@midmaine.com
.
www.pvcacrafts.org/PVCApage3.htm
July 18, 2009
Camden-Rockport Animal Rescue League Yard Sale and 2nd Annual Muttwalk
When doing spring and summer cleaning this year, remember that the Camden-Rockport Animal Rescue League's Yard Sale is gratefully accepting donations (with the exception of clothes) on Friday, July 17, 11 am – 3 pm at Quarry Hill's Anderson Inn in Camden. Come and shop early as the sale's open from 8 am to noon - you'll be helping the cats and dogs waiting for forever homes at the shelter on Camden St. CRARL will also be holding their fundraising 2nd Annual Muttwalk, open to all friends of CRARL, with or without a furry family member. Raise $25 and receive a CRARL Muttwalk t-shirt. Register at 8 am, walk begins at 9 am. Registration form is available at
www.crarl.org
.
July 19, 2009: Stonington
Fishermen's Day
The Fishermen's Day celebration has become a popular event with a wide variety of activities for the whole family on and around the Stonington Fish Pier. These range from Coast Guard demonstrations to Wacky Rowboat Races to a very spirited Codfish Relay Race. 207-348-6980;
www.deerisle.com
July 20 - 26, 2009: Damariscotta
Wabanaki Days
Wabanaki Days aims to honor the Native presence in the Pemaquid and Damariscotta region and to emphasize the peaceful, family-centered and ancestor-honoring traits of these earliest stewards of the land. By offering authentic educational and participatory events, the organizers of Wabanaki Days hope to instill an understanding and appreciation for Maine's First People. The public is invited to walk in their footsteps and join in the celebration of their ancient land with demonstrations of Native crafts, field trips to ancient sites, and storytelling and concerts by performers of Native descent. Friday evening Castlebay will present their historic drama," The Grand Design," which chronicles the true story of a group of Scots-Irish coming to the new world in 1741 and their encounters with Native people. Throughout the celebration, restaurants will feature traditional Native dishes and local shops will have special sales and displays. 207-563-8340;
www.wabanakidays.org
July 21 - August 18, 2009: Northeast Harbor
46th Annual Mount Desert Festival of Chamber Music
The Mount Desert Festival of Chamber Music presents chamber music at its best in an intimate setting. Much of the aura, both informal and serious, is due to the ambiance of the Neighborhood House, whose fine acoustics and old world charm add much to the intimacy of communication upon which chamber music thrives. Tuesday evenings at 8:15 pm, Neighborhood House on Main Street. For info phone (207) 276-3988.
www.mtdesertfestival.org
July 24 - August 1, 2009: York
York Days and Lighting of the Nubble
Centered at Short Sands Beach, York Days features local concerts, tournaments, sandcastle building and fairs. Christmas in July and the annual Lighting of the Nubble is on York Beach on July 26. Phone (207) 363-1040 for details.
http://parksandrec.yorkmaine.org/special%20events.html#York%20Days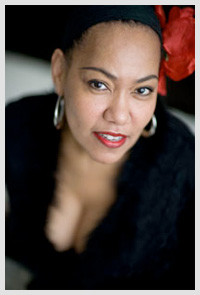 Jazz Diva, Deborah Davis
July 25, 2009: Hope
Hope Jazz Festival
The Hope Jazz Festival showcases talented jazz performers at an exciting, daylong family festival. This year's festival will showcase Jazz artists in two locations. Starting at Noon at True Park in the heart of Hope Village surrounded by the Camden Hills, the Hope Jazz Festival will offer the finest Jazz Bands based in Maine. This year's artists include the Paavo Carey Quartet, the Matt Fogg Project and Mary Anne Driscoll Piano Jazz. This is an open air event on the grass so bring your lawn chairs, blankets, sunscreen and kids. Children under 12 are free with parents at the True Park location. Starting at 7:30 PM, the Hope Jazz Festival Evening Performance will take place at the elegant Camden Opera House featuring sultry Jazz Diva Deborah Davis. From New York City, Davis is a gifted Jazz singer and consummate performer with a warm angelic yet sultry voice that has captivated and seduced audiences throughout the world. Her natural flowing charm, obvious talents, charisma, and flawless stage presence draw you into her show. So all may attend, tickets are only $20 for all seats.
July 25 - 26, 2009: Grand Lake Stream
15th Annual Grand Lake Stream Folk Art Festival
Set in one of the most spectacular and pristine wilderness areas of New England, the small Washington County village of Grand Lake Stream will again come alive for this unique gathering of talented folk artists, craftsmen, canoe and boatbuilders, quilters and musicians. Over the years, this event has established its reputation as one of the premier gatherings in New England. The festival was selected by the Governors Conference on Tourism Award as the recipient of the 2006 Excellence in Tourism Award in the category of Attractions. 10:00 am to 5:00 pm, daily. Admission is $5.00 for one day or $8.00 for both. All displays and activities are under large tents, so a rainy day isn't a problem. For more information contact the Grand Lake Stream Folk Art Festival Committee at 207-796-8199.
www.glsfaf.org
July 25 – August 16, 2009: Port Clyde
Barbara Ernst Prey: 25 years Exhibiting in Maine
This exhibit showcases the virtuoistic hand and delicate sensibilities of internationally recognized artist Barbara Ernst Prey. She has painted powerful, vibrant views of her surroundings for three decades. On display are 30 stunning watercolors as well as early works for The New Yorker Magazine and other paintings exhibited in her recent Paris retrospective, which the Wall Street Journal selected as their Paris museum choice. A 200 page book accompanying the exhibit with critical essay by Sarah Cash, Corcoran Gallery of Art Curator and curator of Prey's Paris retrospective is available. Her artwork is included in major public collections in the U.S. including The Brooklyn Museum, the Smithsonian American Art Museum and The White House and her paintings are on exhibit at The White House, The Kennedy Space Center and United States Embassies abroad including Paris and Madrid. An esteemed figure in the art world, she was appointed this year by the President to the National Council on the Arts, the advisory board for the National Endowment for the Arts. She was invited to paint the official White House Christmas Card. Blue Water Fine Arts, Main St., 10 am - 5 pm. 207-372-8087;
www.bluewaterfinearts.com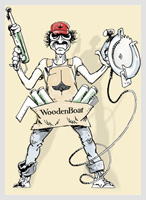 July 26, 2009: Belfast
National Boat Building Challenge
Teams of two build real boats in record time, then row them to win. Building the same skiff design, they're graded on time of build, quality of workmanship, and speed on the water against each other Enjoy live entertainment, food vendors and demonstrations. The competition is open to all: housing contractors, plumbing inspectors, paper-pushers, professional wooden boat builders, and general lay-abouts.
www.nationalboatbuilding.com
July 26, 2009: throughout Maine
Open Farm Day
Visit any of over 100 farms that will be open to the public and see what farm life is all about. Watch farm activities and demonstrations from milking to felting; pet farm animals, pick berries, tour a barn or go on a hay ride. There will be farm-raised products for sale, displays to see and samples to taste. Check online for a complete listing of farms participating:
www.getrealmaine.com/visit/open_farm_day.html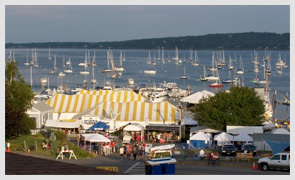 July 29 - August 2, 2009: Rockland
Maine Lobster Festival
Held in Harbor Park, the world-famous "original lobster festival" is now in its 62nd consecutive year. Enjoy steamed Maine lobsters served along with pageantry, waterfront activities, maritime displays and demonstrations, Maine arts and crafts, visits to Navy and Coast Guard ships, harbor cruises, contests, lots of wonderful entertainment, a giant parade, international lobster crate race, children's activities and much more. 207-596-0376;
www.mainelobsterfestival.com
July 31, 2009: Boothbay Harbor
Gordon Bok Concert at the Maine Botanical Gardens
Coastal Maine Botanical Gardens will present 'Gordon Bok - Songs and Stories by a Maine Folk Legend.' This internationally acclaimed folk singer's story-telling, guitar playing, and rich voice create an unmistakable style that has made him one of Maine's most cherished folk artists. The concert, which will be on the Great Lawn, will begin at 7:00 pm. Everyone is welcome to bring picnics and beverages; BYOB. Please bring chairs and/or blankets, as well. Admission to the concert is $15 for members, $20 for non-members, $5 for children from 5-17 years old , and free for kids under 5.
www.mainegardens.org/Content/497.php