Boatyard Dog - Issue 126
Hugo, Belmont Boatworks
By Gretchen Piston Ogden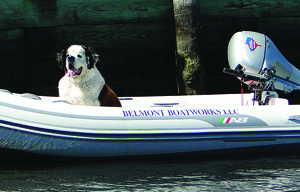 Photo credit: courtesy Belmont Boatworks
If you were a big dog full of lots of slobbery energy, where would you rather work: Around the house or in a boatyard? Hugo, a St. Bernard of herculean proportions, knew from the start that he wanted the latter. So when he found himself left at home when his pal Dan Miller went off to work at the Dark Harbor Boat Yard on 700 Acre Island, off Islesboro, he hatched a plan. He decided to cause just enough trouble to get evicted from the house, but not so much that he ended up back at the pound. It almost didn't work. The first trip to Dark Harbor aboard the crew boat from the mainland did not go well—something about a seasick St. Bernard who has been eating rotten bait seemed to turn off his fellow commuters. Then he met Jake and Taz, the boatyard's resident black Labs. Did they take kindly to a large, drooling, horrid-smelling interloper? I leave that to your imagination. Still, Hugo knew after his first day on the job that on the job was where he had to be. He was up at 4 a.m. every workday thereafter, helping Dan get ready to go. Hugo has had many jobs since then: delivery captain, shipwright, heavy marine transporter, sailing camp supervisor. Now he is a founding partner at Belmont Boatworks, a full-service boatyard west of Belfast, where he boasts a perfect attendance record and is known for patiently waiting to be called on to perform any kind of service. Hugo is slowing down, but he is heartbroken if anyone tries to patronize him. That's the Boatyard Dog Way: They look out for their family and their crew, not the other way around.

This column has sparked a rollicking event—the World Championship Boatyard Dog Trials—during the Maine Boats, Homes & Harbors Show, the second weekend in August. (Only pre-qualified dogs may compete; no other pets allowed on show grounds.)
Share your Boatyard Dog's story with our readers! Send a clear photo and pertinent details to: BYD, P.O. Box 566, Rockland, ME 04841, or click here and use our online contact form.
Share this article:
2023 Maine Boat & Home Show

Join Us for the Maine Boat & Home Show!
Art, Artisans, Food, Fun & Boats, Boats, Boats
August 11 - 13, 2023 | On the waterfront, Rockland, Maine
Click here to pre-order your tickets.
Show is produced by Maine Boats, Homes & Harbors magazine.