Chase Small Craft: Calendar Islands 18
A roomy skiff that can be rowed or sailed
By Polly Saltonstall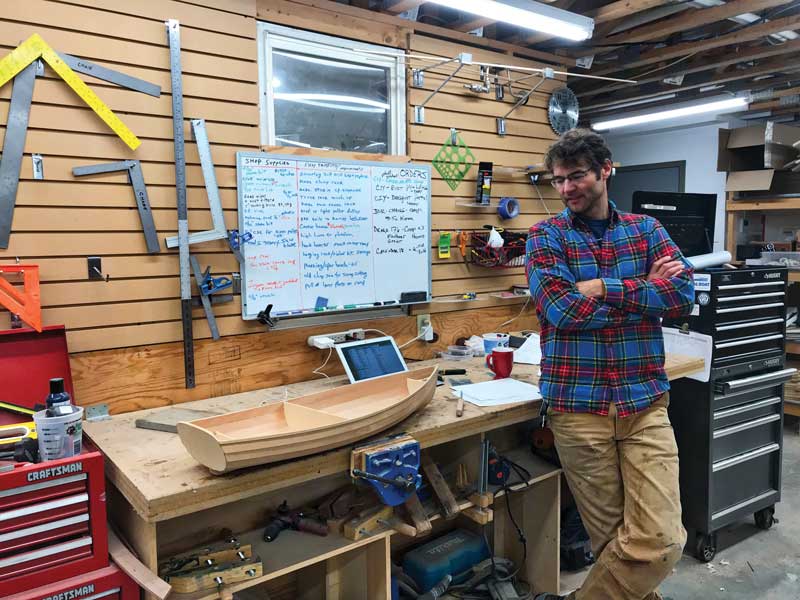 Clint Chase drafts his designs using a computer program and then builds scale wooden models to make sure the finished product looks right. Here he stands at his work bench next to a Calendar Islands 18 model. The image below shows the computer drawing of the yawl version of the design, which also comes as a ketch. Photo by Polly Saltonstall
Clinton Chase has a master's degree in education, and he originally wanted to teach science, but a few years in the classroom changed his mind. He decided instead to build boats. A short session at the Landing School got him started in the business of designing and selling ready-to-build boat kits. Backyard boatbuilders have been grateful ever since.
The latest addition to the repertoire of Chase Small Craft is a kit for an 18-foot skiff that can either be rowed or sailed. While the Calendar Islands 18 is technically a bigger version of Chase's Calendar Islands 16, it's actually a different design. The goal was to come up with a boat that was seaworthy and could hold as many people at once as possible.
"It's bigger, wider, longer, and the seating arrangement allows as many as six people to sit comfortably," Chase said. "But it's not so big that someone couldn't build it in their garage or move it with oars."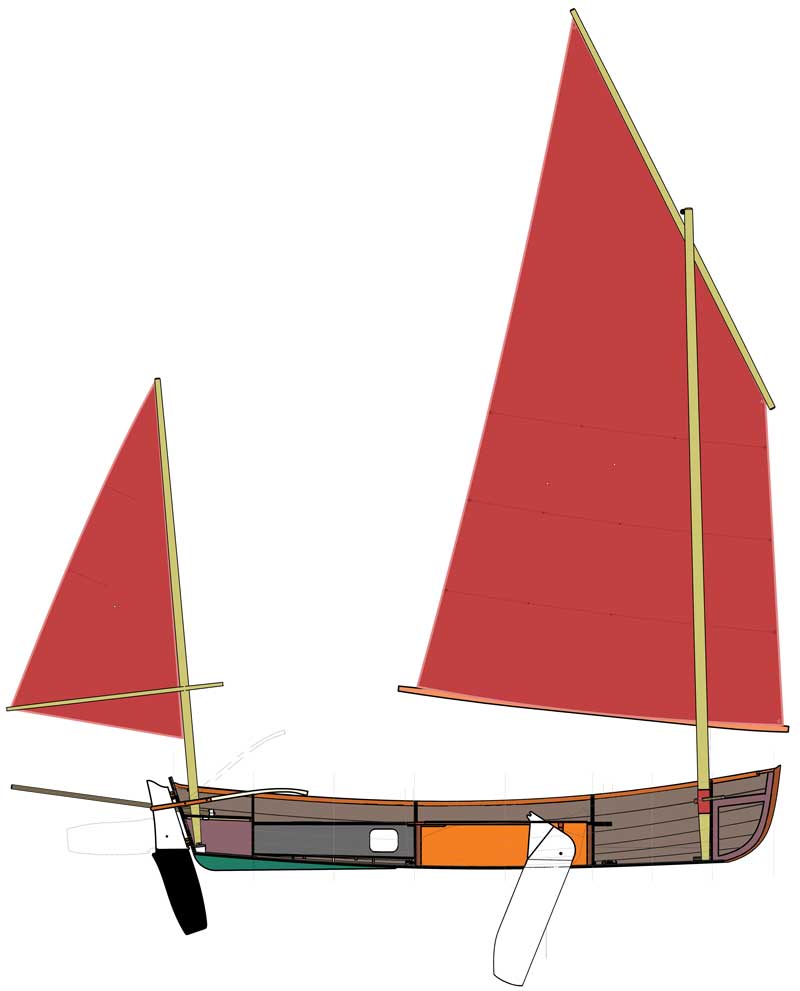 His design collaborator on the Calendar Islands 18 was David Cockey, a former head engineer for General Motors, who also loves small craft.
The boat has two lug-rigged sails (it can be built as either a ketch or a yawl), and wide wrap-around seating. Construction is glued lapstrake plywood (9mm Okoume) planking over frames and bulkheads. The bottom and garboard plank seams are fiberglassed, and the bottom is covered with fiberglass to create a solid, abrasion-resistant surface for beaching. The interior includes 6mm ply tops over flotation tanks, 9mm ply seating, and cedar floor boards. The gunwales, outer stem, and interior trim are mahogany and ash. The boat comes in a kit with 20 sheets of wood, including the marine plywood for the boat and chipboard for the strongback and frame on which the boat is built.
"Everything someone will need to build a boat is included," said Chase.
He offers three basic kit options for all his designs. A complete kit includes precut plywood parts; a manual and plans; the hardware including fasteners, fittings, and rigging; and epoxy and timber for the hull and spars. A basic kit doesn't include the hardware, epoxy, or timber. A custom kit is tailored to an individual's needs. For instance, Chase can build some of the more difficult elements such as a centerboard box or mast. He also offers several workshops a year where aspiring builders can come learn at his workshop in Saco.
Interested buyers can also order sails, oars, a motor and/or a trailer from Chase should they so desire.
Chase, who works largely by himself, ships about 24 boat kits a year. While he designs on a computer, he also builds small, to-scale wooden models to make sure the computer designs will look right when they take shape. He creates the wooden kit parts on a big CNC cutter in his workshop.
Chase estimates that even with all the parts precut, it will take between 600 and 1,000 hours to build the Calendar Islands 18. One of the first kits has gone to a recently retired gentleman in North Carolina who ordered one out of concern for how he was going to fill the hours once taken up by his job. As of late fall, Chase had shipped five kits for the 18-footers.
He emphasized that if this project seems too big, he also offers other smaller, easier, and less time-consuming kits. His catalogue includes kits for more than a dozen different small boats.
He decided to produce the Calendar Islands 18 after crowd-sourcing the design on his web site. Five people agreed to sponsor the design, he explained. He has done this with several models and has several new proposals up for review on his site.
A new boat design takes a lot of work. Rather than buy an already-made set of plans or kit, interested builders can fund a new plan by contributing toward the design. This is akin to what some others do by collecting "preorders" for a new product, Chase explained. The rewards for funders vary based on the amount they put up. "To date most customers have helped at the $250-500 price level, which has enabled me to finish a design and get it into production," he said. "A typical design requires about $2,500 of support, and a typical boat is a four- to eight-week-long design project."  
---
Polly Saltonstall is editor of this magazine.
Calendar Islands 18
Length:  17'10"
Beam:  5'10"
Draft (board up):  4.75"
Draft (board down):  46"
Sail area ketch/yawl:  145 sq. ft./156 sq. ft.
Hull weight:  400 lbs.
Builder:
Chase Small Craft
Saco, ME
207-602-9587
Share this article:
2023 Maine Boat & Home Show

Join Us for the Maine Boat & Home Show!
Art, Artisans, Food, Fun & Boats, Boats, Boats
August 11 - 13, 2023 | On the waterfront, Rockland, Maine
Click here to pre-order your tickets.
Show is produced by Maine Boats, Homes & Harbors magazine.