Letters to the Editor - Issue 164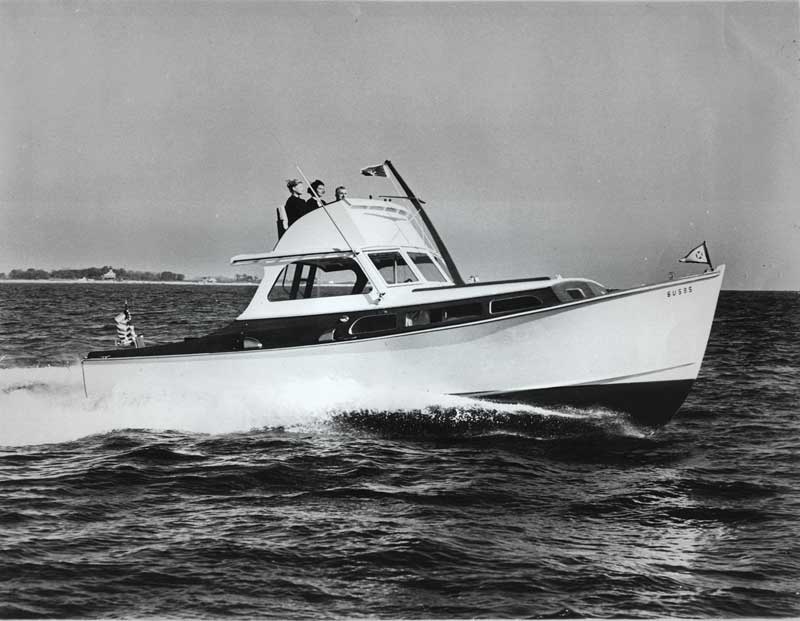 Boothbay 33 • Photo by Herbert Douglas/Courtesy Boothbay Region Historical Society
Boothbay 33 backstory
Perhaps I can offer a bit of clarification on your recent article by Roger Moody in the March/April 2020 issue about the Boothbay 33, which was designed by my late father Kenneth L. Smith. Bobby Griffith, the initial investor became acquainted with my father after he had designed a 34 foot powerboat for Hobart Ford, one of Griffiths' neighbors in Rowayton, Connecticut. Shortly thereafter, Griffith commissioned the design of a similar 34-footer named Overture. Both of these boats were built by Roy Blaney in Boothbay Harbor, Maine. Ford was a well-known yachtsman and his boat Jann was kept at Man-O-War Cay in the Bahamas, while Griffith's boat remained on the Connecticut shore. Bobby Griffith and my father had a professional relationship and a friendship significantly before the beginning of Boothbay Boats. It is my guess that they had discussed further business prospects together before broaching the possibility to Jim Stevens.
Stevens, who ran Goudy and Stevens with his brother, Jacob "Tunk" Stevens, and brother-in-law Frank Cummings, was a good friend of my father's and was responsible for working out a system of jigs used in constructing the boat. The last time that I spoke with Jim, he told me that they had a shaper pattern for every plank on the boat. The initial goal was to produce one boat per week, which proved difficult. The quality of construction was very high, but not high enough to overcome the growing dominance of fiberglass construction.
My father had an interesting and successful career as a designer, but his business career as an executive with a machine tool company occupied the majority of his time. His boat designing occupied his evening and weekend time. In that era before computer-aided design, each boat was drawn up with a drafting pencil and flexible splines, etc. Any error necessitated erasing and correction. Designing was a long, slow process, but one in which each step was given thorough consideration.
The 35-foot boat Diversion pictured in your article was built in 1958 by Goudy and Stevens for A. Devereaux Chesterton, the man on the starboard side of the flying bridge and rear commodore of the Boston Yacht Club. This boat, much rebuilt and renamed Old Timer, was recently listed in the online classified of WoodenBoat magazine. The Boothbay 33 pictured in your story (see photo on page 12) probably belonged to Jimmy Preston, an investor in the corporation, who is shown seated on the port side of the flying bridge. To his right are seated Bobby Griffith's wife and daughter Holly.
The Boothbay 33 performed very well and was a very striking looking boat. It could be ordered in a number of configurations, but the most common model was twin screw with flying bridge. The engines were mostly Interceptors ranging from 135 to approximately 320 horsepower. I think anyone who was involved with this project remembers it fondly and feels a sense of pride in the boat that they produced.
Christopher L. Smith
Greene, ME
---
Thanks for the book ideas
My sincere thanks to the people who contributed book suggestions for my list of great maritime reading. I'll keep you good folks posted about my book!
Bob Frost
San Francisco, CA
---
Ready for spring launch
I'm very much enjoying your latest issue, in particular John Hanson's From the Publisher column, "Joy of the First Spring Boat Ride."
For those of us who live in colder climes, you perfectly captured our anticipation this time of year... nothing quite like the final prep and anticipation of the first spring launching.
Keep up the great work. Your magazine is all but required reading in our house!
Rob Watts
Deep River, CT
---
A note from the editors:
As we worked from our homes to get this issue off to the printer, the country was in the midst of a massive shutdown in the hopes of blunting the impact of COVID-19. Many of us have been homebound. Did you take that time to begin work on any new boat or marine-related projects? Or perhaps to finish a long-delayed one? We'd love to hear about it. Write to us at Editor, Maine Boats, Homes & Harbors, PO Box 566, Rockland, ME 04841, or email us at editor@maineboats.com. Include photos!