Two Boats in One
NY40 can switch between gaff and Marconi rigs
By Art Paine
Photographs by Alison Langley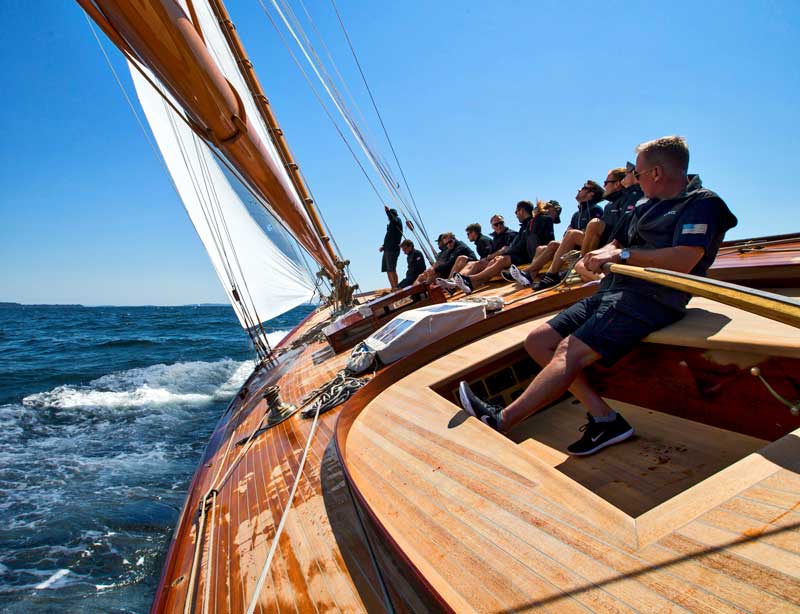 Marilee's owner at the helm with the 7' tiller.
Over the years many owners have modernized the rigs on classic wooden sailing yachts, replacing turn-of-the-century gaff sail plans with triangular Marconi rigs. 
While seasoned sailors would agree that a Marconi rig makes a boat easier to helm and simplifies sail handling, the gaff rig, with its massive sail, gaff and boom, and the ability to add topsails, certainly makes a picturesque sight.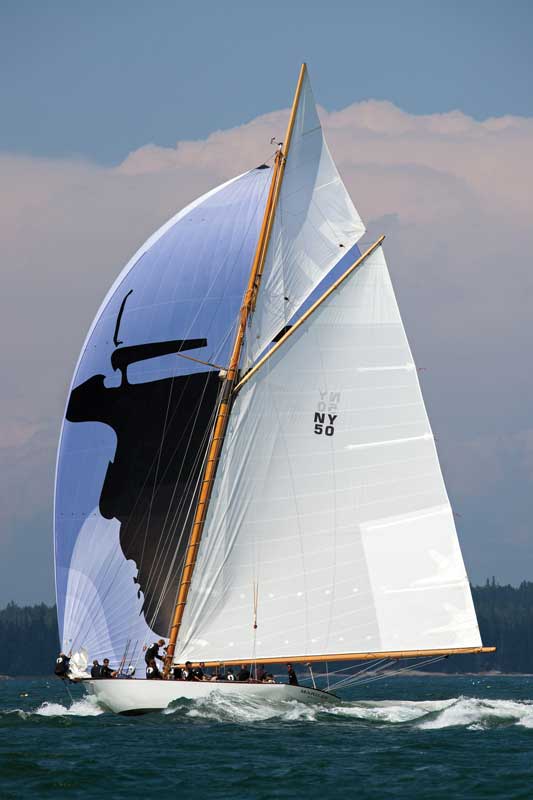 Marilee raced during 2017 with a gaff rig. The image on the spinnaker is a sillouette of the designer N.G. Herreshoff. Designed by Nathanael Herreshoff and built by the Herreshoff Manufacturing Company in 1926, Marilee, one of only four remaining New York 40s, out of an original 14, recently emerged from a two-year refit at French and Webb in Belfast, Maine. Thanks to a timely historical discovery and ingenious engineering, the owner of this classic yacht no longer has to choose between sail handling and beauty. Marilee now can be rigged as either gaff or Marconi depending on her racing competition. 
When her new owner engaged French and Webb to restore the boat, he directed them at first just to survey and strengthen her gaff rig, which, although not original, was built to Herreshoff's specifications. Next came a visit to the Hart Nautical Museum at the Massachusetts Institute of Technology, where Curator Kurt Hasselbalch unearthed Marilee's plans in addition to those for other New York 40s. The priority was to look at hull lines, as a reference for the next winter's work on backbone and planking. 
The plan was to bring Marilee back to French and Webb for a comprehensive restoration that likely would occupy two off-seasons; the owner was adamant that the project not interfere with the summer season for classic yacht regattas. Herreshoff expert Ed McClave was hired to direct much of the structural decision-making and engineering and the yacht's captain Dennis Gunderson took on the role of project manager. 
During the first winter, the team focused on restoring the hull to its original shape, strengthening the underlying structure and otherwise ensuring the hull would live up to the rigors of the next summer's racing program. During its subsequent summer campaign the boat was powered by a foursome of sails—an inner and outer jib and a big gaff mainsail, topped by a towering jackyard topsail—i.e. the original rig.
The following year, French and Webb continued their work, this time building a new deck. Neither McClave nor Gunderson liked the way the side stay chainplates spread their considerable load exclusively onto planking. While the intricacies of rig-staying were on the front burner, the team's attention refocused on one of the many drawings discovered at the Hart museum: an original by Herreshoff depicting an alternate Marconi rig. That's when the idea cropped up of engineering and placing the chain plates, mast step, and other rig foundations in such a way that would allow for either a gaff or Marconi rig.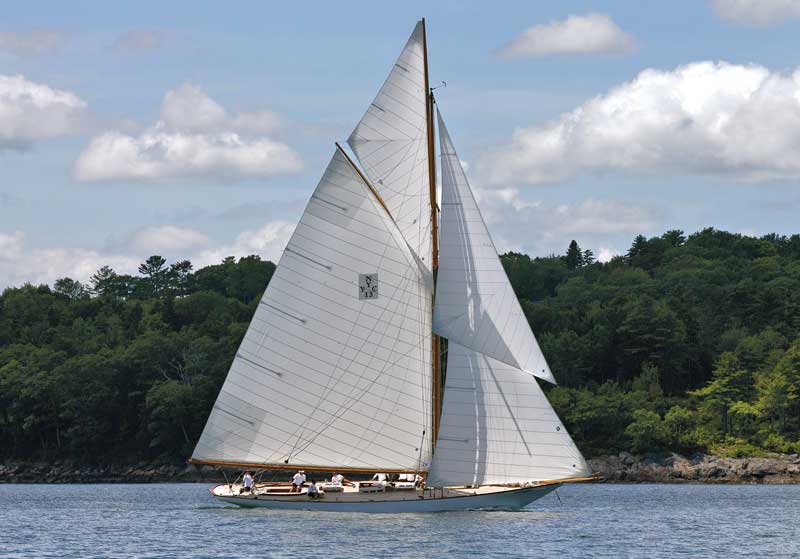 Marilee sailing with the gaff rig and 65' mast.
In addition to common agreement that the triangular rig might be easier to deploy and would require less crew, the previous summer's racing experience had shown that Marilee had few racing competitors with a gaff rig in America. The situation was different in the Mediterranean, though, where Gunderson and many of Marilee's crew had sailed. In particular, a NY40 named Chinook has a virtually identical gaff rig, and could be match-raced as an equal, with no time allowance. Having the ability to carry either a Marconi or gaff rig, depending on where she raced, would allow Marilee to compete on a more equal footing against many of the greats in the classic yacht-racing world on both sides of the ocean. 
The first season of sailing proved Marilee was both pretty and fast. But she was also hard to handle, especially in strong winds. It became apparent why many of the New York 40s, after first being launched "bald-bowed," were refitted with bowsprits, thus shifting the center of effort and balance. Another unsubtle hint about handling was that a previous owner had at one point switched Marilee to wheel steering.
Herreshoff consistently argued that a healthy dose of weather helm was desirable, both for safety and for opposing leeway. That might be true, but it also contributed to weary arms for the skipper at the business end of a 7-foot tiller. Over the years, several of the remaining "Fighting Forties" had been converted from gaff rig to the more crew-friendly Marconi rig, including Rowdy, which sails in the Mediterranean, and Rugosa, now rigged as a yawl and owned by Halsey Herreshoff. This was an additional argument for accommodating both sail plans.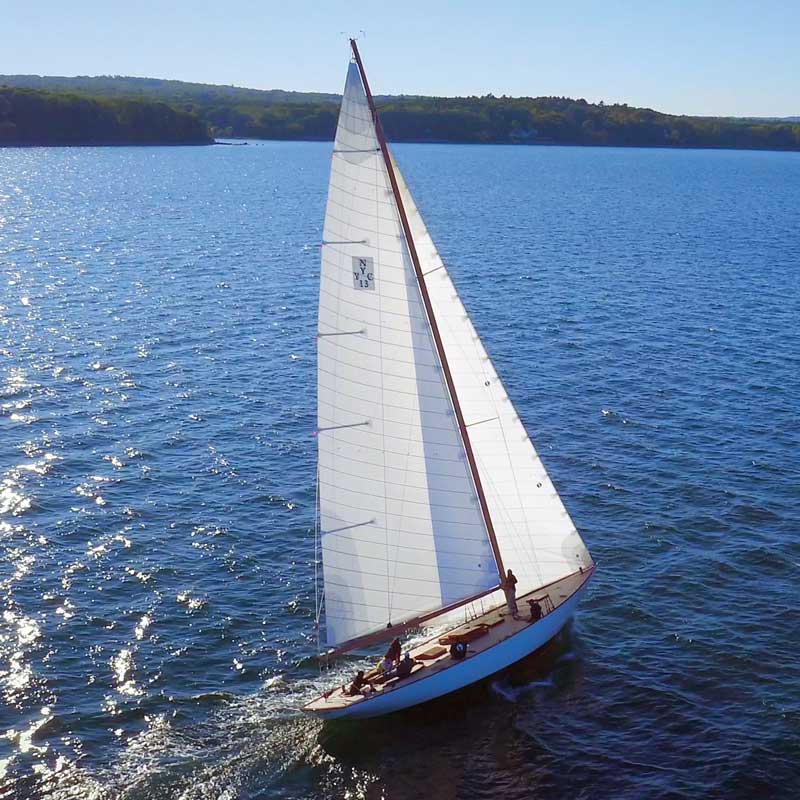 Testing the new Marconi rig with its 81' mast. Photo by Cody Mitchell
Configuring a second rig just as Herreshoff had drawn while also maintaining the original rig was not simple. The optional Marconi rig had a much taller mast (81 feet as against 65) and deployed a huge genoa jib on a single headstay. Most controversial, the plan for the Marconi rig showed no bowsprit. This meant coming up with a way to carry a bowsprit with the gaff rig but not with the other.
Every Herreshoff fanatic, myself included, knows that history has revealed instances where the Wizard of Bristol designed sloops without bowsprits that turned out to be notoriously hard to steer. Sailmakers, who were consulted on the proposed new rig, told the Marilee team that eliminating the bowsprit for the Marconi rig could lead to too much weather helm. 
Nevertheless, the team opted to follow the original plans. What helped seal the decision was "the Europe factor." As Gunderson explained, "If we go to Europe we need to have authenticity in terms of the rig." Marilee had a rig drawing signed by Herreshoff himself. This could be huge because in Europe many of the classic yacht rating formulas significantly handicap against diverging from original design.
McClave was charged with designing and engineering chain plates and important structural reinforcements, and coming up with a plan for interchangeable rigs. This meant being able to remove the inner forestay and bowsprit necessary for the gaff rig, while providing anchors for a two-sail sloop rig, in such a manner that the whole caboodle could be switched over in a day.  
For the actual spar design and rig engineering, naval architects Bruce Nelson and Bruce Marek were hired, with most of the calculation falling to Greg Stewart.
Once Todd French got the go-ahead, he located beautiful old-growth and quarter-sawn Douglas fir, and fashioned a tall hollow mast.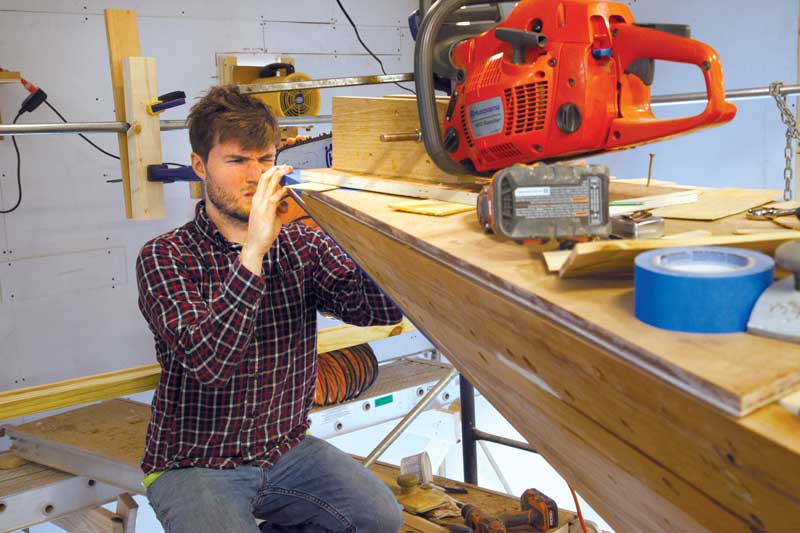 A regular Stihl chain saw played an important role in enabling Marilee's rig conversion.
Perhaps the hardest engineering challenge was finding a way to anchor a single headstay capable of distributing loads in excess of 30,000 pounds of upward tension. Designing a bow plate for this out of strong bronze was easy math. But installing it and hiding it away beneath the bowsprit for times when the gaff rig was in use was a fascinating trick. Then one of the lead men on the shop floor was audacious enough to suggest making a jig to control a huge Stihl chain saw with a fat blade in order to saw down through the existing white oak stem. The cut allowed the crew to precisely install that hidden bow plate.
Marilee raced again with the gaff rig this past spring and summer while Todd French piled varnish on the gorgeous new mast. "Like everything else French and Webb did for us, they made things that were so beautiful you almost didn't want to sail with them," commented Gunderson.
Marilee's crew tested the new sails and Marconi rig last fall. The boat was undeniably easier to sail, to the point that the owner and a friend could day sail with only two additional deckhands. Tacking the single "jumbo" jib is much easier with the benefit of modern winches. Although the 7/8 rig still needs running backstays to put maximum tension on the headstay, they aren't as critical as on the gaff option. Most noticeable of all was that it turned out that Herreshoff was right all along. This Marconi rig did not need a bowsprit for balance—the newly re-rigged sloop can be steered by fingertips for hours on end.  
Marilee will compete this summer with the new Marconi rig in the Castine Classic, the Camden Feeder Race, and the Eggemoggin Reach Regatta. It will be interesting to see what difference the new rig makes in her speed. As to which rig looks better, I'll leave you to decide which version you'd like to see in a painting hanging over your mantelpiece. 
---
Contributing Author Art Paine is a boat designer, fine artist, freelance writer, aesthete, and photographer who lives in Bernard, Maine.
NY40 Marilee
LOA  59'
LWL  40'
Beam  14'
Draft  8' 2"
Rig  Gaff and/or Marconi sloop
Built: 1926
Designer/Builder:
Nathanael Herreshoff
Herreshoff Manufacturing Co.
Restoration:
French & Webb
Belfast, ME
www.frenchwebb.com
Share this article:
2023 Maine Boat & Home Show

Join Us for the Maine Boat & Home Show!
Art, Artisans, Food, Fun & Boats, Boats, Boats
August 11 - 13, 2023 | On the waterfront, Rockland, Maine
Click here to pre-order your tickets.
Show is produced by Maine Boats, Homes & Harbors magazine.