32' Multihull Flow
Energy-efficient quarantine project
By Tricia Ladd
Photos by Tricia Ladd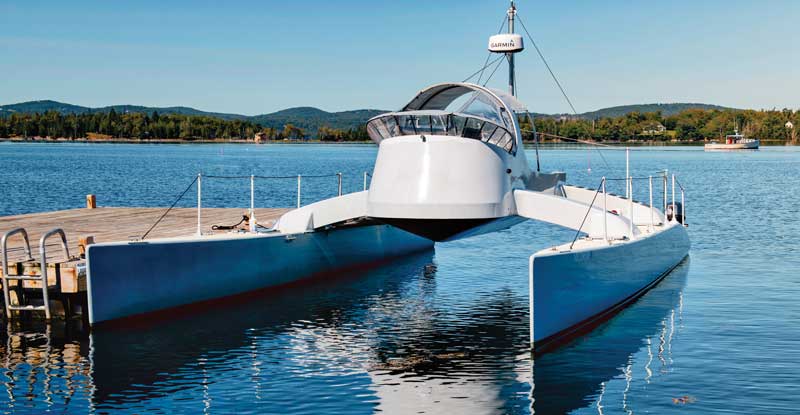 A statement of efficiency, the 32' multihull powerboat is highly maneuverable, stable, and a lot of fun.
The COVID-19 pandemic kept many people at home with extra time on their hands. Some got creative and learned to make bread, refinish furniture, or play the piano. Others picked up long-lost hobbies, like model trains and needlepoint.
For Earl and Bonnie MacKenzie of Islesboro, Maine, the stay-at-home order didn't alter their lifestyle—they built a boat. These professional mariners have been collaborating on projects since marrying in 1985. At that time, Bonnie worked alongside Earl rebuilding their 1936 main topsail schooner, Flying Fish, and then sailing her between Maine and the Bahamas. In 1998 they launched their 72' LOA steel-hulled charter schooner, Bonnie Lynn (now for sale), and have logged more than 100,000 miles around Maine, Canada, the Caribbean, and Europe. Their love of the sea is contagious, and together they personify the mantra "Imagine the Possibilities."
The quarantine order during the early pandemic months was the perfect opportunity for the MacKenzies to finish the realization of a vision they had been considering for over 30 years—an efficient power catamaran. Flow is a 32' multihull powerboat designed to be highly maneuverable, stable, and energy efficient. Two rotary molded-plywood hulls support a futuristic lightweight passenger module that can comfortably carry six adults under cover.
The seed for Flow was planted in 1991 when Earl, founder of Islesboro Marine Enterprises, envisioned the
need for an island water taxi. He contracted South Shore Boat in Northport, Maine, to build Quicksilver, a water taxi and charter boat that still provides service to Penobscot Bay islands. It was during this project that the MacKenzie duo began researching energy conservation, and not just for boats.
Energy efficiency has long been on the minds of Earl and Bonnie, who work as a team on their projects. "Trying to do right by Mother Earth," according to Earl, they drive an electric car and live in an energy-efficient home that they designed and built themselves, complete with a backyard solar array. It was here, in their open, first-floor boatshop, that the two worked on Flow. They built the passenger module, designed to be as light as possible, and its connecting arches in their shop and then in the final assembly joined them to two narrow hulls (housed in the adjacent shrink-wrapped hoop house). The hulls were designed by multihull expert Kurt Hughes of Seattle and built by Matthew Reynolds of Sarasota, Florida.
The final joining procedure required tremendous precision to align all four joints correctly. The arches are joined to the hulls with structural epoxy, while the joints are reinforced with carbon fiber. The construction utilized vacuum-bagging technology for strength and weight reduction. The hull is finished in Alexseal, a two-part linear polyurethane. The bottom anti-fouling paint is Coppercoat, a three-part application, which should last for a decade or longer. This non-ablative coating releases far less toxic material than standard bottom paints, and the resulting smooth hard surface means a faster, more fuel-efficient ride, Earl MacKenzie explained.
Flow's maximum beam is 16 feet, half of her length. Her futuristic passenger module is ultra-light, composed of a single layer of 3mm Okoume marine plywood covered with 10 oz. fiberglass cloth. The connecting arches get increased strength from internal diagonal bracing crafted of Sitka spruce that Earl and Bonnie salvaged from an old mast. The upper part of the module is made entirely with a soft gray Sunbrella fabric along with large clear panels, which Bonnie designed and fabricated. The module is cozy yet provides excellent visibility, particularly for the operator. Unlike a center-console boat, there's no centerline bow on Flow so the sight line between the two hulls is unobstructed.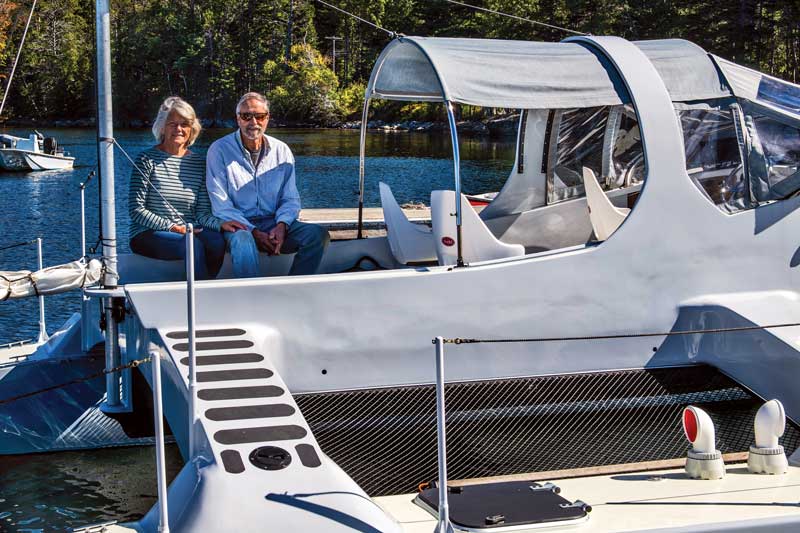 Bonnie and Earl MacKenzie of Islesboro aboard Flow's futuristic lightweight passenger module.
Passengers are in for a treat when they board Flow's sitting area about four feet above the water and sit, either in one of two sets of molded, pivoting seats in the forward part of the cockpit or another set of canvas seats on the afterdeck. Wherever you choose to sit, the ride is noticeably quiet and stable. It's all about the flow, after all, and the boat's pleasant fluid action feels both stable yet free and easy. And its incredibly tight turning radius can produce some unexpected 360s!
Powered by two 25-hp Yamaha four-stroke outboard motors, Flow can travel at 20 knots while burning less than 4.25 gallons of gas per hour; at about 15 knots, she burns half of that. When Earl and Bonnie hop over to Belfast from Islesboro they cruise at a comfortable rate of 16 knots. The trip takes 30 minutes and uses less than 1.5 gallons of gas. The engines are equipped with power tilt and trim, and fitted with Vance lifting jack plates giving 4 1/2" of vertical adjustment for peak position efficiency.
"Flow is a statement of efficiency," Earl MacKenzie said. "To me, four huge outboard motors seem like conspicuous consumption for the return of more speed. And it's a bit of a Catch 22—all that weight requires more horsepower, which translates into increased fuel consumption. The world can't stand too much of that," he continued. "You have to look at the ethics of what you're doing. How important is this much speed, after all? Smaller footprint boats are out there, both monohull and multihull. We have the technology to do better, and there are energy advances on the horizon. It's a race at this point, especially in the development of batteries for electric propulsion."
Propulsion systems used in the marine industry often follow advances in the automotive industry, Earl said. Boats tend to be a more custom commodity than cars, but economies of scale mean that technologies trickle down, such as the use of lithium-ion batteries—they now power electric vehicles and are increasingly being used in new cruising boats. Upgrading an existing boat to this newer technology is now becoming feasible thanks to lower costs. A new ferry for Islesboro scheduled to be delivered in 2028, and currently, in the planning stages, it is designed to be entirely electric. "That's the game plan," said Earl, who has been closely following this endeavor. As the MacKenzies' thoughts turn to new collaborative projects, they are considering converting Flow to electric power.
Earl and Bonnie's focus on energy conservation is perhaps best expressed on the front bumper of their old 1990 Ford Ranger, with a 31-year-old sticker that reads, "I'd Rather Be Driving An Electric Car." That wish, like a lot of what was on their minds all those years go, has proven prescient. Perhaps they should print a new bumper sticker for the electric car that they now drive: "Just Go with the Flow."  
---
Tricia Ladd is a photographer who grew up near the Herreshoff boatyard in Bristol, Rhode Island, and summers on Islesboro, Maine.
---
32' Multihull Flow
LOD:  32'
Beam: 16'
Draft:  10" (16" engines down)
Displ.:  2,300 lbs.
Power: Two 25-hp four stroke Yamahas
Builders:
Bonnie & Earl MacKenzie
Share this article:
2023 Maine Boat & Home Show

Join Us for the Maine Boat & Home Show!
Art, Artisans, Food, Fun & Boats, Boats, Boats
August 11 - 13, 2023 | On the waterfront, Rockland, Maine
Click here to pre-order your tickets.
Show is produced by Maine Boats, Homes & Harbors magazine.