Back Cove 372
Same lines, improved technology
By Polly Saltonstall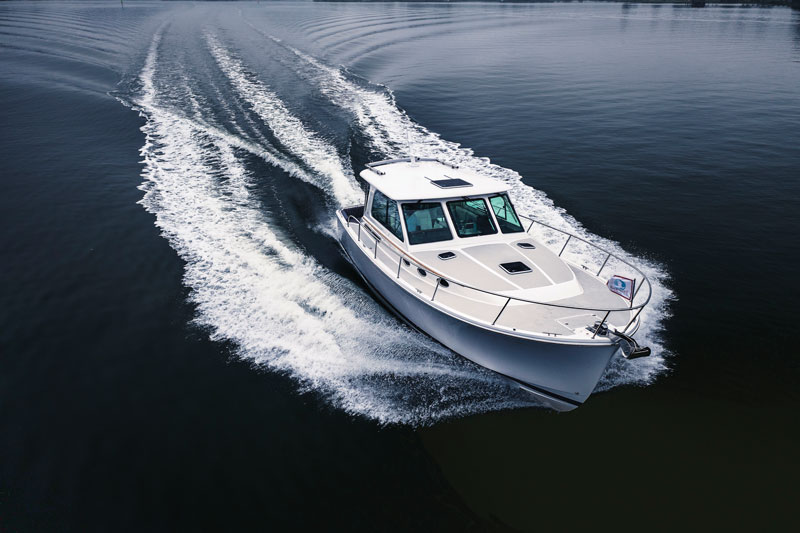 The new Back Cove 372 combines the best features of the popular Back Cove 37 with improvements based on customer feedback. Image courtesy Back Cove Yachts
Sometimes a boat design is just so good that even though the systems may become dated, its basic lines are timeless. That's the case with the Back Cove 37. Wildly popular from the moment it hit the water in 2009, demand for the design remains strong 13 years later.
Most production boatbuilders keep demand for their product high by constantly evolving and introducing new and different models. But when the molds and tooling for Back Cove's 37-foot inboard powerboat began to wear out after being used to build 200+ hulls, the powers that be at the Maine-based company opted to tweak the design by taking advantage of new technology while keeping the same hull lines as the original model. The result is the Back Cove 372.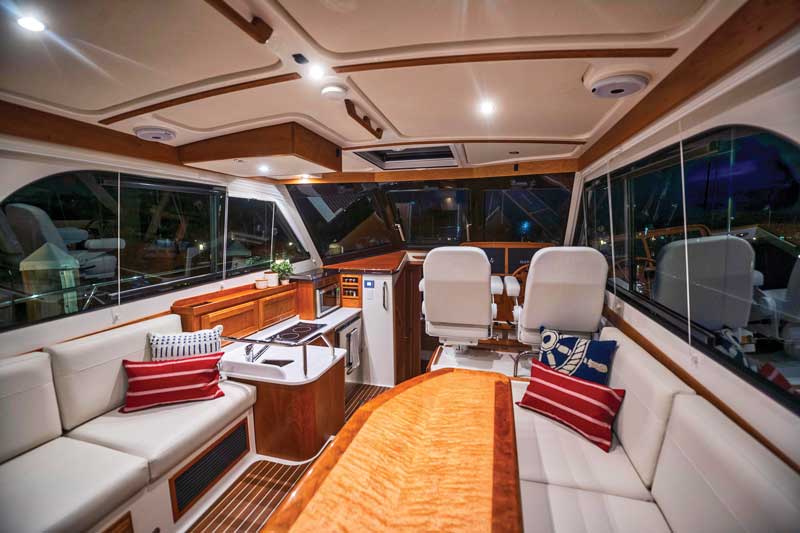 New features in the cabin include frameless fixed-glazed windows and a black windshield liner, which reduces glare. Image courtesy Back Cove Yachts
"It would have been silly for us to scrap something that people appreciated," said Jamie Governale, marketing manager for Sabre and Back Cove Yachts.
Work on the updated design began two years ago, explained Kevin Burns, Back Cove's VP of design and product development. "At that point we began looking for opportunities to incorporate specific improvements based largely on feedback from 37 owners accumulated over the years," he said. "At the end of the day, the list of changes was so significant that we felt we needed to differentiate the redesign from the original 37, and the '372' designation was adopted."

The new Back Cove 372 has an owner's stateroom as well as a room for guests. Image courtesy Back Cove Yachts
Some of the biggest changes in the revamped design were small but significant; things like upgrading the electrical systems to 24 Volt DC, which results in less copper weight in terms of wiring, is more efficient, and increases run time for the bow and stern thrusters because they won't overheat as quickly. The shift also allowed the builder to offer a Volvo Penta V8 diesel engine with a 7" display as an optional upgrade from the standard Cummins QSC 8.3 600-hp diesel engine.
Other additions include a black windshield liner and upholstered helm pod, which reduce glare; frameless fixed glazed windows instead of sliding windows; an aft-facing seat in the cockpit complete with a folding armrest and cupholder made possible by a redesigned door between the cockpit and salon; and small but important touches like a bigger mirror and medicine cabinet in the head. An upgraded SidePower SE 100 bow thruster will increase control and precision over the original SE 80 series.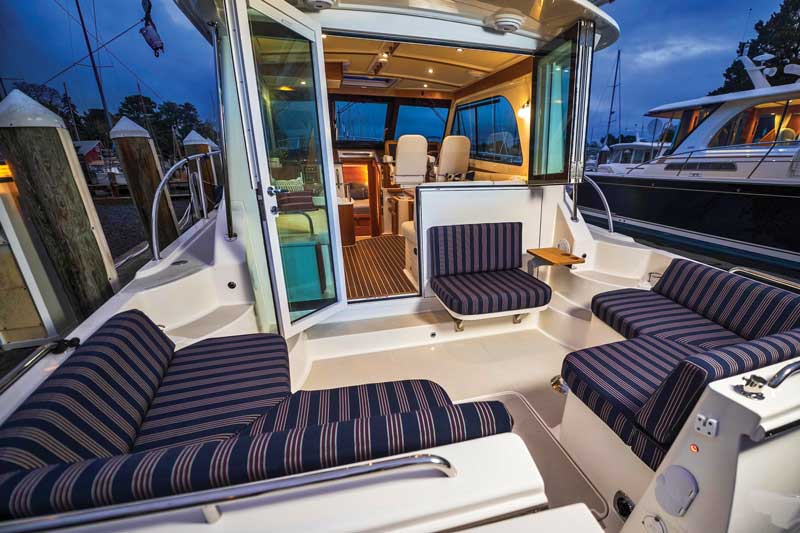 Also new is an aft-facing seat in the cockpit. Image courtesy Back Cove Yachts
Like its predecessor, the Back Cove 372 has a galley, a head with a separate shower stall, a cherry-paneled master stateroom with an island queen berth; and a cherry-paneled guest stateroom.
Hull No. 1 of the new model, which was introduced late last fall, already has been delivered to its new owner and at press time, Hull No. 2 was on its way to a new owner in Charleston. Demand has been high. At press time, Back Cove was taking orders for delivery in 2023, as the 2022 production run had been sold out.
"Demand is up, up, up," said Governale. The limiting factors at this point are finding skilled labor for building and a difficulty in sourcing materials—issues that have plagued many boatbuilders this year.  
---
Polly Saltonstall is editor of this magazine.
---
Back Cove 372
LOA: 42' 8"
LWL: 38' 2"
Beam: 13' 3"
Air Draft (w/mast): 12' 6"
Displ.: 22,100 lbs.
Fuel: 300 USG
Water: 120 USG
Builder:
Back Cove Yachts
Rockland, ME
207-594-8821
Share this article:
2023 Maine Boat & Home Show

Join Us for the Maine Boat & Home Show!
Art, Artisans, Food, Fun & Boats, Boats, Boats
August 11 - 13, 2023 | On the waterfront, Rockland, Maine
Click here to pre-order your tickets.
Show is produced by Maine Boats, Homes & Harbors magazine.