Junior Knockabout
A vintage daysailer emerges from hibernation
By Bob Knecht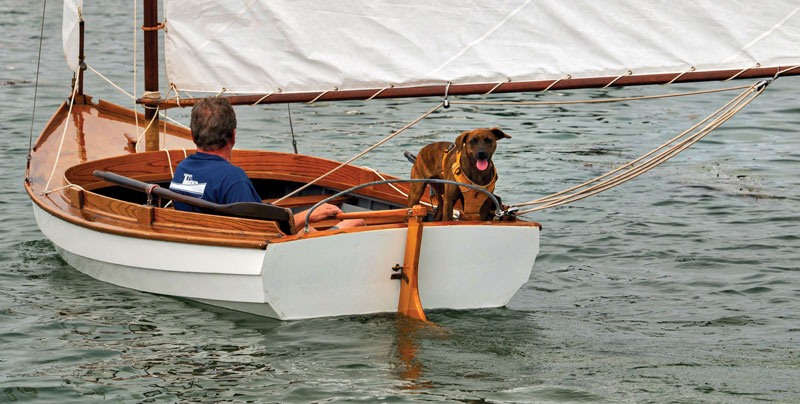 Boatwright Leon Rioux and his deckhand Luna take the boat for a sail. Photo by Marion Leiter
Cape Cod Shipbuilding has been a prolific producer of daysailers, one-designs, and cruiser/overnighter sailboats since 1899. While the focus in recent years has been on fiberglass, the yard began the century building in wood.
An early design, now retired, was a small wooden daysailer known as the Junior. A classy looking one-design, it is 15 feet long, lapstrake, with a 4' 10.5" beam, and carries a Marconi rig with 98 square feet of mainsail, a 13' boom, and a 15-square-foot, club-footed jib. The Junior can be sailed in shallow waters with an adjustable centerboard, and,  with its beam and high bow, it also handles well in a moderate chop. But rarely does one spot a Cape Cod Junior, especially one that is 91 years old (1930), in Bristol condition, and ready to race around the buoys.
That is until now.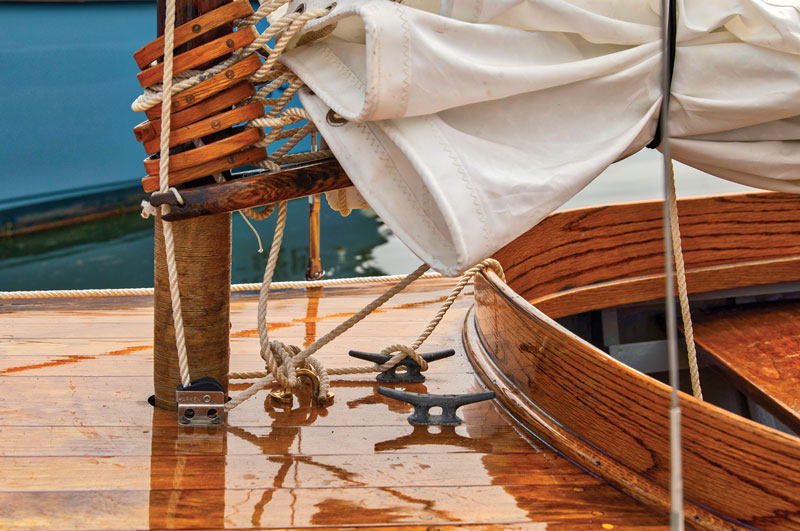 The boat has been refinished to museum condition. Photo by Marion Leiter
A Junior that came to Maine three generations ago has been meticulously restored and is now a regular presence in South Freeport.
Cape Cod Shipbuilding produced Juniors until sometime in the 1930s, according to company president Wendy Goodwin, whose grandfather bought the company in 1939. The design had been discontinued before then, she explained.
Originally named Lao-Tze, meaning "Old Man" in Chinese, this Junior was sailed for years by the Chapman family and friends off Wildwood Beach on Cumberland Foreside, Maine. From the late 1960s to 1982, it was stored in a garage while providing luxurious digs for wayward chipmunks. Then in 1984, family members Marc Miller and Julia Lockwood stepped up to save the boat. They moved the noble but failing craft to their shed in South Freeport, and with help from an apprentice from the WoodenBoat School, they began the resurrection. The ribs, decking, planking, thwarts, finishes, and the mast all needed work. Following extensive repairs, they trailered Lao-Tze to a quiet cove and slipped it into shallow water for a few days to allow the bottom planks to swell up tight. The launching was a quiet event; there were no speeches, no champagne, no heavily decorated Admirals, no prayers, no band, no lobster bake or fish fry, no flags fluttering, no fireworks, no flyovers, and no singing of the National Anthem. It was just a backyard project that saved an important family heirloom.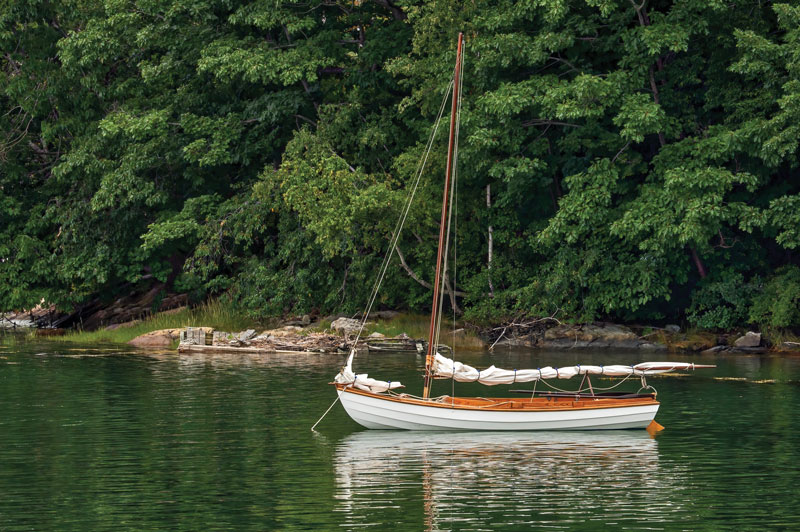 At 91 years old, the Cape Cod Junior Knockabout is ready for the next century. Photo by Marion Leiter
But the story does not end here. Miller and Lockwood put the Junior back in the shed for more rest, from 1984 to 2021. They were sailing, instead, on a J24 sailboat that got them to wherever they wanted to go and had room for their family.
Those 37 years on the hard took a toll on the Junior; light leaked through the lapstrake planking. Another level of general repairs and a high level of finishing was called for.
Rather than do the work themselves again, the owners put up a poster at nearby Strouts Point Wharf offering the boat and its trailer for free to anyone willing to fix them up. Leon Rioux, a talented boatwright who works at the yard saw the sign and went to check out the boat. "My boss told me the job was right up my alley," he recalled. Rioux transported the antique Junior, and its broken-down trailer to his home, where restoring both became his winter project.
Over the winter he refastened, caulked, faired, fitted, and refinished. The Junior, which Rioux refers to as "The Crown Jewel," now sports new sails, a new rubrail, a newly painted white hull, and varnished spars, deck, and coaming. The results are true to classic designs of the era that included the Mercury 15, Bulls Eye 15, and Herreshoff 15.
Rioux has enjoyed sailing the boat. "It handles beautifully," he said. He added that the newly restored boat has been a big attention-getter in the yard as older customers have told him stories about sailing Juniors in their youth.
Boats like this have a place in museums, but this revamped Junior now rocks gently at a slip at Strouts Point Wharf, waiting for a fresh breeze.  
---
Bob Knecht is a broker at Town & Shore Real Estate in Portland.
---
Cape Cod Junior Knockabout
LOA:  15'
LWL:  13' 6"
Beam:  5'
Draft:  5"
Main Sail Area:  113 sq. ft. (Marconi rig)
Builder:
Cape Cod Shipbuilding Co.
Wareham, MA
508-295-3550
Restoration:
Leon Rioux
Share this article:
Digital Edition Available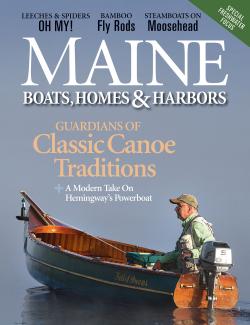 Can't get to the store to buy your magazine? We deliver the stories of Maine's coast right to your inbox. Sign up here for a digital edition.