Memories of Early Schooner Days
By Earle G. Shettleworth Jr.
Photos courtesy Penobscot Marine Museum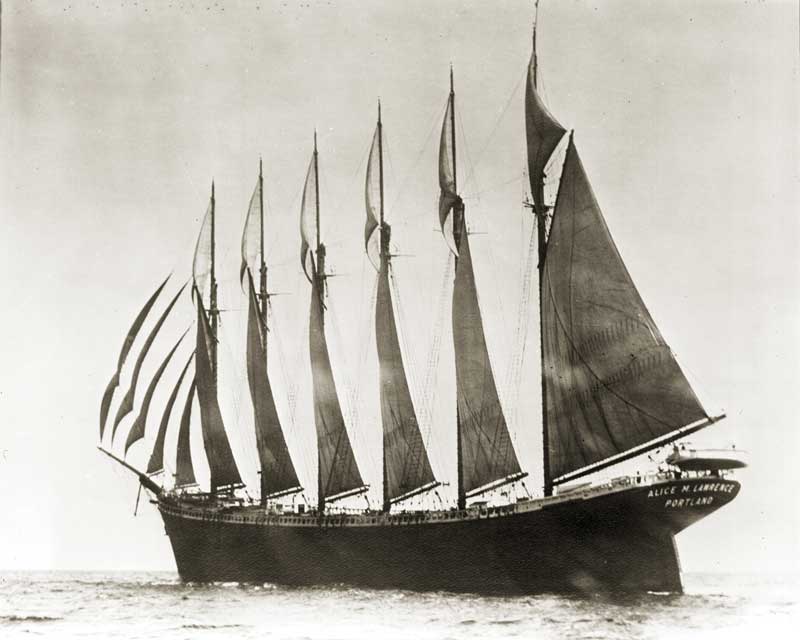 The six-masted schooner Alice Lawrence was built in 1906 by Percy & Small in Bath to carry coal along the coast. These big schooners were considered efficient because they could carry more cargo with a smaller crew. The Alice Lawrence was 305 feet long, 48 feet wide, drew 22 feet, and, according some reports, was the first wooden, American schooner to be electrically equipped. She went down in a storm off the coast of Massachusetts, Dec. 5, 1914.
For four summers during my high school and college years, I worked as a reporter for the Gannett newspapers in Portland. Between 1965 and 1968, I wrote historical articles and interviewed such personalities as inventor Buckminster Fuller and aviator Harry Jones. In the summer of 1967, I met Loren E. Haskell at his home in Oxford, Maine, to learn the story of a life at sea that began at the age of six in 1898. At 75, Haskell, who spent much of his youth sailing on six-masted schooners, wanted to share his memories of maritime experiences. The beauty and anger of the sea, the visits to foreign ports, the luxuries and hardships of ocean life were but a few of his rich memories.
My article appeared in the Sept. 10, 1967, Portland Sunday Telegram, less than two months before Haskell's death. Looking back more than 50 years later, I feel fortunate to have preserved his recollections of a vanished way of life at sea.
Haskell came from a long line of Maine seafarers. Both his father, Ellis E. Haskell, and his uncle, William H. Haskell, were captains. He first sailed about 1898 when he was five or six years old. Two years later Capt. John Crowley of Boston built the first six-masters and soon both Haskell's father and uncle were commanding the large vessels.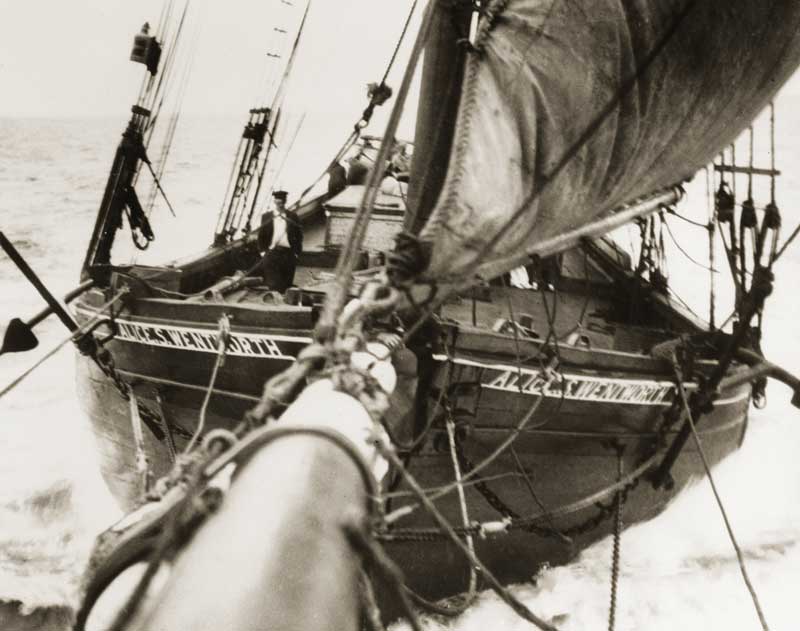 This image, circa 1935, shows the two-masted schooner Alice S. Wentworth underway. Built in 1863, the schooner had a long career carrying cargo and then working as an excursion boat. She ended up as a tourist attraction at Anthony's Pier 4 Restaraunt in Boston, before breaking apart and sinking in 1974.
From the time Haskell went to sea until about 1902 he lived aboard ship with his father, mother, and sister. "At first I was very scared, but I got used to it. However, my feelings of security sometimes left me when I was on an old schooner which didn't seem too seaworthy," he told me.
Haskell vividly recalled his family's quarters. "We had a comfortable home and were privileged to live in a rather phenomenal world. Aside from the coal dust, which scattered between loading and unloading, the vessels were as neat and smart-looking as a man-of-war."
"The quarters often included the captain's state room, a salon, bathrooms, rooms for passengers, a dining room, a pantry, and quarters for the mates. All of these were as comfortably and tastefully equipped and furnished as those on any passenger steamer of the time."
Haskell received his schooling from his parents and during periodic stays on land. He especially remembered his father teaching him calculus.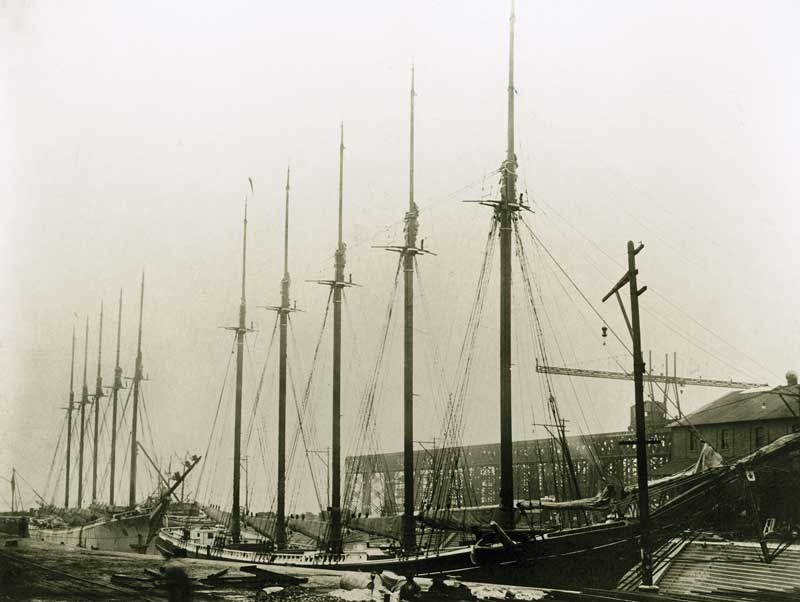 The five-masted schooners Fannie Palmer, left, and M.D. Cressy in drydock at Newport News, VA. Haskell sailed on the Cressy, which was lost at sea off New York in 1917 while carrying cargo to Le Havre, France.
The six-masters hauling coal and lumber took Haskell and his family to ports in North America, South America, Europe, and Africa. Such names as Casablanca, Limerick, and Rio de Janeiro echoed in his youthful ears. When vessels were docked, captains and their families called on each other. In this way the Haskells met many Maine people thousands of miles from their native state.
After 1902, Haskell's mother and sister stayed home. But he remained with his father for several years, eventually becoming a second mate.
One of his most beautiful memories of the sea is his description of pleasant sailing weather. "As a boy of about 14, I would climb out on the bow-sprit at dusk and look at the ship as if it were a separate vessel. I could watch her rise up from the water, supported by a black hull. In the indistinct night air, she seemed to tower almost to the clouds. The light winds were gentle and steady, breathing from astern. The dark blue sky was studded with stars.
"There was no sound but the rippling of water under the stern and the sails were spread out wide and high, the larger sails stretching far beyond the deck. The topsails were like the ship's wings.
"This was the spot for peace of mind, so quiet was the sea, so steady the wind, not a crease upon the canvas, so perfectly were sails distended by the breeze. It was as though one had found paradise."
But the ocean could also be violent.
"During the winter of 1908 I was part of the crew of the five-masted M.D. Cressy when we were caught in a blizzard off Point Judith, Rhode Island, amid a blinding snow, tremendous seas, and a gale of wind.
"We were deeply loaded with coal beneath our hatches, and we were bound for Providence. Heavy seas were sweeping over decks, washing away all movable materials. Our cabins were flooded, and the seamen were obliged to hold on to ropes or anything fastened down to save themselves from being washed overboard."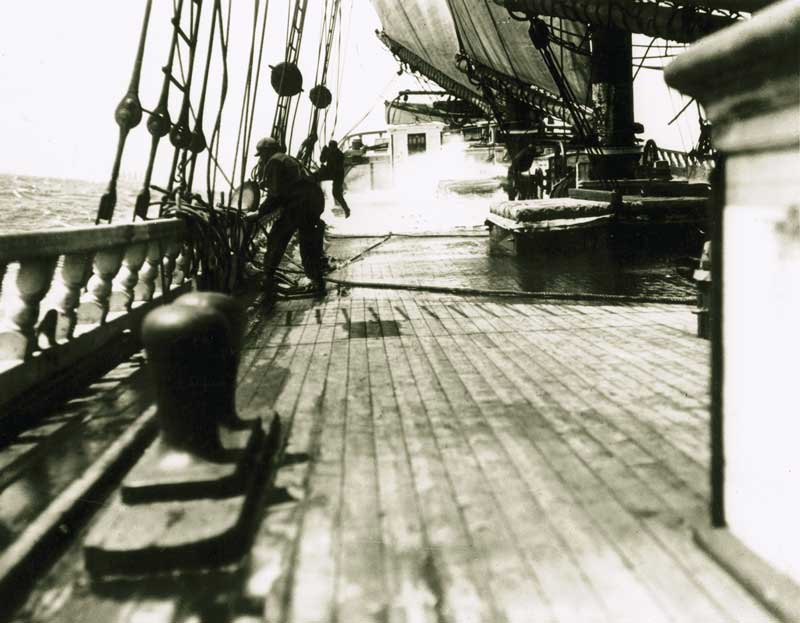 Looking aft on the five-masted, 273 foot long, schooner Cora Cressy as a wave washes over the deck. Built in 1902, she carried cargos until 1928, and served for a time as a floating nightclub before being scuttled in Bremen, Maine, to serve as a breakwater. The deteriorated hulk was listed on the National Register of Historic Places in 1990.
Looking back on his experiences, Haskell argued that the six-masters were undermanned. A regular crew was comprised of 14 men—a captain, a first mate, a second mate, an engineer, a steward, and nine hands. A sailor earned about $35 a month, while a captain could average $3,000 a year, with some making up to almost twice that. It depended on how much of the vessel he owned.
To Haskell, life on the sea was hard.
"During the daylight hours the watch was largely occupied with steering, cleaning, and painting the vessel. The wheel was relieved every two hours. The crew slept in bunks in the forecastle, a room about 17 by 10 feet. In the cold weather they were warmed and dried by steam heat from the nearby engine room.
"For entertainment they read greasy dime novels or a venerable newspaper, played cards, chewed tobacco, or added their lusty blue pipe smoke to the not unpleasant musty pungency of steaming oil skins and damp blankets."
Haskell left the sea in his early 20s and became an accountant for the Consolidated Edison Company of New York. After 35 years of service, he retired to Oxford in 1957. For two years he was town manager. Through his research and recollections, he became an authority on the sailing of his era, but he never returned to the sea.
"I consider myself lucky to have gone," he said. "The romance of those deep-water days is still in my blood and I shall never forget my life on the great schooners." 
✮
---
A native of Portland, Earle G. Shettleworth, Jr. directed the Maine Historic Preservation Commission from 1976 to 2015 and has served as Maine State Historian since 2004.      
Share this article:
2023 Maine Boat & Home Show

Join Us for the Maine Boat & Home Show!
Art, Artisans, Food, Fun & Boats, Boats, Boats
August 11 - 13, 2023 | On the waterfront, Rockland, Maine
Click here to pre-order your tickets.
Show is produced by Maine Boats, Homes & Harbors magazine.