Kiva + Nana
By The Editors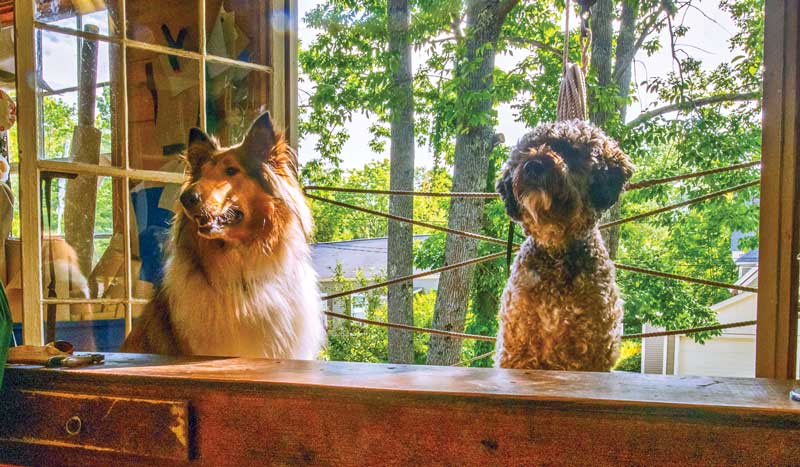 Photo by Phillip Murdaco
If you call the Gambell & Hunter sail loft in Camden, when the phone is answered you might hear the cheerful bark of a dog in the background. Both sailmaker Grant Gambell and his assistant Jenny Baxter bring dogs to work. And those dogs are young, energetic, and vocal; so much so that they rarely hang out in the small loft at the same time.
Baxter's dog, Nana (on the right in the photo), is a fluffy critter with a working farm heritage. Part poodle and part Anatolian sheep dog, the three-year-old comes from Tennessee, where Baxter grew up. Nana's father was a house pet and her mother worked on a farm guarding livestock. Although Nana has had a try-out herding sheep at a local farm in Maine, she isn't trained for that sort of work, Baxter said. "She's pretty much a loud fluff ball, who tells us when the mailman is coming."
Kiva (on the left in the photo), who is not quite two, hails from an Amish farm in Pennsylvania. A full-blooded rough-coat collie, she works outside the loft in the yard as a first responder, checking out anything new and different, according to Gambell. Her name means beautiful, brave, and "nice things like that," Gambell said—and he confirms that she does indeed live up to her name.
The two dogs occasionally work in the loft together, but things can get hectic quite quickly, as they rile themselves up, barking, and rough-housing in the small space. Instead, they meet up two or three times a day outside for playtime.
✮
Share this article:
2023 Maine Boat & Home Show

Join Us for the Maine Boat & Home Show!
Art, Artisans, Food, Fun & Boats, Boats, Boats
August 11 - 13, 2023 | On the waterfront, Rockland, Maine
Click here to pre-order your tickets.
Show is produced by Maine Boats, Homes & Harbors magazine.