Boatbuilding on a Smaller Scale
Robert Rice has become the custodian of his family's boatbuilding history
By Roger Moody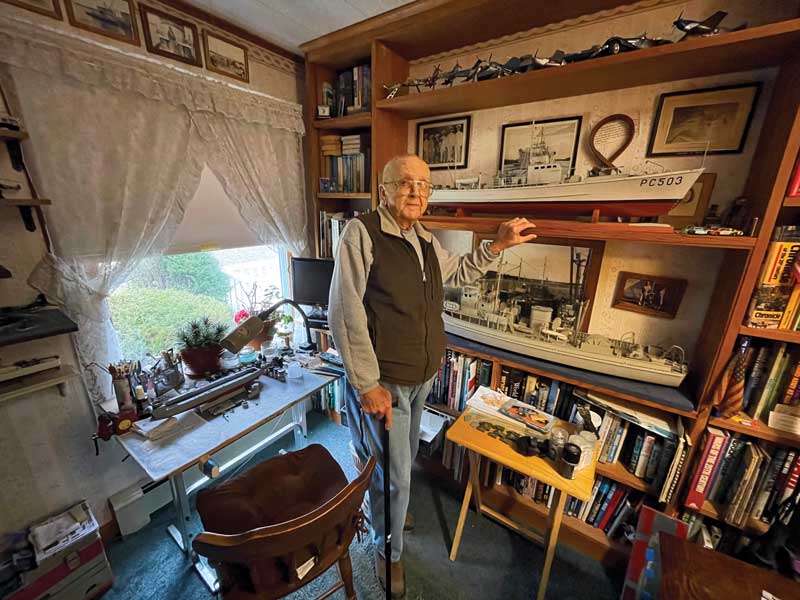 Robert Rice stands in his workroom by two of his scratch-built models. He also has a workspace in part of his garage. Photo by Polly Saltonstall
Robert Rice comes from a long line of boatbuilders: East Boothbay's Rice Brothers Corporation was founded in 1892 by his grandfather Henry along with his brothers William and Frank. The shipyard was continued by second-generation siblings Baxter (Rice's father) and his brothers Donald and Carl, but ceased operations in 1956.
But while Rice, 84, builds beautiful boat models, he maintains that he is not a boatbuilder. Instead, he has become the archivist and custodian of the Rice Brothers Corp.'s history. He has carefully researched and assembled a massive history of the boatbuilding family composed of business records, newspaper articles, and personal recollections. The details are contained in 16 large black notebooks with each paper artifact carefully sleeved for protection. The corporation's early records were destroyed in a 1919 fire, and for the last 25 years Rice has set about reconstructing that history. He easily recalls the components of his collection and is generous in sharing its contents with those who take an interest.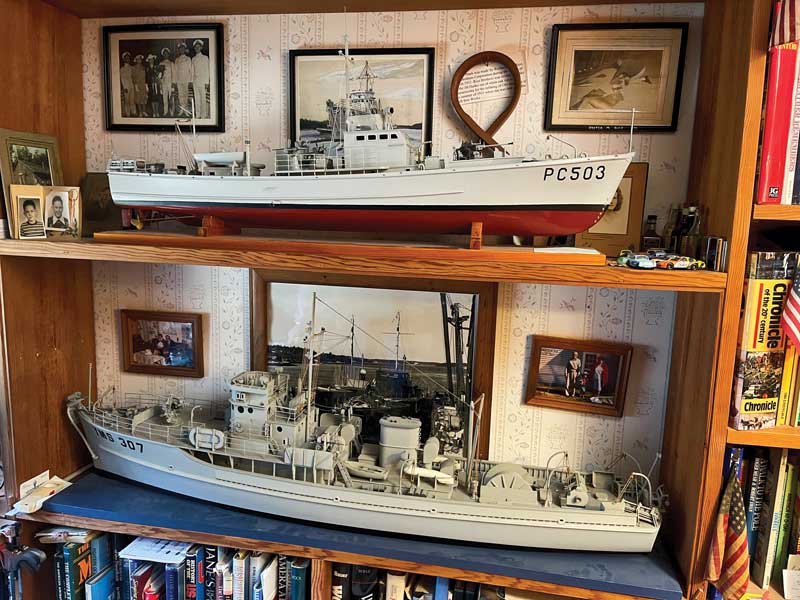 Two of Rice's favorite scratch-built models from WW II are submarine chaser PC 503 and minesweeper YMS 307, both of which were built at the Rice Brothers yard. Photo by Polly Saltonstall
Rice has been building models for 70 years, starting at age 12 when he watched Lenny Webster, a gate guard at the Rice Brothers yard, whittle toy boats. His interest in boat models came from his grandfather Henry W. Rice, who began building pond boat models for sale during times when boatbuilding was slow. The older Rice's sloop and schooner models were molded in tin, and the two halves brazed together. An electric launch was available as well.
Robert and his father, Baxter, built a Patrol Torpedo pond boat (PT Class, like President John F. Kennedy's PT 109) when Rice was a youngster, which he towed while rowing his dinghy around Mill Pond in East Boothbay. When his grandfather gave him an outboard for the dinghy, young Robert excitedly towed the model fast, but the speed was too great, and the PT model swamped and sank.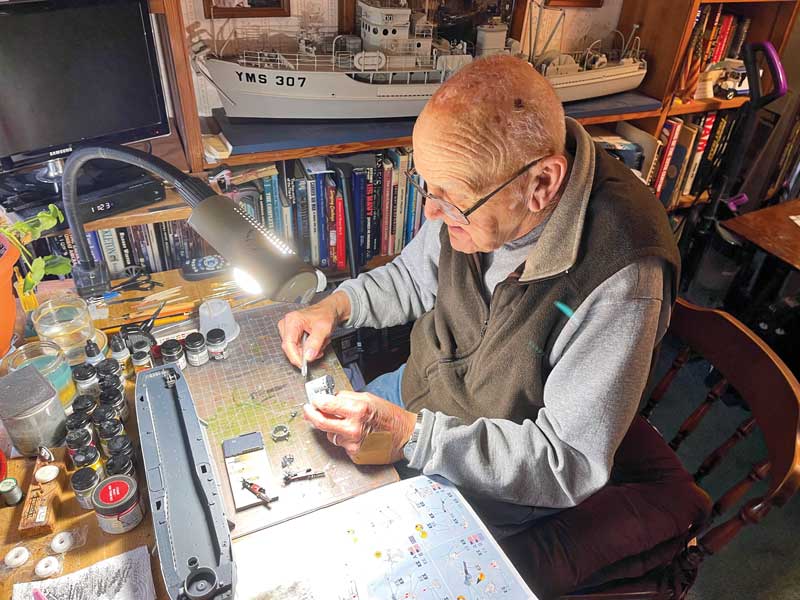 Rice is building this plastic model for the neighbor's 10-year-old son, who has become a good friend and model-building student. Photo by Polly Saltonstall
Rice did work for a year at the Rice Brothers yard when a cousin, who had been employed there, was drafted for service in the Korean War. Rice, who said he "didn't know anything" about building boats was assigned as operator of the raw boiler/kiln which burned sawdust to heat the general building during the winter and whenever plastic (fiberglass) cabintops were being fabricated. The yard was so busy there was not time to teach him to use it, but he did learn one characteristic of wood dust when an explosion occurred as he operated the boiler/kiln dryer. No one was hurt and lessons were learned. Saying he felt out of place, he quit and worked briefly for a house-builder before joining the U.S. Army in 1955, shortly after his cousin returned from Korea. His Army specialty was in supply (the Quartermaster Corps) from which he retired as a Master Sergeant in 1976. Most of his military assignments were in Europe, although in 1968-69 he served a tour of duty in Long Binh, Vietnam.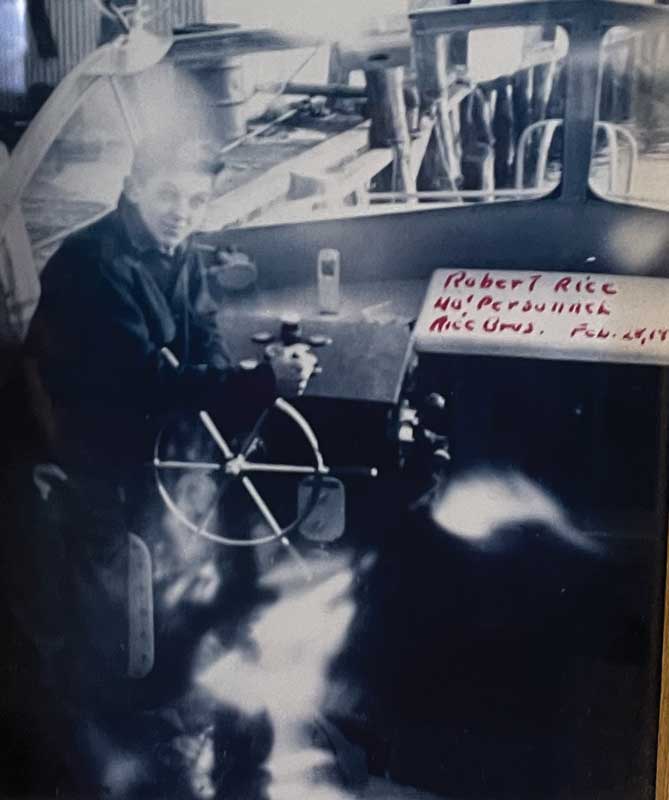 This photo of Rice at the helm of a personnel carrier that Rice Brothers built for the U.S. Navy was taken in 1955 during the brief period of time when he worked at the family business. But while he did not last as a builder of big boats, he's a very good model builder.
Rice is especially proud of the models he has built of WWII watercraft constructed by the Rice Brothers Corporation, including a 110-foot PC Class submarine chaser. Rice Brothers built two of these wooden hulled ships, which were propelled by twin diesels and armed with a dual purpose 3"/50 and two 40 mm guns. Capable of a speed of about 18 knots, they were highly maneuverable and carried a considerable amount of detection and ranging gear for locating submarines.
Rice Brothers also built 12 YMS Class minesweepers during WWII, the last one of which was launched on December 31, 1943. Minesweepers of the class had a displacement of 270 tons, were 136' LOA, had a beam of 24' 6" and a draft of 8 feet.
The vessels were capable of making 15 knots and were powered by two 440-hp General Motors diesel engines which drove two shafts. The ships had a crew of 32 with armament comprised of a single 3-inch/50 caliber gun mount, two 20 mm anti-aircraft guns, and two depth charge projectors. A key feature of all Rice's models is the high level of deck detail such as coils of rope, blocks, and cables and drums that he creates for items that would be seen on a working vessel like the YMS 307. 
Upon his military retirement, Rice returned home to the Boothbay area and began the J.E. Rice Construction Company (named for his wife June E.). The company initially specialized in home repair and later moved into the construction of new homes. Rice decided to retire from his building construction career at age 80.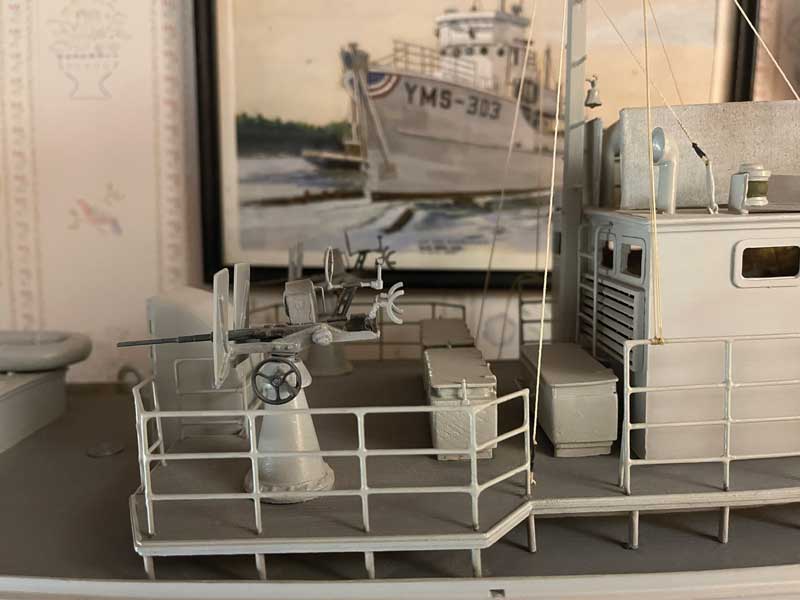 Attention to detail is a hallmark of Rice's work.
In his retirement years, modeling has become a "blessing" for Rice, providing great enjoyment, especially during the winter months. He has built dozens of plastic models from kits of watercraft, cars, and trucks, and especially planes. His favorite aircraft models are generally WWII and later; his interest in aircraft of that era stems from his time stationed at Ft. Benning, Georgia. Four Piper Cubs owned by a flying club were based at the nearby Larson Airfield, and Rice was paid to wash, clean, and polish the small aircraft. He loved the chance to help care for those Piper Cubs and took every opportunity to fly with the training instructors.
Rice's current project is completing an elaborate Ages of Sail kit model (5/16" scale) of the 141' Dumas tug Atlantic Salvor for a friend who works aboard the vessel. The boat was built by Halter Marine Inc., launched in February 1977, and sailed under her original name Mister Darby until 1998. Now renamed Atlantic Salvor, the U.S. flagged ocean-going tug is owned and operated by Donjon Marine of Hillside, New Jersey.  
---
Roger Moody is a retired Maine municipal manager and county commissioner who writes about boats and boating history.
---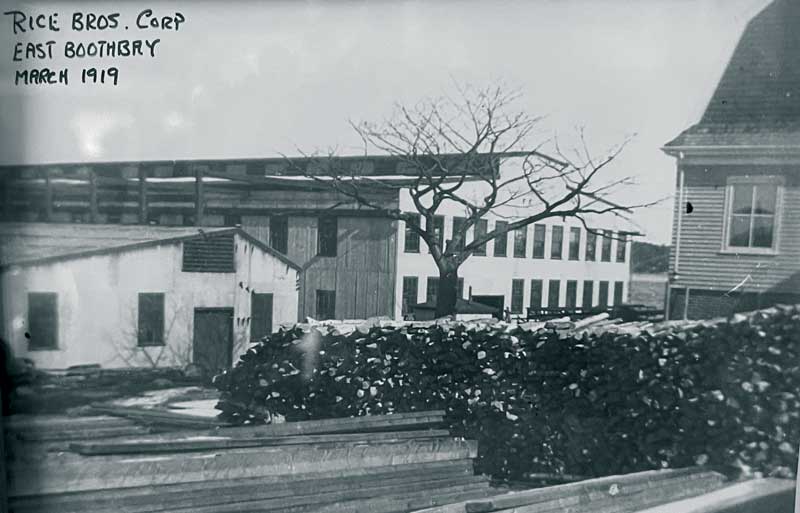 Family Legacy
Throughout its 65-year history, Rice Brothers readily accepted new challenges and adopted new technologies. In 1903, they built the largest auxiliary schooner in the country, the 125'′ Constance. The first steel vessel to be built in the region, the Great Lakes lightship Poe, was built in 1916. The 26' sloop Whistler (1939) was the first aluminum yacht built in the United States for saltwater use, and the 165' beam trawler Louis M. Winslow was the largest steel vessel built in the region until the 1970s. 
In all, Rice Brothers built more than 3,200 boats of every imaginable type, from 8-foot aluminum rowboats to 341-ton steel trawlers. The Rice Brothers Corporation was led by two generations of Rice family members (founders Frank, William, and Henry, and, in the second-generation, Baxter, Donald, and Carl). The yard ceased operations in 1956 after losing a court battle with the government. According to Robert Rice, after World War II the government sued a number of boatyards to get back profits acquired from cost-plus boatbuilding contracts. The amount clawed back from Rice Brothers was quite large, Rice said, and left the yard with no money. He said his grandfather, who was in his 80s at the time, brought in two partners to help fill a contract for 11 boats but the partners pulled out midway, leaving the yard unable to finish the contract and forcing the family to sell out. The site in East Boothbay is now part of the Washburn & Doughty shipyard.
Share this article:
2023 Maine Boat & Home Show

Join Us for the Maine Boat & Home Show!
Art, Artisans, Food, Fun & Boats, Boats, Boats
August 11 - 13, 2023 | On the waterfront, Rockland, Maine
Click here to pre-order your tickets.
Show is produced by Maine Boats, Homes & Harbors magazine.